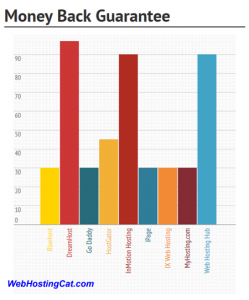 If you check out the Web Hosting Comparison page, you'll notice I've updated the numbers to reflect the current environment as we've reached the mid-year point of 2013. You'll also notice that I've added a couple of new web hosts to the charts. And, I also have included the individual numbers for all the companies, so you can see the results in graphical and numerical formats.
All of these web hosting companies are continuing to utilize social media to promote their services. Facebook and Twitter are still used the most. However, all of the web hosts included in these infographics are also making good use of Google+. Keep in mind that although the social media numbers on the comparison charts were collected this past week, the numbers are constantly changing.
As far as prices go, they remain basically the same—although a number of hosting companies recently had special deals some time during the spring. There continues to be an emphasis on WordPress hosting. So much so, that Dreamhost is now offering premium WordPress hosting services labeled as DreamPress.