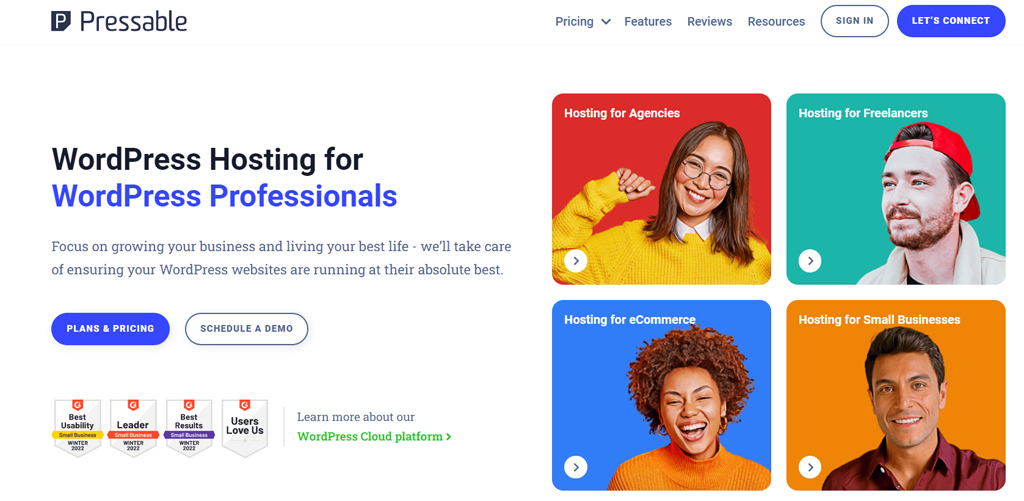 If you're looking for Pressable Reviews, here is my personal experience with their Managed WordPress Hosting. Founded in 2010, Pressable has quickly become one of the more impressive managed WordPress hosts. In my Pressable Review, we'll take a look at setting up a new WordPress site and what features you get.
Pressable Hosting Plans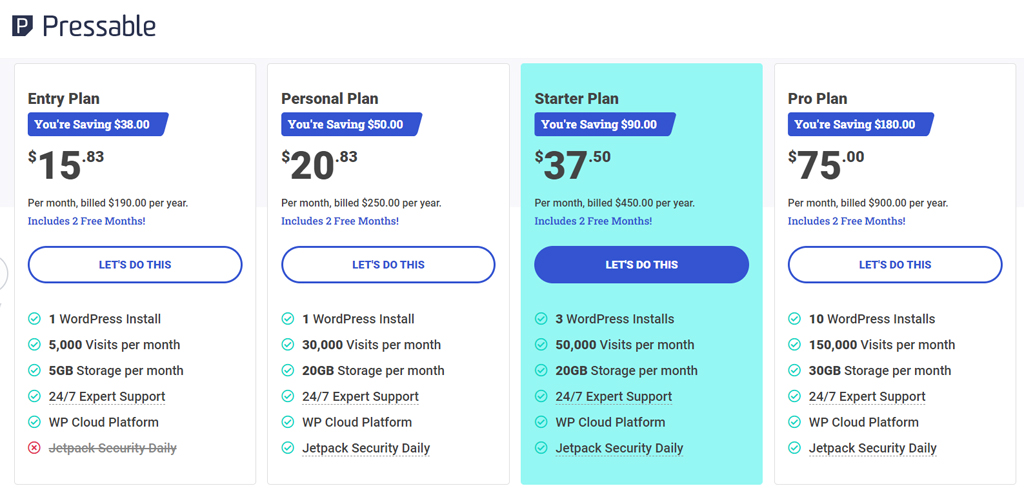 Pressable has the widest selection of managed WordPress hosting plans that I'm aware of. No matter how many websites you need hosted or how many resources, you'll be able to find it with pressable. And they also offer custom plans.
Entry Plan – For Single Website Hosting
Personal Plan – Allows You More Storage and Website Traffic
Starter Plan – Allows You to Host up to 3 Websites
Pro Plan – Allows You to Host up to 10 Websites
Premium Plan – Allows up to 20 Websites
Business Plan – Allows up to 50 Websites
Business 80 Plan – Allows up to 80 Websites
Business 100 Plan – Allows up to100 Websites
Business 120 Plan – Allows up to 120 Websites
Business 150 Plan – Allows up to 150 Websites
Custom solution plans are also available at Pressable.
Pressable Hosting Features
Pressable's Managed WordPress Hosting plans are packed with impressive features. When combined with the number of websites you can create with each plan, you get a lot of value with each hosting plan. Among the features included with your Pressable hosting plan are:
Optimized WordPress and WooCommerce
100% Uptime Guarantee
Automatic Server Failover
24/7 Online Support
Performance Monitoring and Optimization
Daily Backups
Free SSL Certificates
Managed WordPress Updates
Hack Recovery Assistance
Malware Scanning and Threat Monitoring
Website Staging
Free WordPress Training
30 Day Money Back Guarantee
Website Provisioning Time
As soon as you sign up on the Pressable website, you're immediately taken to your account dashboard control panel where you can add your new website.
I really like how they've streamlined the process of adding new sites. You can easily select your PHP version and datacenter location at the same time. Pressable's website provision time is excellent. My site was ready within a minute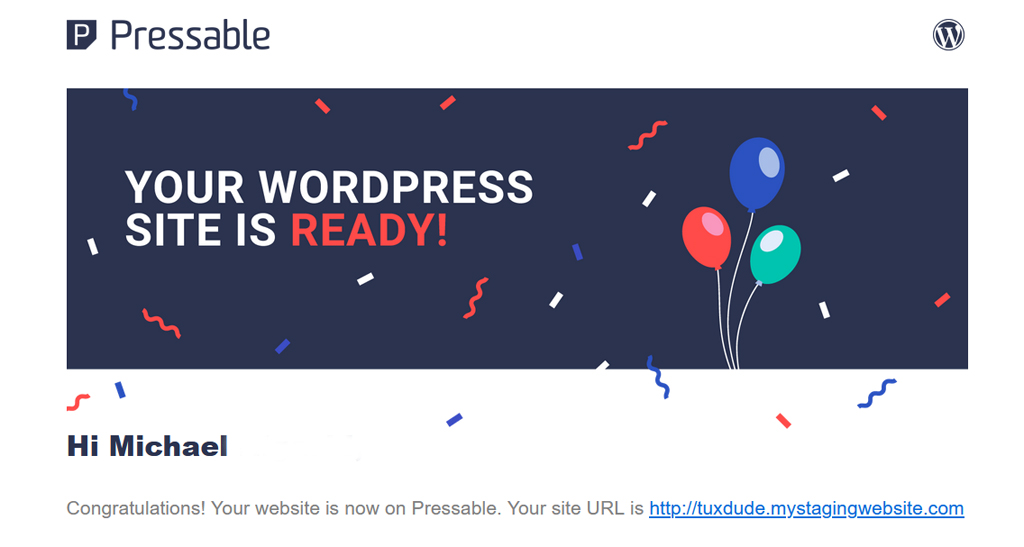 Pressable's Control Panel
Pressable has done a great job with their control panel. It's very easy to use and makes tasks like adding new sites super-easy. Unlike some other control panels, Pressbable has made it really easy to find all the features you need such as accessing your data backups, phpMyAdmin, and your WordPress admin. You also get quick and easy access to website performance data.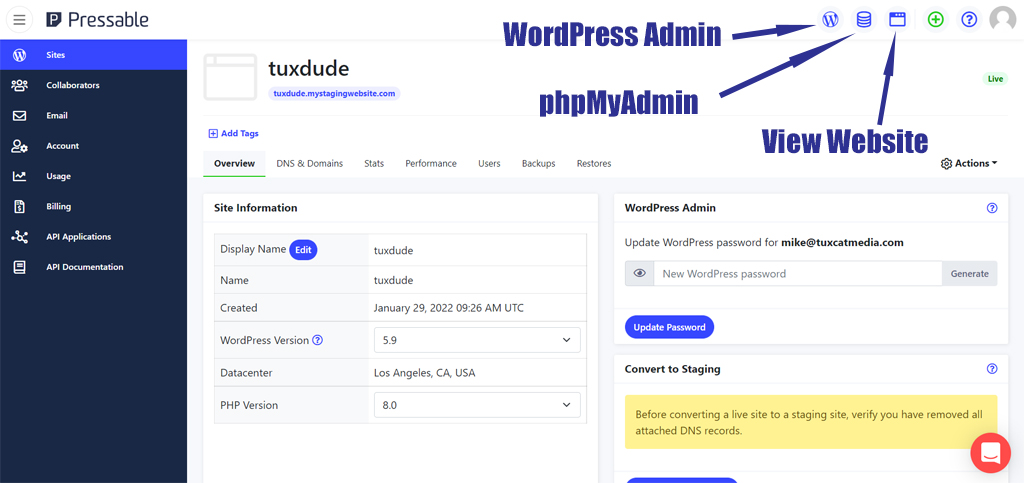 Website Speed and Performance
In my testing and experience, the website speed and performance you get with Pressable is outstanding. Their performance optimized WordPress environment provides very impressive results. And, Pressable also offers a 100% uptime guarantee.
Here are some of our speed test results for Pressable in both the US and Canada: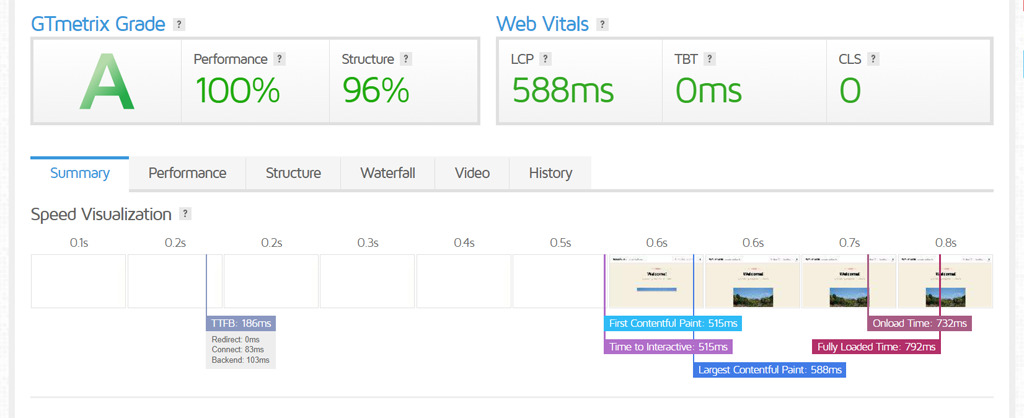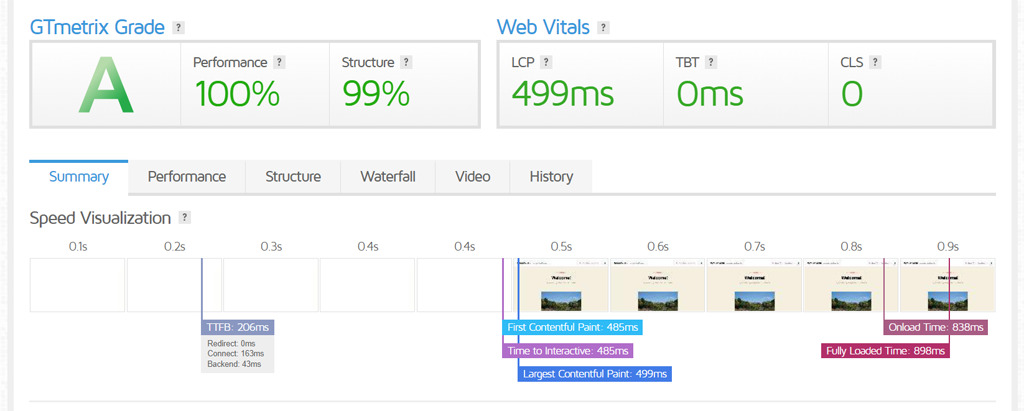 And remember, with Pressable you can choose your data center location:
Los Angeles, CA
Dallas, TX
Ashburn, VA
Amsterdam, NL
Automatic Website Backups
With Pressable, you get automatic data backups plus the ability for more backup and restore services via JetPack.
You can easily access your automatic backups from the Pressable control panel. You also have the option to perform restores from here as well. File system and database backups are stored separately for you to choose.
Currently, you can access data backups from the previous 16 days. I would prefer having at least the last 30 backups available (as some other hosts provide), and I would also like it if Pressable would include an on-demand backup option from within the control panel. Hopefully, these items will be added in the future. However, remember that you do also get JetPack for more data backup options.
Pressable's Website Staging
Quite honestly, website staging is my least favorite part of Pressable's web hosting. Currently, there isn't a way to simply make a copy of your live website into a staging site, make changes, and then copy it back to your live site.
With Pressable, you'll need to make a clone copy of your live website, make your updates and edits, convert your clone/staging copy to a different new live site, and then switch your domain from your old live site to the new live website. That's a bit too much work in my opinion. Hopefully, Pressable will better streamline their website staging process in the near future.
Pressable Website Security
When it comes to website security, Pressable does shine. Along with their malware scanning and threat monitoring, they also provide hack recovery assistance. And, you get free Let's Encrypt SSL certificates. Pressable's Auto SSL is one of the best I've experienced.
Customer Support
Pressable offers 24/7 live chat support. The initial response is an automated bot chat interface. The stated live response time is within 5 minutes. For me, it's usually been only about 1 or 2 minutes before a live support agent is on board.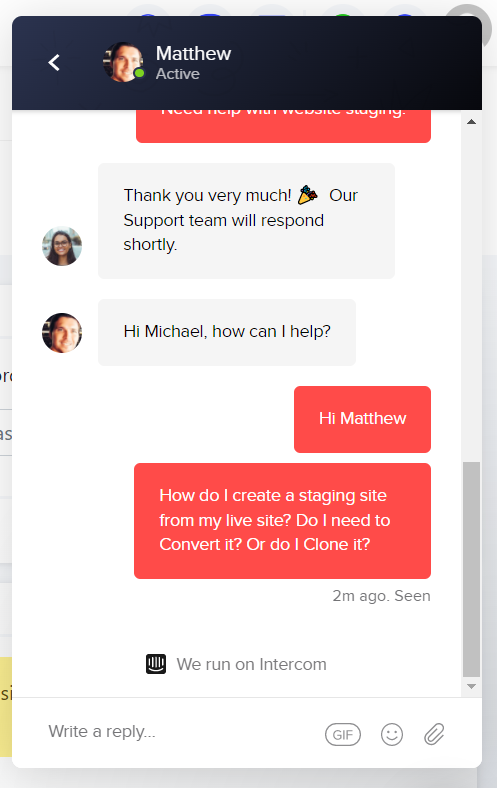 Overall, the Pressable support team does a good job and has been able to answer all my questions when I've needed help.
Recommendation
Pressable has continued to improve their WordPress hosting solutions and is a great choice if you need faster performing WordPress sites. Website provisioning time is excellent, their control panel interface is very easy to use, and you get great security features.
The one area where we would like to see improvements is with their website staging process. If you use staging a lot, then it could be an issue. Otherwise, Pressable is perfectly suited for all types of WordPress websites.