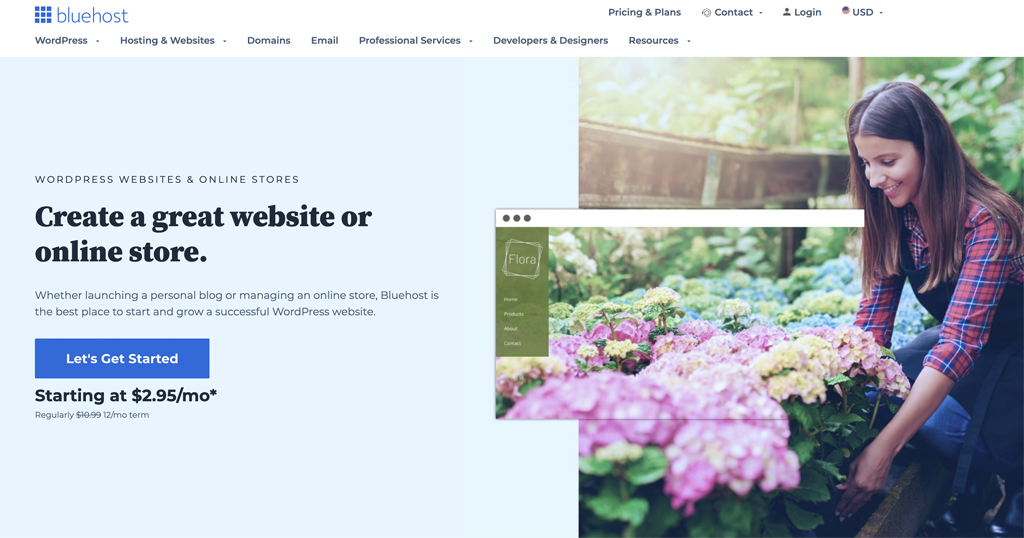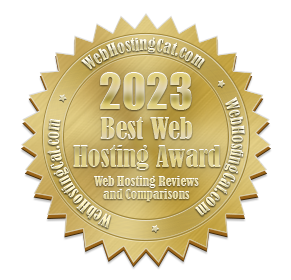 One of the reasons why I recommend a certain web host over another is if they are constantly upgrading and improving their hosting services. That's the case with Bluehost. Although they've been around for a long time and have been on the WordPress.org recommended list for years, they have recently added a bunch of features that WordPress bloggers will love. In fact, the improvements are so significant that it's time for an update on my
Bluehost Review
.
WordPress Recommended
As I mentioned, Bluehost has been recommended by WordPress.org for many years. However, they have really stepped things up the past year or so. I'm definitely very impressed by what they've done in both simplifying the WordPress site creation process for beginners, yet still including many premium features that experienced WordPress site owners can use to their benefit. Let's go over why Bluehost is now also on our recommendation list for WordPress hosting.
Signing Up and Creating Your WordPress Website
The sign up process at Bluehost is still very easy. But WordPress users get extra benefits now. Bluehost now automatically installs WordPress for you, and when signing up you can select the theme for your website.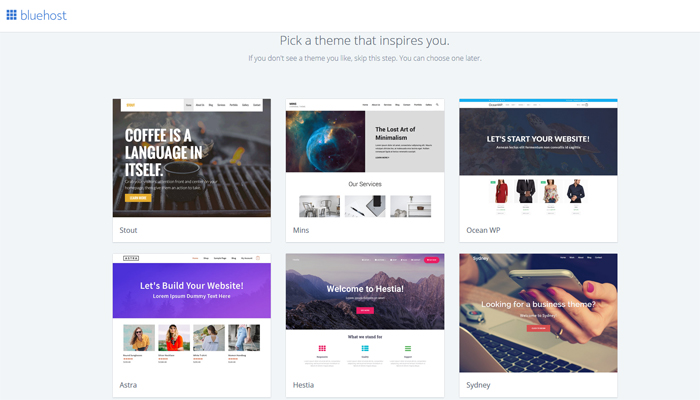 There are also guided links within your Bluehost WordPress dashboard that you can use to get started creating your site.
Customized Bluehost WordPress Dashboard
And speaking of the WordPress dashboard that Bluehost provides, it really is a winner. First, as I mentioned above, the WordPress dashboard with Bluehost contains a next steps guide with links that helps you create your website—great for beginners.


For more assistance, you can go to the Bluehost control panel. From here, you can launch your website, create posts and pages, create menus, customize your theme, manage your page caching and CDN functions, create email accounts, and more. Bluehost has done a great job here. I really like the layout of their customized control panel as it gives quick and easy access to all of your important WordPress website functions.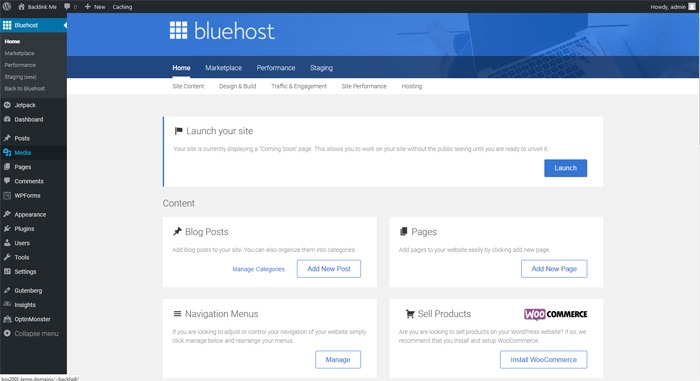 Bluehost cPanel Hosting
Bluehost has always done a great job in providing their customized version of cPanel. And their latest offering is again a nice clean look that is easy to use. cPanel is part of your Bluehost web hosting control panel that you see when you log in to your Bluehost account. Here you can access your websites, email, and domains, in addition to your cPanel functionality.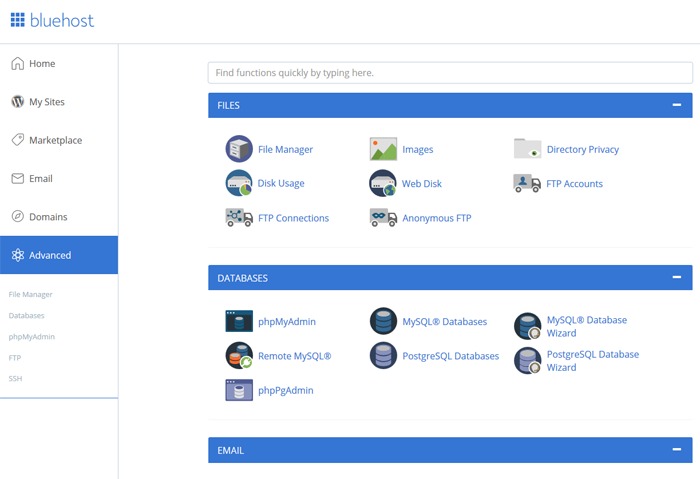 Bluehost WordPress Features
I've already touched on some of the great improvements Bluehost has made with their WordPress web hosting. Here are some of the most significant features you get with your Bluehost hosting plan.
Automatic Installation of WordPress
User Friendly Guided WordPress Site Creation
Customized WordPress Dashboard Interface
Performance Caching
Automatic WordPress Plugin and Theme Updates
Website Staging Included
Responsive Customer Support via Phone, Email, and Live Chat
Fast Website Provisioning
Free Let's Encrypt SSL
Free SiteLock CDN
The two items above that are really noteworthy to me are the automatic updating of plugins and themes, and the website staging. These features are usually found in more expensive managed hosting types of plans, so it's a great bonus to have them included with your Bluehost plan. At present time, be aware that the staging functionality is technically in beta mode, however it is currently available in your Bluehost dashboard.
Website Speed
WordPress website speed is another area where Bluehost has improved significantly. As you can see from my test results below, Bluehost provides fast performing websites across the U.S.

Bluehost also provides advanced caching and SiteLock CDN for even better webpage loading times. However, be aware that if you use https (which of course you should) there are possible conflicts with the SiteLock CDN.
Vastly Improved Customer Support Response Times
I have to be honest here. One of the most disappointing parts of Bluehost in the past was their customer support. While the support agents were definitely helpful, response times (especially with live chat) were pretty bad. However, I'm pleased to say that Bluehost has vastly improved their customer support response times. In fact, they are definitely at or near the top of the list when it comes to responding via live chat. After purchasing my Bluehost account, I contacted support a number of different times and they always responded in about 4 seconds or less!
How Does Bluehost Compare with Other Web Hosts?
Bluehost vs A2 Hosting
This comparison between A2 Hosting and Bluehost isn't quite as close as it once was. Both of these web hosts provide excellent cPanel web hosting plans…
Bluehost vs GoDaddy
Bluehost and GoDaddy are definitely two of the most established and best known web hosts in the industry. Which one should you choose…
Bluehost vs GreenGeeks
GreenGeeks and Bluehost both provide effective cPanel web hosting with their Shared Hosting plans. While Bluehost now offers three different levels of Shared Hosting, GreenGeeks has one all-inclusive hosting plan that features unlimited resources…
Bluehost vs HostGator
The web hosting by these two is not the same—contrary to what many believe. Let's see how Bluehost and HostGator match up…
Bluehost vs InMotion
These are two excellent, well-established web hosting providers. Both InMotion and Bluehost offer great Shared, VPS, and Dedicated hosting…
Bluehost vs InterServer
If you're trying to decide between Bluehost and InterServer, you may be surprised by our results. I currently use both of these web hosting companies…
Bluehost vs iPage
Both iPage and Bluehost offer Shared, VPS, and Dedicated hosting plans. This web hosting comparison focuses on shared hosting…
Bluehost vs Jaguar PC
In this comparison we take a look at how Jaguar PC compares with Bluehost. Bluehost is one of the better known web hosting companies and is also on the WordPress.org recommendation list…
Bluehost vs SiteGround
SiteGround and Bluehost have many similarities within their web hosting offerings. SiteGround's and Bluehost's hosting plans are also very affordable…
Bluehost vs Web Hosting Hub
Performance wise, both Web Hosting Hub and Bluehost have proved to be good choices and I've had successful sites hosted with both Web Hosting Hub and Bluehost…
Bluehost vs WP Engine
While WP Engine focuses solely on managed WordPress hosting, Bluehost offers a wide variety of hosting services. Therefore, this comparison is based specifically on Bluehost's WordPress optimized hosting versus WP Engine…
Recommendation
I'm happy to report that Bluehost has made some excellent improvements to their web hosting—especially for WordPress users. The WordPress hosting features, website speed, and customer support have all been upgraded so that I definitely recommend you consider Bluehost for your WordPress hosting. Bluehost is now on the recommendation list for both WordPress.org and WebHostingCat.com.