Once you purchase your web hosting and start going about the process of building and growing your website, you'll find yourself spending quite a bit of time working in your web hosting control panel. Your control panel is the place where you can install applications, set up email accounts and domains, backup your data, access your hosting account information, as well as many other website related tasks.
> Try Our #1 Recommended cPanel Host
You basically have three choices when it comes to web hosting control panels: cPanel, a similar graphical interface, or a text based control panel. cPanel is our favorite web hosting control panel interface. And because of its popularity, more and more web hosts are including cPanel with their hosting plans. Here, let's take a closer look at the best cPanel hosting options.
What is cPanel?
cPanel is your control panel interface where you can access features for your web files, email, databases, software applications, and more. Your cPanel screen will also provide you with important details about your web hosting account (IP address, domain and subdomain usage, email accounts, etc.)
Is cPanel Worth It?
With cPanel, you get a graphical based interface that lets you easily access your website functions. The graphics and grouping of functions is very intuitive and makes working with your website easier. And, cPanel gives you access to some great website applications and functionality.
For example:
File Manager



With the File Manager, you can easily access and work with your website's files. Whether you need to upload, download, edit, or delete files, File Manager lets you perform all of these tasks. You can also create compressed archives of your files for backup.
Webalizer



cPanel usually provides you with multiple ways of accessing and viewing your web stats. I like using Webalizer the best. With Webalizer, you get nice graphical and statistical representations of your website's data.
phpMyAdmin



If you use a content management system for your website, such as WordPress or Joomla, you'll often need to access your databases. phpMyAdmin allows you to access your MySQL databases. You can use phpMyAdmin to export and import databases in addition to performing database queries.
Email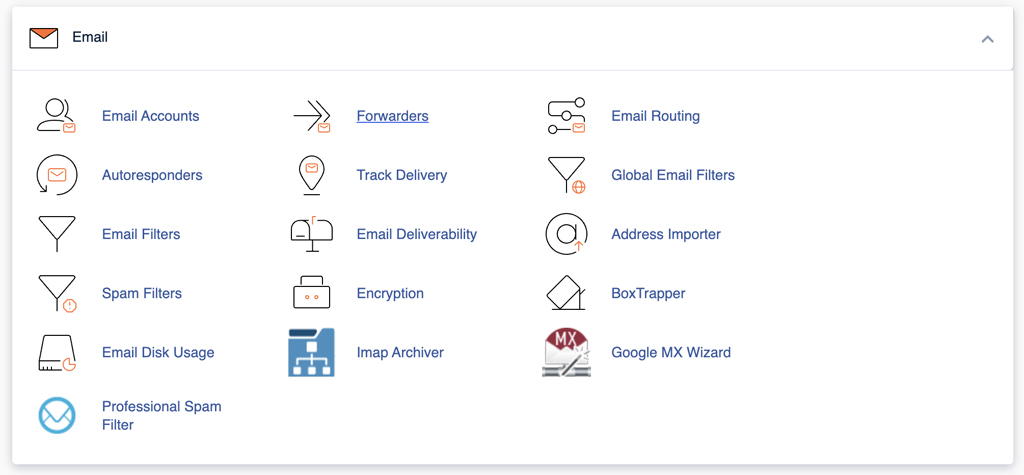 When you need to create email accounts or perform other email functions, you can get quick access via the icons in the Email grouping in cPanel. Here, you can also launch SpamAssassin to reduce the amount of unwanted emails cluttering up your inbox.
Softaculous



One of the best features of cPanel is the inclusion of Softaculous. Softaculous gives you one-click installation capability for up to hundreds of software applications for your website. With Softaculous, you can install WordPress, Joomla, Drupal, eCommerce applications, and a bunch more web applications.
cPanel Security Tools
Are you looking for some extra protection for your website? If you have a cPanel web hosting plan, there are a number of tools available to you for securing your site and online presence. If your web hosting company does not use cPanel, you probably still have these types of tools available; you'll just need to access them in a different manner. If you do have cPanel, when you login you can scroll down to the Security section to access these tools.


Two-Factor Authentication
With Two-factor authentication, you can require two forms of ID to access your account. You'll need a password and security code. The code is supplied via an app on your smartphone.


SSL
cPanel also lets you check on the status of your SSL certificates and to run AutoSSL to issue new certificates on your domains.


IP Blocker
With the IP Blocker in cPanel, you can prevent access to your websites. You can enter a specific IP address or a range of addresses.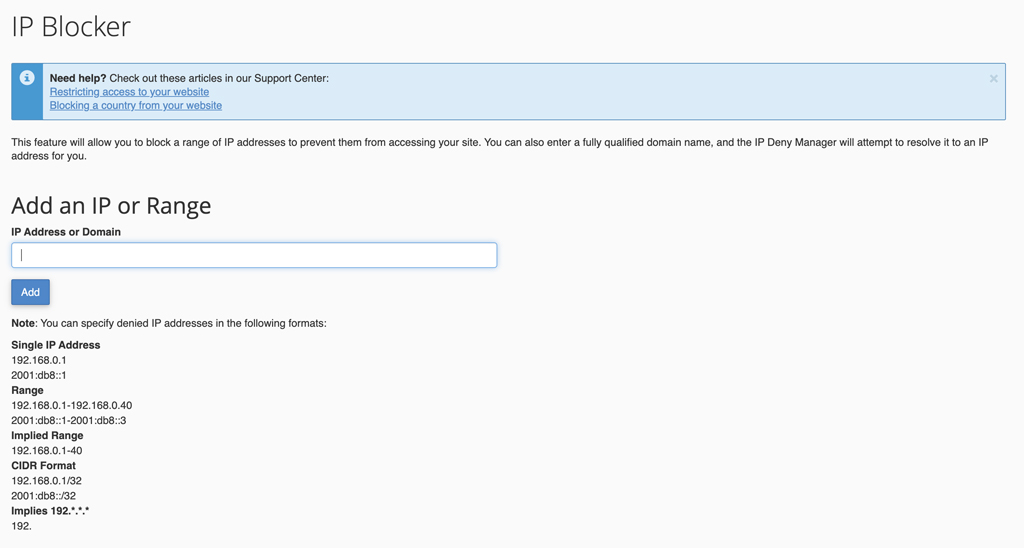 Leech Protect
If you've password protected a certain area of your website, Leech Protect can prevent multiple logins from the same password. So, if someone has given out the password to others or it has been compromised, cPanel will disable the account and notify you via email.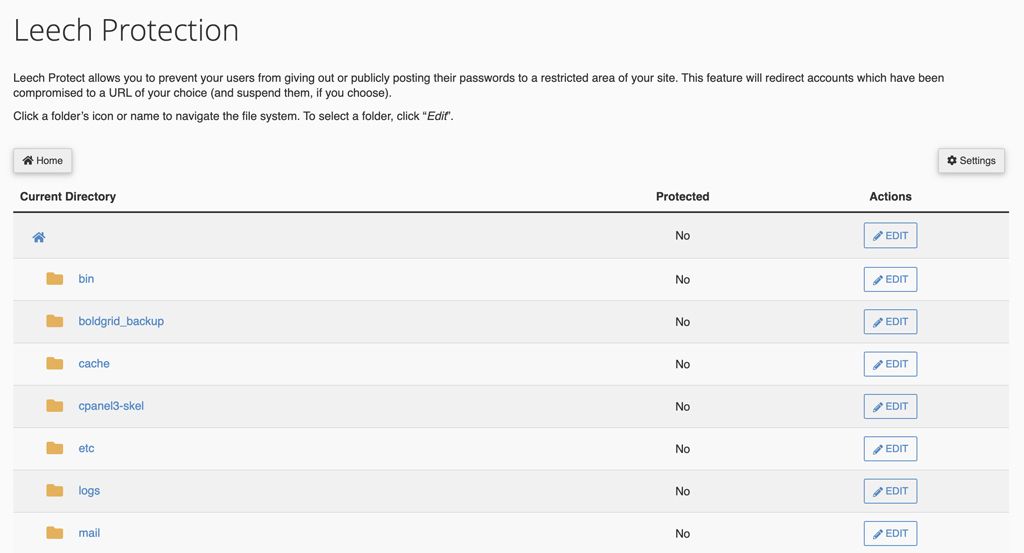 Which Hosting has cPanel? (Recommendations)
Our cPanel hosting recommendations are based on a combination of the web hosting company's implementation of cPanel and their overall web hosting performance. Most hosting companies will customize cPanel somewhat, and we like all of the following web host's implementations of it.

InMotion Hosting is again on our list of best cPanel web hosting providers. With InMotion, you can access cPanel through their Account Management Panel (AMP). InMotion's cPanel displays your website data on the left column and your function icons on the right. I really like that they include a direct link to their support center and live chat at the very top of their cPanel. It makes it very convenient should you need assistance.
Along with their handy cPanel implementation, InMotion Hosting provides outstanding web hosting. I've enjoyed excellent website performance together with their top notch customer support. Your web hosting plan at InMotion includes their top quality business hardware including solid state drives, Max Speed Zone Technology for faster website performance, a full 90 day money back guarantee, and many more business hosting features.
Click Here to Read our Detailed Review of InMotion Hosting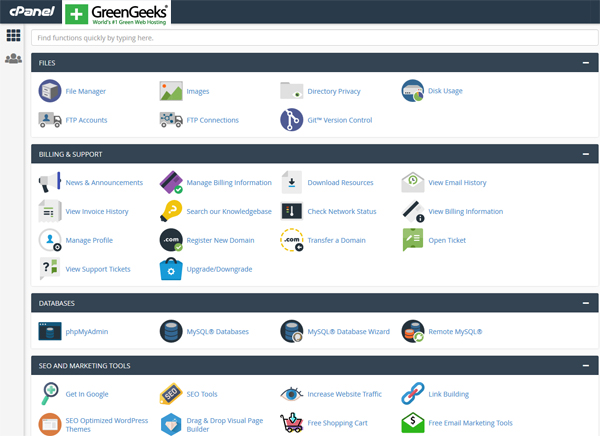 While GreenGeeks may be primarily known as the most eco-friendly web host, they're not only great for green web hosting, but they're also one of the best cPanel hosting providers. GreenGeeks Account Manager Dashboard offers super quick and easy access to your cPanel.
And GreenGeeks cPanel interface not only provides easy access to your website functionality, you can also easily access the Sitepad website builder themes.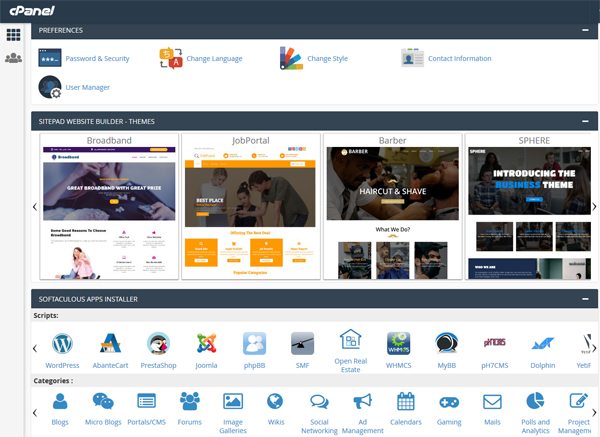 GreenGeeks cPanel also gives you access to easy one-click installation for apps like WordPress, Joomla, PrestaShop, etc. All of GreenGeeks' cPanel hosting plans provide unlimited disk space and bandwidth. And, you can host an unlimited amount of websites. You also get a free domain, free Wildcard SSL, and free Cloudflare CDN. What's also great about GreenGeeks is that you can choose a low cost starter plan at only $2.95 mo., or you can opt for the Pro or Premium level hosting plans that include GreenGeeks PowerCacher technology and faster computing resources to really speed up your websites.
Click Here to Read our Detailed Review of GreenGeeks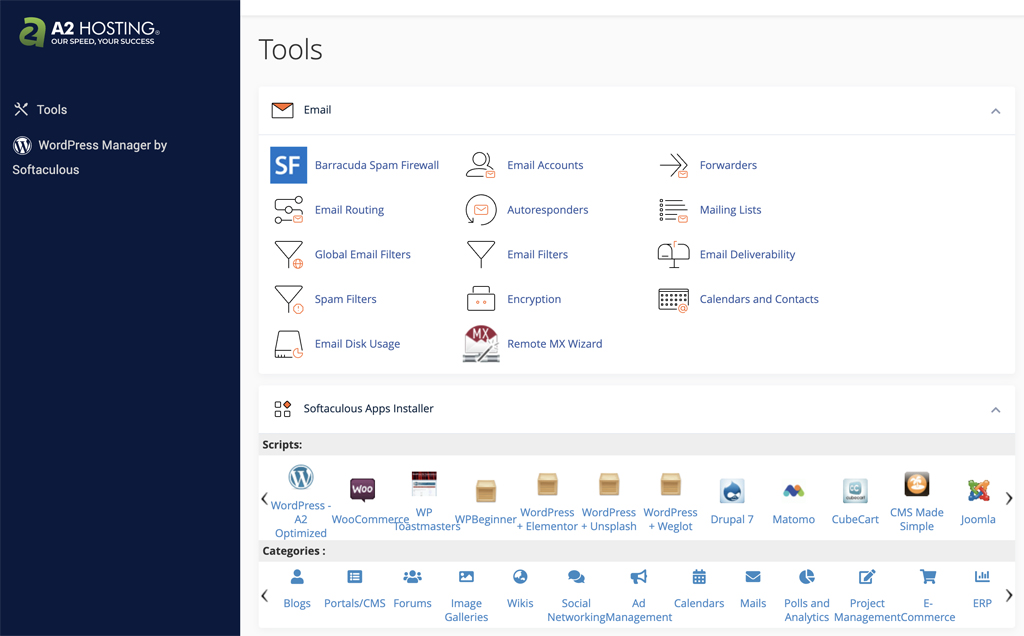 A2 Hosting is definitely one of the best choices for cPanel Hosting. With their cPanel interface, you can easily access the outstanding features that are included with your A2 Hosting plan. From A2 Hosting's cPanel, you get one-click access to A2 Optimized Configuration, Server Rewind Backups, as well as all the other standard functions that come with cPanel. You can access your A2 Hosting cPanel separately, or from your A2 Hosting client area.
Speeding up your website is also made easier with quick access to the A2 Optimization page.


Click Here to Read our Detailed Review of A2 Hosting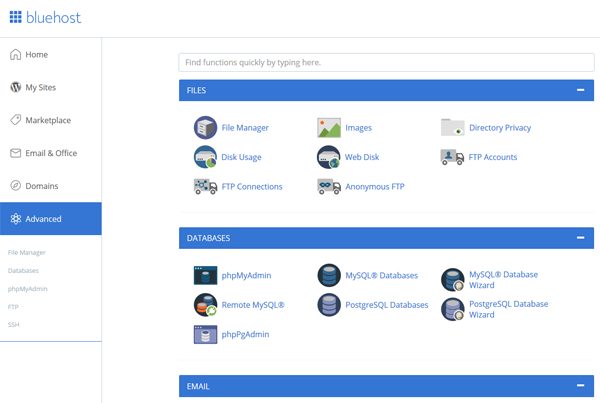 Bluehost offers quality shared hosting among their many services. And, Bluehost is another top web hosting company that utilizes cPanel. In addition to their customized cPanel, with Bluehost you also get a customized WordPress dashboard. In fact, Bluehost is one of the best choices for new WordPress users as they also provide guided help in creating your first WordPress site as well as links to all of your important WordPress functionality.
Click Here to Read our Detailed Review of Bluehost
Which is the best cPanel for WordPress?
All of our cPanel hosting recommendations below are excellent choices for WordPress websites. Experienced users will benefit the most from InMotion Hosting, GreenGeeks, and A2 Hosting. WordPress newbies will appreciate Bluehost with their customized cPanel and WordPress dashboards geared more towards beginners. With respect to cPanel and WordPress, my top two choices are InMotion Hosting and GreenGeeks.
cPanel Hosting Comparison
cPanel continues to be my preferred web hosting interface and I would definitely recommend you consider a cPanel hosting plan.