SiteGround and GoDaddy both offer a wide variety of web hosting services. They have hosting plans that are suited for experienced and less experienced webmasters. You can choose from three levels of shared hosting at both SiteGround and GoDaddy.
These two web hosts both provide cPanel as your interface along with the ability to host unlimited websites with their mid and top level plans. There are advantages with certain features depending on which host you choose. For example, GoDaddy provides unlimited disk space while SiteGround's is capped. However, SiteGround offers unlimited emails and GoDaddy caps your email storage.
Video: SiteGround vs GoDaddy
Check out our video for a quick overview of SiteGround vs GoDaddy.
SiteGround vs GoDaddy: Website Builders
SiteGround includes cPanel/Softaculous applications you can install and use. Currently, they don't have their own separate website builder like some other web hosts. By contrast, GoDaddy is now heavily promoting their GoCentral website builder. GoCentral includes your hosting in addition to your site builder. GoDaddy promotes the product as allowing you to build a better website in under an hour. In my testing, I can concur that creating a site with GoCentral is indeed easy and quick. So when it comes to website builders, GoDaddy has the advantage.
SiteGround vs GoDaddy: WordPress
While SiteGround doesn't currently have their own separate website builder, when it comes to content management systems—particularly WordPress—they are one of the best. SiteGround is on the WordPress.org recommended list. And with SiteGround, you get premium managed WordPress hosting features at a lower cost than other well-known managed WordPress hosts.
The outstanding features you get with SiteGround's WordPress hosting include their SuperCacher technology for faster websites, automatic updates—including plugins, automated daily backups, Cloudflare CDN, and website staging with their GoGeek plan. Through our separate testing, and from my own personal experience as a SiteGround customer, WordPress website speed is among the best there is.


| | SiteGround | GoDaddy |
| --- | --- | --- |
| Preinstallation | | |
| Auto Updates | | |
| Auto Data Backups | | |
| On Demand Backup and Restore | | |
| Website Staging | | |
| Optimized Caching | | |
| WordPress Security | | |
| Managed WordPress Available? | | |
GoDaddy offers WordPress hosting among the many products and services they offer. And while their WordPress products are not bad, SiteGround is definitely the winner in this category.
SiteGround vs GoDaddy: eCommerce
You can build a quality eCommerce site with both SiteGround and GoDaddy. And in fact, there are multiple ways at both places that you can build your eCommerce site. With SiteGround, you have access to many website applications (including eCommerce) through cPanel. And, if you use WordPress, then you can easily have your WooCommerce site hosted there.
GoDaddy also offers many ways to create your online store. The easiest way is to use their GoCentral website builder and add eCommerce functionality via the GoCentral sections. Of course with so many other hosting packages, you can also choose a different method to build your store.
The winner in this category depends on your choice of platform. If you're a WordPress/WooCommerce user, then go with SiteGround. If you're looking for the easy way to create an eCommerce site, then choose GoDaddy.
SiteGround vs GoDaddy: Differences
Advantages of SiteGround over GoDaddy:
WordPress.org Recommended
Includes Managed Hosting Features
Superior Customer Support
SuperCacher Technology for Faster Speed
Includes WordPress Starter for Faster Site Creation
Automated Daily Backups
Advantages of GoDaddy over SiteGround:
Superior Domain Name Management
More Web Hosting Options
SiteGround vs GoDaddy Details

| Category | SiteGround | GoDaddy | Comments |
| --- | --- | --- | --- |
| Data Centers | | | SiteGround has 5 data centers on 3 different continents. |
| Server Hardware | | | NGINX Server Technology with Solid State Drives (SSDs) |
| Network | | | High Availability Network with Redundant Electrical Systems |
| Account Sign Up/Provision | | | 3 Clicks to Setup a New Website |
| Control Panel | | | SiteGround's account interface provides access to cPanel. |
| Speed and Performance | | | 99.99% Uptime |
| Security | | | Free Let's Encrypt SSL |
| Data Backup | | | SiteGround Provides Automatic Daily Backup and 30 Copies Available for Restore |
| Developer Tools | | | SiteGround is currently supporting PHP 8.0 |
| WordPress | | | SiteGround provides managed hosting features including automatic updates, data backup, and SuperCacher for added speed. |
| Website Applications | | | SiteGround provides 400+ applications via cPanel |
| Customer Support Response Time | | | See Results Below |
| Customer Support Issue Resolution | | | |
| Money Back Guarantee | | | 30 Days |
| Price/Value | | | $3.95 – $14.95 mo. |
SiteGround vs GoDaddy: Website Speed
While GoDaddy has improved their website speed, SiteGround still consistently posts faster speed results in our testing. My personal experience using both hosts also concurs with the test results. For website speed, SiteGround is the winner.
See some sample test results from GTmetrix below: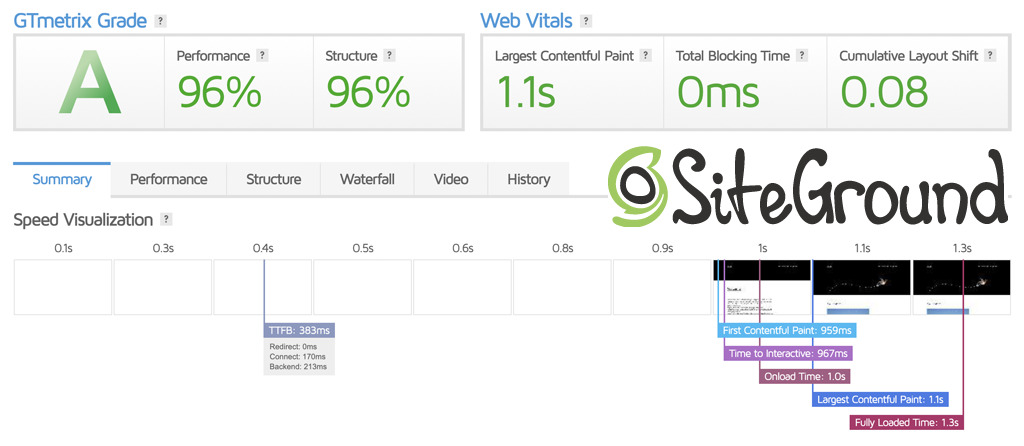 Customer Support Test Results
Currently, I am using both SiteGround and GoDaddy. Performance has been equally good at both places. However, SiteGround is the clear winner in the customer support area. SiteGround's live chat support is available 24/7 and their support agents are always helpful and courteous. On the other hand, GoDaddy's chat support is sometime unavailable and the support staff somewhat inconsistent as far as responsiveness.
| Web Host | Morning | Afternoon | Night |
| --- | --- | --- | --- |
| SiteGround | 15.8 sec. | 11.9 sec. | 15.7 sec. |
| GoDaddy | N/A | 1 min. 12 sec. | N/A |
If you plan to have quite a few websites online and are going to use GoDaddy as your domain registrar, it would certainly be convenient to also utilize them for web hosting—thereby having one place for managing domain names and your hosting plan. On the other hand, SiteGround does offer some premium features that advanced website owners may prefer including their SuperCacher, CloudFlare CDN, and Git & Staging.
How Does SiteGround Compare with Other Web Hosts?
SiteGround vs A2 Hosting
Comparing A2 Hosting and SiteGround is an extremely close call. They both provide many unique features that provide outstanding web hosting performance…
SiteGround vs Bluehost
SiteGround and Bluehost have many similarities within their web hosting offerings. SiteGround's and Bluehost's hosting plans are also very affordable…
SiteGround vs DreamHost
SiteGround and DreamHost both offer many different types of web hosting plans. This particular comparison will look at each of their Shared Hosting plans…
SiteGround vs GreenGeeks
GreenGeeks and SiteGround are two excellent web hosting companies. I use both of these web hosts and have had great experiences with each one…
SiteGround vs HostGator
SiteGround and HostGator both offer a similar lineup of web hosting plans. I've been a customer of both companies, so I've got first-hand experience using their services…
SiteGround vs InMotion Hosting
SiteGround and InMotion Hosting are two of the best web hosts you can find. As a customer of both of these web hosting companies, I've experienced first-hand excellent service and outstanding support…
SiteGround vs InterServer
Here's our comparison of two impressive web hosts that are both great for multi-website hosting. I personally use both SiteGround and InterServer, so I can give you a first-hand account of the advantages both have to offer…
SiteGround vs iPage
SiteGround and iPage both offer many different web hosting plans and services. In this comparison, we take a look at how their Shared Hosting Plans stack up against each other…
SiteGround vs Jaguar PC
In this comparison we take a look at how SiteGround compares with Jaguar PC. These two web hosts are equally positioned for the same audience…
SiteGround vs Liquid Web
How does SiteGround compare with Liquid Web? In this comparison of SiteGround vs Liquid Web, we see how well a more budget priced WordPress hosting option matches up with one of the top premium managed WordPress hosting solutions…
SiteGround vs Namecheap
While SiteGround and Namecheap both provide great web hosting plans (I use both), they're definitely suited for different types of website owners…
SiteGround vs Wix
This comparison between a traditional web hosting plan and a website builder package takes a look at SiteGround's Managed Hosting plans versus Wix's website builder plans…
SiteGround vs WP Engine
For managed WordPress hosting, these are two of the best choices available. So, let's see which one is better suited for you…
How Does GoDaddy Compare with Other Web Hosts?
GoDaddy vs A2 Hosting
While GoDaddy offers many products and services (including domain name management), this comparison focuses completely on the web hosting plans offered by A2 Hosting and GoDaddy…
GoDaddy vs Bluehost
Bluehost and GoDaddy are definitely two of the most established and best known web hosts in the industry. Which one should you choose for hosting your websites? Here is our comparison of Bluehost vs GoDaddy that includes…
GoDaddy vs GreenGeeks
Can GreenGeeks web hosting compete with the big dog GoDaddy? Here's our comparison between these two web hosts…
GoDaddy vs InMotion
How does GoDaddy's Hosting Plan compare with a Business Hosting plan from a company like InMotion Hosting? If you're trying to decide, here are some things to keep in mind.
GoDaddy vs InterServer
GoDaddy is certainly much better known than InterServer. But how do their web hosting plans really compare…
GoDaddy vs iPage
These are probably not the easiest two web hosts to compare. While iPage offers a single type of hosting plan, GoDaddy offers many different options…
GoDaddy vs Jaguar PC
In this comparison we take a look at how Jaguar PC compares with GoDaddy. How does Jaguar PC match up against the big player GoDaddy…
GoDaddy vs Web Hosting Hub
This comparison between Web Hosting Hub and GoDaddy will be particularly interesting to bloggers…
GoDaddy vs WP Engine
WP Engine has been the hosting choice for many members of the WordPress community for some time now. Let's see how these new hosting plans stack up against WP Engine's fully managed plan…
Recommendation
For most websites, in this comparison we would recommend SiteGround. See our SiteGround review ratings below: