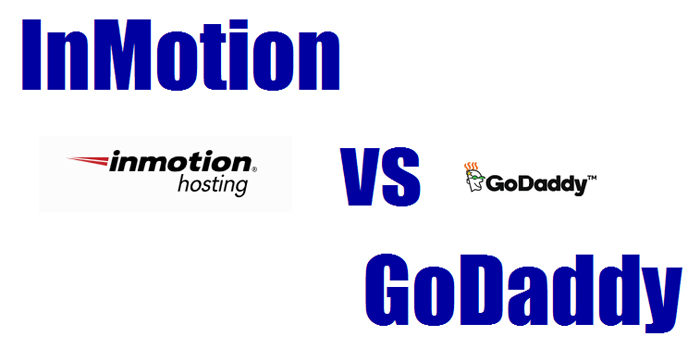 InMotion Hosting remains our preferred choice over GoDaddy when it comes to web hosting—particularly for business websites. InMotion continues to provide better access to their customer support–including 24/7 support via live chat as well as Skype access. They also have better support response times and have more consistently provided excellent results. InMotion has also demonstrated that they provide top quality hardware and data center operations, while GoDaddy does not provide detailed information on these features.
GoDaddy is probably the biggest name in domain names and web hosting. They offer quite a few hosting options in addition to their domain name services. But, how does their business web hosting rate? For example, how does GoDaddy's Ultimate Hosting Plan compare with a Business Hosting plan from a company like InMotion Hosting? If you're trying to decide, here are some things to keep in mind.
GoDaddy's Ultimate plan does provide you with unlimited bandwidth, disk space, databases, and the ability to host unlimited websites—which is very nice. You also receive their premium DNS as well as an SSL certificate. And, in case you aren't aware, GoDaddy now includes cPanel as your control panel interface. You also have the option to choose Windows hosting where you get the Parallels Plesk panel.
The above features are certainly pluses, but now let's see if a specific business hosting plan from InMotion Hosting can better benefit business websites. In the past, GoDaddy's website speed hasn't always been the best. By contrast, InMotion Hosting's Max Speed Zone technology has been very beneficial for me. Some other very important features you get with InMotion are free data backups, business-class hardware, and a 90 day money back guarantee. A couple of other advantages with InMotion Hosting are that you get 24/7 live chat support, and you can have WordPress or Joomla preinstalled.
GoDaddy vs InMotion Details

| Category | GoDaddy | InMotion | Comments |
| --- | --- | --- | --- |
| Data Centers | | | InMotion has data centers on both U.S. coasts. |
| Server Hardware | | | Business Class Hardware with Free Solid State Drives (SSDs) |
| Network | | | With InMotion you get their Max Speed Zone Technology. |
| Account Sign Up/Provision | | | WordPress, Joomla, or PrestaShop Pre-Installed |
| Control Panel | | | InMotion's Account Management Panel (AMP) is very convenient and offer direct access to cPanel. |
| Speed and Performance | | | See Results Below |
| Security | | | Free SSL, Hack Protection, and DDoS Mitigation |
| Data Backup | | | InMotion provides free daily backups and will restore your data for free once every 4 months. |
| Developer Tools | | | Currently supporting PHP 7.2 |
| WordPress | | | InMotion will pre-install WordPress for you. You also get the BoldGrid WordPress website builder. |
| Website Applications | | | InMotion provides 400+ applications via cPanel as well as BoldGrid. |
| Advertising Credits | | | $250 Total (Google, Bing, Yahoo) |
| Customer Support Response Time | | | Normally around 10 sec. or less |
| Customer Support Issue Resolution | | | |
| Money Back Guarantee | | | Full 90 Day Money Back Guarantee |
| Price/Value | | | $3.49 – $7.49 mo. |
Website Speed Comparison
In our speed testing, InMotion Hosting was faster than GoDaddy in most cases.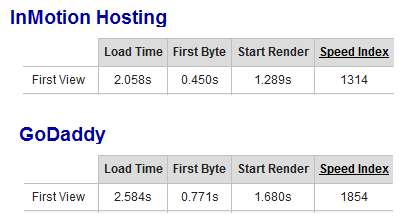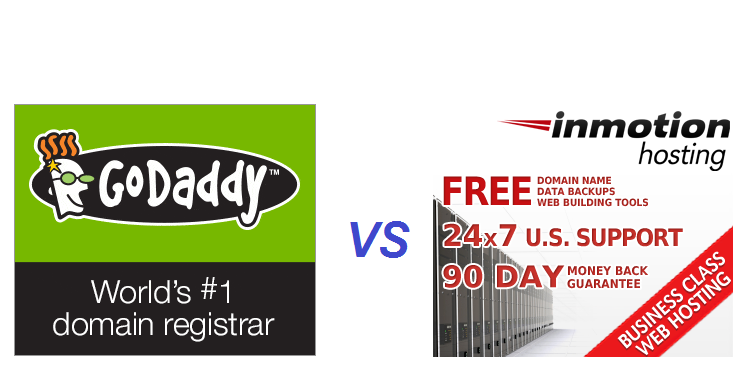 While GoDaddy's Ultimate Plan has some nice features, it may be better suited for other situations than business web hosting. They do have other options such as managed web hosting. If however you're specifically looking for business website hosting, InMotion Hosting looks to be the optimal choice. See below for more information to consider when comparing these two web hosting companies.

GoDaddy
Started Business: 1997
BBB Rating: A+
Data Center Location: N/A
Price: $7.99 mo.
Unlimited Bandwidth: Yes
Unlimited Storage: Yes
Unlimited Email: Yes (Ultimate Plan only)
Host Multiple Domains: Yes
Hosting Interface: cPanel or Plesk
Server Uptime: 99.9%
Full Refund Period: 30 Days
Dedicated Hosting Available: Yes
Free Extras:
Premium DNS
SSL Certificate
Advantages of Choosing GoDaddy:
Very convenient to use their domain name registration services combined with their hosting.
Your site on Go Daddy can be mobile ready.
Choose between Linux or Windows operating system.
Go Daddy is one of the largest and well-known web hosts.
You can access your account on Go Daddy's mobile app.
Go Daddy's website has been streamlined and now offers easier access to account information.

InMotion Hosting
Started Business: 2001
BBB Rating: A+
Data Center Locations: Los Angeles, CA and Washington, D.C.
Price: $3.49 mo. – $7.49 mo.
Unlimited Bandwidth: Yes
Unlimited Storage: Yes
Unlimited Email: Yes
Host Multiple Domains: Yes
Hosting Interface: cPanel
Server Uptime: 99.99%
Full Refund Period: 90 Days
Dedicated Hosting Available: Yes
Free Extras:
Solid State Drives (SSDs)
Free SSL Certificates
Free data restore once every four months
$75 – $100 Google Adwords Credit
Premium Website Builder
Advantages of Choosing InMotion:
InMotion utilizes their Max Speed Zones for faster performance.
Solid State Drives included for better speed.
No charge to restore your data from their backups once every four months.
Preinstallation of WordPress, Joomla, or PrestaShop.
Free Comodo cPanel SSL
BoldGrid Website Builder
Malware Protection
cPanel interface with easy 1 click software installs using Softaculous.
They offer phone, email, and chat support.
You get a separate Account Management Panel for your account and billing issues.
Fast live chat customer support responses.
You get over 400 applications to use for your websites.
Recommendation
For most websites, in this comparison we would recommend InMotion Hosting. See our InMotion Hosting review ratings below: