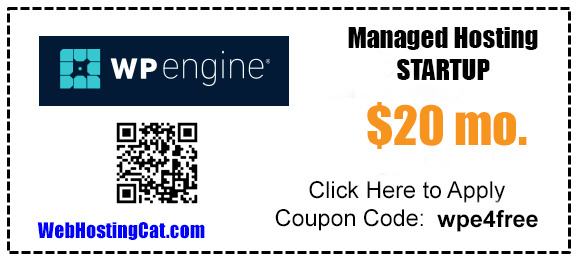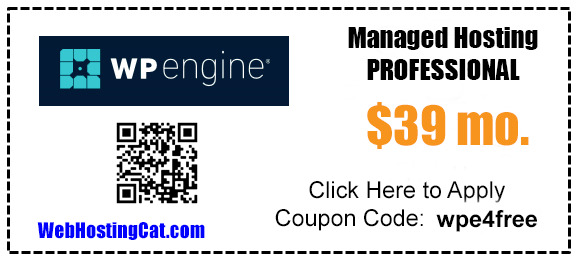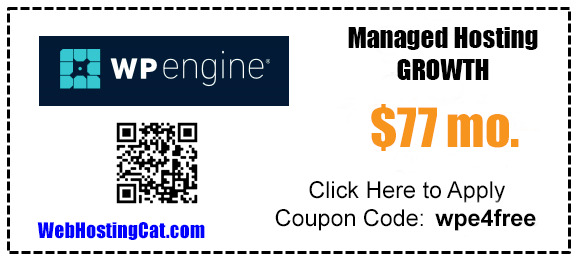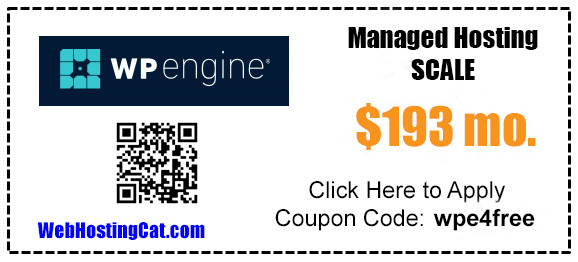 Here are some exclusive outstanding WP Engine Coupons! Choose your Managed WordPress Hosting plan and save from $120 to $1160. WP Engine continues to be the industry leader when it comes to exclusive WordPress hosting. And, their hosting plans are even better now. Their Startup plan is now more affordable and their Growth and Scale plans allow you to host more websites.
Redeem Your Coupon Code for WP Engine
To get your discount at WP Engine, click on the coupon above and select your Managed WordPress hosting plan.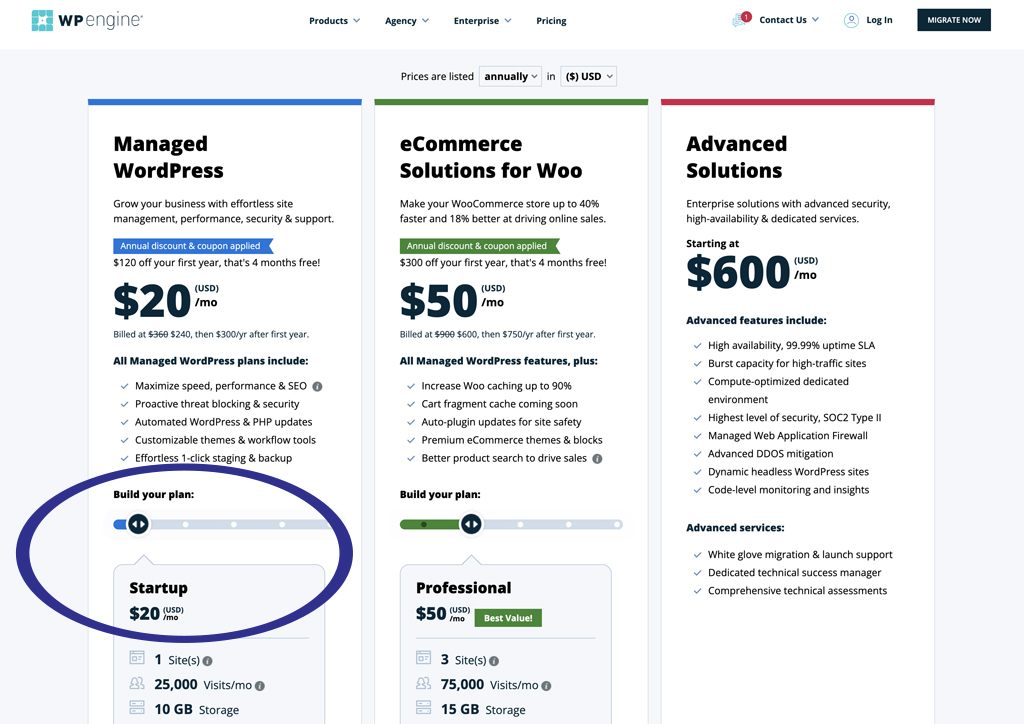 Your coupon code discount will automatically be applied at checkout.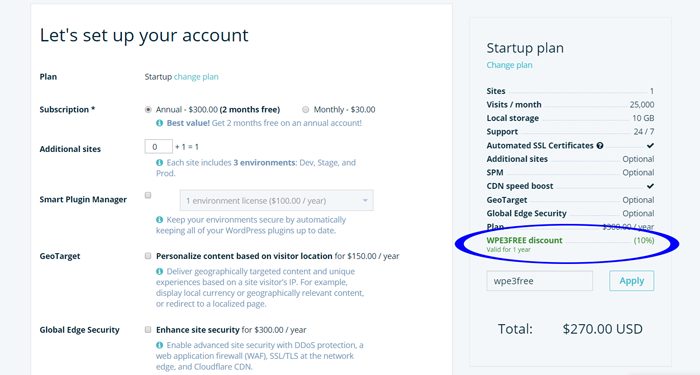 WP Engine Pricing for Managed WordPress Hosting
Normal pricing for WP Engine's Managed WordPress Hosting is $30 mo. for their Startup Plan (1 website), $115 mo. for their Growth Plan (10 websites), and $290 mo. for their Scale Plan (30 websites). With this discount, your cost is only $20 mo. for the Startup Plan, $39 mo. for the Professional Plan, $77 mo. for the Growth Plan, and $193 mo. for the Scale Plan. With annual prepayment, you get 4 months free.
Custom plans are also available for larger or enterprise solutions.
What Makes WP Engine Special?
Because WP Engine focuses solely on WordPress Hosting, their entire infrastructure is optimized for WordPress. And, their support team is able to provide expert support on WordPress issue related to your websites.
Some of WP Engine's core features that have them above other WordPress hosts are:
Auto Migration Plugin
Evercache Technology for faster page loading without the need for additional plugins
One-Click Staging
Development, Staging, and Production Environments
Automated and Snapshot Data Backups
Data Centers Across the Globe
Page Speed Performance Tool Included
Free CDN and Automated SSL Certificates
Over the years, WP Engine has consistently made improvements and implemented technologies that make your websites run faster. Also, they are continually striving to include premium features that benefit both WordPress website owners and WordPress agencies and consultants. (See Below)
WP Engine Latest Improvements
Some of the improvements WP Engine has made to their hosting plans include:
Transferable Installs and Billing Transfer for WordPress developers and consultants
Free StudioPress Themes and Genesis Framework
Two-Factor Authentication for better security
Partnership with Google Cloud Platform for faster websites
Best Managed WordPress Hosting
And, WP Engine has consistently rated at the top of our Best Managed WordPress Hosting study each year. Take a look at how WP Engine compares with the competition here.
WP Engine in 2022
WP Engine continues to be our top choice for premium Managed WordPress Hosting in 2022! This year, they are again hosting our website here. WP Engine offers us the best combination of features, performance, and expert customer support.
Every WP Engine hosting plan includes:
24/7 Expert Live Chat Support
Free Premium WordPress Themes
Optimized WordPress Caching
Daily and On-Demand Data Backups
Website Staging
Development, Staging, and Production Environments
Integrated CDN
Pro-Active Security
Free SSL Certificates
Automatic Updates
WP Engine Review
For more detailed information on WP Engine, see my WP Engine Review.