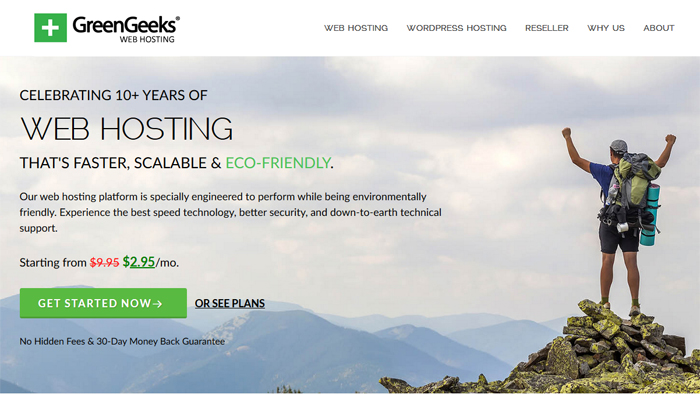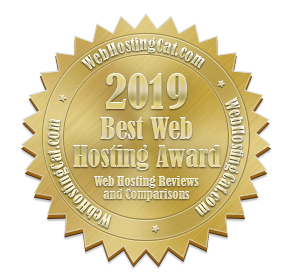 When it comes to Green Web Hosting, GreenGeeks is second to none. Powered by 300% Renewable Energy, this Southern, CA, based web hosting company deserves serious consideration by those looking for a quality shared hosting plan. If you've been searching for honest
GreenGeeks Reviews
, here is my review based on my experiences as a GreenGeeks customer.
GreenGeeks Hosting Plans
GreenGeeks has now not only revamped their Shared Hosting platform, but they have also expanded their hosting lineup. Previously, they offered one all-inclusive hosting plan. Now, they have joined most other web hosts in having three different levels of Shared Web Hosting plans. There are pros and cons to the new structure.



On the plus side, you can now get their hosting for only $2.95 mo. On the other hand, the entry level hosting plan does not include some of the features of GreenGeeks' revamped hosting platform. For example, if you want their Powercache technology or increased performance power, you'll need to get either their Pro or Premium hosting plan.
For most new and personal website owners, the Starter entry level plan is more than sufficient. And, with the new lower entry level price, it's a great plan to start off with. You can always upgrade later if you need to.
GreenGeeks Features
We're very impressed with what is included with GreenGeeks hosting plan. In addition to unlimited web space and data transfer, here are some features you get that you normally have to pay more for at other places:
Host Unlimited Domains
Free Domain Name for the Life of your Account
Free Website Migration
Free Data Backup and Free Data Restore (once per month)
Free SEO and Marketing Tools
New Revamped Hosting Platform
GreenGeeks is even better now! In 2017, GreenGeeks released their new revamped shared hosting platform. The results show substantial improvements in speed and security. First off, they now provide scalable computing resources, meaning if you need more hosting power, you don't have to upgrade to a more expensive VPS hosting plan. Some of the other improvements in speed technology include LiteSpeed Web Servers, MariaDB Database Servers, and most impressive, their new Powercache Technology.
On the security side, GreenGeeks is now offering real time security scanning, proactive server monitoring, Linux Secure File System, and better hosting account isolation. And for WordPress users in 2018, they released their new brute force login protection, WordPress Protect. With WordPress Protect, malicious login attempts to websites can be detected and shut down. Best of all, it is automatically enabled for every hosting account.
For more details on the new improvements, see my article titled GreenGeeks Revamped Hosting Platform Tested. Below is a list of the major improvements and additions with the new platform.
Security:
Real Time Security Scanning
Proactive Server Monitoring
Improved Hosting Account Isolation
Linux Secure File System
WordPress Protect Brute Force Protection
Speed:
Powercache Technology
LiteSpeed Web Servers
MariaDB Database Servers
Cloudflare Content Delivery Network
HTTP/2 Enabled
PHP 7 Enabled
True Green Web Hosting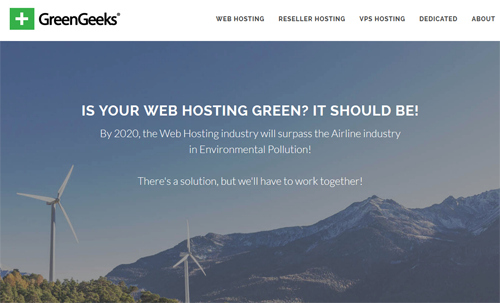 GreenGeeks is truly an industry leader in green energy web hosting. Their 300% renewable energy commitment means that for the energy they consume, they're putting back three times that much wind energy into the grid.
New Data Center
As part of their revamped hosting infrastructure recently implemented, GreenGeeks has added a new data center located in Amsterdam, NL. They now have a total of four data centers including Chicago, IL, Phoenix, AZ, and Toronto, CAN.
GreenGeeks Now Includes Free Let's Encrypt Wildcard SSL
And, the news is even better with respect to website security. GreenGeeks is now offering Free Let's Encrypt Wildcard SSL Certificates with their hosting plan. If you're wondering why they haven't already been providing free Let's Encrypt SSL as a number of other web hosts do, there is a good reason. GreenGeeks wanted to make sure they had a superior solution for avoiding certificate renewal service interruptions that may occur with standard Let's Encrypt SSL. Additionally, they wanted a more efficient solution for website owners so they don't need multiple certificates for the same domain. With Let's Encrypt Wildcard SSL, GreenGeeks is able to have better control over the whole process.
And now, the SSL Certificate process is even easier at GreenGeeks with their new Let's Encrypt SSL Installer (see below).
Signing Up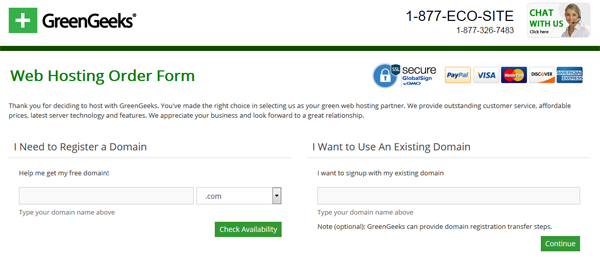 GreenGeeks accepts payment by credit card or PayPal, and the signup process is very quick and easy.


Don't be alarmed if you don't get an instant email response after signing up. GreenGeeks will verify your purchase before sending you your account details.
In my case, it took about 20 minutes. You'll receive several emails from GreenGeeks: Account Manager Login Details; Customer and Payment Invoices; and New Account Information (control panel and FTP logins, nameservers, etc.)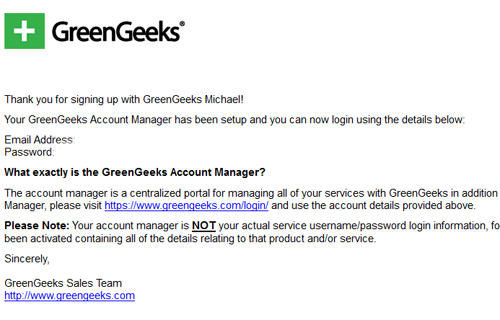 A little later, you'll also receive an email from GreenGeeks CEO Trey Gardner, welcoming you and providing checklists of items new customers and those transferring a website over can follow to get started. Experienced webmasters will not need to follow all of these steps, but it's a nice touch for newbies.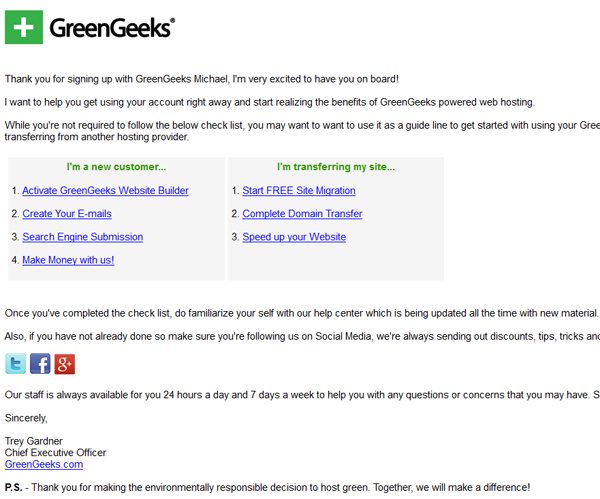 GreenGeeks Account Manager Interface
While GreenGeeks' Account Manager Dashboard has always been easy to use, the new version includes much more useful information and allows you direct access to more functions. Within the new Account Manager, not only can you access your cPanel, you can also manage all of your hosting plans and domains, manage your SSL certificates, and access your support tickets and the GreenGeeks knowledge base.


I'm very pleased that you get cPanel with GreenGeeks hosting. cPanel is my favorite web hosting interface as it's extremely easy to navigate and use. With GreenGeeks cPanel hosting, you'll have access to WordPress, Joomla, Drupal, and many other applications to create the type of website you need.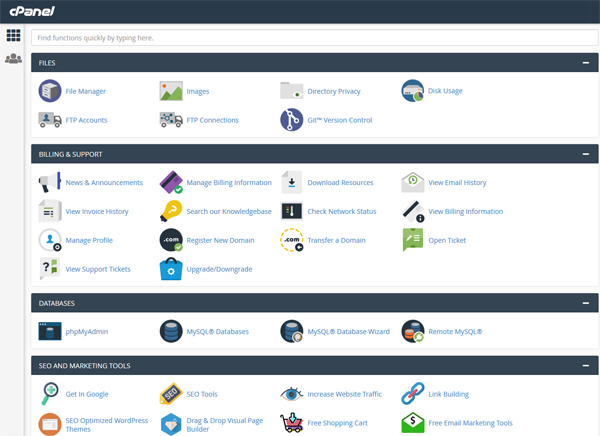 Let's Encrypt SSL Installer
Many web hosts are now including free Let's Encrypt SSL certificates with their hosting plans. However, the process of installing the SSL with your domain isn't always as easy as it should be. But with GreenGeeks new Let's Encrypt Installer—available within the new Account Manager Dashboard—adding wildcard SSL to your domains is now a breeze.


The big advantages you get with GreenGeeks Let's Encrypt SSL Installer are that you get easy one-click installation of your SSL certificates, your email and subdomains are automatically secured, and your SSL certificates are automatically renewed.
Website Performance
So far, I've had nothing but positive experiences with my website hosting and email performance at GreenGeeks. Site speed and availability have been excellent with no problems on the email side either. In fact, email has been super fast.
My own experience with GreenGeeks has proven that you can get industry leading green web hosting without sacrificing robust web hosting plan features.
Updated Speed Test Results
As a customer of GreenGeeks, I've had plenty of opportunities to experience their web hosting. In 2019, I have upgraded to GreenGeeks Ecosite Premium hosting plan. And with their new revamped hosting platform, we did some additional testing. I'm happy to report we found that website speed has definitely improved in all regions of the U.S. Below is some sample data. GreenGeeks delivers some of the best and most consistent website speed that I have ever experienced.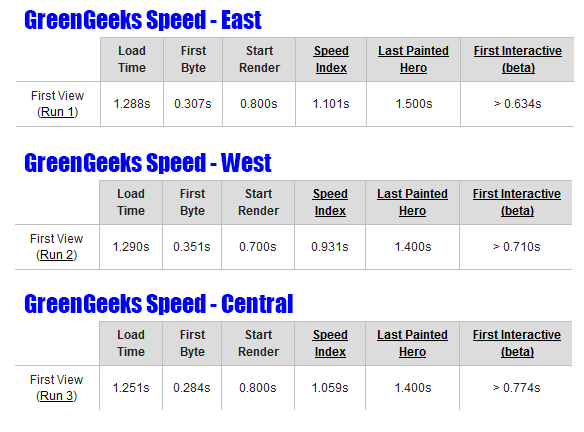 Customer Support
My experience with GreenGeeks customer support has been great. The live chat response times have been awesome and the support staff very helpful.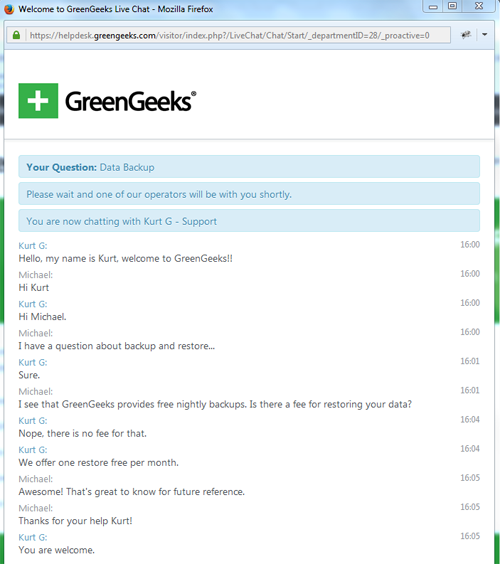 GreenGeeks definitely gets high marks in this category.
Meeting with GreenGeeks CEO Trey Gardner
I recently had the pleasure of meeting with GreenGeeks CEO Trey Gardner. It was great to hear first-hand how GreenGeeks has become the leader in green web hosting and how they strive to provide the best possible hosting experience for their customers. In addition to being the most eco-friendly web hosting company, Trey also talked about how GreenGeeks focuses on not just customer support but customer success. For example, they are always looking to make improvements for WordPress bloggers, developers, and designers.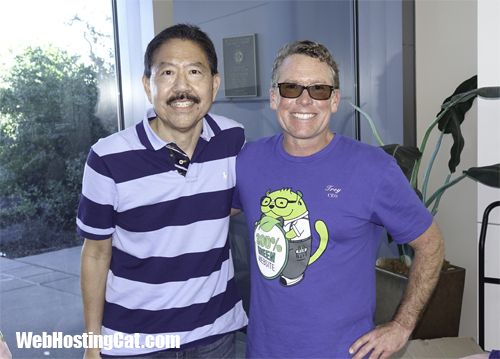 Here's the link to my interview with Trey.
GreenGeeks Helps Show You're Environmentally Friendly!
You can now show everybody that visits your website that you care about the environment and use the best green web hosting. GreenGeeks has now created some great looking badges that you can include on your website. Here is just a sample of some of the badges you can choose from. It's a great way to show that you have a 300% Green Website!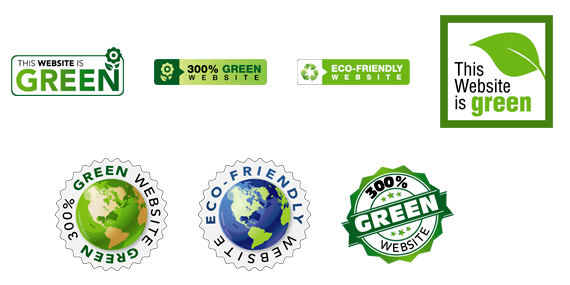 More GreenGeeks Reviews
GreenGeeks vs A2 Hosting
GreenGeeks vs Bluehost
GreenGeeks vs GoDaddy
GreenGeeks vs HostGator
GreenGeeks vs InMotion
GreenGeeks vs iPage
GreenGeeks vs SiteGround
And, there are many other GreenGeeks customers that are highly satisfied with their web hosting. Here is just a sample of what others have to say: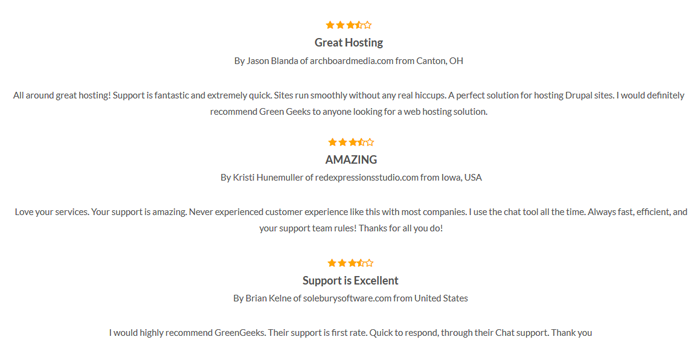 Recommendations
GreenGeeks continues to provide excellent web hosting. They seem to be doing everything right, and I've been very impressed with their service and support. The recent improvements with their shared hosting platform have made GreenGeeks an even better hosting option that provides outstanding website speed and performance, great features for all types of sites, and responsive customer support.
GreenGeeks is ideal for those website owners looking for a value-loaded web hosting plan that includes not only the features they need right now, but also the resources they'll need in the future as their site grows. So keep this tip in mind: If you need a hosting plan that includes unlimited space and bandwidth (plus lets you host an unlimited amount of domains), you don't need to pay for a higher priced, premium level shared hosting plan. You can opt for top green web hosting and get all the features you need with GreenGeeks.