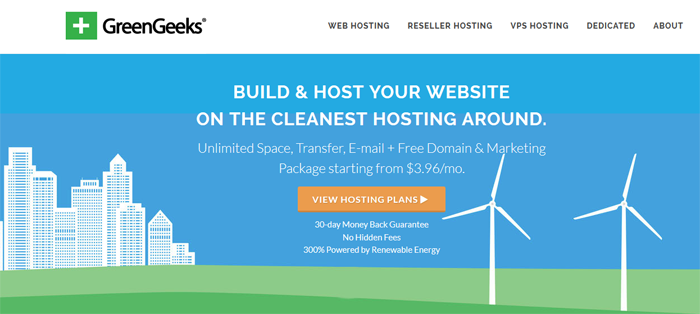 When it comes to Green Web Hosting, GreenGeeks is second to none. Powered by 300% Renewable Energy, this Southern, CA, based web hosting company deserves serious consideration by those looking for a quality shared hosting plan. Here is my review based on my experiences as a GreenGeeks customer.
One All Inclusive Plan
Unlike most web hosting companies these days that require you to choose from several levels of shared hosting plans, GreenGeeks offers one single all-inclusive plan that includes unlimited resources along with some great free extras.
To illustrate this point, compare the differences in monthly fees between GreenGeeks and some other web hosts to see how much money you could save.
GreenGeeks – $3.95 mo.
Bluehost – $6.95 mo.
HostGator – $6.96 mo.
GreenGeeks Features
We're very impressed with what is included with GreenGeeks hosting plan. In addition to unlimited web space and data transfer, here are some features you get that you normally have to pay more for at other places:
Host Unlimited Domains
Free Domain Name for the Life of your Account
Free Website Migration
Free Data Backup and Free Data Restore (once per month)
Free SEO and Marketing Tools
True Green Web Hosting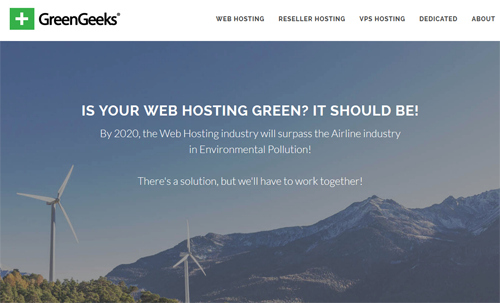 GreenGeeks is truly an industry leader in green energy web hosting. Their 300% renewable energy commitment means that for the energy they consume, they're putting back three times that much wind energy into the grid. GreenGeeks data centers are located in Chicago IL, Phoenix AZ, and Toronto Canada.
Signing Up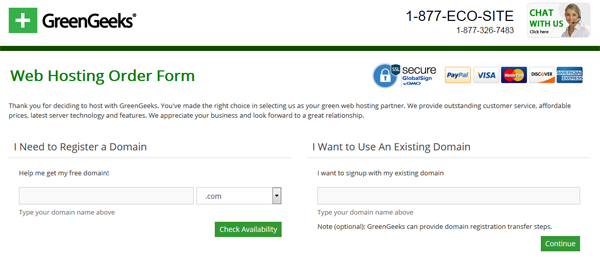 GreenGeeks accepts payment by credit card or PayPal, and the signup process is very quick and easy.


Don't be alarmed if you don't get an instant email response after signing up. GreenGeeks will verify your purchase before sending you your account details.
In my case, it took about 20 minutes. You'll receive several emails from GreenGeeks: Account Manager Login Details; Customer and Payment Invoices; and New Account Information (control panel and FTP logins, nameservers, etc.)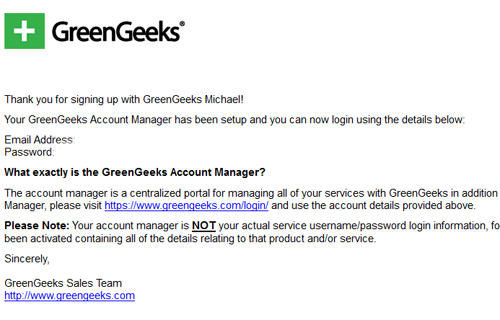 A little later, you'll also receive an email from GreenGeeks CEO Trey Gardner, welcoming you and providing checklists of items new customers and those transferring a website over can follow to get started. Experienced webmasters will not need to follow all of these steps, but it's a nice touch for newbies.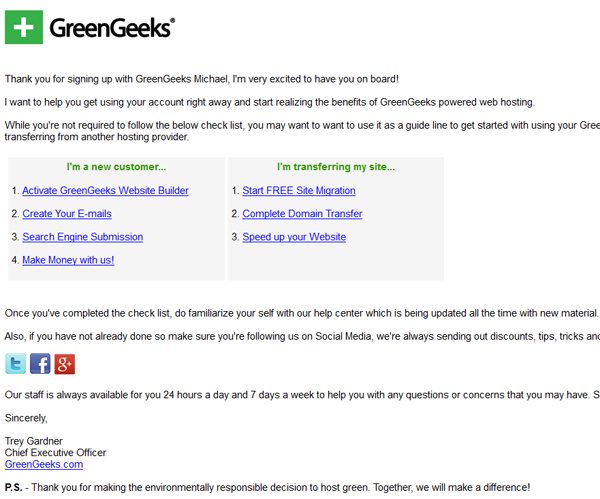 Web Hosting Interface
Once you receive your account details, you can login to your hosting account from the GreenGeeks Account Manager Login screen.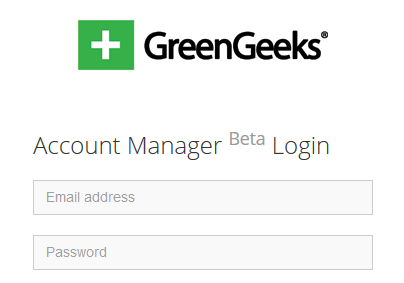 From the Account Manager dashboard, you can access your account and billing information, contact support, and log in to cPanel.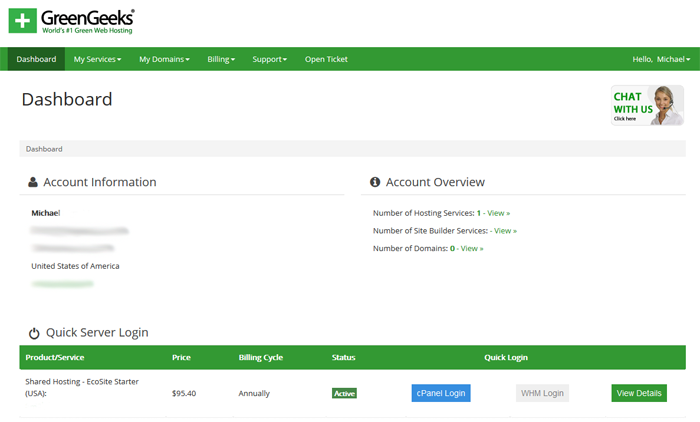 I'm very pleased that you get cPanel with GreenGeeks hosting. cPanel is my favorite web hosting interface as it's extremely easy to navigate and use. With GreenGeeks cPanel hosting, you'll have access to WordPress, Joomla, Drupal, and many other applications to create the type of website you need.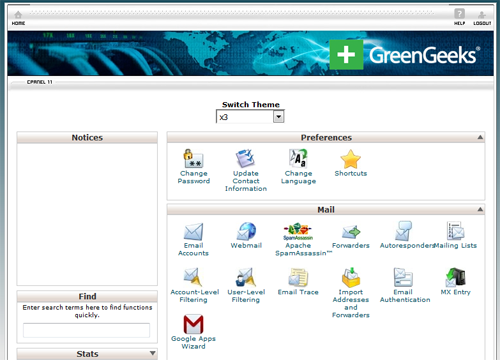 Website Performance
So far, I've had nothing but positive experiences with my website hosting and email performance at GreenGeeks. Site speed and availability have been excellent with no problems on the email side either. In fact, email has been superfast.


My own experience with GreenGeeks has proven that you can get industry leading green webhosting without sacrificing robust web hosting plan features.
Customer Support
My experience with GreenGeeks customer support has been great. The live chat response times have been awesome and the support staff very helpful.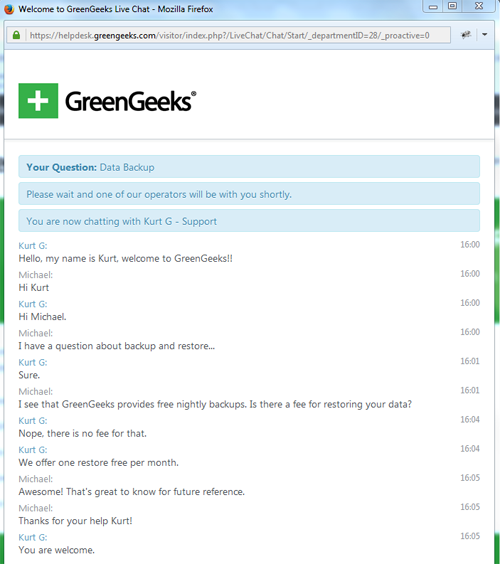 GreenGeeks definitely gets high marks in this category.
Recommendations
Relatively speaking, GreenGeeks is one of the newer web hosting companies around. However, they seem to be doing everything right, and I've been very impressed with their service and support. Again, it's great to see a web host offering an all-inclusive hosting plan at a great price—where you don't have to choose a premium level package to get excellent features!
GreenGeeks is ideal for those website owners looking for a value-loaded web hosting plan that includes not only the features they need right now, but also the resources they'll need in the future as their site grows. So keep this tip in mind: If you need a hosting plan that includes unlimited space and bandwidth (plus lets you host an unlimited amount of domains), you don't need to pay for a higher priced, premium level shared hosting plan. You can opt for top green web hosting and get all the features you need with GreenGeeks.