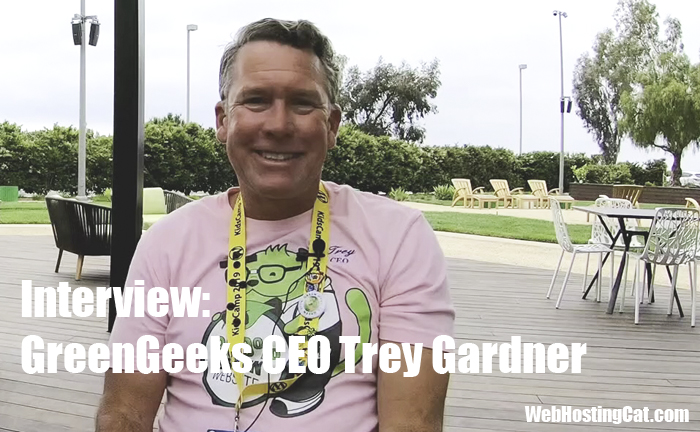 And 10 Reasons You Should Choose GreenGeeks for Your WordPress Hosting
Did you know that you can help save our environment when you create your website? Choosing a green web hosting provider saves energy and keeps our planet cleaner. And when it comes to green web hosting, GreenGeeks is certainly the leader in the industry.
I've recommended GreenGeeks for years now, and it was a great pleasure to chat recently with GreenGeeks CEO Trey Gardner. Trey's been in the web hosting business since 1999 and has helped build a number of hosting companies. With GreenGeeks, Trey and his team have created the premier green hosting solution.
Trey talked about what makes GreenGeeks your best choice for green web hosting, as well as what else GreenGeeks focuses on to provide the best web hosting experience for all of their customers—particularly WordPress users. Along with my interview with Trey, I've also included my top 10 reasons you should choose GreenGeeks for your WordPress hosting.
Web Hosting Cat: We've been recommending GreenGeeks for a lot of years now. Tell us a little bit about what makes GreenGeeks really the industry standard for green web hosting.
Trey Gardner: Well, we are the most eco-friendly web hosting company out there and there's a lot of information on our website including videos as far as what we do and why we chose to go green and why we're trying to promote that, not just for ourselves but for the entire industry.
A paper came out in 2005 that said by 2020, which is next year, that our industry will be as big of a polluter as the airline industry and right around this time, three years later, I was starting my own hosting company. I've got twins and I decided that I had to do something to challenge everyone out there to go green with their web hosting. The reason is that we've got these huge colocation facilities that have stacks of servers. They run hot. They've got to have arctic air just blown at them so they don't fail. All that energy is pulled from the grid. And the grid is not eco-friendly.
So we work with the Bonneville Environmental Foundation out of Portland, Oregon and they are an EPA Green Power Partner approved. We also have been approved by the EPA since 2009 as a Green Power Partner. We tell them how many servers, personnel, etcetera that we have. They say that our energy consumption is X and they work with the wind farms so we tell them to go and buy 3 times X having been produced by wind [and they] put it back into the grid so that offsets what we do as well as two other companies our size.

WHC: Now besides green web hosting, can you talk about the vision of GreenGeeks and some of the other goals that you guys really focus on?
TG: Well obviously, we have to be a fantastic web hosting provider. We have to have servers that have great up time, great speed. We have to have great customer support, knowledgeable articles in our knowledge base and video tutorials for those that need them. I've got a great business partner. He's much more technically astute than I am. He's Kaumil Patel. He's in Toronto right now. And, he's put together a great framework of not just the servers and the admin but also the customer support and really customer success which is something that we've really been developing now for about a year and a half. And we want to make sure that all of our customers receive not just the support that they need but achieve the success that they're trying to attain.
WHC: What changes have you seen in the web hosting industry since GreenGeeks first started?
TG: Wow, there was a lot more individual competition in the industry. EIG out of Boston has bought a lot of the hosting companies out there. The big ones, Bluehost, HostGator, and consolidated the servers and support and so there's far fewer of us that are independents and I think that our customers really like the fact that we are not beholden to some larger organization that has got to satisfy the stock prices and all those investors–that we actually can function as our own independent company, make our own independent decisions, and invest in the type of customer support that we feel that our clients deserve.
WHC: What are some of the advantages GreenGeeks offers to WordPress users?
TG: Well, specifically for WordPress, we've got the one click installer. We made it very easy. We have free site migration for anyone that has one site or multiple sites. We help to bring all those over to make it easy. We want to make sure the transition works for them. We want to make sure that when we are here not just onboarding them but when we have then given them the keys to get going with their accounts with us, that they are satisfied, that they know exactly what they have to work with, which hopefully is everything that they'll need. And we are always looking to make improvements for those bloggers, developers and designers.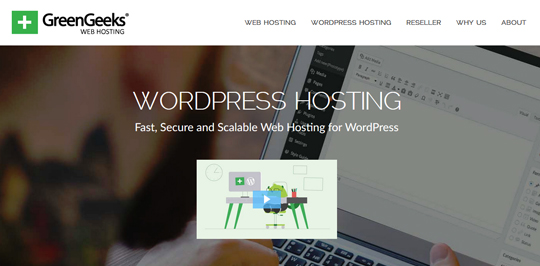 WHC: What is in store for the future at GreenGeeks?
TG: Well, we became a global sponsor this year for WordCamp in North and South America. And so, we really want to become part of this community in a big way specific for WordPress. But outside of WordPress we want to do well for Joomla, Drupal, all the CMSs out there that need our support–as well and to have fast servers, good support, make sure that we've got lots of information on how things work and if they [website owners] are struggling, then we help them out and make sure that we get them to where they need to be.
Top 10 Reasons to Choose GreenGeeks for WordPress Hosting
While I've been highly impressed with GreenGeeks web hosting in many ways, here is a list of my top 10 reasons for choosing them for your WordPress hosting:
1. Great Selection of Hosting Plans
With GreenGeeks, you can choose from 3 different hosting plans: Ecosite Starter, Ecosite Pro, and Ecosite Premium. All three plans provide unlimited bandwidth, disk space, and number of websites you can host. You can get the Ecosite Starter plan for only $2.95 mo.—great for new website owners. However, if you need more computing resources you can get one of the premium level plans. No matter what your budget or website situation is, GreenGeeks has you covered.
2. Free Domain
Unlike a growing number of web hosts, GreenGeeks still offers you a free domain when you sign up.
3. Easy One-Click Installation
Getting started with your WordPress site is a breeze with GreenGeeks one-click installation from your cPanel interface.
4. Optimized LiteSpeed and MariaDB Servers
I'm very impressed with the LiteSpeed and database servers at GreenGeeks. They deliver super-fast results.
5. Free Let's Encrypt Wildcard SSL
SSL is a must for your websites these days, and GreenGeeks goes a step further by providing free Let's Encrypt Wildcard SSL certificates.
6. Free Cloudflare CDN
A content delivery network (CDN) can really speed up your webpage loading times especially if your site has a lot of static content such as photos. GreenGeeks includes free Cloudflare CDN access.
7. Automatic Updates
GreenGeeks keeps your websites up to date with automatic updates.
8. Nightly Data Backups
GreenGeeks runs nightly data backups of your websites.
9. Proactive Security
GreenGeeks provides outstanding security features such as proactive server monitoring, real time security scanning, enhanced SPAM protection, and hosting account isolation.
10. Responsive Customer Support
Unlike a growing number of web hosting companies whose live chat support response times have become unbearably slow, GreenGeeks still provides some of the fastest response times I've experienced. And, the support team members consistently provide friendly and helpful issue resolutions.