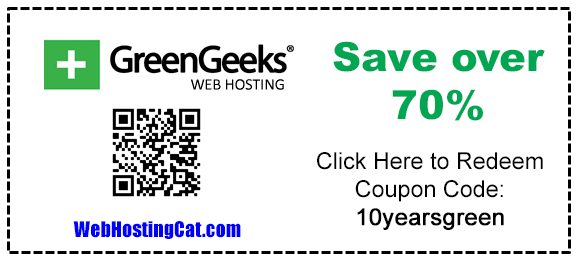 Here is an exclusive GreenGeeks Coupon discount offer! You can save over 70% and get their industry leading green web hosting for only $2.95 mo. Green web hosting is only a part of what GreenGeeks is all about. Their main focus includes providing fast web hosting solutions and helping their customers achieve success.
Redeem Your Coupon Code for GreenGeeks Discount
To get your exclusive discount at GreenGeeks, just click the coupon above and choose your web hosting plan.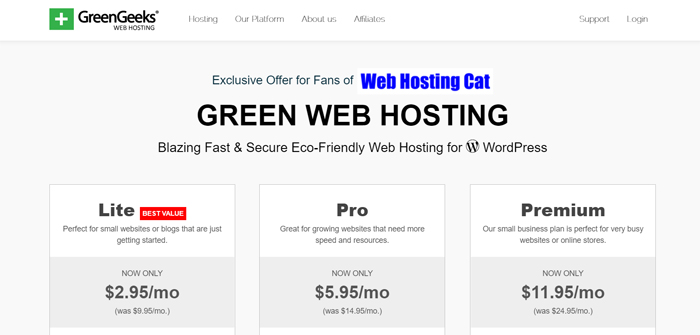 Your coupon code discount will automatically be applied at checkout!

GreenGeeks Pricing for Shared Hosting
GreenGeeks regular pricing for their shared hosting is as follows: $9.95 mo. for their Lite Plan, $14.95 mo. for the Pro Plan, and $24.95 mo. for their Premium Plan. With the special coupon discount, your cost is only $2.95 mo. for the Lite Plan, $5.95 for the Pro Plan, and $11.95 mo. for the Premium Plan.
GreenGeeks has really improved their Shared Hosting platform. It now includes free Wildcard SSL, scalable computing resources, optimized LightSpeed and MariaDB Servers, and PowerCacher Technology (with Pro and Premium plans).
GreenGeeks Pricing for VPS Hosting
If you need to upgrade to VPS Hosting, GreenGeeks also features fast and scalable VPS hosting plans. Prices range from $39.95 mo. to $109.95 mo.
What Makes GreenGeeks Special?
Of course, what first stands out about GreenGeeks is their industry leading green web hosting practices. I've talked on a number of occasions with GreenGeeks CEO Trey Gardner, and he's very committed to helping save our environment. GreenGeeks does its part with their 300% renewable energy practices and their partnership with the Bonneville Environmental Foundation.
But GreenGeeks is about a lot more than just green web hosting. Their focus is on customer success. By providing fast servers, advanced security, and great customer support, GreenGeeks makes it easy for you to have a great performing website and help save the planet!
GreenGeeks in 2022
GreenGeeks continues to be one of the most impressive web hosts in 2022. Besides being the top choice for green web hosting, they also distinguish themselves from the competition by including features in all of their hosting plans such as:
LightSpeed and MariaDB Servers
Hosting Account Isolation
Pro-Active Server Monitoring
Choice of 5 Data Center Locations
Free Nightly Data Backups
300% Renewable Energy Commitment
GreenGeeks Review
For more detailed information on GreenGeeks, check out my GreenGeeks Reivew.