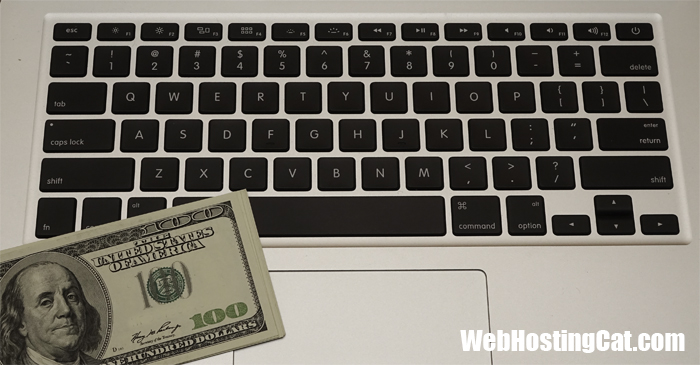 Here is our look at the Best Ecommerce Web Hosting in 2023. Ecommerce websites are perhaps the most challenging sites that require more attention to detail and more robust web hosting. In this article, we'll go over what you need to create a successful Ecommerce website along with our recommendations on Ecommerce web hosting and website builders.
Best Ecommerce Hosting Solutions
Introduction
As online selling continues to grow in popularity, eCommerce websites are becoming even more prevalent on the web. Ecommerce sites also require more planning and work on your part than other types of websites. However, these days web hosting companies are providing more helpful eCommerce features as they attempt to tailor their hosting to the growing eCommerce customer base. And that's not all. There are now many website builder alternatives that make creating your eCommerce site even easier.
eCommerce Website Requirements
Domain Name
Merchant Account
Payment Gateway
Web Hosting Plan
SSL/TLS Certificate
The first step you need to take is to purchase your domain name. You can either opt for a .com domain or you could choose one of the newer more descriptive domain extensions—although they usually cost more money. While you can buy a domain from your web host or website builder company, I recommend purchasing and keeping your domain separate from your hosting. I prefer to use GoDaddy as my domain registrar, but there are other good choices such as Namecheap.
If you're selling items online, you'll need a merchant account to accept credit card payments online. You can apply for an account at your bank or use an outside service. You'll also need a payment gateway service to authorize and process online transactions.
Next, you need to purchase your web hosting plan. We'll get into more specifics on choosing your web hosting a bit later.
And finally, your eCommerce website needs to be secure, which means you need an SSL/TLS certificate applied to your domain so you can run you site using the https protocol.
Website Builder vs Web Hosting vs WooCommerce
You first need to decide what platform you want to use to build your Ecommerce website. The three main choices you have are to use a website builder, use web hosting with E-commerce software such as PrestaShop or Magneto, or use WooCommerce (WordPress). Each platform has its advantages that we'll go over.
If building your own website seems like too much work, you can choose instead to use one of the website builder companies to create your Ecommerce site. The process requires less effort on your part and your website can be created more quickly. There are some tradeoffs though when using a website builder versus web hosting.
Advantages of Web Hosting
More Control over Your Website
More Features Included in Hosting Plan
Less Expensive
Easier to Move Your Site
Advantages of WooCommerce
Built on WordPress
SEO Benefits of WordPress
Suitable for Many Types of E-commerce Sites
Managed WooCommerce Plans Available
Advantages of Website Builder
Faster Website Creation
Built In eCommerce Functionality
Payment Processing Included
There's no question that going with one of the newer website builders will allow you to get your eCommerce website up and running more quickly. You'll also have less work to do on your own as these websites already have your online selling functionality built in (payment processing, etc.). However, your online business may require that you have more flexibility and control over your website. With a more traditional web hosting plan, you aren't locked into any particular website platform. And, you can usually get much better value going with a web hosting plan where you also get email and many other features included at no extra charge.
Next, we'll look at some specific recommendations depending on whether you choose a web hosting plan or website builder for your eCommerce website.
Ecommerce Web Hosting Recommendations
InMotion Hosting
InMotion Hosting Features
SSD Included Free
UNLIMITED Disk Space
UNLIMITED Data Transfer
UNLIMITED Email Accounts
UNLIMITED Email Storage
UNLIMITED Websites (PRO)
Free Domain Registration or Transfer
Free Website Transfers
Free Data Backup
24x7x365 U.S. Based Support
90 Day Money Back Guarantee
$250 Free Advertising Credits
Free Website Builder
Max Speed Zone Technology
Pro Level Support (PRO)
E-Commerce Ready
Free SSL
PHP, Perl, Ruby, Python
PHP 7 Supported
SSH Access
WP-CLI Enabled
Easy Google Apps Integration
Business Class Hardware
cPanel Control Panel
Over 400 Free Applications
WordPress, Joomla, or PrestaShop Preinstalled
Safe Application Rollback
UNLIMITED Parked Domains (PRO)
UNLIMITED Sub Domains (PRO)
UNLIMITED Spam Safe Email with IMAP
Malware Protection

Unlimited Disk Space and Bandwidth
PrestaShop Preinstalled
Free Private SSL for eCommerce
Max Speed Zone Technology
Fast Responsive Customer Support
90 Day Money Back Guarantee
InMotion Hosting has the ideal plan for eCommerce websites. You get unlimited disk space, bandwidth, and email. And, your hosting is eCommerce ready. You can have PrestaShop or WordPress preinstalled for you when you sign up. Free private SSL is also included. InMotion's free SSL is strong enough for eCommerce websites. I would recommend it over the free Let's Encrypt SSL that many web hosts are now providing. In addition, InMotion Hosting includes a security suite that consists of DDoS protection, hack protection, and automatic data backups.
InMotion Hosting's Max Speed Zone Technology can provide much faster websites. And, the customer support at InMotion continues to be excellent—some of the fastest response times I experience. I recommend going with either the Power or Pro hosting plans. I use the Pro Business Hosting plan there which includes unlimited website hosting, increased server resources, and pro level support.
GreenGeeks

eCommerce-Ready (PrestaShop, ZenCart, Magento, WordPress)
Free Domain Name
Unlimited Storage and Data Transfer
Free Let's Encrypt Wildcard SSL
Scalable Computing Resources
Choose from 5 Data Centers
Free Cloudflare CDN
PowerCacher Technology
Optimized Web and Database Servers
Enhanced Security Scanning and Server Monitoring
Hosting Account Isolation
While GreenGeeks is best known for being the most eco-friendly web hosting company, they also do an outstanding job for hosting all types of websites—including eCommerce sites. Customer success is the main focus for GreenGeeks, and their web hosting plans provide all the features you need to successfully run your online store.
Whether you want to use an ecommerce platform such as PrestaShop, ZenCart, Magento, or WooCommerce, your GreenGeeks hosting plan is eCommerce-ready with unlimited space and bandwidth, free wildcard SSL, scalable computing resources, and lots of other features that allow your eCommerce website to run fast and efficiently with enhanced proactive security.
WooCommerce Hosting Recommendations
Nexcess – WooCommerce
Nexcess WooCommerce Features
500 free and more than 1000 eCommerce themes available.
Oremium page builder with every store.
Themes look great on mobile devices.
You can create landing and product pages to your exact specification.
Every store supports quick checkout designed for phones.
You won't pay more for large product catalogs.
Create as many product pages as you like.
Protect files and limit how many times they can be downloaded.
Sell t-shirts and more variable products with ease.
Design landing pages for your product categories.
Sell online courses and membership sites – on the same platform.
Integrate with tons of shipping solutions to sell physical products.
No limits on how many people administrate your store.
Manage inventory and whether you support backorders.
Create as many coupons as you like – per product, per cart, etc.
Allow your staff to manually enter orders on their own.
Manage orders thru custom order statuses and workflows.
Sell more products with automated related product offerings.
Schedule dates for special sales pricing.
Automated creation of product thumbnails.
Create unlimited numbers of product photo galleries.
Let customers zoom in on your product photos.
Every store is optimized for customers visiting on their phones.
Every image is automatically compressed for high performance.
Help your product photos "pop" with integrated lightboxes.
On-page SEO with keyword indexing.
Every store benefits from sitemaps.
You can control your own metadata.
Stores are monitored for space and can add more storage dynamically.
Stores can add more CPUs dynamically when things slow down.
Stores are monitored and can add more RAM dynamically.
Stores can test their performance before big campaigns.
Stores monitored 24 hours a day.

Managed Hosting for Mission Critical Sites
Scalable and Elastic Platform
Process Unlimited Orders
Abandoned Cart Recovery Features
Reduced Query Loads for Better Performance
Staging Site Included
Performance Testing Included
WooCommerce is the definitive eCommerce solution for WordPress site owners. If you have or plan to have a WordPress website and you want to sell online, then you need to check out WooCommerce. Now, while WooCommerce can be used with any web host that offers WordPress, you may find that it requires a little more effort on your part than you anticipated. If that's the case, then I recommend you check out Nexcess Managed WooCommerce hosting.
Nexcess (a partner company of Liquid Web) has been one of the more innovative Managed WordPress Hosting solutions available, and now they have extended their services for WooCommerce users as well. Nexcess boosts your WooCommerce performance with their elastic and scalable platform so you have all the resources you need for a fast performing online store. And with their data table architecture, your query loads are reduced for better performance with your site during heavy load times.
Nexcess StoreBuilder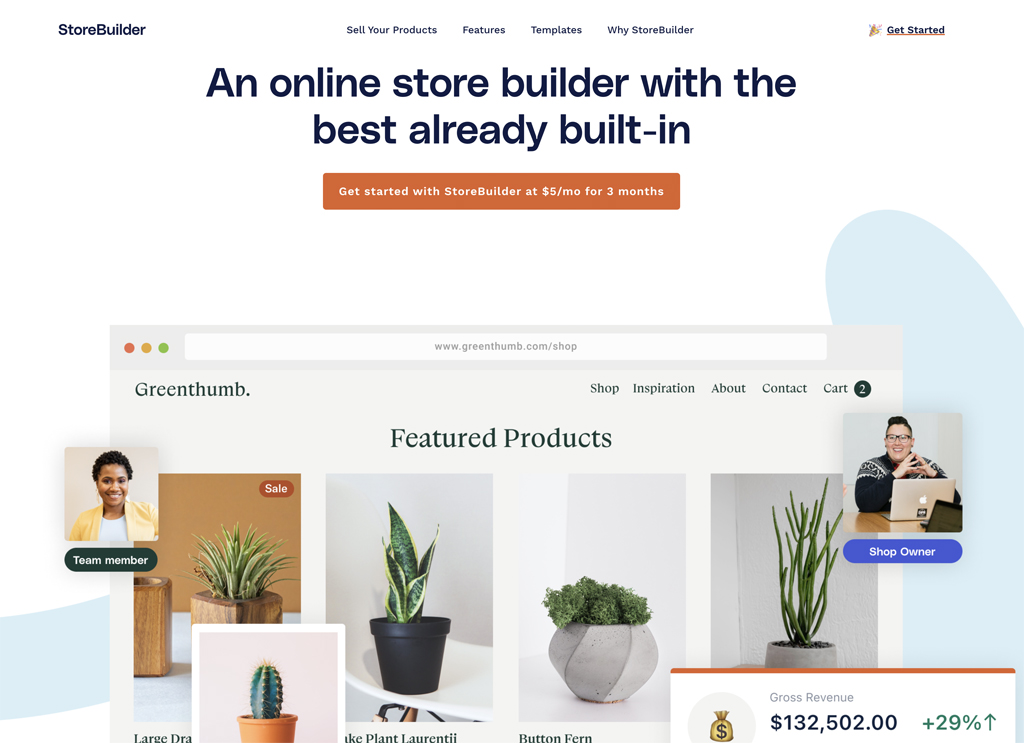 What really sets Nexcess apart from the competition when it comes to E-commerce hosting is their StoreBuilder platform. StoreBuilder really simplifies and speeds up the process of creating a WooCommerce online store for beginners. StoreBuilder guides you through the process of setting up your store, adding your products, setting up shipping, connecting payment methods, and connecting your domain. Depending on your requirements, you can have your store online in as little time as one hour.
WP Engine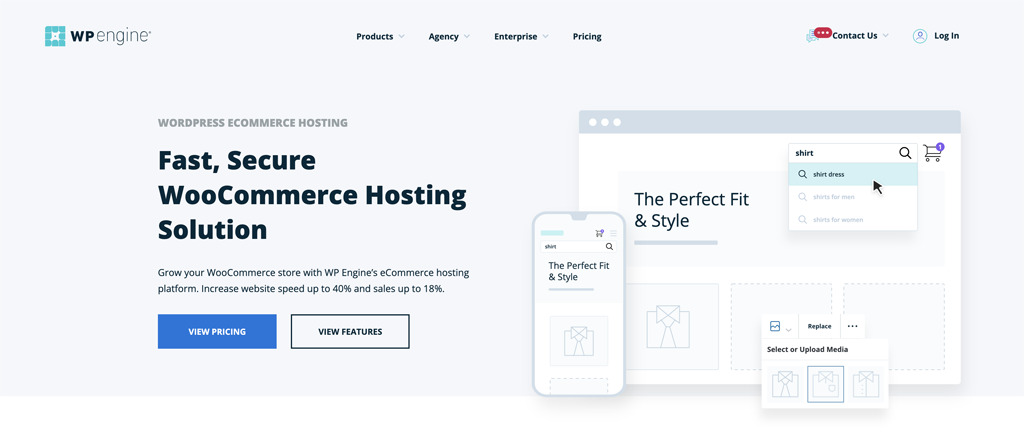 Premium Managed Hosting for WordPress and WooCommerce
EverCache Technology for Faster Websites
One-Click Staging Site
Optimized for WooCommerce Speed
One-Click Store Creation
Optimized Online Store Theme
60 Day Money Back Guarantee
Like Nexcess, WP Engine is one of the best choices for Managed WordPress Hosting. And, they also have their own line of Managed WooCommerce Hosting plans. We use WP Engine for our website and one of the big benefits is the expert WordPress support that is always helpful and responsive. Additionally, with their WooCommerce Hosting, you also get enterprise-grade security, premium WooCommerce blocks, and advanced product search (with their Professional and higher plans).
eCommerce Website Builder Recommendations
The good news today is that there are many more options for those of you that want to create an eCommerce site. Next, we'll take a look at our recommendations for using a website builder to create your eCommerce website. With a website builder, you can start off with a ready-to-go website template which you can them easily customize as you need to. Using a website builder can greatly speed up your website creation process, plus your online store features are already built in. And, you don't have to worry about web hosting as it's included with your website plan.
Best Ecommerce Website Builders
Shopify
Shopify Features
100+ professional themes
Mobile commerce ready
Full blogging platform
Use your own domain name, or purchase one through Shopify.
You have full access to the HTML and CSS of your store
Every Shopify store includes a free 256-bit SSL certificate.
Accept credit cards with Shopify
From bitcoin to PayPal to iDEAL, Shopify integrates with over 100 external payment gateways from around the world.
Your online store checkout comes in 50+ languages
Recover lost sales by automatically sending an email to prospective customers with a link to their abandoned shopping carts.
Set up shipping rates by fixed-price, tiered pricing, weight-based, and location-based rates.
Based on your location, Shopify will automatically handle major country and state tax rates.
Connect to fulfillment solutions such as Amazon, Rakuten Super Logistics, and Shipwire, or set up a custom fulfillment solution.
Shopify integrates with apps like Ordoro, Inventory Source, and eCommHub, making it easy to set up your dropshipping business.
Use the Shopify app on your smartphone to update your store, manage inventory, fulfill orders, and contact a customer.
Encourage repeat shopping by enabling customer account creation at checkout.
Search engine optimized
Generated sitemap.xml
Run sales and promotions by offering coupon codes that save customers money.
All Shopify websites include social media integration, such as Pinterest, Instagram, Facebook, Twitter, and Tumblr.
Email Marketing
Sell on Facebook
Manage your entire inventory with Shopify.
Add multiple images for your products
Organize products by category, type, season, sale, and more.
Customers can order and download your digital products right from your online store.
No limit to the number or type of products you can sell in your online store.
Unlimited Bandwidth
Email Forwarding
99.98% uptime and 24/7 monitoring
Product Reports
Traffic/Referral reports
Shopify support team is available 24 hours a day, 7 days a week, by email, live chat, and phone.

100+ Website Themes
Includes 256-Bit SSL Certificate
Unlimited Bandwidth
Shopify App Allows you to Manage your Store from Smartphone
Accept Credit Cards, PayPal, and other Online Payments
Abandoned Cart Notifications to Customers
Includes Social Media Integration
Free 14 Day Trial
Shopify has become one of the most popular platforms for eCommerce websites—and for good reason! Shopify includes everything you need to create and run a successful eCommerce site. I personally use Shopify for my online store, and as someone who has created an eCommerce website the traditional way, I can definitely say that Shopify is so much easier to use and allows you to focus more on your actual business rather than website design and maintenance.
Shopify offers both free and premium website themes that work great on both desktop and mobile computing devices. All of the online store functionality is very easy to use including setting up your inventory, shipping charges, taxes, and customer email notifications. Best of all, you can easily accept credit card payments online with the Shopify Payments feature. You can also accept payments from PayPal and others.
Like with most quality website builders, you can try out Shopify free for 14 days without having to enter a credit card number. It's a great opportunity to test out Shopify by creating a website and seeing how everything works. Just know that in order to actually start selling products from your site, you'll need to sign up for a paid Shopify plan.
GoDaddy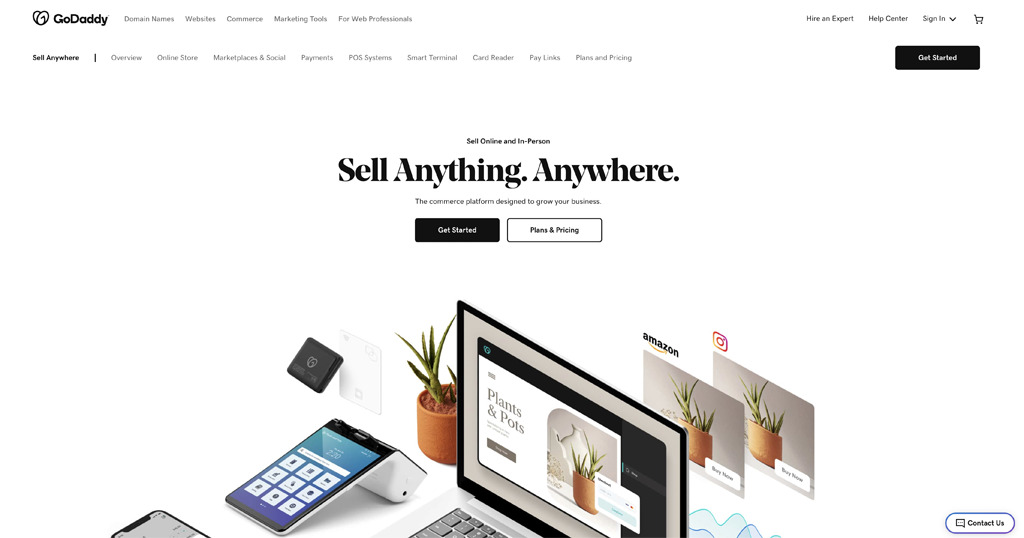 Easy to Use Website Builder
Integration with Amazon, Etsy, Instagram, Facebook, and Google
Abandoned Cart Recovery
Sell Digital Gift Cards
Discounted and Real-Time Shipping Rates
Payments Integration
While I primarily use and recommend GoDaddy for their domain name registrar services, they also have one of the largest selections of hosting plans—including their website builder. GoDaddy's website builder is one of the easiest to use, and with their Online Store plans, you also get the tools you need to create your Ecommerce site.
For me, GoDaddy's website builder is best used for more basic or small-scale online stores. If you plan to do more heavy online selling, I would prefer WooCommerce or Shopify.
Ecommerce Hosting Recommendations

WooCommerce Hosting
$12.67 mo.
Visit:
nexcess.net

Ecommerce Hosting
$2.29 mo.
Visit:
inmotionhosting.com

Website Builder
$29 mo.
Visit:
shopify.com