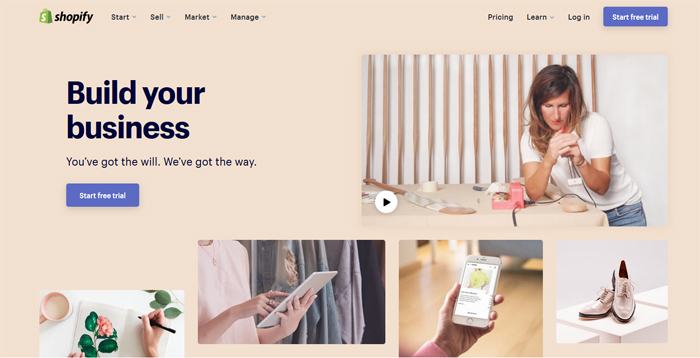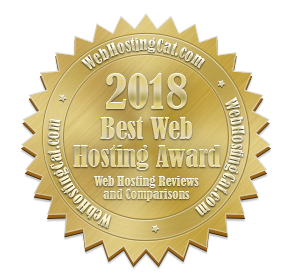 Here in my
Shopify Review
, I'll show you how easy it is to create your own online store. eCommerce websites are by far the most time consuming and tedious to create and maintain. In the past, you either needed to hire someone to help you out or try to create one yourself using software such as osCommerce or ZenCart. Even a WordPress solution such as WooCommerce can get a bit difficult. However, with the recent push towards quick and easy website solutions, you now have some nice alternatives for creating an eCommerce site. In my opinion, Shopify is one of the best and easiest way to build a great eCommerce website.
What is Shopify?
Shopify combines the website building and commerce aspects to streamline and accelerate the process of creating an eCommerce website.
Shopify Background
The creators of Shopify originally wanted an eCommerce store to sell some snowboard equipment. However, they couldn't find an easy to use platform for their business—so, they decided to create it themselves. That's how Shopify was born, and now it's available for anyone who wants to sell online.
What Types of eCommerce Sites Can You Create with Shopify?
With Shopify you can sell your own products or employ drop shipping to sell items from a company such as AliExpress. In fact, there is even a plugin to help you easily add products from AliExpress into your Shopify store.
Why Use Shopify?
eCommerce website are by far the most time consuming and difficult to create from scratch. Even using off the shelf eCommerce software applications still require you to perform a lot of work—including setting up your payment gateway, handle shipping, etc. Shopify helps you take care of all the tasks associated with creating and maintaining an eCommerce website.
Shopify Pricing


Shopify has 3 different website plans:
Basic Shopify
Shopify
Advanced Shopify
Basic Shopify is perfectly suited for new online stores, while the other two plans include more reporting features and lower payment processing fees.
Signing Up for Shopify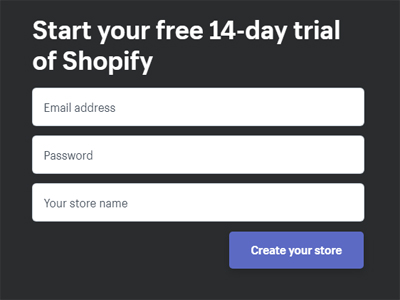 It's very easy to sign up for a Shopify store. You just need to enter your basic information and choose your store's name. You can also enter your billing information so you can get paid when your store goes live. You don't have to enter a credit card number at this time, as you get the14 day free trial. But remember, in order to start selling products, you'll need to have a card number on file.
Shopify Website Themes
You can use either a free or a paid theme for your website. Currently, Shopify offers 10 different free themes. And for many of you, they're all you need. However, the premium paid themes are definitely nicer looking and contain advanced features you may want for your online store such as sticky navigation, full page width video, multi-level menus, and Instagram Feeds.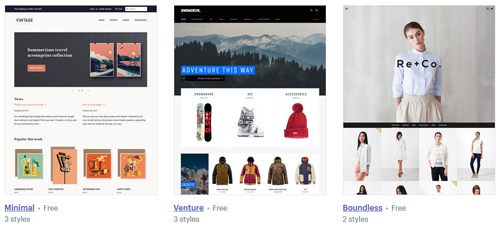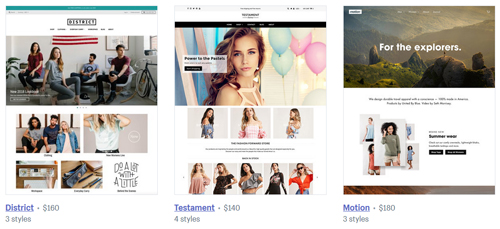 Creating a Shopify Store
To begin creating your online store, you select a theme for your site. While there are many premium themes that require an extra fee, there are also a number of free themes that are perfectly suited for those of you that are just starting out with your first eCommerce website. For example, I use the free Minimal theme. Here's how it looks.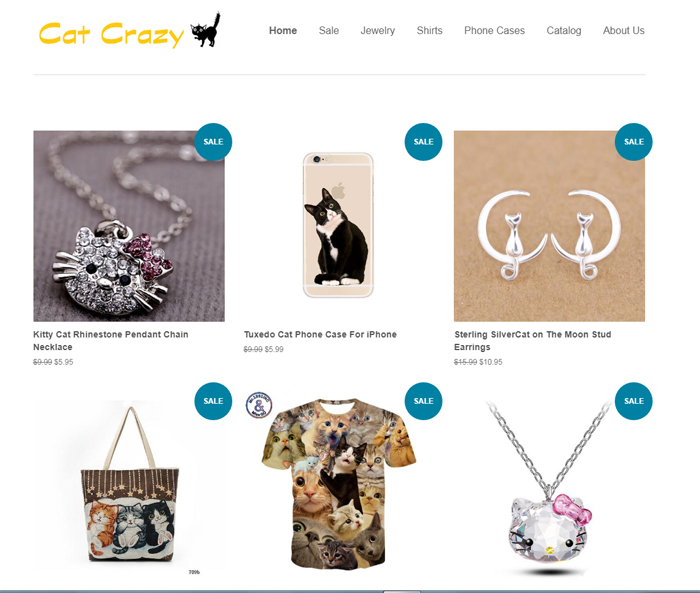 Setting up Shipping Charges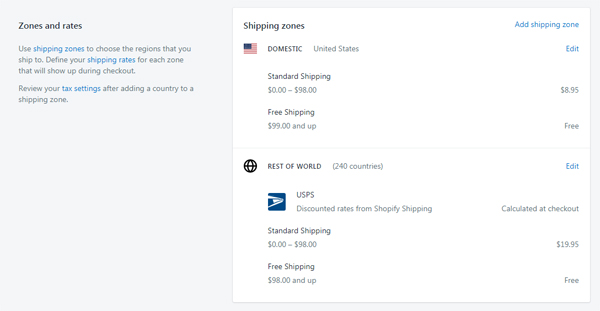 From the Settings area, you can easily set up your shipping fees in Shopify for both domestic and foreign orders. You can set up shipping charges based on prices, weight, or by shipping carrier.
Using Shopify Apps for Added Functionality
For additional functionality, there are numerous apps available within Shopify that can be a great help to you in running your online store. Some plugin apps are free of charge while others will cost you a monthly fee.
As an example, here are some of the apps I use in my Shopify store: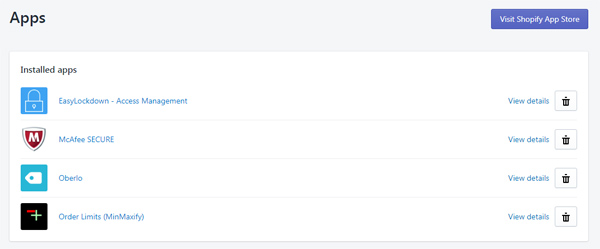 EasyLockDown allows you to prevent access to certain areas of your store.
McAfee Secure provides added security to your shop.
Oberlo is a fantastic app that lets you easily add third party products from AliExpress.
Order Limits lets you specify a minimum or maximum amount of a certain item that can be purchased.
You can purchase apps from the Shopify App Store.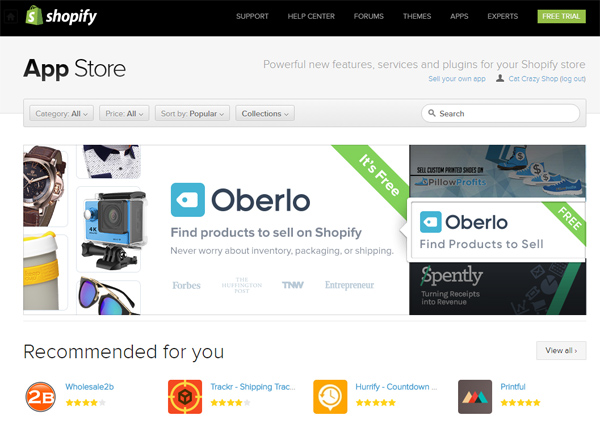 Adding Products to Your Shopify Store

While you can easy add products to your Shopify store manually in the products section, for drop shipping sellers, one of the great features of Shopify is that you can add products directly from AliExpress into your online store via the Oberlo app.
Once you install the Oberlo app, you can browse products at AliExpress and add them to your product import list by clicking on the Oberlo tag. You can then import all of the products in your list into your Shopify store at one time.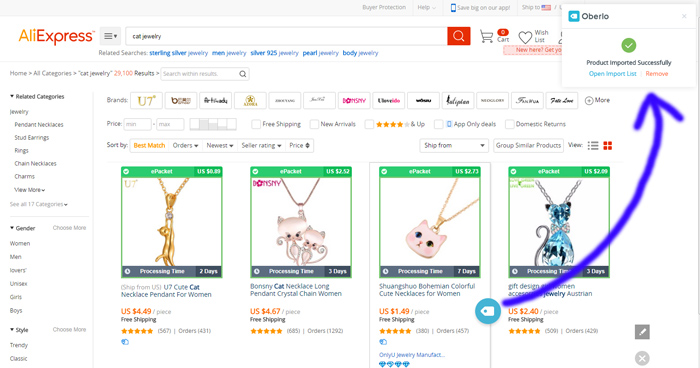 Setting up Email Notifications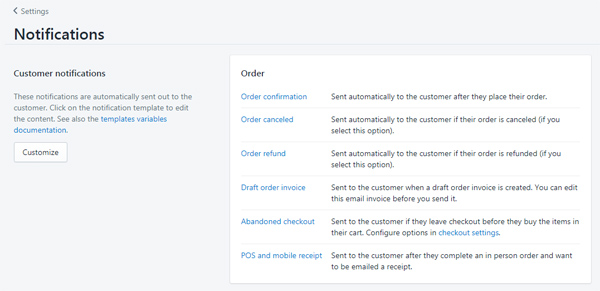 Also from the Setting page, you can specify when your customers receive email notifications. For example, they can be notified when their order is confirmed, cancelled, or refunded. You can also specify that they receive an email when their order is fulfilled or when it is delivered.
Pros and Cons of Shopify
Pros:
Expedites the eCommerce website creation process.
Choose from a great selection of website templates.
Allows you to easily integrate shipping charges.
Allows you to add tax amounts if necessary.
Accept online payments via Shopify Online Payments.
Easily manage inventory.
Extended functionality is available via plugin apps.
Cons:
Multiple online stores require multiple Shopify accounts.
Recommendation
Having used Shopify for a while now, I have to say that I really appreciate how they have simplified the eCommerce website process. Having created my own eCommerce site many years ago the "old fashion way", I definitely prefer using the Shopify method.
Shopify Review Ratings
Features - 95%
Usability - 94%
Customer Support - 90%
Value - 89%