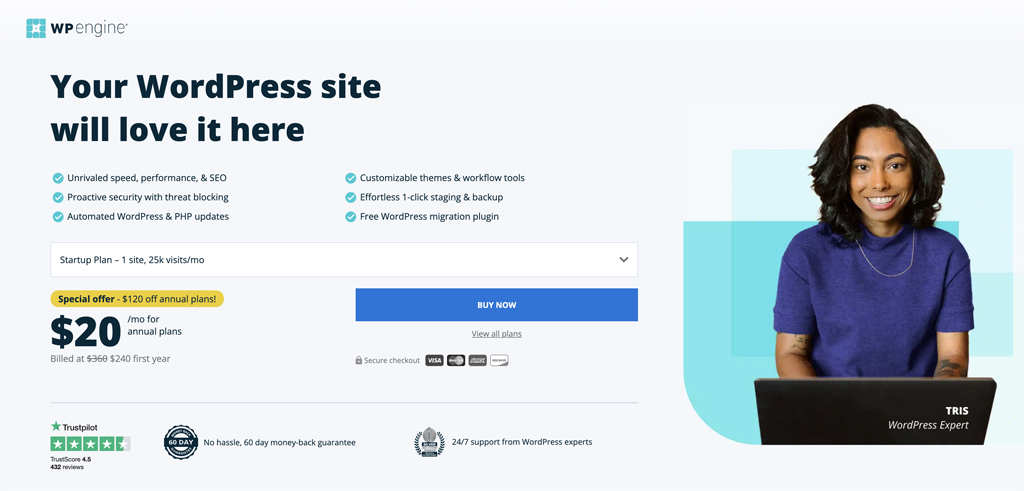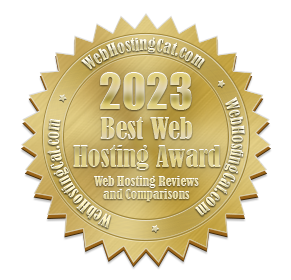 If you're looking for managed WordPress hosting, one name you'll probably hear is WP Engine. Many serious WordPress site owners rely on WP Engine to host their personal, business, and enterprise wide websites. Is it worth spending a more money for managed hosting? If you've been searching for honest
WP Engine Reviews
, here is my review of WP Engine and my firsthand experiences with using their managed hosting for my WordPress site.
What You Get with WP Engine
At the outset of my review, I need to point out that when you purchase hosting at WP Engine you're getting a pure managed WordPress hosting plan. Unlike most typical web hosting plans that include a domain name, email accounts, etc., WP Engine focuses on providing WordPress hosting exclusively—which makes them ideal for existing WordPress sites that need a fully managed hosting solution with expert support, or for site owners that need an enterprise WordPress hosting plan. That's not to say that you can't start out using WP Engine for your first site. But just be sure to have your domain and email available from another source.
Signing Up with WP Engine
When you sign up with WP Engine, you can choose your data center location (United States, United Kingdom, Japan).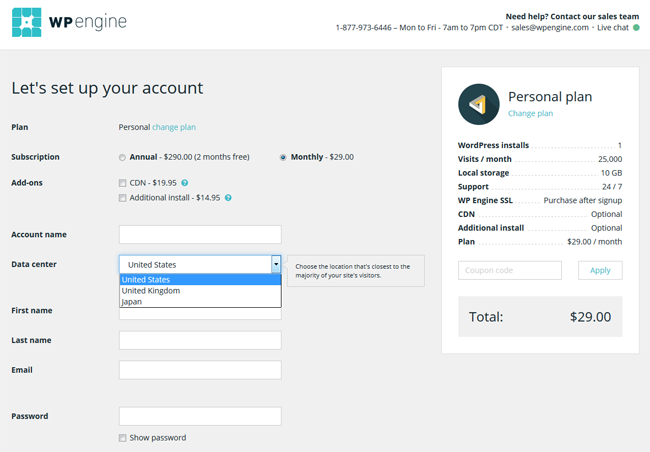 WP Engine has really streamlined and simplified the process of getting your website setup and running. Along with your welcome email, you'll receive a guide you can follow to get going with your site.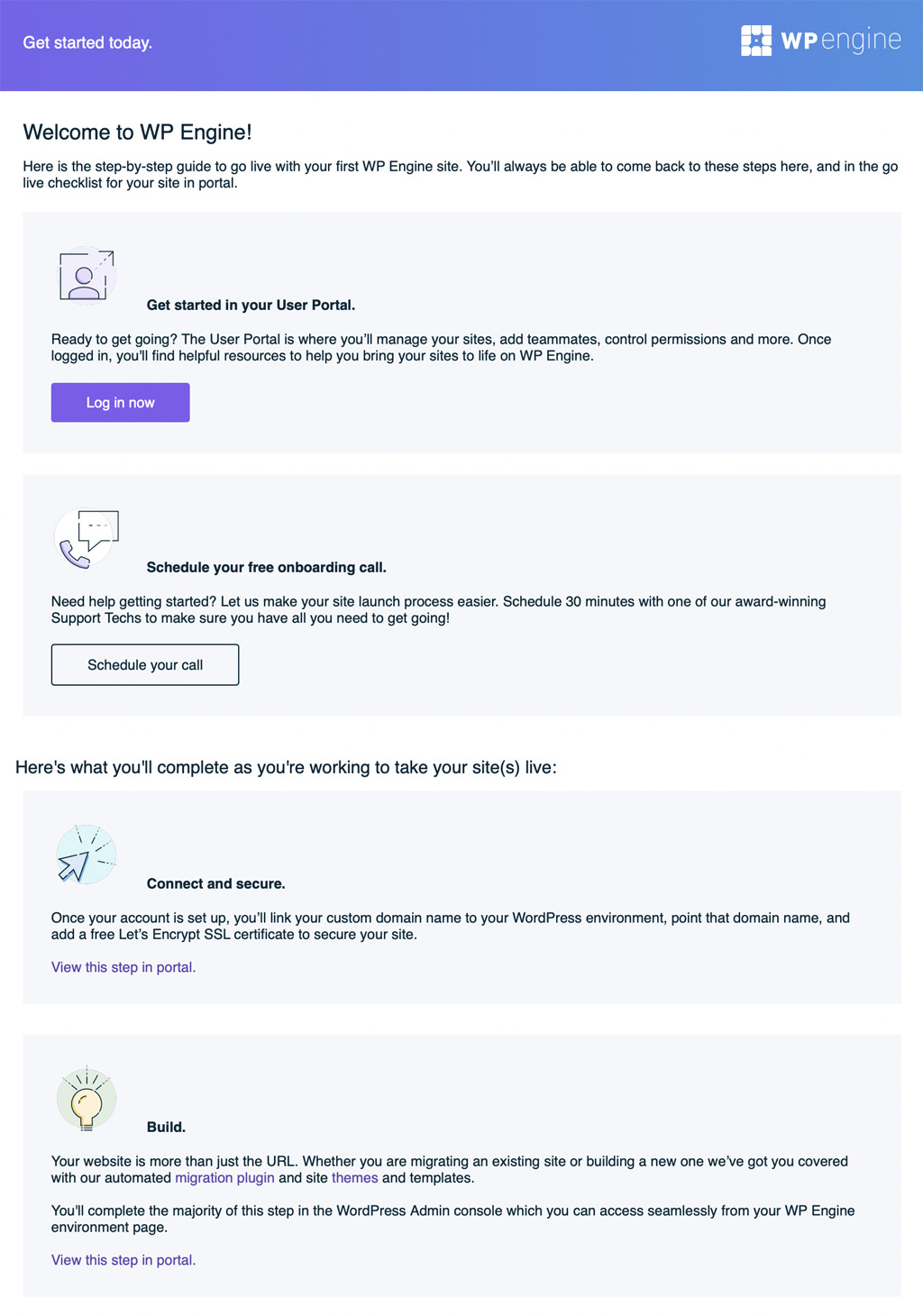 Adding or Transferring Your Website to WP Engine
You can easily begin the process of adding or transferring your website from your WP Engine dashboard. You also have the option to upgrade to a WooCommerce site.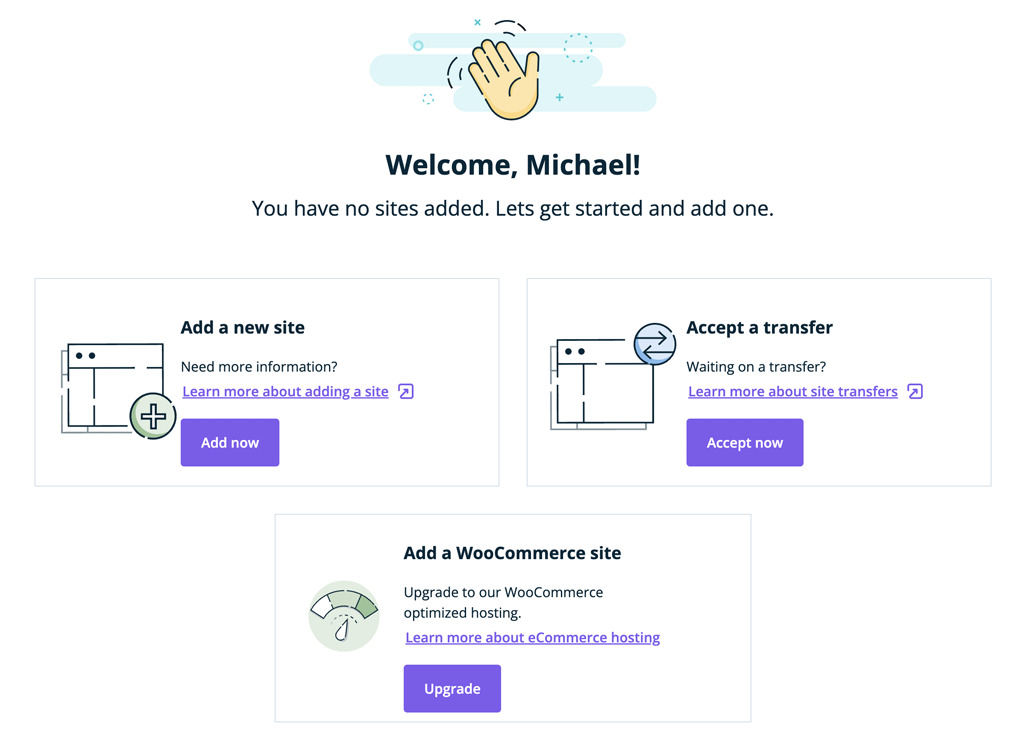 Depending on your experience, you can install a new blank WordPress site, or choose the more guided experience with site building tools.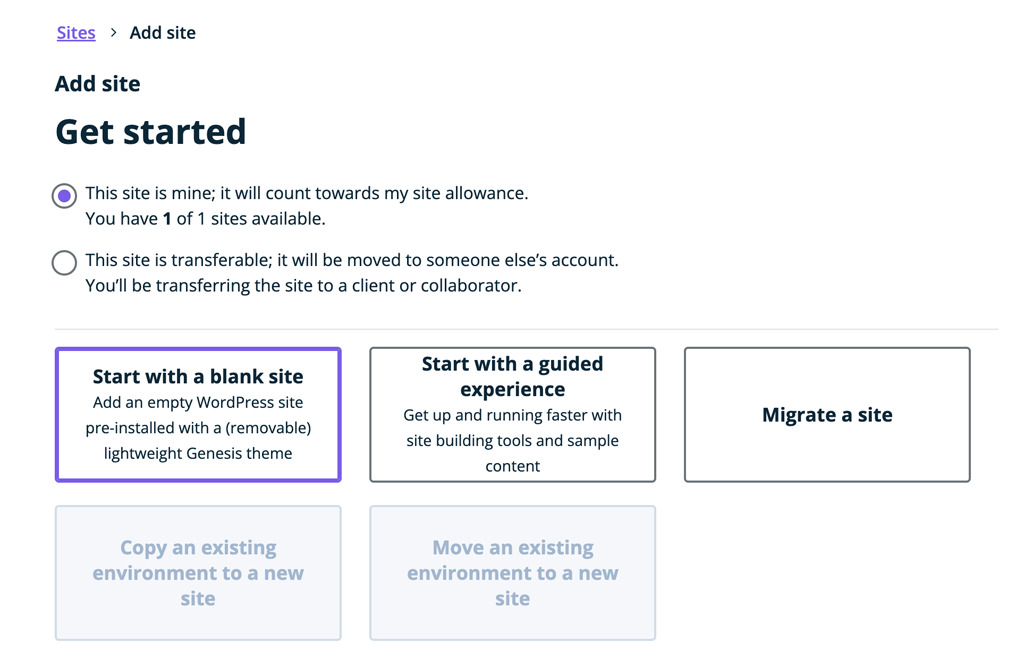 Website propagation time is super fast and your website is ready almost immediately!
WordPress Themes and Plugins
Although the majority of WordPress plugins and themes can be used with your site at WP Engine, be aware there are some that are now allowed due to a possible conflict with their proprietary technology. For example, since WP Engine uses their own EverCache Technology for increased speed. Therefore, caching plugins are disallowed to avoid conflicts and sub-optimal performance.
Fortunately in my case, the only plugin there was in issue with was the Hello Dolly plugin which had been installed by default on my old site. I actually wasn't even aware that this plugin was there since it was not activated. After transferring my website to WP Engine, I was quickly notified via email about the disallowed plugin.
Basically, the email says you have 7 days before the disallowed plugin will be automatically deleted. During this time, you can go ahead and delete the plugin on your own and find an alternative. Since I didn't care about the Hello plugin, I simply went ahead and deleted it myself. The next day, I received an email thanking me for my prompt action.
Free StudioPress Themes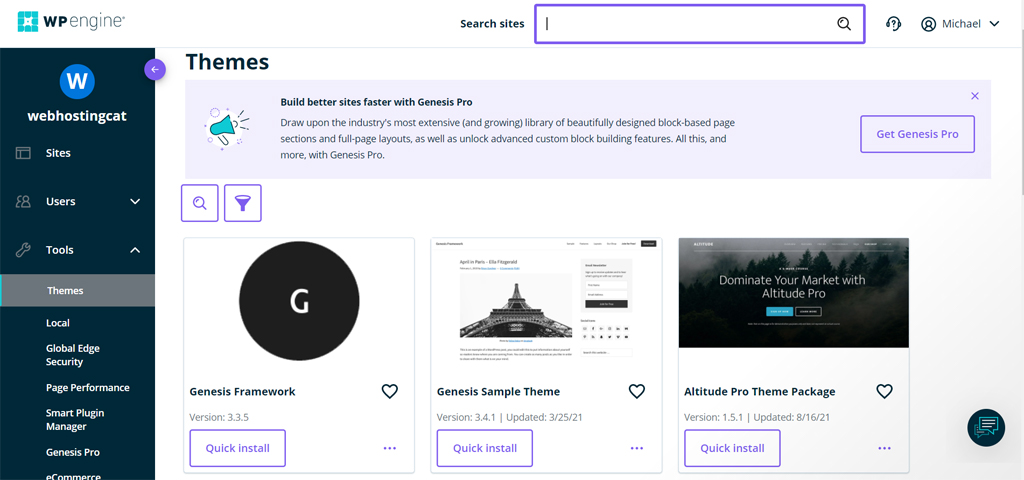 Now that WP Engine has acquired StudioPress, one of the biggest benefits of getting one of their managed WordPress hosting plans is the inclusion of free StudioPress themes based on the Genesis Framework. Click here to see of list of the themes that are included. StudioPress themes are some of the most efficiently coded WordPress themes available. And, the best part is that you can still use the themes even if you decide later to move your website to a different host.
WP Engine Dashboard Interface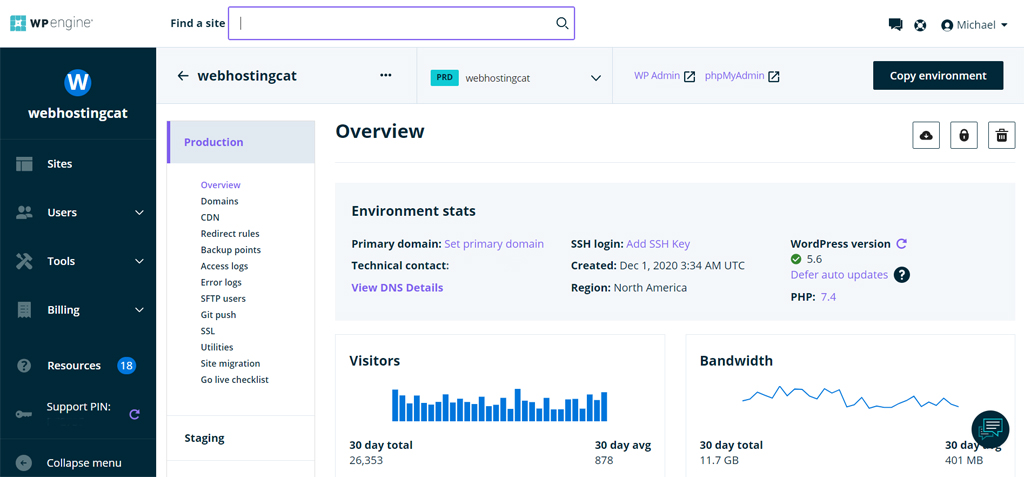 Although WP Engine utilizes a more text based control panel interface, it is very intuitive and easy to use. The far left menu options allow you to access your account functions, while the next column menu items let you access your website-specific functions.
The Redirect Rules option menu is especially convenient as it lets you specify domain redirects without having to make the changes to your htaccess file. And, you can also access phpMyAdmin and your WordPress Admin area via the top menu links.
WP Engine Backup and Restore
WP Engine's backup and restore features gets high marks. Your site (database and content folder) is automatically backed up daily. Additionally, the Backup Points function allows you to manually set a new backup point—which is recommended before you make changes to your site. You also have the option to download zipped files of your backups to keep yourself.



You can easily restore your data by selecting the appropriate backup point and clicking the Restore button. The process will take anywhere from a few minutes to several hours to complete depending on the size of your website.
Development and Staging of Your Site
Website staging was already one of WP Engine's best features. However, they have streamlined the process and made it now even easier to use. I recently did a redesign for webhostingcat.com and I was able to utilize the WP Engine staging functionality to easily perform the modifications in the staging and then seamlessly copy the changes back over to our live production website.
To create your staging environment and to copy your live site to your staging area, just click the Add Staging link under your Production menu. Depending on the size of your website, it may take a while before the staging area is created. In my case, the process only took a few minutes. When your staging area is ready, you can click on the link to access it.
When you're ready to move your changes to production, just click the Copy Environment button in your Staging environment.


So far, the WP Engine Staging Area has worked out extremely well for me. It is absolutely one of my favorite features. The process is very fast and efficient. All of my changes in the staging area have been successfully transferred into production with no issues.
WP Engine Utilities
From the Utilities area of your WP Engine dashboard, you get access to additional functionality that includes:
Password Protection – Allows you to restrict viewing of your website. Good for blocking traffic and bots from your website while you're working on it during pre-launch phase.
Reset File Permissions – Allows you to grant access to files you have uploaded by resetting their file permissions.
Multisite – Allows you to convert your website from a single site to a multisite environment with subsites.
Cache Options – You can enable or disable object caching, plus clear your page cache from here.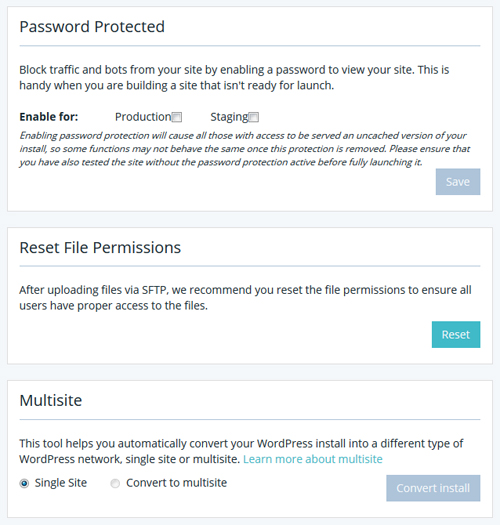 WP Engine Security
WP Engine employs some strict security measures with their customer's websites as well as their hardware environment. Another benefit of their managed hosting services is that they are actively and continuously scanning for vulnerabilities and contract with other security firms for added protection—which allows you to focus on other things like creating great content for your site!
Free SSL Certificates
With your WP Engine hosting plan, you get free Let's Encrypt SSL Certificates that you can easily request from your Install dashboard.


Website Speed and Performance at WP Engine
The website speed and performance that WP Engine delivers has always been one of their most impressive features. During my initial personal experience and testing, WP Engine delivered outstanding results. Since then, they have made even more improvements to their hosting infrastructure. In addition to WP Engine's EverCache technology, their global data centers and partnerships with Amazon Web Services and Google Cloud Platform help deliver even faster speed. In fact, customers experience an average of 38% improvement in site render times.
Since moving our site to WP Engine, we've experienced great results.
WP Engine Speed and Performance Update 2023
And, I'm pleased to report that in 2023 WP Engine's managed WordPress hosting is better than ever! I recently ran some updated speed tests on our website. The results were the best we've ever had from GTmetrix. We scored 100% on both Performance and Structure! Take a look below: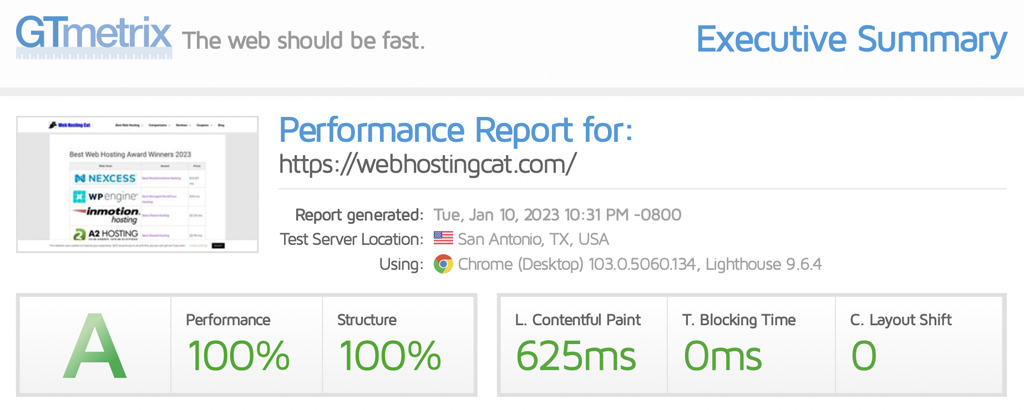 WP Engine Customer Support
WP Engine Support also gets a high score from me. I had to contact support a couple of times when I was transferring my site to WP Engine and I could easily tell that their support engineers know what they are talking about and doing. In addition to their expertise, I was also impressed with their promptness to resolve any issues or questions I had.
Here is a sample response from WP Engine's support team: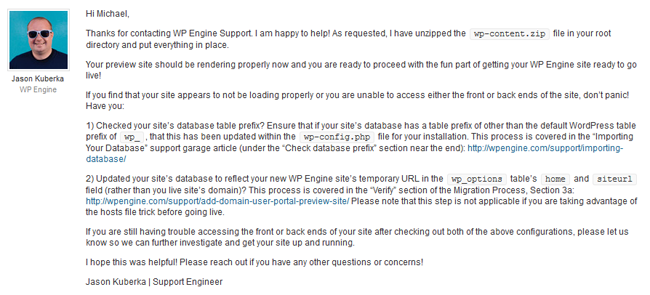 WP Engine Transferable Installs and Billing Transfer
In addition to those who need fully managed WordPress hosting, WP Engine is also a great choice for developers who need to work on sites for their clients. With the Transferable Installs feature, you can create an unlimited number of development sites where you can build and test a website out for your client. Then, when you're ready, you can transfer this site to your client's WP Engine account. And with the Billing Transfer feature, your clients will be automatically billed via WP Engine.
To access this feature, you click on the Add install link on the left of your WP Engine dashboard. You then click the Create a Transferable Install option and you'll now be able to work on a development site.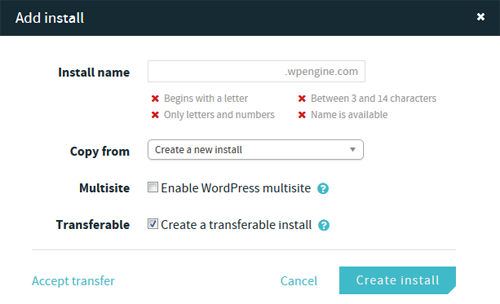 I really think developers will appreciate the Transferable Install feature.
More WP Engine Reviews
WP Engine vs Bluehost
WP Engine vs DreamHost
WP Engine vs InMotion
WP Engine vs Nexcess
WP Engine vs SiteGround
WP Engine vs WPX Hosting
Video: Interview with WP Engine's David Vogelpohl
In 2022, WP Engine remains strongly committed to providing the best managed WordPress hosting experience for business owners, E-commerce, all the up to big agencies. In my latest interview with David Vogelpohl, VP of Growth Strategy, he shared what's happening at WP Engine lately. Improvements include customized caching in WooCommerce for better speed and scaling, plus they've added cart fragment solutions. For agencies, WP Engine has added Growth Suite for customized reporting and billing. Watch the video for more details.
Recommendations
While the managed WordPress hosting field continues to grow with other companies coming out with specifically labeled WordPress offerings, WP Engine remains the leader in this category. Based on my experience using their managed hosting services, I have to concur with many in the WordPress community that WP Engine is the ultimate solution for websites requiring fully managed WordPress performance and support.
WP Engine's focus is now on their new Digital Experience Platform. The new solutions platform focuses on four areas: Creative Agility, Actionable Intelligence, Enterprise Performance, and Ecosystem Integration. In terms of their web hosting plans, the Digital Experience Platform results in more features being included–albeit at somewhat higher prices.
Here's a look at the current hosting plan lineup at WP Engine: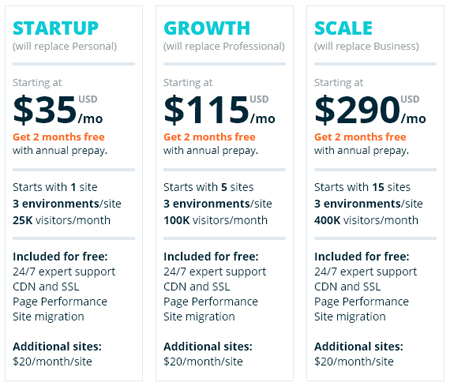 Despite the increase in pricing, WP Engine remains the industry standard in premium managed WordPress hosting in our opinion. And, we're still able to offer you a great discount! See below.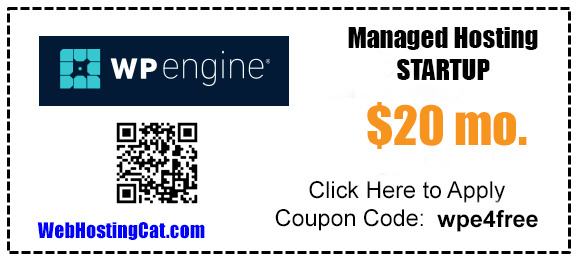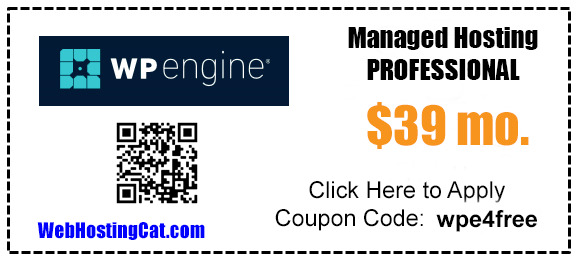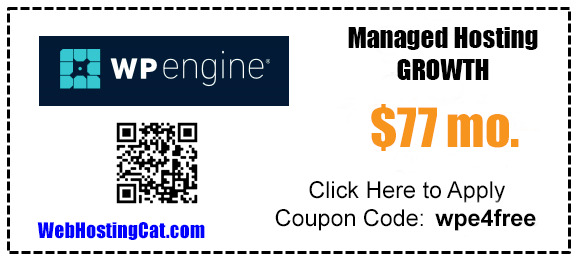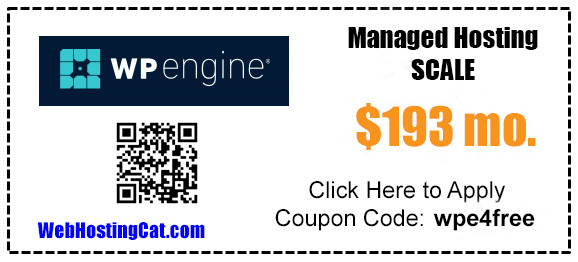 Pros and Cons
Pros:
True Fully Managed WordPress Hosting
Expert Support Engineers
Easy to use dashboard interface
Animated audio walkthroughs are included for added assistance.
Backup Points allow for easy backup and restore of site.
Staging Area is great for testing out new changes to your website.
Proprietary EverCache Technology results in faster site performance.
Transferable Installs and Billing Transfer are great for developers.
Cons:
Expensive
Some restrictions on plugins.