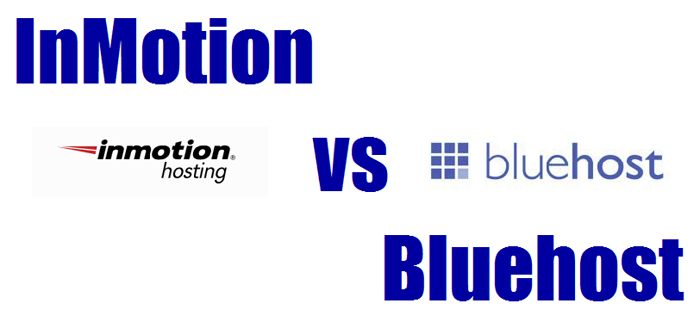 These are two excellent, well-established web hosting providers. Both InMotion and Bluehost offer great Shared, VPS, and Dedicated hosting. Of the two, InMotion currently is the better choice for business hosting with outstanding features that are critical for business websites. In fact, when it comes to website speed, InMotion is significantly better when it comes to our testing data.
Both of these web hosts offer you the cPanel interface. Bluehost and InMotion both customize their cPanel somewhat. I prefer InMotion's cPanel to Bluehost's interface, but both are user-friendly. InMotion's Max Speed Zone data network gives them an advantage when it comes to performance and speed. And, they also provide a 90 day money back guarantee.
As for customer support, while both hosting companies have been very helpful and courteous when I've contacted them, InMotion Hosting has provided much faster response times via live chat support. Conversely, Bluehost has had some of the slowest response times of the web hosts I've used—though they were able to answer my questions. What we really don't like about Bluehost these days are the numerous attempts to upsell you with additional services—both by email and as you work within your Bluehost account!
Website Speed Comparison
We tested websites hosted by both InMotion and Bluehost. As you can see below, InMotion Hosting speed and page loading results were much better than Bluehost.


Customer Support Response Times
In our live chat support testing, InMotion Hosting was the winner with far superior response times.
| Web Host | Morning | Afternoon | Night |
| --- | --- | --- | --- |
| InMotion Hosting | 6.4 sec. | 10.8 sec. | 8 sec. |
| Bluehost | 4 min. 17 sec. | 1 min. 12 sec. | 24.5 sec. |
Personally, I've had great success with both of these companies. If you're looking for hosting for a business site, then InMotion is probably the better choice. Their business class hardware and superior customer support put them on top. If you plan on using a content management system like WordPress, then we would also favor InMotion Hosting. However, both InMotion and Bluehost are quality choices for cPanel web hosting.
VPS Hosting: InMotion vs Bluehost
InMotion Hosting and Bluehost both also offer impressive VPS hosting plans. Here again, we would put InMotion ahead of Bluehost. Website speed was better overall at InMotion. And, with InMotion's VPS, you get their high availability hosting powered by the cloud. We also really like the snapshot server backup capability that you get with InMotion Hosting.

InMotion Hosting
Started Business: 2001
BBB Rating: A+
Data Center Locations: Los Angeles, CA and Ashburn, VA
Price: $3.49 mo. – $7.49 mo.
Unlimited Bandwidth: Yes
Unlimited Storage: Yes
Unlimited Email: Yes
Host Multiple Domains: Yes
Hosting Interface: cPanel
Server Uptime: 99.9%
Full Refund Period: 90 Days
Dedicated Hosting Available: Yes
Free Extras:
Solid State Drives (SSDs)
Free data restore once every four months
Free Website Transfers
Safe Application Rollback
$75 – $100 Google Adwords Credit
Premium Website Builder
Advantages of Choosing InMotion:
InMotion utilizes their Max Speed Zones for faster performance.
No charge to restore your data from their backups once every four months.
cPanel interface with easy 1 click software installs using Softaculous.
They offer phone, email, and chat support.
You get a separate Account Management Panel for your account and billing issues.
Fast live chat customer support responses.
You get over 400 applications to use for your websites.
Secure Remote Server Access via Command Line (SSH)
Pre-Installation of WordPress, Joomla, or PrestaShop
BoldGrid Website Builder
Malware Protection
WP-CLI Available for Use with SSH
Choice of MySQL or PostgreSQL Databases
Google Apps Integration Made Easier
90 Day Money Back Guarantee

Bluehost
Started Business: 1996
BBB Rating: A+
Data Center Location: Provo, UT
Price: $3.49 mo. – $13.95 mo.
Unlimited Bandwidth: Yes
Unlimited Storage: Yes
Unlimited Email: Yes
Host Multiple Domains: Yes
Hosting Interface: cPanel
Server Uptime: N/A
Full Refund Period: 30 Days
Dedicated Hosting Available: Yes
Free Extras:
Search Engine Submission Tools
$100 Google Advertising Credit
$50 Facebook Ad Credit
Free Yellowpages Listing
Advantages of Choosing Bluehost:
Bluehost offers an anytime money-back guarantee (pro-rated).
They have their own proprietary resource protection solution to protect shared hosting users from other abusive users on the same server.
You get phone, email, and live chat support.
Install applications with SimpleScripts 1 click installs.
Dedicated and VPS Hosting is now available.
Recommendation
For most websites, in this comparison we would recommend InMotion Hosting. See our InMotion Hosting review ratings below: