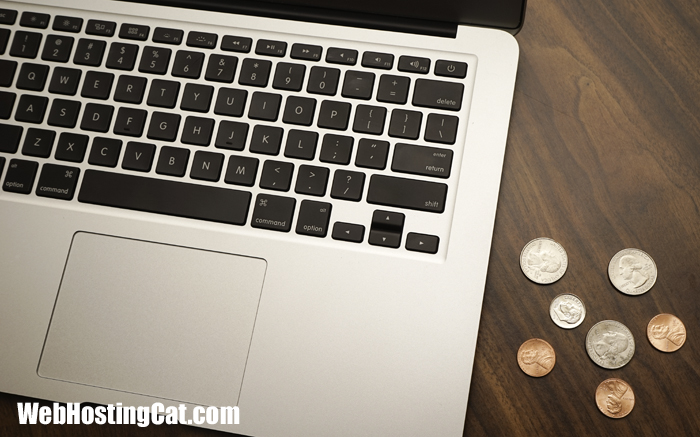 Can cheap web hosting actually work for you? And, what is the Best Cheap Shared Hosting in 2023? I believe in most cases, the answer to the first question is yes. But before we answer the second question, let's define what we mean by cheap shared hosting.
In the past, we've referred to Budget Hosting as those hosting plans costing less than $3 or $4 a month. However, many web hosts offer introductory deals where plans cost less than $5 mo. But when we consider true Cheap Web Hosting, we also have to take into account the renewal rates—which are often higher. Although you might be able to sign up for a hosting plan at cheaper rates, what takes some hosting companies out of the cheap arena are the higher rates you'll be charged once your initial term is over.
So for our quest for quality cheap shared web hosting, here we're just considering those hosting plans that are $5 mo. or less during initial signup, and that also cost less than $10 mo. when you renew.
InMotion Hosting

Advantages:
Excellent Speed and Performance
Easy to Use Account Interface
Great cPanel Hosting
WordPress Pre-Installed
24/7 Responsive Live Chat Support
90 Day Money Back Guarantee
Disadvantages:
Renewal Rates Could be Lower
I've been a customer of InMotion Hosting for 12 years now. And, while it's very impressive that the features, website performance, and customer support I receive have been outstanding for all of this time, what's even more amazing is that you can still get their web hosting at very affordable prices—currently starting at only $2.29 mo. While the renewal rates are higher than your initial term, they aren't nearly as much as some of the other well-known shared hosting providers.
Bluehost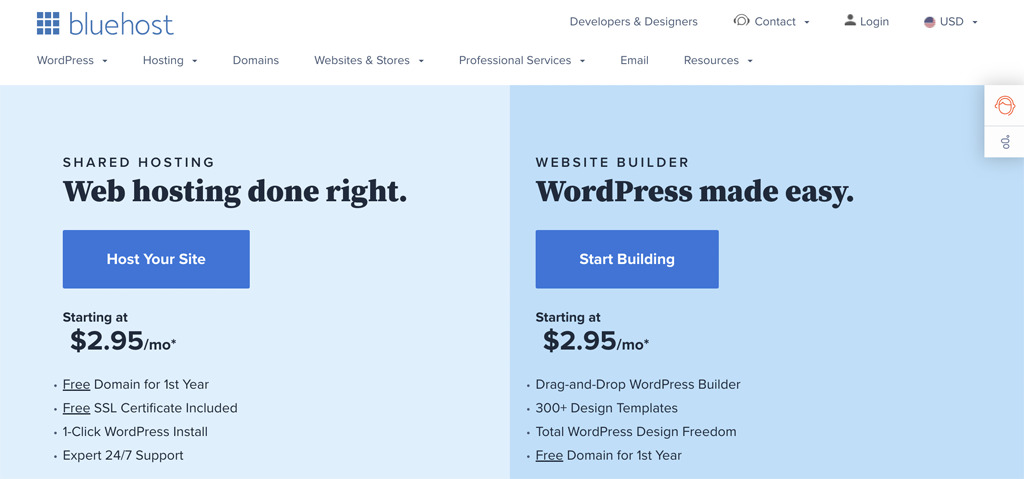 Advantages:
Nice Website Setup Guide
Easy to Use Customized Dashboard
Recommended by WordPress.org
24/7 Live Chat Support
Disadvantages:
Slower to Adopt New PHP Versions
Renewal Rates Could be Lower
Bluehost is another well-known web host that you may not consider as a cheap web hosting source. However, their Basic hosting plan is often on sale and is currently available for $2.95 mo. The renewal rate is $9.99 mo.
Like GoDaddy, with Bluehost you also get cPanel as your control panel interface and we definitely like their enhanced implementation of it. While I've found the customer support agents at Bluehost to be very helpful, at times in the past, the wait times were be a bit long. However, I should note that their response time has improved lately.
Hostinger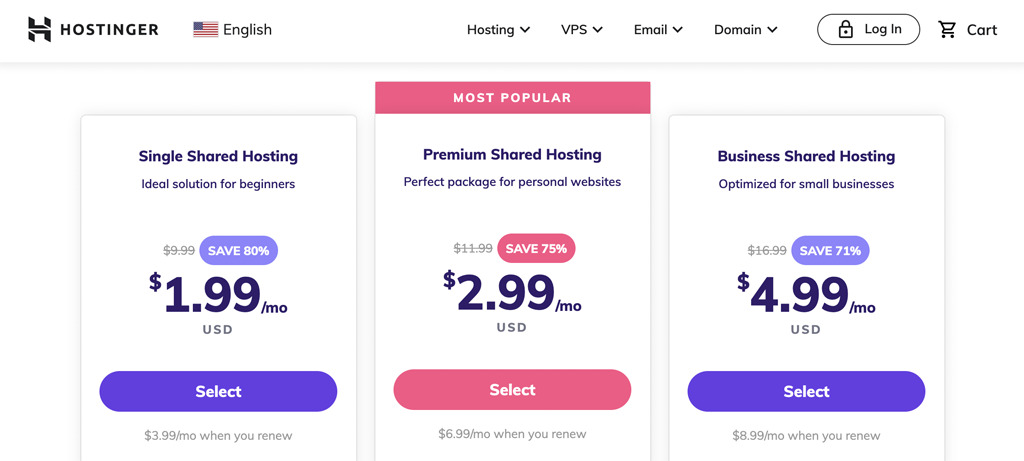 Advantages:
Very Low Signup Rates
Very Low Renewal Rates
WordPress Acceleration Features
24/7 Live Support
Disadvantages:
Some Features Require Premium Plan
Hostinger often gets overlooked when shared hosting providers are discussed. But when it comes to cheap shared hosting options, they are one of the best. First off, Hostinger has super cheap hosting plans that you can sign up for, and their renewal rates are equally impressive—some of the lowest renewal rates you'll find. However, that doesn't mean you'll get a bare bones hosting plan. Hostinger includes all of the features you want in a quality shared hosting provider.
InterServer
Advantages:
99.9% Uptime Guarantee
Unlimited Storage
Unlimited Data Transfer
No Charge for Data Restore
Disadvantages:
Price Lock Guarantee No Longer Included
Live Chat Response Times Can Vary Greatly
When it comes to quality cheap web hosting, InterServer definitely deserves consideration. While they may not be as well-known as GoDaddy or the other larger web hosts, InterServer's low renewal rates can be a huge benefit. So, not only can you sign up for their feature packed hosting plan for $2.50 per month, you'll also be able to renew at a lower rate than most other web hosts.
It's very easy to sign up at InterServer. And, their Standard Hosting plan includes unlimited storage, data transfer, email, and you can host an unlimited number of websites. The InterServer account dashboard is very easy to use and lets you easily log in to cPanel.
Overall, InterServer's hosting plan still provides a lot more value than we've seen with other hosts. They offer many features that will cost you more elsewhere—especially when you factor in renewal rates.
Recommendations
For absolute beginners, Bluehost would be my recommendation. They have initial low prices and reasonable renewal rates. And, the features included are especially helpful for newbies.
Regarding customer support, I would put InMotion Hosting at the top of this list. Their support is available via phone, email, and 24/7 live chat. And, their response times and issue resolution are the best. Bluehost, Hostinger, and InterServer are at about the same level in this category.
For speed and performance, again InMotion Hosting would be my first choice based on our testing and my own personal experience with these hosts. InMotion's Max Speed Zone Technology and UltraStack servers give them a big advantage here. They were also one of the first shared hosting provider to include SSD storage drives. InterServer and Hostinger would be next, then Bluehost.
For overall pricing and value, Hostinger and InterServer would be the choices. You'll pay low up front prices and when your renewal time comes, it will be easier on your budget. While InMotion and Bluehost also provide plenty of value, your total costs will be higher.
So in conclusion, which cheap shared hosting provider should you choose? I would use the guidelines above. If you're a beginner, I would recommend Bluehost. If you want the best overall shared hosting experience, I would choose InMotion Hosting. And, if you want to spend the least amount of money on a quality shared hosting provider, I would consider InterServer of Hostinger.

Sign Up:
$2.29 mo.
Renewal:
$8.99 mo.
Visit:
inmotionhosting.com

Sign Up:
$2.95 mo.
Renewal:
$7.99 mo.
Visit:
bluehost.com

Sign Up:
$1.99 mo.
Renewal:
$3.99 mo.
Visit:
hostinger.com

Sign Up:
$2.50 mo.
Renewal:
$7.00 mo.
Visit:
interserver.net