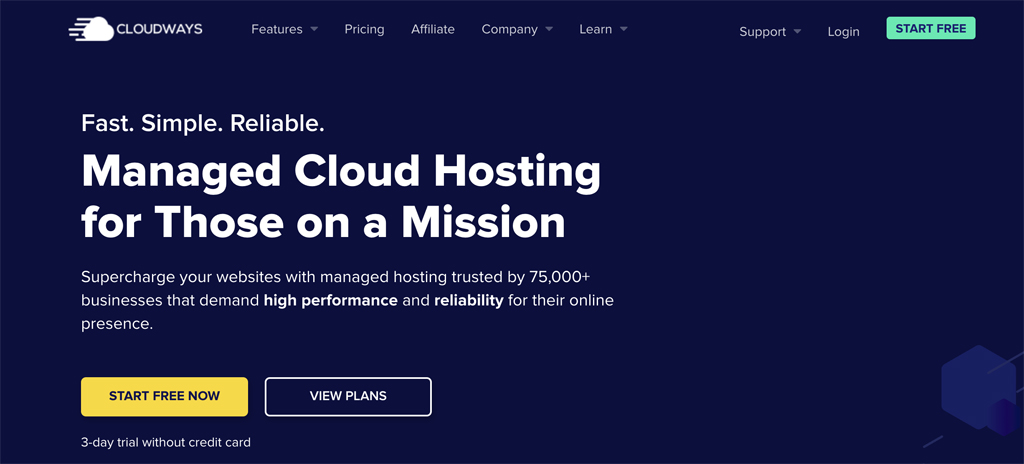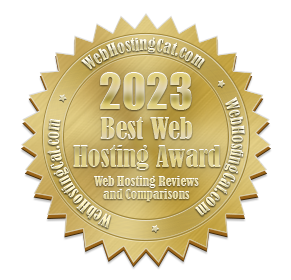 Although Cloud Hosting has been around for years now, you may have thought it was too difficult or not worth switching from a traditional hosting platform. Here in my
Cloudways Review
, we'll see how Cloudways managed cloud hosting performs, and how easy or difficult the process is for implementing cloud hosting.
Pros and Cons of Cloud Hosting
With cloud hosting, you get a network of servers that provides better resource scalability. Also, because your cloud network has servers in many locations, you're able to get better speed and latency. However, setting up your cloud server usually requires advanced knowledge if you directly choose your cloud provider—that's where Cloudways shines.
Why Choose Cloudways?
Cloudways lets you choose your cloud provider: Digital Ocean, Vultr, Linode, AWS, or Google Cloud. But with Cloudways Managed Cloud Hosting, they do the heavy lifting while you use their platform and interface—making it much easier. You get all the benefits of cloud hosting without the hassles.
Here are some of the other features you get with Cloudways:
Optimized PHP Stack (NGINX, Varnish Cache, Apache, Memcached, PHP-FPM)
Choose from over 60 Data Centers
Easy to Use Dashboard Interface
Host Unlimited Number of Websites
Include Team Member Collaboration
Security Includes Firewalls, Bot Protection, Application Isolation, and More
Three Levels of 24/7/365 Expert Support
Automatic and On-Demand Data Backups
Includes Staging Environment
Free Website Migration
Free 3 Day Trial with No Credit Card Needed
But how well does Cloudways perform? I signed up for an account to see for myself. Here are the results.
With Cloudways You Can Choose Your Cloud Provider
As I mentioned earlier, with Cloudways you select from 5 different cloud providers.
Digital Ocean
Vultr
Linode
AWS
Google Cloud
Your choice really depends on your particular website hosting needs. For small businesses with one or two websites, or if you're just starting out, then a lower cost choice such as Digital Ocean, Vultr, or Linode makes more sense. However, if you have really high traffic sites or you're an agency or developer that needs cloud hosting for many websites, then it's better to opt for a higher resource intense option like AWS or Google Cloud.
In my case, I choose Vultr. FYI, you can try out Cloudways for free (no credit card required) when you select Digital Ocean, Vultr, or Linode.
Setting Up Your Cloudways Server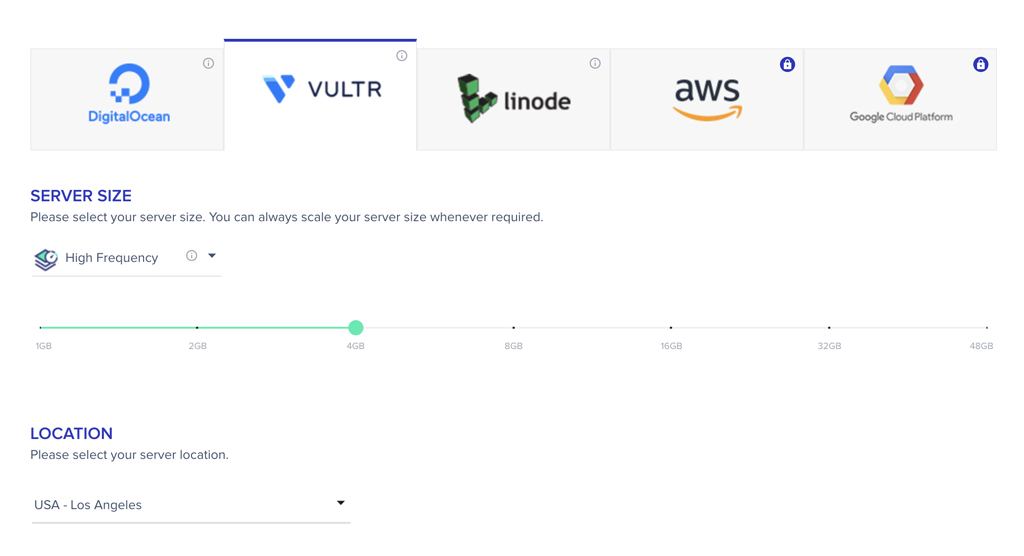 If you've never set up a server (Cloud or Traditional Web), don't worry. Cloudways does make it super easy. When you sign up for an account, you just need to specify your choice of Cloud Provider and the amount of resources you need. Cloudways will then take care of setting things up. Your server will be ready in approximately 13 minutes.
I found the process very straight-forward and didn't have any problems getting set up.
Running WordPress with Cloudways
During the signup process, you can specify that you want WordPress as your application. WordPress will be setup and ready when you access your server. You'll be able to quickly and easily access both the front and back ends of your WordPress site through the Cloudways dashboard.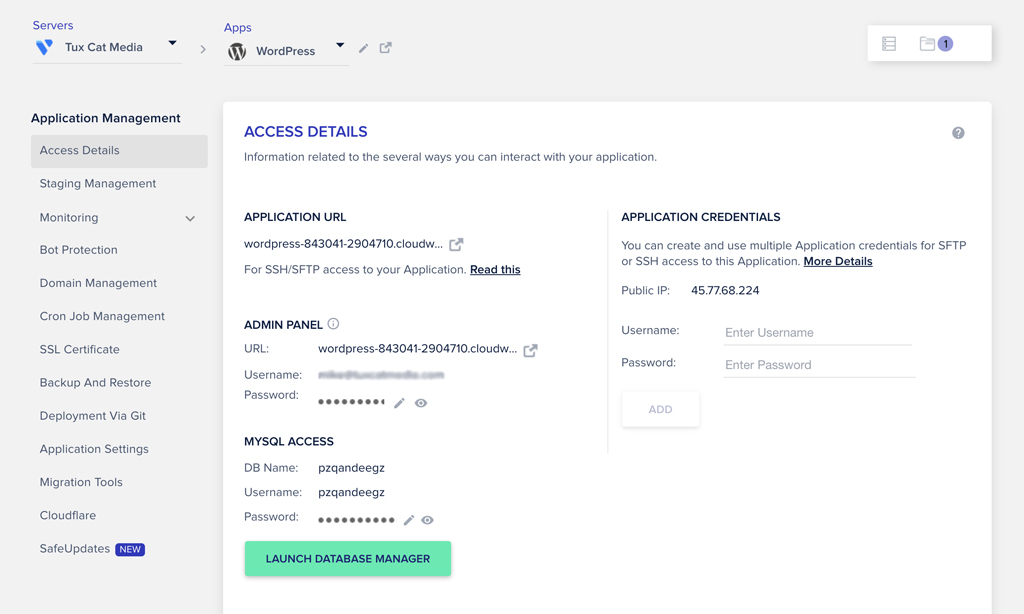 Website Speed and Performance
Website speed and performance is outstanding with Cloudways. You can definitely notice a difference just using the front end of your website. But also in our separate speed testing, Cloudways posted some of the fastest speed results we've seen.
The combination of cloud providers, performance and database optimization, NGINX, and Varnish Cache produces super fast websites. And for WordPress users, Cloudways Breeze plugin optimizes your databases for faster response times.
Below are some of our sample speed test results via GTmetrix:

Data Backup and Restore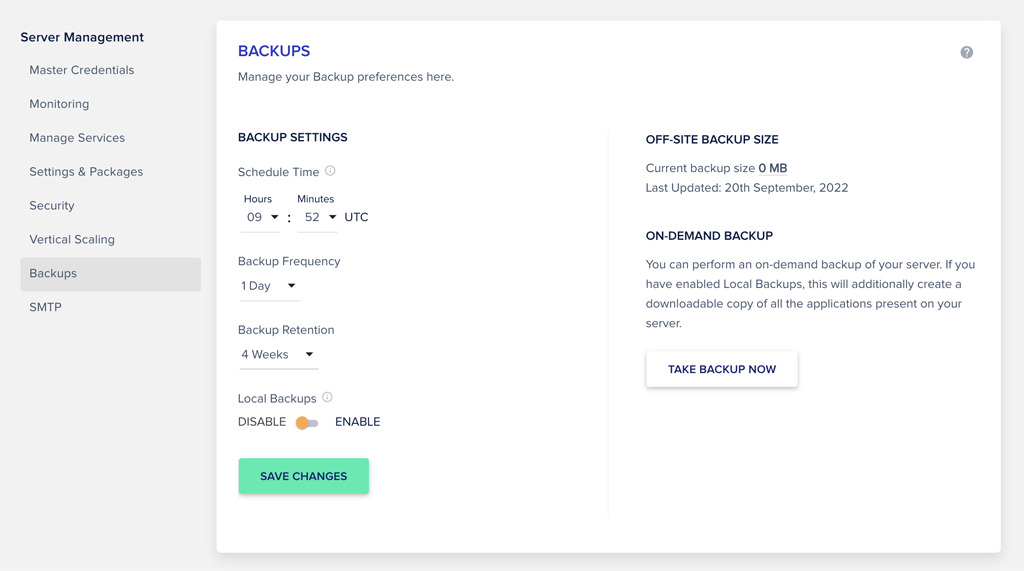 The data backup features you get with Cloudways are very impressive. You can not only set the frequency of your automatic backups, but you can also set your data retention period—up to 4 weeks! Additionally, you can perform on-demand backups from both the server level or the application level.
Website Staging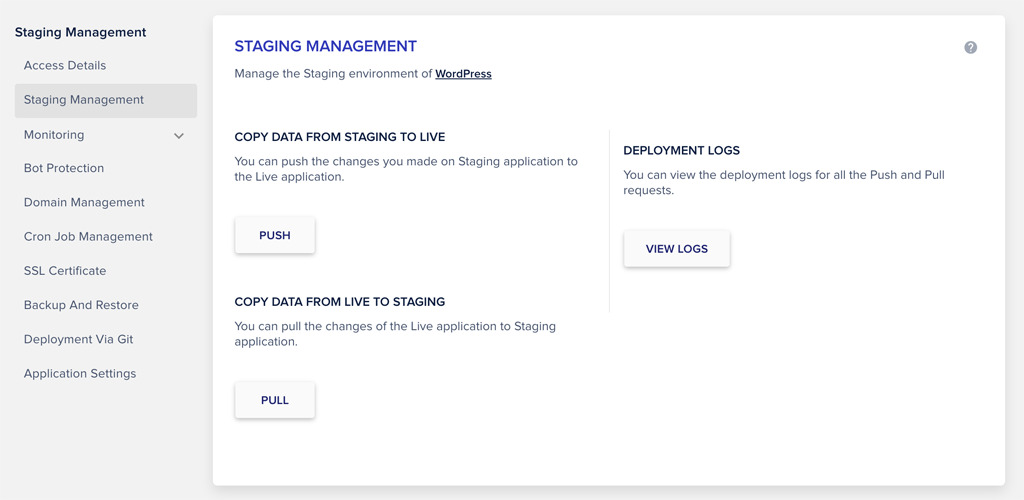 The website staging functionality in Cloudways works very well. I was able to quickly and easily create my staging environment, and then push my changes back to my live website without any issues. The only part of the staging process that was slightly confusing is that, unlike your production application management screen, there is no link to directly access the admin side of your staging site. You have to add the wp-login.php suffix to your url to get there. It's not a big deal, but it may be confusing the first time you utilize their staging.
Cloudways Security
Cloudways includes excellent security features such as Login Security, Firewalls, Bot Protection, SSL Certificates, Application Isolation, Two-Factor Authentication, End to End Encryption, plus more.
You'll notice Cloudways Security when you login—as all devices are checked: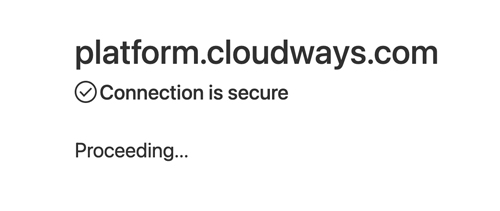 You can check the status of your Bot Protection from your Cloudways dashboard: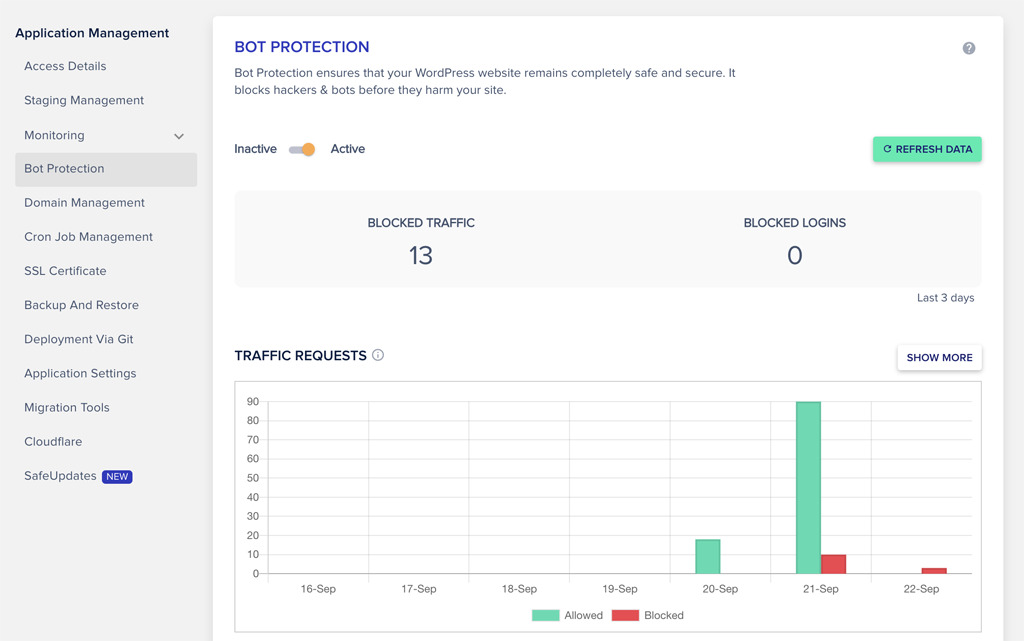 Also from your dashboard, you can easily get your free Let's Encrypt SSL certificates: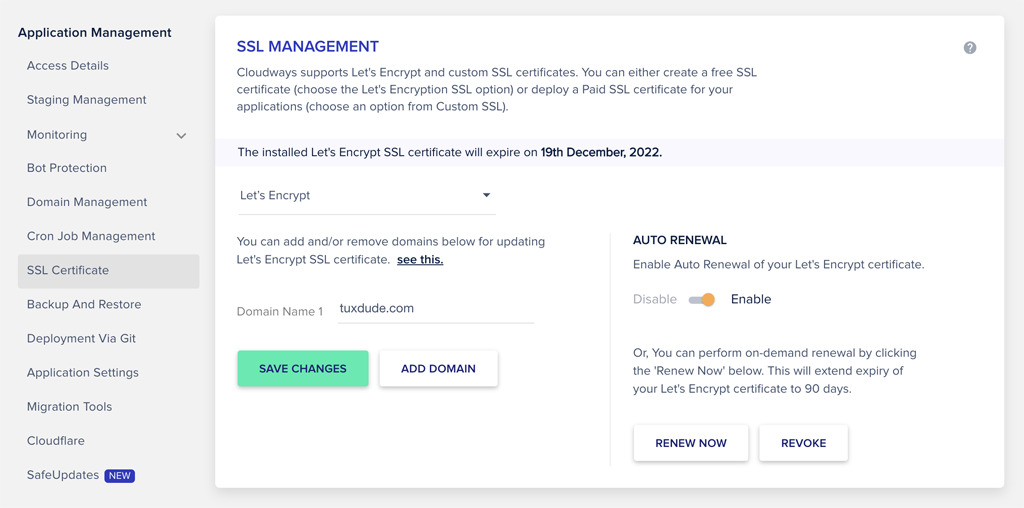 Cloudways Customer Support
Cloudways offers three levels of expert customer support. I have to say that I am very impressed with their live chat support. Response times are excellent. The support agents are knowledgeable. And, I was able to get answers immediately.
Here are some sample excerpts from my live chat support sessions: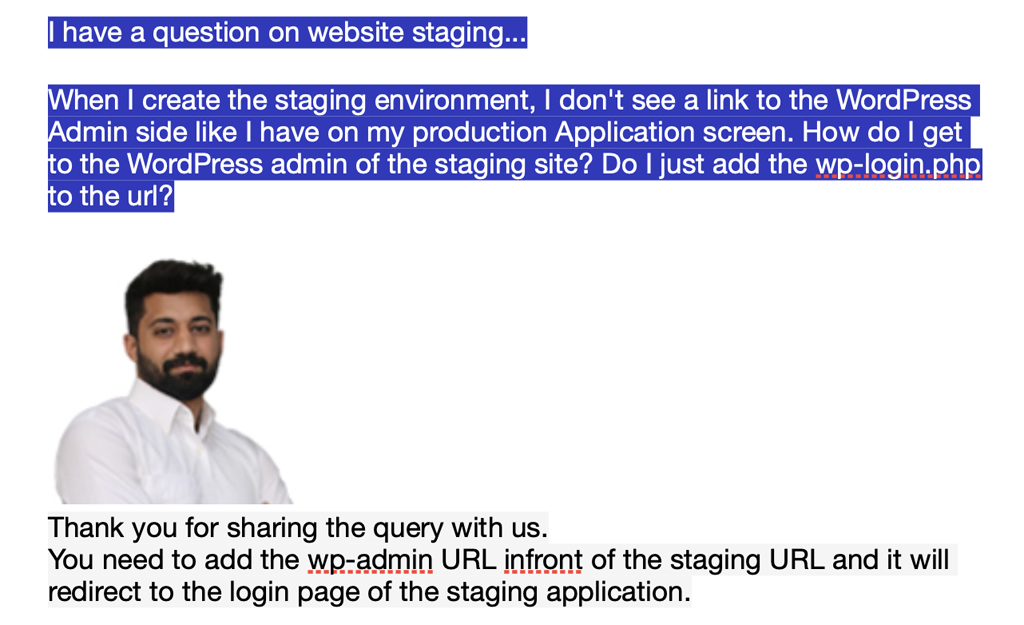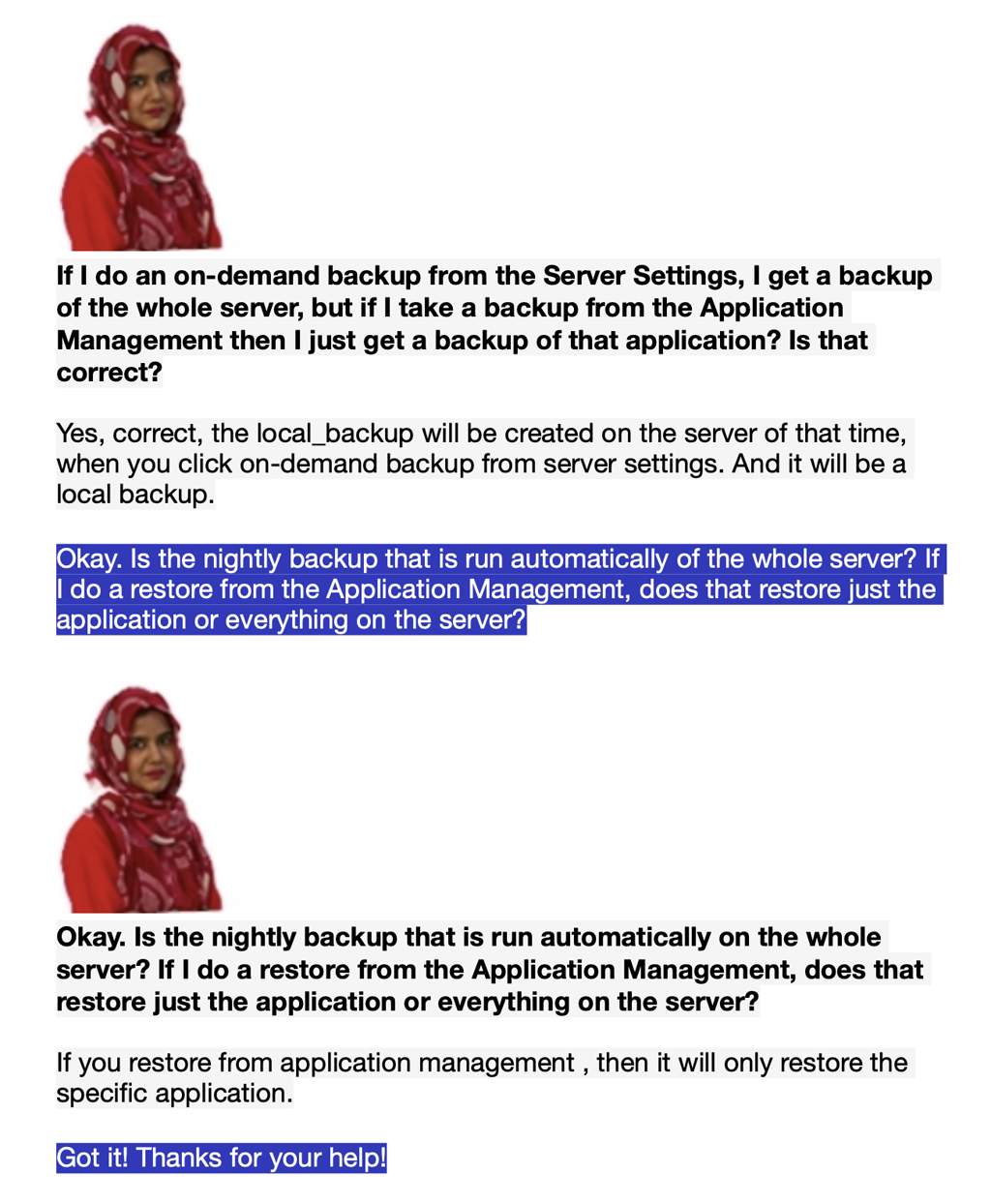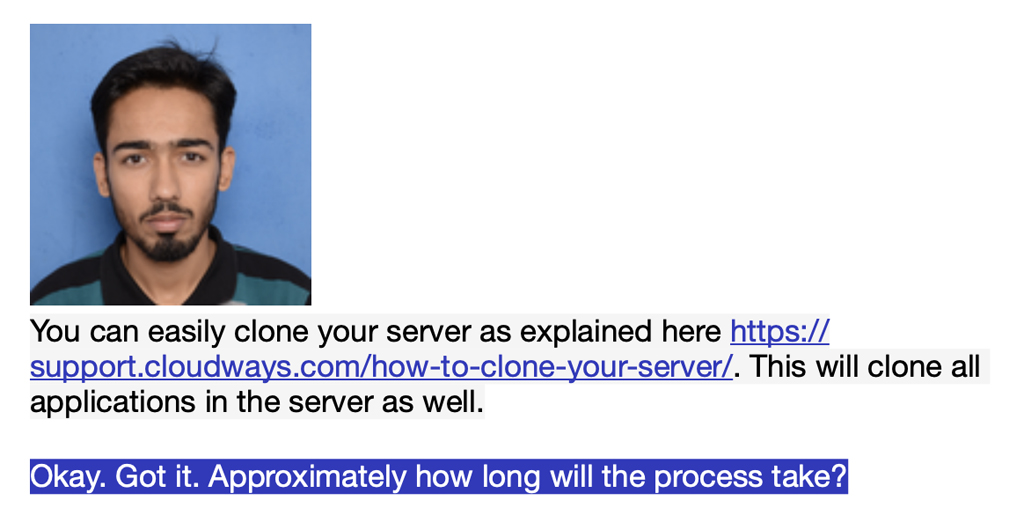 How Does Cloudways Compare with Other Web Hosts?
Cloudways vs Bluehost
Cloudways specializes in Managed Cloud Hosting, while Bluehost features a wide range of web hosting services. While they can both be used for different applications, this comparison will focus heavily on …
Cloudways vs Kinsta
In this comparison of Cloudways vs Kinsta, we take a look at two top of the line WordPress hosting providers. Kinsta specializes in managed WordPress hosting, while Cloudways is one of the best managed Cloud Hosting providers …
Cloudways vs Nexcess
Cloudways offers Managed Cloud Hosting, while Nexcess continues to be a premier Managed Hosting Provider for WordPress and WooCommerce websites. Let's see what each host has to offer, how they perform, and ultimately …
Cloudways vs SiteGround
In this comparison of Cloudways vs SiteGround, we take a detailed look at how one of the premier cloud hosting providers (Cloudways) compares with a long time WordPress.org recommended web host (SiteGround). Should you opt for cloud hosting …
Cloudways vs WP Engine
In this comparison of Cloudways vs WP Engine, we take a look at two of the best web hosts around. Cloudways is an outstanding choice for Managed Cloud Hosting, while WP Engine has been the industry standard for Managed WordPress Hosting …
Cloudways vs WPX Hosting
In this comparison of Cloudways vs WPX Hosting, we look at two of the absolute best web hosts in their respective fields. Cloudways is our top recommendation for Managed Cloud Hosting, while WPX Hosting is now our top recommendation for Managed WordPress …
Interview with Cloudways Director Robert Jacobi
I recently had the pleasure of chatting with Cloudways Director, Robert Jacobi. Back in 2017, I previously interviewed Robert when he was the President of Open Source Matters—the company behind Joomla. So, when I got the chance to sit down with him here in 2022, I was eager to get his views on Cloud Hosting and how Cloudways helps its customers.
If you're thinking about switching to cloud hosting, I definitely recommend watching the video of my interview with Robert.
Conclusion and Recommendation
Cloudways definitely delivers, both when it comes to making cloud hosting easier for their customers, and offering super-fast performing websites—whether you're an agency, business owner, or freelancer. The Cloudways interface is very easy to use, and customer support provides responsive assistance if you need help.
The ability to custom-tailor your hosting plan by choosing your cloud provider and resources is great. The performance and security features are very impressive. I especially like the backup and restore functionality that allows you to backup both at the server and application levels—and lets you choose your backup frequency and data retention.
If you're considering moving to cloud hosting for better speed and performance, Cloudways is an outstanding choice for high traffic websites. And, if you're an agency then I would definitely recommend checking out the benefits you can get from cloud hosting and Cloudways.