GreenGeeks and Bluehost both provide effective cPanel web hosting with their Shared Hosting plans. Both Bluehost and GreenGeeks now offer three different levels of Shared Hosting. So, from a value standpoint, it's now a close call between these two hosts–with GreenGeeks getting just a slight edge.
I've had excellent website performance using both GreenGeeks and Bluehost. And the support staff at both companies has been very responsive and effective. In the past, we rated GreenGeeks customer support much higher than Bluehost. However, Bluehost has made a number of improvements to their web hosting in recent times, and their support response times are some of the best we've seen. In fact, while it is close, we would now give Bluehost the edge when it comes to customer support response times and issue resolution.
With GreenGeeks hosting, you get solid state drives for faster performance, along with a free domain name for the life of your account, and free SEO and marketing tools. Bluehost now includes a number of premium features for WordPress users including a customized WordPress dashboard, automatic plugin and themes updates, and they even include website staging (now in beta).
When it comes to website speed, I've had excellent results with both GreenGeeks and Bluehost. In our direct head to head testing, GreenGeeks was the winner for website speed and page loading times. See our sample results below.
GreenGeeks and Bluehost are two great options for web hosting. In my opinion, two factors give GreenGeeks the advantage here. First, we like the value you get with GreenGeeks hosting plan. You get top features for less money than you have to pay at Bluehost. And, if you're looking for a green web hosting option, you'll be hard pressed to find a web host with a greater commitment to being green.


| | GreenGeeks | Bluehost |
| --- | --- | --- |
| Preinstallation | | |
| Auto Updates | | |
| Auto Data Backups | | |
| On Demand Backup and Restore | | |
| Website Staging | | |
| Optimized Caching | | |
| WordPress Security | | |
| Managed WordPress Available? | | |
GreenGeeks vs Bluehost: Differences
Advantages of GreenGeeks over Bluehost:
Powered by 300% Renewable Energy
Choice of 4 Data Centers
PowerCacher Technology for Faster Page Loading
Free Cloudflare CDN
Scalable Computing Resources
Advantages of Bluehost over GreenGeeks:
WordPress.org Recommended
Customized WordPress Dashboard
Customized cPanel Interface
Guided WordPress Website Creation
GreenGeeks vs Bluehost Details

| Category | GreenGeeks | Bluehost | Comments |
| --- | --- | --- | --- |
| Data Centers | | | GreenGeeks has Data Centers in Chicago, Phoenix, Canada, and Amsterdam NL. |
| Server Hardware | | | RAID-10 SSD Storage |
| Network | | | |
| Account Sign Up/Provision | | | |
| Control Panel | | | Bluehost has an updated interface with a nice customized cPanel. |
| Speed and Performance | | | See Results Below |
| Security | | | 24/7 Security Monitoring |
| Data Backup | | | GreenGeeks Automated daily backup notifies you by email when completed. |
| Developer Tools | | | GreenGeeks is currently supporting PHP 7.3 |
| WordPress | | | Bluehost includes customized dashboard, automatic plugin updates, staging, etc. |
| Website Applications | | | Tie. cPanel and Softaculous application installation. |
| Green Hosting | | | GreenGeeks is powered by 300% Renewable Energy. |
| Advertising Credits | | | |
| Customer Support Response Time | | | Normally around 4 sec. |
| Customer Support Issue Resolution | | | |
| Money Back Guarantee | | | Tie. 30 Day Money Back Guarantee |
| Price/Value | | | |
Website Speed Comparison
In our testing, GreenGeeks outperformed Bluehost for speed and page loading in most cases.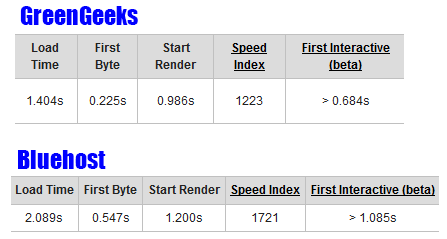 How Does GreenGeeks Compare with Other Web Hosts?
GreenGeeks vs A2 Hosting
A2 Hosting and GreenGeeks are truly two of the top choices for multiple domain web hosting. But whether you need to create multiple websites or just one, it's definitely a close call as to which is better…
GreenGeeks vs DreamHost
If you're trying to decide between GreenGeeks and Dreamhost as your web hosting company, here are some considerations to keep in mind…
GreenGeeks vs GoDaddy
Can GreenGeeks web hosting compete with the big dog GoDaddy? Here's our comparison between these two web hosts…
GreenGeeks vs HostGator
GreenGeeks and HostGator both offer Shared, VPS, and Dedicated web hosting solutions. This comparison focuses primarily on their Shared Hosting plans…
GreenGeeks vs InMotion Hosting
GreenGeeks and InMotion Hosting are two excellent web hosting companies based in Southern California. Both of these web hosts are great choices for those website owners looking for green web hosting…
GreenGeeks vs iPage
GreenGeeks and iPage keep things simple by offering one all-inclusive Shared Hosting plan. Both are equally suited for newbies as well as more experienced website owners…
GreenGeeks vs Jaguar PC
In this comparison we take a look at how GreenGeeks compares with Jaguar PC. These are two web hosts that again are positioned at the same target audience…
GreenGeeks vs SiteGround
GreenGeeks and SiteGround are two excellent web hosting companies. I use both of these web hosts and have had great experiences with each one…
GreenGeeks vs Wix
How does GreenGeeks compare with Wix? This comparison between a traditional web hosting plan and a website builder package takes a look at GreenGeek's All-Inclusive Hosting plan versus Wix's eCommerce plan…
How Does Bluehost Compare with Other Web Hosts?
Bluehost vs A2 Hosting
This comparison between A2 Hosting and Bluehost isn't quite as close as it once was. Both of these web hosts provide excellent cPanel web hosting plans…
Bluehost vs DreamHost
Bluehost and DreamHost are two of the most established and well-known web hosting companies. Bluehost is part of the Endurance International Group while DreamHost continues to operate as…
Bluehost vs GoDaddy
Here is our comparison of Bluehost vs GoDaddy that includes the key areas you should focus on when choosing your web hosting. Let's take a closer head to head look at…
Bluehost vs HostGator
In this comparison of Bluehost vs HostGator, we take a look at two of the best known web hosting companies under the EIG (Endurance International Group) umbrella. However, in keeping with their separate but equal philosophy, the web hosting by these two is not the same…
Bluehost vs InMotion
These are two excellent, well-established web hosting providers. Both InMotion and Bluehost offer great Shared, VPS, and Dedicated hosting…
Bluehost vs InterServer
If you're trying to decide between Bluehost and InterServer, you may be surprised by our results. I currently use both of these web hosting companies…
Bluehost vs iPage
Both iPage and Bluehost offer Shared, VPS, and Dedicated hosting plans. This web hosting comparison focuses on shared hosting…
Bluehost vs Jaguar PC
In this comparison we take a look at how Jaguar PC compares with Bluehost. Bluehost is one of the better known web hosting companies and is also on the WordPress.org recommendation list…
Bluehost vs SiteGround
SiteGround and Bluehost have many similarities within their web hosting offerings. SiteGround's and Bluehost's hosting plans are also very affordable…
Bluehost vs Web Hosting Hub
Performance wise, both Web Hosting Hub and Bluehost have proved to be good choices and I've had successful sites hosted with both Web Hosting Hub and Bluehost…
Bluehost vs WP Engine
While WP Engine focuses solely on managed WordPress hosting, Bluehost offers a wide variety of hosting services. Therefore, this comparison is based specifically on Bluehost's WordPress optimized hosting versus WP Engine…
Recommendation
For most websites, in this comparison we would recommend GreenGeeks. See our GreenGeeks review ratings below: