If you're trying to decide between GreenGeeks and Dreamhost as your web hosting company, here are some considerations to keep in mind. GreenGeeks and DreamHost are two well-established web hosting companies that offer a variety of services including an all-inclusive shared hosting plan.
GreenGeeks vs DreamHost: Differences
Advantages of GreenGeeks over DreamHost:
Powered by 300% Renewable Energy
PowerCacher Technology
Choice of 5 Data Centers
Fast Responsive Customer Support
Unlimited Disk Space
Unlimited Bandwidth
Unlimited Websites
Free Let's Encrypt Wildcard SSL
GlobalSign Premium Wildcard SSL
Free Cloudflare CDN
Nightly Data Backups
Faster Computing Resources with Pro and Premium Plans
Optimized LiteSpeed and MariaDB Servers
Scalable Computing Resources
Automatic Application Updates
Hosting Account Isolation
Proactive Server Monitoring
Real Time Security Scanning
Enhanced SPAM Protection
Free Domain Name
Advantages of DreamHost over GreenGeeks:
WordPress.org Recommended
Free Domain plus Privacy
Remixer Website Builder
97 Day Money Back Guarantee
GreenGeeks vs DreamHost Details

| Category | GreenGeeks | DreamHost | Comments |
| --- | --- | --- | --- |
| Data Centers | | | GreenGeeks has Data Centers in Chicago, Canada, Singapore, and Amsterdam NL. |
| Server Hardware | | | RAID-10 SSD Storage |
| Network | | | |
| Account Sign Up/Provision | | | |
| Control Panel | | | GreenGeeks Customer Account Dashboard linked to cPanel |
| Speed and Performance | | | GreenGeeks revamped hosting platform provides faster website speed. |
| Security | | | GreenGeeks provides Pro Active Server Monitoring |
| Data Backup | | | GreenGeeks automated daily backup notifies you by email when completed. |
| Developer Tools | | | GreenGeeks is currently supporting PHP 8.0 |
| WordPress | | | GreenGeeks provides One-click installation and enhanced WordPress security |
| Website Applications | | | GreenGeeks includes cPanel and Softaculous applications. |
| Green Hosting | | | GreenGeeks is powered by 300% Renewable Energy. |
| Advertising Credits | | | GreenGeeks provides Free Marketing and SEO Tools |
| Customer Support Response Time | | | Normally under 60 seconds. |
| Customer Support Issue Resolution | | | |
| Money Back Guarantee | | | With DreamHost you get a 97 Day Money Back Guarantee. |
| Price/Value | | | GreenGeeks provides All-Inclusive Hosting Plan for $3.95 mo. |
GreenGeeks provides cPanel hosting, whereas DreamHost uses their own text based interface—which I've never been a big fan of. So GreenGeeks already has an advantage in our opinion. While you can host multiple websites with DreamHost, I've found it easier to work within GreenGeeks account interfaces. Cost-wise, GreenGeeks is also less expensive than DreamHost.
When it comes to the features included with their web hosting plans, there are some similarities such as SSDs, unlimited storage and email, and WordPress hosting. GreenGeeks provides automatic data backup which we prefer to the backup feature at DreamHost. On the other hand, DreamHost does offer free Let's Encrypt SSL. With GreenGeeks, you'll need to pay for SSL certificates.
I've always found the customer support at both GreenGeeks and DreamHost to be helpful and able to answer questions and resolve any issues necessary. Where GreenGeeks gets the edge is in response time. While DreamHost has improved their live chat support response times, the wait periods are definitely longer. GreenGeeks has always been one of the fastest to respond to support requests in our testing. And, they have always been able to quickly assist me.
GreenGeeks vs DreamHost: Website Speed
GreenGeeks is the winner when it comes to website speed. Although DreamHost has improved their speed results, GreenGeeks' revamped hosting platform produces faster websites in our testing. And as a customer of both GreenGeeks and DreamHost, I would also give GreenGeeks the edge in this category.
See some sample speed test results from GTmetirx below: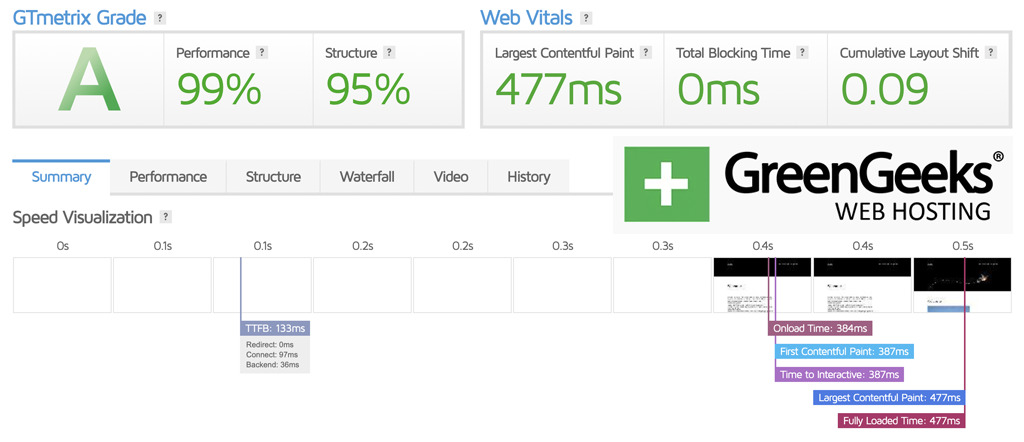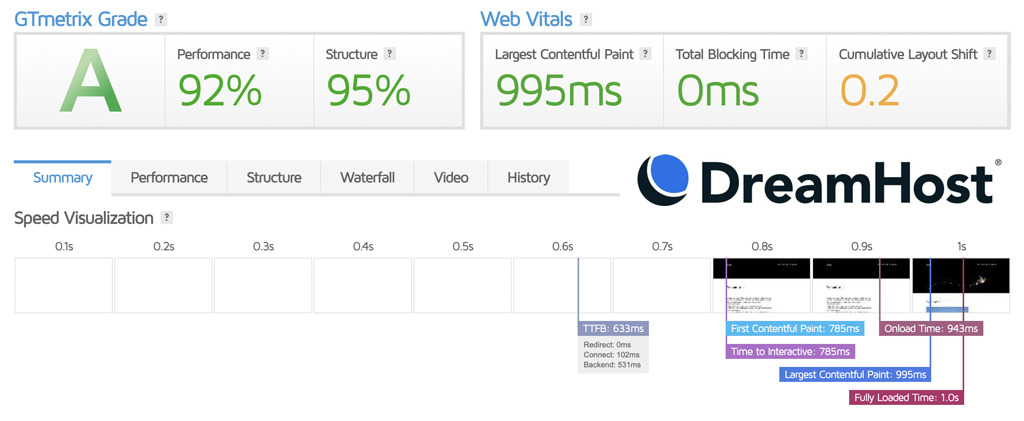 How Does GreenGeeks Compare with Other Web Hosts?
GreenGeeks vs A2 Hosting
A2 Hosting and GreenGeeks are truly two of the top choices for multiple domain web hosting. But whether you need to create multiple websites or just one, it's definitely a close call as to which is better…
GreenGeeks vs Bluehost
GreenGeeks and Bluehost both provide effective cPanel web hosting with their Shared Hosting plans. Both Bluehost and GreenGeeks offer three different levels of Shared Hosting…
GreenGeeks vs GoDaddy
Can GreenGeeks web hosting compete with the big dog GoDaddy? Here's our comparison between these two web hosts…
GreenGeeks vs HostGator
GreenGeeks and HostGator both offer Shared, VPS, and Dedicated web hosting solutions. This comparison focuses primarily on their Shared Hosting plans…
GreenGeeks vs InMotion Hosting
GreenGeeks and InMotion Hosting are two excellent web hosting companies based in Southern California. Both of these web hosts are great choices for those website owners looking for green web hosting…
GreenGeeks vs iPage
GreenGeeks and iPage keep things simple by offering one all-inclusive Shared Hosting plan. Both are equally suited for newbies as well as more experienced website owners…
GreenGeeks vs Jaguar PC
In this comparison we take a look at how GreenGeeks compares with Jaguar PC. These are two web hosts that again are positioned at the same target audience…
GreenGeeks vs SiteGround
GreenGeeks and SiteGround are two excellent web hosting companies. I use both of these web hosts and have had great experiences with each one…
GreenGeeks vs Wix
How does GreenGeeks compare with Wix? This comparison between a traditional web hosting plan and a website builder package takes a look at GreenGeek's All-Inclusive Hosting plan versus Wix's eCommerce plan…
How Does DreamHost Compare with Other Web Hosts?
DreamHost vs A2 Hosting
This comparison between A2 Hosting and DreamHost focuses in large part on the WordPress hosting features and performance of their hosting plans…
DreamHost vs InMotion
These two web hosting companies both have their roots in California. InMotion and DreamHost are very well known as quality hosting providers…
DreamHost vs SiteGround
SiteGround and DreamHost both offer many different types of web hosting plans. This particular comparison will look at each of their Shared Hosting plans…
DreamHost vs WP Engine
While DreamHost features a wide array of web hosting plans and services, WP Engine focuses solely on managed WordPress hosting…
Recommendation
For most websites, in this comparison we would recommend GreenGeeks. See our GreenGeeks review ratings below: