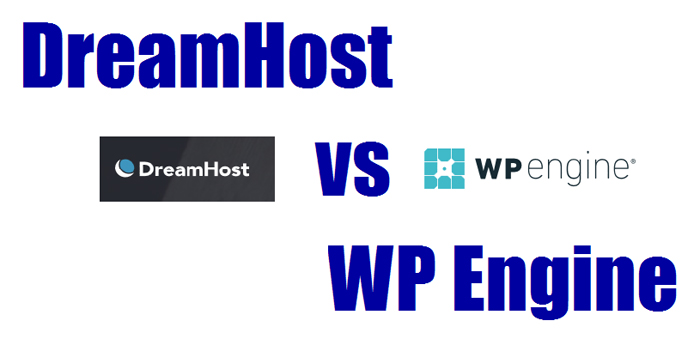 While DreamHost features a wide array of web hosting plans and services, WP Engine focuses solely on managed WordPress hosting. With DreamHost's recent offering of DreamPress (their own premium WP services), this comparison is focused on WordPress hosting only.
With that in mind, be aware that if you're looking for an all-inclusive web hosting solution with premium WP features, you'll want to consider DreamHost. WP Engine does not offer domain name services, email services, and other features you would find with other web hosting companies. However, WP Engine does offer many premium services that you won't get elsewhere. If you already have your domains registered elsewhere (such as with Go Daddy, etc.), you already have your email solution in place, and you're looking for the most comprehensive WordPress hosting option, you should definitely take a look at WP Engine.
Be aware that neither of these solutions is cheap. Depending on how many WP sites you need hosted, the cost will be significantly more than your standard shared hosting solutions. However, if your WordPress sites are receiving a mass amount of traffic, you would be wise to consider DreamHost and WP Engine.

DreamHost
Started Business: 1997
BBB Rating: A+
Data Center Location: Irvine, CA; Ashburn, VA; and Hillsboro, OR
Price: $7.95 mo.
Unlimited Bandwidth: Yes
Unlimited Storage: Yes
Unlimited Email: Yes
Host Multiple Domains: Yes
Hosting Interface: DreamHost Control Panel
Server Uptime: 100%
Full Refund Period: 97 Days
Dedicated Hosting Available: Yes
Free Extras:
CloudFlare CDN
Free Let's Encrypt SSL
Free Domain with WhoIs Privacy
Advantages of Choosing DreamHost:
Optimized WordPress Hosting
WordPress Partner since 2005
100% Uptime Guarantee
Remixer Website Builder
Cloud Storage Services Available

WP Engine
Started Business: N/A
BBB Rating: A+
Data Center Location: U.S., Canada, Europe, Asia, Australia
Price: $35 mo. – $290 mo. (Premium Customized Plans also available)
Unlimited Bandwidth: Yes
Unlimited Storage: Yes
Unlimited Email: No
Host Multiple Domains: No
Hosting Interface: WP Engine Client Portal
Server Uptime: N/A
Full Refund Period: 60 Days
Dedicated Hosting Available: Yes
Free Extras:
CDN (Content Delivery Network) (Professional and Business plans)
EverCache technology speeds up page-load time
Free Let's Encrypt SSL
WordPress Solution Center
Advantages of Choosing WP Engine:
You can try it risk free for 60 days.
WP Engine Migration Plugin for easily transferring your site over.
Managed upgrades and daily backups.
Staging area environment where you can test out plugins or themes.
Expert support staff.
They automatically scan for and fix hacking attempts on your site.
More Data Center Location Options
Recommendation
For most websites, in this comparison we would recommend WP Engine. See our WP Engine review ratings below: