While DreamHost features a wide array of web hosting plans and services, WP Engine focuses solely on managed WordPress hosting. With DreamHost's recent offering of DreamPress (their own premium WP services), this comparison is focused on WordPress hosting only.
With that in mind, be aware that if you're looking for an all-inclusive web hosting solution with premium WP features, you'll want to consider DreamHost. WP Engine does not offer domain name services, email services, and other features you would find with other web hosting companies. However, WP Engine does offer many premium services that you won't get elsewhere. If you already have your domains registered elsewhere (such as with Go Daddy, etc.), you already have your email solution in place, and you're looking for the most comprehensive WordPress hosting option, you should definitely take a look at WP Engine.
Be aware that neither of these solutions is cheap. Depending on how many WP sites you need hosted, the cost will be significantly more than your standard shared hosting solutions. However, if your WordPress sites are receiving a mass amount of traffic, you would be wise to consider DreamHost and WP Engine.
DreamHost vs WP Engine: Differences
Advantages of DreamHost over WP Engine:
WordPress.org Recommended
Free Domain plus Privacy
Remixer Website Builder
97 Day Money Back Guarantee
Advantages of WP Engine over DreamHost:
Completely WordPress Focused
Expert WordPress Support
EverCache Technology for Faster Websites
Free StudioPress Themes Included
Automatic and Snapshot Data Backups
Full Website Staging Platform
Transferable Installs and Billing Transfer for Agencies
Free Page Performance Diagnostics
DreamHost vs WP Engine: Website Speed and Performance
WP Engine is the winner in this category. WP Engine's EverCache technology and optimized environment continues to provide superior website speed and page loading results. While DreamHost has improved their website speed, WP Engine remains the better choice if you want faster performing WordPress websites.
Below are some sample speed test results from GTmetrix: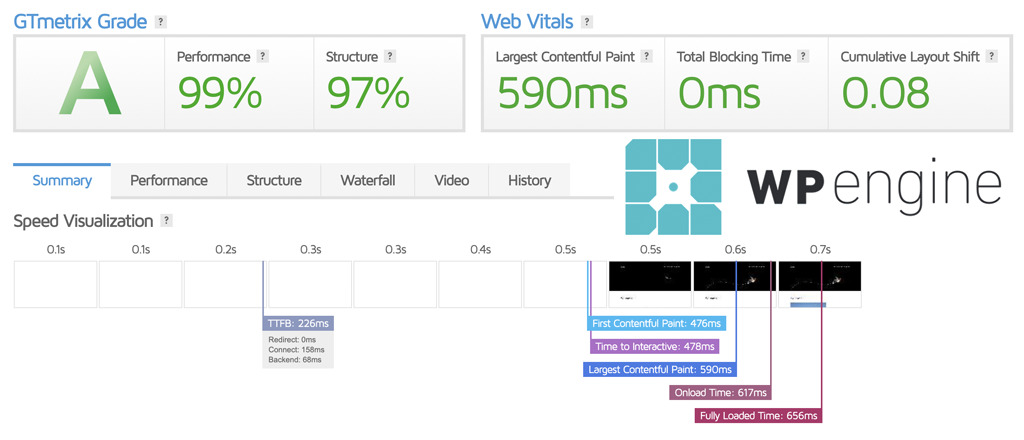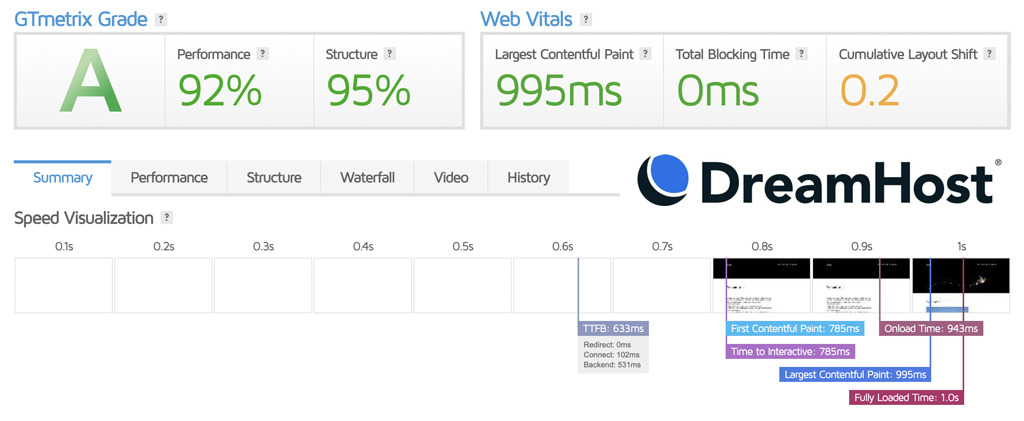 DreamHost vs WP Engine: Website Staging
Both WP Engine and DreamHost (with DreamPress) provide excellent website staging functionality that allows you to easily create a staging site and move changes into production after testing them out. Along with staging and production, WP Engine also allows you to work in a development environment, so they get a slight edge in this category.
DreamHost vs WP Engine: Data Backup and Restore
Data backup and restore is another area where both WP Engine and DreamHost excel. However, while you get automatic data backup with each host, WP Engine allows you to perform on-demand snapshot backups whenever you want. With DreamHost, you are limited to one on-demand backup per day. Also, WP Engine retains your data for 30 days, while DreamHost allows you to restore from only the previous two weeks. For those reasons, WP Engine is the winner here.
DreamHost vs WP Engine: Customer Support
Although DreamHost has made great strides in improving their customer support, WP Engine is still the winner in this category. WP Engine provides outstanding managed WordPress hosting support. The support team there is always very responsive. And, unlike DreamHost, their live chat support is available 24/7.
How Does DreamHost Compare with Other Web Hosts?
DreamHost vs A2 Hosting
This comparison between A2 Hosting and DreamHost focuses in large part on the WordPress hosting features and performance of their hosting plans…
DreamHost vs GreenGeeks
If you're trying to decide between GreenGeeks and Dreamhost as your web hosting company, here are some considerations to keep in mind…
DreamHost vs InMotion
These two web hosting companies both have their roots in California. InMotion and DreamHost are very well known as quality hosting providers…
DreamHost vs Jaguar PC
In this comparison we take a look at how DreamHost compares with Jaguar PC. Both DreamHost and Jaguar PC specialize in traditional web hosting solutions as well as cloud hosting services…
DreamHost vs SiteGround
SiteGround and DreamHost both offer many different types of web hosting plans. This particular comparison will look at each of their Shared Hosting plans…
How Does WP Engine Compare with Other Web Hosts?
WP Engine vs Bluehost
While WP Engine focuses solely on managed WordPress hosting, Bluehost offers a wide variety of hosting services. Therefore, this comparison is based specifically on Bluehost's WordPress optimized hosting versus WP Engine…
WP Engine vs HostGator
How does HostGator's new WordPress hosting compare to WP Engine? Both WP Engine and HostGator offer three levels of Managed WordPress Hosting plans…
WP Engine vs InMotion Hosting
This comparison focuses on how InMotion's Business Hosting Plan compares to WP Engine. In other words, how does a top non-managed hosting plan compare with a top managed hosting plan when it comes to WordPress…
WP Engine vs Liquid Web
In this comparison of WP Engine vs Liquid Web, we take a look at two titans when it comes to premium managed WordPress hosting…
WP Engine vs Media Temple
Here's a comparison of two heavyweights in the managed WordPress hosting field. Both WP Engine and Media Temple are well-known throughout the WordPress community…
Recommendation
For most websites, in this comparison we would recommend WP Engine. See our WP Engine review ratings below: