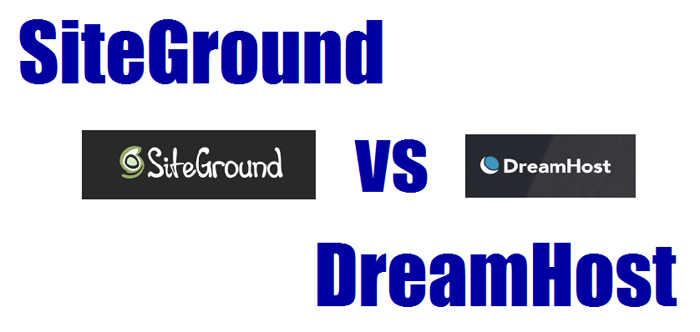 SiteGround and DreamHost both offer many different types of web hosting plans. This particular comparison will look at each of their Shared Hosting plans. To see how their managed WordPress hosting plans compare, see our previous article here. I have personal experience as a customer of both SiteGround and DreamHost, so I know first-hand exactly what you get with both of these web hosts.
SiteGround lets you select from three different levels of shared hosting, whereas DreamHost has one shared hosting plan. The features from both web hosts are impressive and certainly suitable for most websites. We do like that SiteGround gives you the option to choose a cheaper plan or one that costs more but is loaded with premium features.
SiteGround vs DreamHost Details

| Category | SiteGround | DreamHost | Comments |
| --- | --- | --- | --- |
| Data Centers | | | SiteGround has 5 data centers on 3 different continents. |
| Server Hardware | | | NGINX Server Technology with Solid State Drives (SSDs) |
| Network | | | High Availability Network with Redundant Electrical Systems |
| Account Sign Up/Provision | | | 3 Clicks to Setup a New Website |
| Control Panel | | | SiteGround's account interface provides access to cPanel. |
| Speed and Performance | | | 99.99% Uptime |
| Security | | | With SiteGround you get Pro Active Server Monitoring, Anti Bot AI, and Free Let's Encrypt SSL. |
| Data Backup | | | SiteGround Provides Automatic Daily Backup and 30 Copies Available for Restore |
| Developer Tools | | | Currently supporting PHP 7.2 |
| WordPress | | | SiteGround provides managed hosting features including automatic updates, data backup, and SuperCacher for added speed. |
| Website Applications | | | SiteGround provides 400+ applications via cPanel |
| Customer Support Response Time | | | |
| Customer Support Issue Resolution | | | |
| Money Back Guarantee | | | DreamHost offers a 97 Day Money Back Guarantee. |
| Price/Value | | | $3.95 – $14.95 mo. |
SiteGround comes out ahead in a number of key categories. I've had better website and email speed/performance there as opposed to DreamHost. Customer support response time has also been faster at SiteGround. And, we like that SiteGround provides cPanel as your control panel interface. DreamHost by contrast has their own text based control panel, which isn't as intuitive to use.
DreamHost does have some advantages of its own, including unlimited storage and a 97 day money back guarantee. However, when comparing shared hosting from SiteGround and DreamHost, the advantage goes to the former.

SiteGround
Started Business: 2004
BBB Rating: A
Data Center Location: Chicago IL, Amsterdam NL, Singapore SG, London UK
Price: $3.95 mo. – $14.95 mo.
Unlimited Bandwidth: Yes
Unlimited Storage: No (10GB – 30 GB)
Unlimited Email: Yes
Host Multiple Domains: Yes (except StartUp plan)
Hosting Interface: cPanel
Server Uptime: 99.9%
Full Refund Period: 30 Days
Dedicated Hosting Available: Yes
Free Extras:
CloudFlare CDN
Free backup and restore (except with StartUp plan)
Free Let's Encrypt SSL
Advantages of Choosing SiteGround:
Free website transfer.
Servers on three continents.
Content delivery network included.
Managed WordPress and Joomla services available.
In-House SuperCacher service included.
Automatic WordPress Plugin Updates
Automated and On-Demand Data Backups
cPanel and Softaculous interfaces.
They offer phone, email, and chat support.
Fast and responsive live chat support.

DreamHost
Started Business: 1997
BBB Rating: A+
Data Center Location: Irvine, CA; Ashburn, VA; and Hillsboro, OR
Price: $7.95 mo.
Unlimited Bandwidth: Yes
Unlimited Storage: Yes
Unlimited Email: Yes
Host Multiple Domains: Yes
Hosting Interface: DreamHost Control Panel
Server Uptime: 100%
Full Refund Period: 97 Days
Dedicated Hosting Available: Yes
Free Extras:
CloudFlare CDN
Free Let's Encrypt SSL
Free Domain with WhoIs Privacy
Advantages of Choosing DreamHost:
Optimized WordPress Hosting
WordPress Partner since 2005
100% Uptime Guarantee
Remixer Website Builder
Cloud Storage Services Available
Recommendation
For most websites, in this comparison we would recommend SiteGround. See our SiteGround review ratings below: