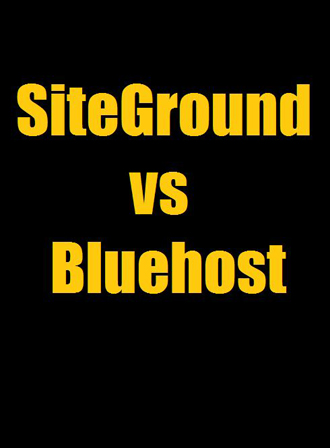 SiteGround has continued to distance themselves from Bluehost. At one time, we would have said this was a close comparison of two excellent web hosts. And while Bluehost continues to provide quality hosting, their hosting plans don't contain nearly as many premium features as SiteGround. In addition to providing features usually found in managed web hosting plans, SiteGround continues to innovate with their proprietary systems when it comes to features such as shared hosting efficiency and data backup and restore.
SiteGround and Bluehost have many similarities within their web hosting offerings. SiteGround's and Bluehost's hosting plans are also very affordable. And the sites I've had hosted at both companies have performed well. However, these days I would certainly rank SiteGround ahead of Bluehost for a number of reasons. SiteGround provides excellent features and support—and their web hosting plans provide much more value for what you get.
SiteGround's speed and webpage loading numbers are superior to Bluehost. SiteGround has other advantages as well. First, if you need managed WordPress hosting, SiteGround will cost less money. Moving to Bluehost's optimized WP plan will result in a higher price tag. Also, I've found SiteGround's live chat support to be far superior to Bluehost—where I've often had to wait over a half hour for a response.
Bluehost does give you unlimited storage with their top level hosting plans. So if you plan on having a huge number of files and data associated with your website, that would be one consideration. However, be aware that with Bluehost you may encounter a number of upsell attempts both while you work within your cPanel and via email.
Both of these web hosts provide cPanel as your interface—which I prefer. However with SiteGround, we like the inclusion of their SuperCacher technology. I also prefer the backup and restore that SiteGround provides. Based on all of their features, performance, and customer service, we have to give SiteGround a huge edge in this comparison.

SiteGround
Started Business: 2004
BBB Rating: A
Data Center Location: Chicago IL, Amsterdam NL, Singapore SG, London UK
Price: $3.95 mo. – $14.95 mo.
Unlimited Bandwidth: Yes
Unlimited Storage: No (10GB – 30 GB)
Unlimited Email: Yes
Host Multiple Domains: Yes (except StartUp plan)
Hosting Interface: cPanel
Server Uptime: 99.9%
Full Refund Period: 30 Days
Dedicated Hosting Available: Yes
Free Extras:
CloudFlare CDN
Free backup and restore (except with StartUp plan)
Free Let's Encrypt SSL
Advantages of Choosing SiteGround:
Free website transfer.
Servers on three continents.
Content delivery network included.
Managed WordPress and Joomla services available.
In-House SuperCacher service included.
cPanel and Softaculous interfaces.
They offer phone, email, and chat support.
Fast and responsive live chat support.

Bluehost
Started Business: 1996
BBB Rating: A+
Data Center Location: Provo, UT
Price: $3.49 mo. – $13.95 mo.
Unlimited Bandwidth: Yes
Unlimited Storage: Yes
Unlimited Email: Yes
Host Multiple Domains: Yes
Hosting Interface: cPanel
Server Uptime: N/A
Full Refund Period: 30 Days
Dedicated Hosting Available: Yes
Free Extras:
Search Engine Submission Tools
$100 Google Advertising Credit
$50 Facebook Ad Credit
Free Yellowpages Listing
Advantages of Choosing Bluehost:
Bluehost offers an anytime money-back guarantee (pro-rated).
They have their own proprietary resource protection solution to protect shared hosting users from other abusive users on the same server.
You get phone, email, and live chat support.
Install applications with SimpleScripts 1 click installs.
Dedicated and VPS Hosting is now available.
Recommendation
For most websites, in this comparison we would recommend SiteGround. See our SiteGround review ratings below: