This comparison of SiteGround vs Bluehost is a matchup of two web hosts that are both on the WordPress.org Recommendation List for WordPress hosting. Both of these web hosts have not only proven themselves as quality hosting providers in the past, but they also continue to innovate and improve their web hosting plans to include premium features for their customers.
In addition to offering features usually found in managed web hosting plans, SiteGround continues to innovate with their proprietary systems when it comes to features such as shared hosting efficiency and data backup and restore. Meanwhile, Bluehost has definitely revamped their hosting platform for WordPress users. They now include pre-installation of WordPress, a customized WordPress dashboard, plus automatic theme and plugin updates.
SiteGround and Bluehost have many similarities within their web hosting offerings and this should be an interesting comparison. Both hosts have evolved from a traditional cPanel host to a more managed WordPress hosting structure. SiteGround and Bluehost both have very affordable introductory hosting plans. And, the sites I've had hosted at both companies have performed well.
While this comparison was once very close, one hosting company is now far ahead. So, let's take a more detailed look at how SiteGround and Bluehost match up.
SiteGround vs Bluehost: Differences
Advantages of SiteGround over Bluehost:
Includes Managed Hosting Features
Superior Customer Support
SuperCacher Technology for Faster Speed
Includes WordPress Starter for Easier Site Creation
Automated Daily Backups
Advantages of Bluehost over SiteGround:
Customized WordPress Dashboard
Customized cPanel Interface
Guided WordPress Website Creation
SiteGround vs Bluehost Details

| Category | SiteGround | Bluehost | Comments |
| --- | --- | --- | --- |
| Data Centers | | | SiteGround has 5 data centers on 3 different continents. |
| Server Hardware | | | |
| Network | | | |
| Account Sign Up/Provision | | | Preinstallation of WordPress plus guided setup. |
| Control Panel | | | |
| Speed and Performance | | | 99.99% Uptime |
| Security | | | With SiteGround you get Pro Active Server Monitoring, Anti Bot AI, and Free Let's Encrypt SSL. |
| Data Backup | | | SiteGround Provides Automatic Daily Backup and 30 Copies Available for Restore |
| Developer Tools | | | Tie. Both PHP 8.2 |
| WordPress | | | |
| Website Applications | | | |
| Customer Support Response Time | | | |
| Customer Support Issue Resolution | | | |
| Money Back Guarantee | | | Tie. Both provide a 30 Day Money Back Guarantee. |
| Price/Value | | | $2.99 – $7.99 mo. |
SiteGround vs Bluehost: Website Speed and Performance
Both of these web hosts provide impressive performing website speed and page loading times. As a customer of both SiteGround and Bluehost, my personal results have been very satisfying. However, in our head to head match up SiteGround still outperforms Bluehost. SiteGround consistently posted faster website speeds in our testing.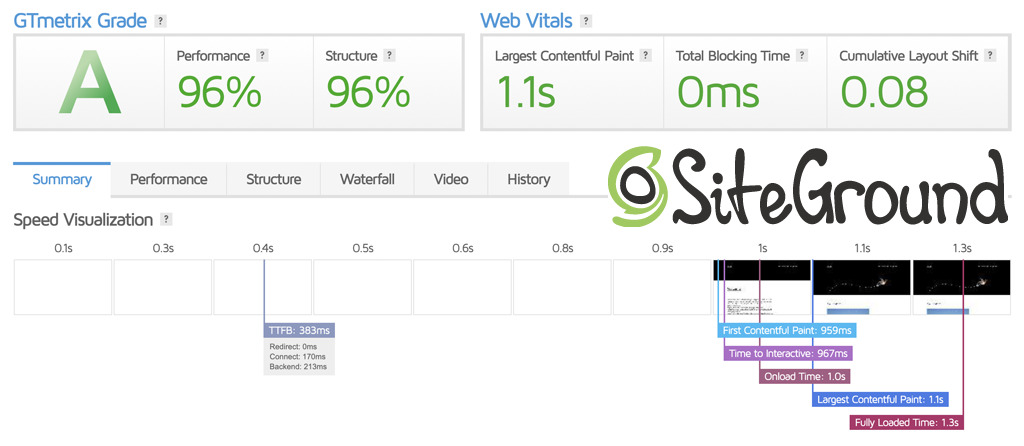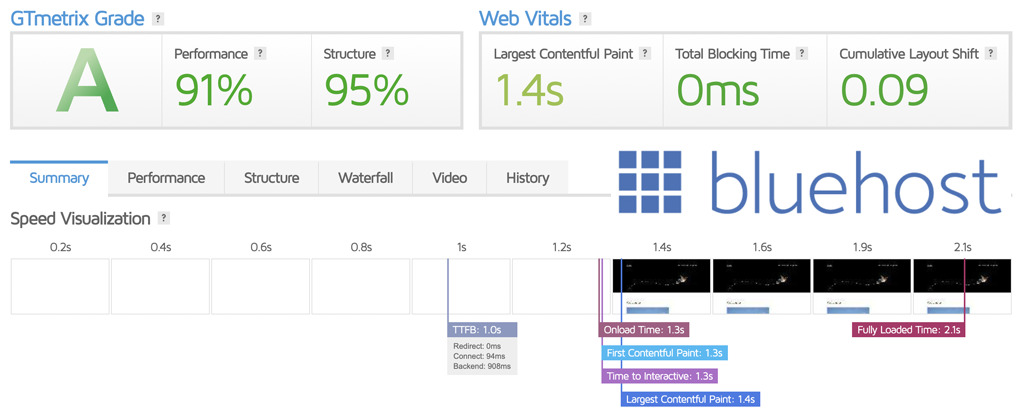 In addition to their improved hosting platform, SiteGround's SuperCacher technology can really boost your website speed.
SiteGround vs Bluehost: WordPress
SiteGround and Bluehost are definitely two top choices for WordPress hosting. While either of these web hosts can be used to successfully host WordPress sites, my recommendation would depend on your level of experience. Bluehost is the better choice for beginners. Not only do they pre-install WordPress, but you're guided through items such as selecting your theme and creating your website. The Bluehost customized dashboard also makes the process of building your site easier.
For more experienced WordPress site owners, I would definitely recommend SiteGround. With SiteGround, you get better premium features than with Bluehost in addition to a more comprehensive backup and restore system, plus added performance with their SuperCacher technology.


| | SiteGround | Bluehost |
| --- | --- | --- |
| Preinstallation | | |
| Auto Updates | | |
| Auto Data Backups | | |
| On Demand Backup and Restore | | |
| Website Staging | | |
| Optimized Caching | | |
| WordPress Security | | |
| Managed WordPress Available? | | |
SiteGround vs Bluehost: Customer Support
SiteGround has always put a lot of focus on customer support training. And I can tell you from personal experience that the support agents there are top-notch. The response times are super-fast, and I've always received courteous, helpful assistance from the SiteGround team.
On the other hand, Bluehost hasn't always had the best track record for customer support responsiveness. However, I'm pleased to report that Bluehost has improved their support. However, there is still sometimes some inconsistency when it comes to response time and resolutions of issues or questions. Therefore, in our opinion SiteGround is still the winner for customer support.
How Does SiteGround Compare with Other Web Hosts?
SiteGround vs A2 Hosting
Comparing A2 Hosting and SiteGround is an extremely close call. They both provide many unique features that provide outstanding web hosting performance…
SiteGround vs DreamHost
SiteGround and DreamHost both offer many different types of web hosting plans. This particular comparison will look at each of their Shared Hosting plans…
SiteGround vs GoDaddy
SiteGround and GoDaddy both offer a wide variety of web hosting services. They have hosting plans that are suited for experienced and less experienced webmasters…
SiteGround vs GreenGeeks
GreenGeeks and SiteGround are two excellent web hosting companies. I use both of these web hosts and have had great experiences with each one…
SiteGround vs HostGator
SiteGround and HostGator both offer a similar lineup of web hosting plans. I've been a customer of both companies, so I've got first-hand experience using their services…
SiteGround vs InMotion Hosting
SiteGround and InMotion Hosting are two of the best web hosts you can find. As a customer of both of these web hosting companies, I've experienced first-hand excellent service and outstanding support…
SiteGround vs InterServer
Here's our comparison of two impressive web hosts that are both great for multi-website hosting. I personally use both SiteGround and InterServer, so I can give you a first-hand account of the advantages both have to offer…
SiteGround vs iPage
SiteGround and iPage both offer many different web hosting plans and services. In this comparison, we take a look at how their Shared Hosting Plans stack up against each other…
SiteGround vs Jaguar PC
In this comparison we take a look at how SiteGround compares with Jaguar PC. These two web hosts are equally positioned for the same audience…
SiteGround vs Liquid Web
How does SiteGround compare with Liquid Web? In this comparison of SiteGround vs Liquid Web, we see how well a more budget priced WordPress hosting option matches up with one of the top premium managed WordPress hosting solutions…
SiteGround vs Namecheap
While SiteGround and Namecheap both provide great web hosting plans (I use both), they're definitely suited for different types of website owners…
SiteGround vs Wix
This comparison between a traditional web hosting plan and a website builder package takes a look at SiteGround's Managed Hosting plans versus Wix's website builder plans…
SiteGround vs WP Engine
For managed WordPress hosting, these are two of the best choices available. So, let's see which one is better suited for you…
How Does Bluehost Compare with Other Web Hosts?
Bluehost vs A2 Hosting
This comparison between A2 Hosting and Bluehost is extremely close. Both of these web hosts provide excellent cPanel web hosting plans…
Bluehost vs DreamHost
Bluehost and DreamHost are two of the most established and well-known web hosting companies. Bluehost is part of the Endurance International Group while DreamHost continues to operate as…
Bluehost vs GoDaddy
Here is our comparison of Bluehost vs GoDaddy that includes the key areas you should focus on when choosing your web hosting. Let's take a closer head to head look at…
Bluehost vs GreenGeeks
GreenGeeks and Bluehost both provide effective cPanel web hosting with their Shared Hosting plans. While Bluehost now offers three different levels of Shared Hosting, GreenGeeks has one all-inclusive hosting plan that features unlimited resources…
Bluehost vs HostGator
In this comparison of Bluehost vs HostGator, we take a look at two of the best known web hosting companies under the EIG (Endurance International Group) umbrella. However, in keeping with their separate but equal philosophy, the web hosting by these two is not the same…
Bluehost vs InMotion
These are two excellent, well-established web hosting providers. Both InMotion and Bluehost offer great Shared, VPS, and Dedicated hosting…
Bluehost vs InterServer
If you're trying to decide between Bluehost and InterServer, you may be surprised by our results. I currently use both of these web hosting companies…
Bluehost vs iPage
Both iPage and Bluehost offer Shared, VPS, and Dedicated hosting plans. This web hosting comparison focuses on shared hosting…
Bluehost vs Jaguar PC
In this comparison we take a look at how Jaguar PC compares with Bluehost. Bluehost is one of the better known web hosting companies and is also on the WordPress.org recommendation list…
Bluehost vs Web Hosting Hub
Performance wise, both Web Hosting Hub and Bluehost have proved to be good choices and I've had successful sites hosted with both Web Hosting Hub and Bluehost…
Bluehost vs WP Engine
While WP Engine focuses solely on managed WordPress hosting, Bluehost offers a wide variety of hosting services. Therefore, this comparison is based specifically on Bluehost's WordPress optimized hosting versus WP Engine…
Recommendation
For most hosting situations, we would recommend SiteGround over Bluehost in this comparison. SiteGround continues to offer top premium WordPress hosting features along with excellent customer support. SiteGround still constantly adds innovative technology features for faster performing websites and better security.
The one case where Bluehost would probably be the better fit is for complete beginners that need more guided help getting started. However, SiteGround definitely provides the better experience for WordPress websites across the board.
Overall, SiteGround is the winner here. See our SiteGround Review Ratings below.