Looking for better website speed? A faster loading website leads to more satisfied visitors that won't get tired of waiting and click away. Also, it's widely speculated that the search engines take website speed into consideration in their rankings.
There are a number steps you can take to reduce page loading times and improve your site's speed. Using caching plugins and image optimizers will definitely help. But for the ultimate solution to faster website performance, utilizing a content delivery network (CDN) will produce even better results—especially if your site has a lot of images, multimedia, and other downloadable files.
Best Free CDN Hosting Plans
| Web Host | Free CDN | Hosting Price | Details |
| --- | --- | --- | --- |
| | Custom Built-In | $12.67 mo. | Details |
| | Custom Built-In | $20.83 mo. | Details |
| | Cloudflare | $23.00 mo. | Details |
| | Custom Built-In | $3.99 mo. | Details |
| | Cloudflare | $2.95 mo. | Details |
| | Cloudflare | $2.50 mo. | Details |
When using a CDN, your website files are shared on a network of servers at different locations. When a user accesses your site, the content is served from the closest data center to the user.
A growing number of web hosts now include free Cloudflare CDN with their hosting plans, while others provide their own custom built-in CDN. If your hosting company doesn't offer a free CDN, you could go to the Cloudflare website directly and create a free CDN account there. However, it's usually easier when Cloudflare is already integrated with your hosting account. Also, some of the custom CDNs offer better performance.
With the ever increasing importance on website speed, it certainly makes sense to check out ways that your web hosting company can help you out—and specifically, those web hosts that offer a free content deliver network. Here are my recommendations.
Nexcess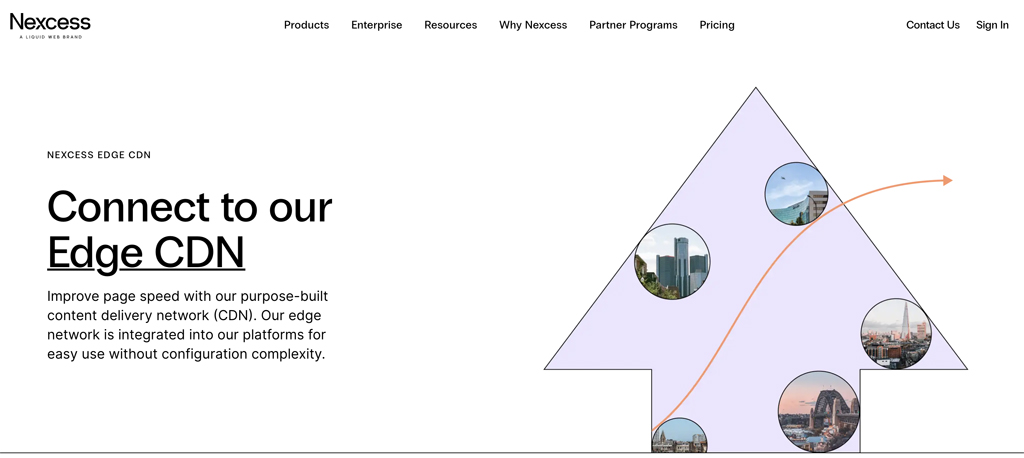 Nexcess includes some of the best premium features for mission-critical WordPress hosting. Along with advanced caching and image compression, Nexcess also includes their built-in Edge CDN with your hosting plan. The Edge content delivery network currently includes 22 points with locations in North America, Europe, and Asia Pacific.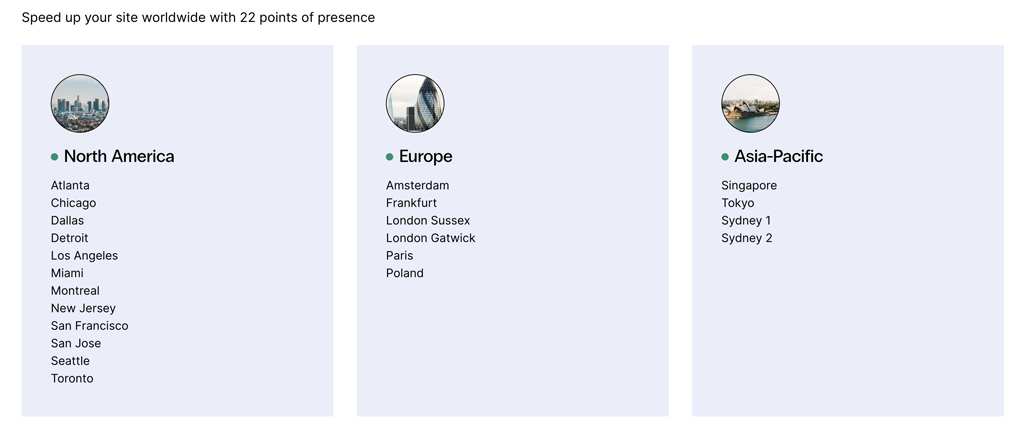 Nexcess rates very high in our website speed and performance testing. And, because their Edge CDN is built-in, you don't have to hassle with a bunch of configurations.
Click Here for More Details on Nexcess
WPX Hosting

WPX Hosting is by far one of the fastest WordPress hosts around. In fact, they are the fastest in our testing—posting the best website speed and page loading times. One of the biggest reasons for their outstanding speed is their custom built CDN that is included with all of their hosting plans.
WPX Hosting's CDN, which is named XDN, currently has 33 end points around the world. Below is a listing of locations.
The WPX XDN does an excellent job of caching static resources, dynamic resources, and HTML resources. And another benefit for WordPress users is that WPX Hosting continually adjusts their CDN to provide maximum performance.
Click Here for More Details on WPX Hosting
WP Engine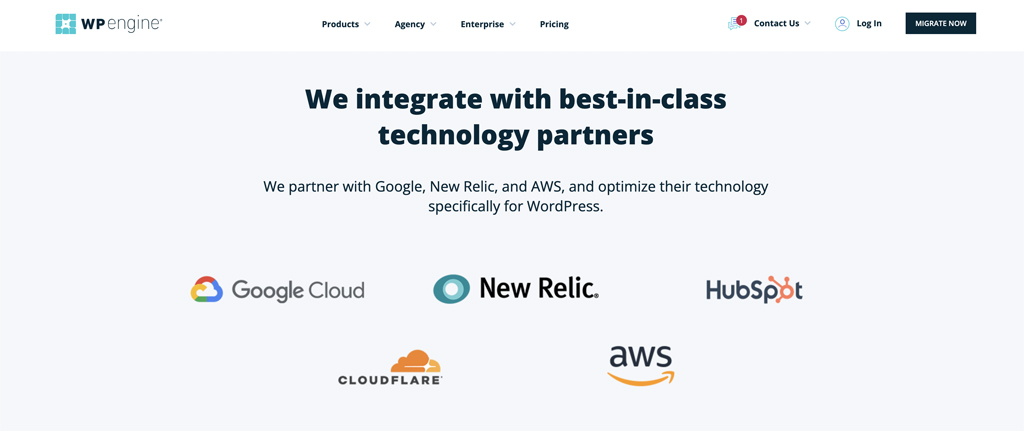 WP Engine continues to lead the way for managed WordPress hosting. Their technology innovations and partnering with companies like Cloudflare and Google Cloud provide faster performing websites for their customers. We use WP Engine for our website and enjoy outstanding speed and performance.
Along with their EverCache technology, WP Engine includes quick and easy access to their CDN from your dashboard. It's very easy to enable your CDN, or you can update for free to their Advanced Network that automatically enables the content delivery network and other performance features.

Click Here for More Details on WP Engine
SiteGround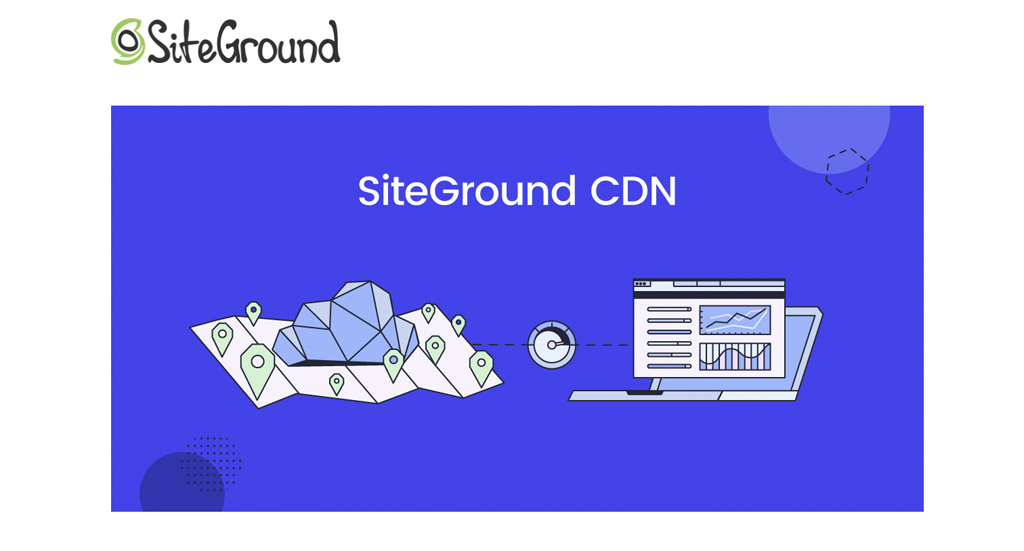 SiteGround is another web hosting company that has always been on the forefront of technology innovations and improvements for their customers. And, SiteGround just recently unveiled their new SiteGround CDN—included free with all of their hosting plans.
The SiteGround CDN was built in-house and has locations in the U.S., Europe, Asia, and Australia. You can easily access and manage your CDN from the SiteGround dashboard. And you can activate it with a single click. SiteGround CDN allows you to quickly purge all cached resources and also includes a development mode where you can check you latest website changes.
The free SiteGround CDN allows 10 GB bandwidth traffic per month. You also have the option to upgrade to their Premium CDN that allows unlimited traffic, advanced dynamic caching, and other benefits.
Click Here for More Details on SiteGround
GreenGeeks
If you're looking for more of a cPanel hosting plan that includes free CDN, then you should consider GreenGeeks. GreenGeeks is not only a great green web hosting option to help our environment, but they're also one of the best Shared Hosting options that includes cPanel applications and Cloudflare CDN.
Once your domain is pointing to the GreenGeeks NameServers, you can activate your Cloudflare CDN from the cPanel dashboard.
Click Here for More Details on GreenGeeks
InterServer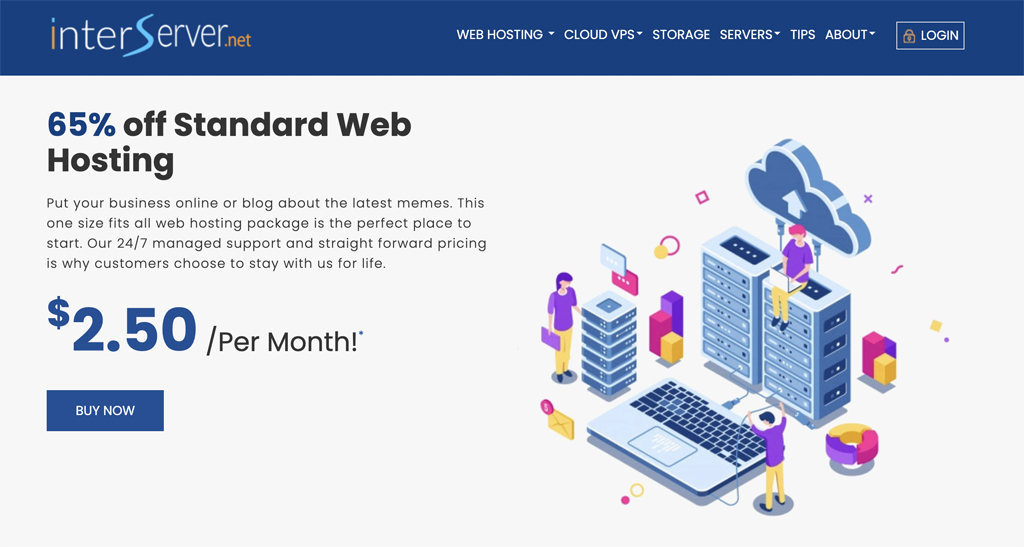 With InterServer, you can get a free CDN in a budget web hosting plan. InterServer has hosting plans starting at $2.50 mo. And, their renewal fees are much lower than most web hosts. InterServer's Standard Hosting plan includes Cloudflare CDN along with their InterShield Security, Inter-Proxy Caching, and 50% Server Capacity.