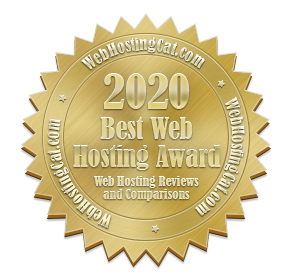 InterServer may well be the best of the lesser known web hosting companies. Their hosting plans are loaded with impressive features (starting with unlimited storage, unlimited data transfer, and an unlimited number of websites you can host). InterServer also features a unique price lock guarantee—meaning when it comes time to renew, you pay the same price. Unlike most web hosting plans where you can get in initially very cheap, with InterServer you don't have to worry about huge price increases. In fact, their hosting plans are priced very low to begin with, which makes them one of the best value web hosts around.
What I Like About InterServer
Unlimited Storage Space, Data Transfer, and Number of Websites You Can Host
Datacenters Include 100% Power Uptime Guarantee
99.9% Network Uptime Guarantee
Easy to Use Account Interface and cPanel Hosting Control Panel
24/7 Customer Support Including Live Chat
Automated Weekly Backups
No Charge to Restore Your Data
Unlimited Email Accounts
Low Initial Cost
Price Lock Guarantee Means You Pay the Same Amount at Renewal Time
Signing Up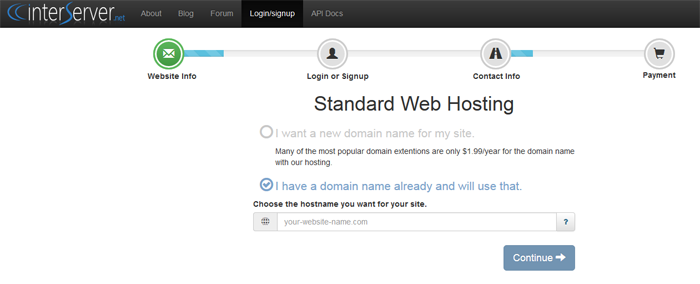 The sign up process with InterServer is very quick and easy. And, I like that they also accept PayPal as payment. Another nice feature is that you can choose from a number of payment terms (monthly, yearly, 2 years, etc.). Also, I really like how after you sign up at InterServer you're immediately presented with a screen containing all of your pertinent account information such as your Hostname, Host Server, cPanel and Webmail links, and default nameservers. There is no need to wait for a welcome email to obtain this information.
Account Interface/Control Panel


We're pleased that InterServer provides cPanel as your control panel interface. And, you can access it from the menu on the left side of the screen. The InterServer account interface is very simple and easy to use. If you're familiar with cPanel or prefer a graphical interface like I do, then you'll be very happy with InterServer's cPanel implementation.
The only issue might be if you're a complete newbie or are somewhat uncomfortable working on website admin tasks. InterServer doesn't really walk you through the initial setup process automatically like some other web hosts. However, I would think that if you really need help you can contact support and they will help you out.
Speed and Performance
InterServer has two datacenters they own, both located in New Jersey. In our testing, website speed was particularly good closer to this area. In other locations, speed and page loading was also pretty good. Below is an example of our testing results from an east location:


Customer Support
InterServer has 24/7 customer support access via phone, live chat, and support tickets. In my experience, the support agents have been very helpful and extremely courteous.
Here is an example of one of my live chat support sessions: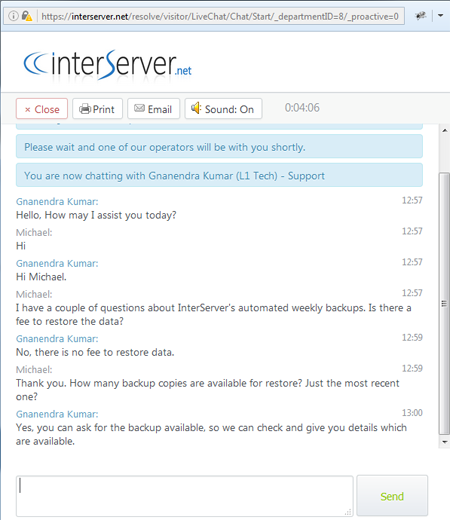 On some occasions, the live chat support wait times are a bit long, which is the only negative aspect I've experienced with InterServer's customer support.
Recommendation
InterServer is definitely one of the best value hosting plans you can get—maybe the best given all of the features you get with their price lock guarantee. With their cPanel hosting, you can create any type of website you need including WordPress, Joomla, and Drupal. I've experienced solid speed and performance. And, I appreciate the 24/7 live chat support. If you're looking for multiple website hosting at a great price, I recommend you check out InterServer.
InterServer Review Ratings
Features - 92%
Speed and Performance - 95%
Customer Support - 94%
Value - 97%