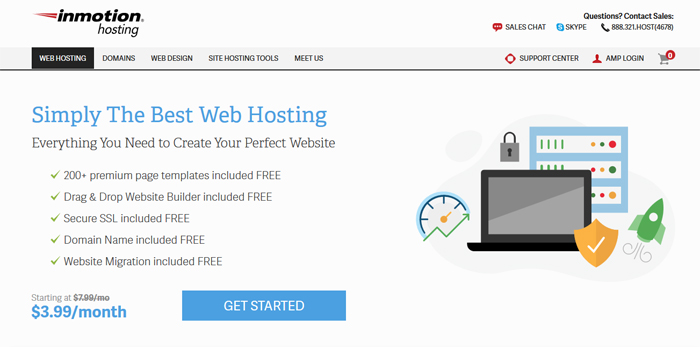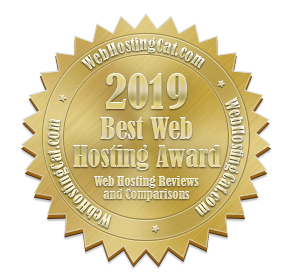 If you're looking for honest
InMotion Hosting Reviews
, I encourage you to read my review based on my personal experiences. InMotion Hosting has now added a bunch of new features that make their business hosting plans even more impressive. Now, with their shared hosting plans, you also get the following:
Solid State Drives (SSDs)
Secure Remote Server Access via Command Line (SSH)
Host Unlimited Number of Sites (Pro Plan)
Pre-Installation of WordPress, Joomla, or PrestaShop
Free Website Transfers
Safe Application Rollback
WP-CLI Available for Use with SSH
Ruby on Rails Support
Choice of MySQL or PostgreSQL Databases
New Pro Plan SLA
Google Apps Integration Made Easier
I have been using InMotion Hosting for almost 10 years now. Since day one, I've been completed satisfied with their service and continue to be impressed with their web hosting for my sites. If you are currently looking to get a website going, then InMotion is definitely worth your consideration. And, if you need hosting for your business web site, InMotion Hosting can really be a great choice. Their business hosting plans offer all the features you need combined with great customer support. Here is more detailed information to help you decide if InMotion is right for you:
Great User Interface and Easy Software Installation
InMotion Hosting uses the cPanel interface—by far the best to use. In addition, they use the Softaculous software application installer. So whether you need WordPress, Joomla, Drupal, or another application for your website, you get easy, hassle-free installs. In fact, with InMotion you get over 400 applications.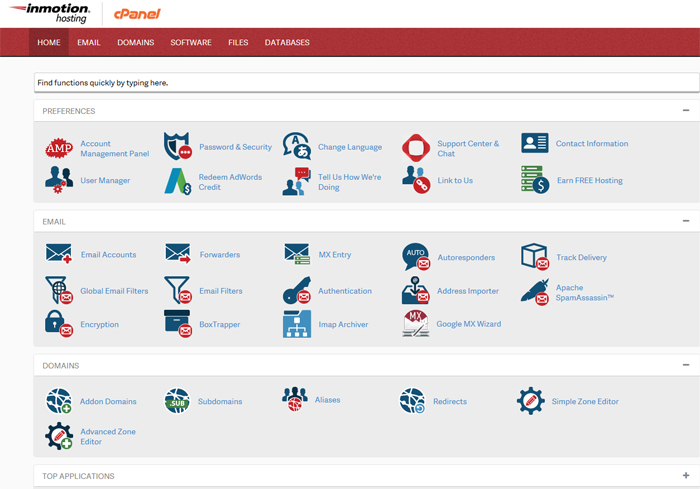 InMotion Hosting's Speed and Reliability is Great
InMotion's network speed and reliability have been excellent. Their Max Speed Zone technology allows you to use their multiple data centers for optimum speed. And their 99.9% uptime network keeps your site up and running smoothly. We have not had any server issues or problems. Below is a look at our error log which is clean: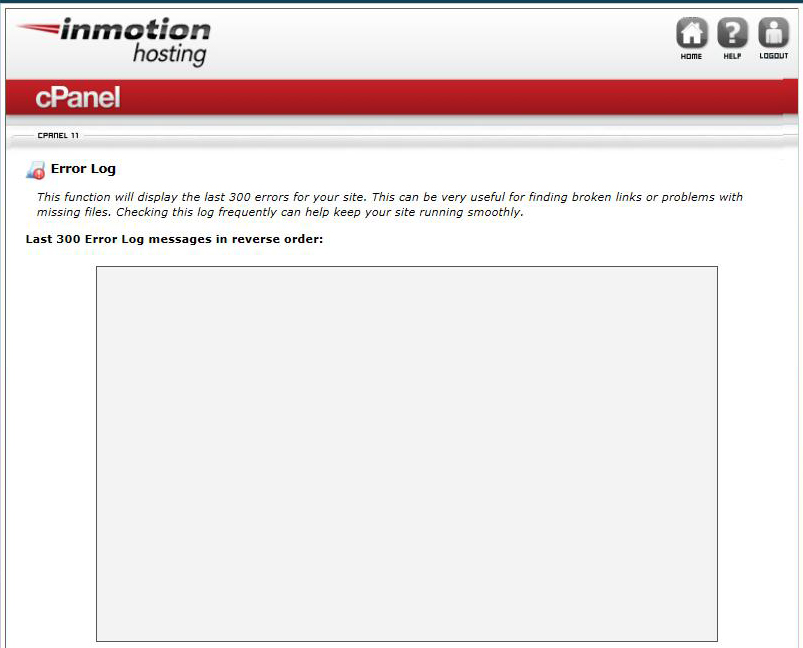 InMotion's Support is Excellent
InMotion Hosting's customer support is also outstanding. On those few occasions where we've had to contact them, the response time has been great and their support staff is very courteous and thorough. In particular, their chat support is the best we've encountered. Below is a sample of a recent chat support session I had with Jason of Tech Support:
Michael: Hi Jason
Michael: I need to have my web stats manually updated. Can you help me out?
Jason A.: Sure thing. I'll run them for you.
Michael: Thanks!
Jason A.: Which domain did you need them updated for?
[I specified the domain names here] Jason A.: Gotcha. Give it 15-30 minutes to update and you should be good to go.
Michael: Great! Thanks for your help Jason!
Jason A.: Sure thing.
Jason A.: Thank you for contacting us! If you have any questions we are open 24/7. Call, chat, or e-mail any time.
I would appreciate any feedback you might have, positive or negative.
Jason A.: Thank you for your chat. Feel free to contact us again.
If you need web hosting for your business site, InMotion Hosting is highly recommended.
InMotion Hosting Data Center
On the hardware and network side of things, InMotion Hosting has proven to me that they are committed to providing the best specs and speeds possible. I was allowed to tour the InMotion Data Center in Los Angeles, CA, and saw firsthand how everything works.
Going behind the scenes at their facility, I was able to confirm their commitment to Data Center Security, Top End Hardware, and outstanding Data Protection and Network Availability. See my blog article for my complete review of the InMotion Data Center.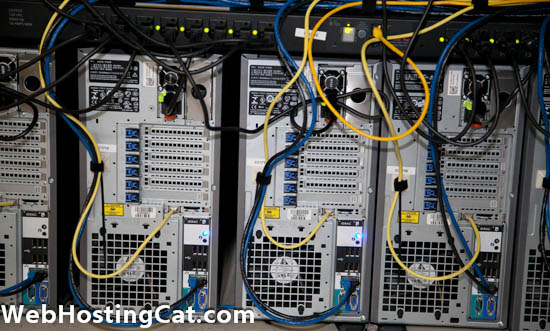 In 2015, InMotion Hosting made even more upgrades to their data center including DDoS protection, fiber optic cabling systems, and solid state drives in their servers.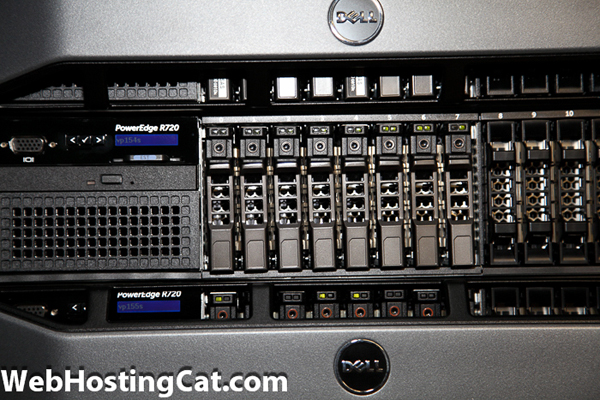 Here is an example of how my website speed has increased after switching to an InMotion Hosting SSD server:
Without SSD:



With SSD:


More Improvements on the Way
In talking with Will Miles, Data Center Operations Supervisor, I've learned that InMotion Hosting will be continuing to expand and make improvements to their infrastructure. In addition to new racks and servers, they are now including SSDs in their Dedicated Servers. That means whether you go with Shared Hosting, VPS Hosting, or Dedicated Hosting at InMotion, you'll be able to benefit from increased speeds with solid state drives.
InMotion Hosting's Core Values
I really believe one of the main reasons I've enjoyed such great success with InMotion Hosting is their set of core values. When I spoke with InMotion's Co-Founder Sunil Saxena, he mentioned how everyone in the organization (from himself on down) adheres to and lives by these values. The bottom line for them is that when their customers are successful, they are successful!
Free SSL Certificates
Another great benefit you get from InMotion Hosting is free SSL–not just any free SSL, these are free SSL certificates powered by Comodo and cPanel. These days, SSL/TLS is a must for your websites, whether you have a blog or an eCommerce site. Unlike some other free SSL options, the SSL certificates you get at InMotion can be used for eCommerce.
You can access your free SSL from the Account Management Panel.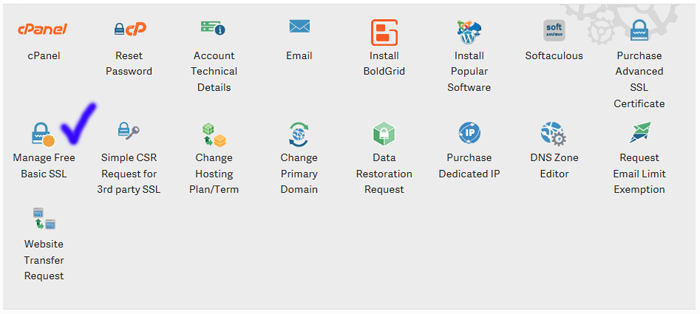 After you click the Manage Free Basic SSL icon, just switch the Enable Free SSL to On. Any of your domains you have setup in cPanel and resolving to your InMotion server will now have SSL!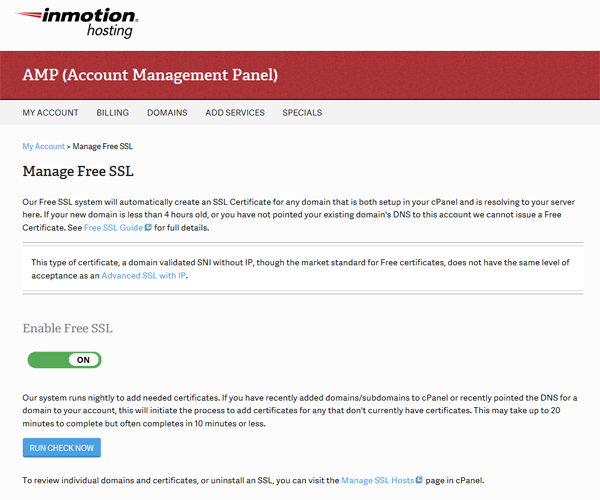 InMotion Backup Manager
There's good news and bad news these days regarding data backup at InMotion. On the plus side, they have now released their new Backup Manager tool that provides excellent data backup and restore features.
However, the new Backup Manager does require an extra fee. And sadly, InMotion has eliminated the free automatic data backups that have always been one of their big advantages. Despite the extra cost, the convenience and control you get with the new Backup Manager is worth it in my opinion—especially when it comes with InMotion's outstanding web hosting.
You can launch the Backup Manager from cPanel. From the Backup Manager dashboard, you can specify the interval of when your automatic backups take place. You can also schedule the day and time your backups take place. And, you can specify the scope of what data is backed up.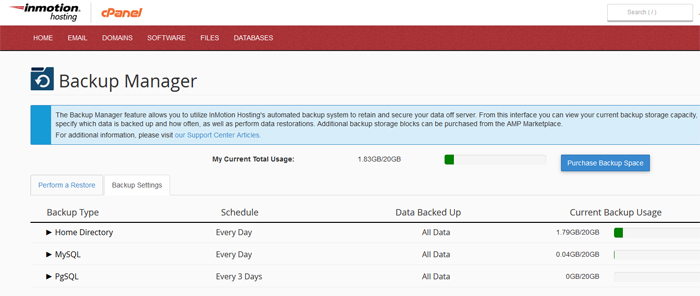 There is a separate tab for data restore where you can easily select the data you want restored. The 10 most recent data backups performed are available for restoring.
How Does InMotion Compare with Other Web Hosts?
InMotion Hosting vs A2 Hosting
The good news when comparing A2 Hosting and InMotion Hosting is that it's a win-win situation for you. Both of these web hosting companies provide excellent website hosting with outstanding support…
InMotion Hosting vs Bluehost
These are two excellent, well-established web hosting providers. Both InMotion and Bluehost offer great Shared, VPS, and Dedicated hosting…
InMotion Hosting vs DreamHost
These two web hosting companies both have their roots in California. InMotion and DreamHost are very well known as quality hosting providers…
InMotion Hosting vs Fat Cow
This comparison between InMotion Hosting and Fat Cow is truly one of the easiest we've ever done…
InMotion Hosting vs GoDaddy
How does GoDaddy's Hosting Plan compare with a Business Hosting plan from a company like InMotion Hosting? If you're trying to decide, here are some things to keep in mind.
InMotion Hosting vs GreenGeeks
GreenGeeks and InMotion Hosting are two excellent web hosting companies based in Southern California. Both of these web hosts are great choices for those website owners looking for green web hosting…
InMotion Hosting vs HostGator
Both of these web hosting companies offer a variety of plans for shared, VPS, and dedicated hosting…
InMotion Hosting vs InterServer
InMotion Hosting and InterServer are two excellent web hosting companies that I both use…
InMotion Hosting vs iPage
InMotion Hosting and iPage are two excellent choices for web hosting. Although there are some similarities with their hosting plans and all kinds of site owners could use either of these web hosting companies, they are ideally suited for different types of websites…
InMotion Hosting vs IX Web Hosting
InMotion Hosting and IX Web Hosting have two of the best business web hosting plans available…
InMotion Hosting vs Jaguar PC
In this comparison we take a look at how InMotion Hosting compares with Jaguar PC. Both InMotion Hosting and Jaguar PC provide quality cPanel hosting…
InMotion Hosting vs Lunarpages
For me, this is one of the most intriguing web hosting comparisons: Two established web hosts from Southern California (my area)—and two hosting companies that I've had personal experience with…
InMotion Hosting vs Site5
How do InMotion Hosting and Site5 stack up against each other? Surprisingly, this is a very one-sided contest…
InMotion Hosting vs SiteGround
SiteGround and InMotion Hosting are two of the best web hosts you can find. As a customer of both of these web hosting companies, I've experienced first-hand excellent service and outstanding support…
InMotion Hosting vs Web Hosting Hub
Comparing InMotion Hosting to Web Hosting Hub is very interesting since they are actually sister companies…
InMotion Hosting vs Wix
This comparison between a traditional web hosting plan and a website builder package takes a look at InMotion Hosting's Business Hosting plan versus Wix's eCommerce plan…
InMotion Hosting vs WP Engine
This comparison focuses on how InMotion's Business Hosting Plan compares to WP Engine. In other words, how does a top non-managed hosting plan compare with a top managed hosting plan when it comes to WordPress…
InMotion Hosting vs 1&1 Hosting
Both of these web hosts offer a wide range of hosting services including Shared, VPS, and Dedicated…
More InMotion Hosting Reviews
It certainly seems that I'm not alone in my praise of InMotion. They are consistently one of the better rated web hosting companies around. Here is a sample of reviews from other InMotion customers: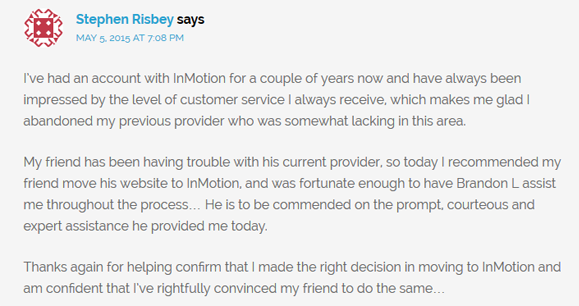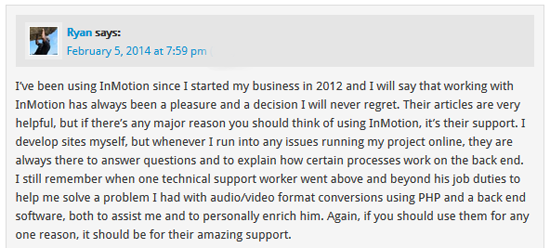 Special Discount Sale Price
Great news! I'm now able to offer a very special discount of 50% off on InMotion's Business Hosting. Just click the link below. This is an excellent opportunity for you to get their web hosting package–and save money!