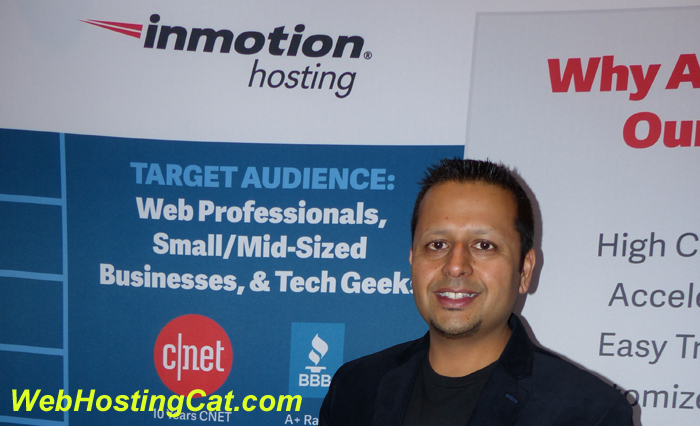 Since its inception in 2001, InMotion Hosting has been highly regarded by many as one of the top web hosting providers—particularly for business websites. Based in Los Angeles, CA, and with data centers on both the west and east coast, they can be found at the top of many best web hosting lists.
As a customer myself since 2009, I have personally experienced InMotion Hosting's outstanding service and support. Recently, I had a chance to chat with the Co-Founder and EVP of InMotion Hosting, Sunil Saxena. I really wanted to get his take on the web hosting industry in general—and, what InMotion has in store for the future.
Web Hosting Cat: As we start off a new year, what do you see as the biggest challenges for web hosting companies in general, and what are some of InMotion Hosting's goals?
Sunil Saxena: Some of the bigger challenges for the web hosting space in general are to make sure that from a technological standpoint we're adapting to I'd say the newer needs of customers. So for example, one thing we identified in 2013 and implemented in 2014 was to make sure that we had SSDs and some faster performing servers for our customers. Because as most consumers know now, things have to run quick, things have to run efficiently, and they have to work all of the time. So, we've found that with technological changes like SSD but also making some more changes to some of our features, it really helped our customers–who for the most part are business owners—really take their business to the next level.
WHC: Lately, a couple of services some hosting companies have been promoting are Managed WordPress Hosting Plans and Content Delivery Networks. Will InMotion be offering either of these in the near future?
SS: Actually we do managed WordPress hosting already through what's called our Managed Services Team. So we don't bundle it like some of the other providers, but what we do is we actually have a dedicated team of people that will not only do managed WordPress hosting for you—but also managed hosting in general. So, often times what will happen is some larger organizations will come to us and say, "Okay, we need you to configure these three particular dedicated servers in a certain way so that we're ready for a news show", or something like that. So, our Managed Team can do that.
And [as for] CDN providers, we will actually implement something this year that's a more close relationship with some of the other vendors out there.
WHC: What would you say are the top 3 things that distinguish InMotion Hosting from the rest of the web hosting companies?
SS: As always since the day we started, our customer service and support is the most important thing to us. We have a very important set of core values that everyone in the organization from myself all the way down to the newest hires adheres and lives by. In addition to that, it's important that we continue to work on the customer experience. Because, although web hosting is still web hosting, it's very different now than it was three years ago—and it will be very different three years from now as well. So, having a Customer Experience Team helps us understand what are customer's needs are and [knowing] what those changing needs are, is very important to us. And then finally, it's about providing the proper products for our business customers and [helping] our customers to succeed. So again, working with WordPress but also coming out with some new site building tools–and then also on the higher end side, making sure that our dedicated servers, our reseller platforms, and our VPS hosting is servicing the customer's needs so they can be successful. Because our mantra basically is: When our customers are successful, we're successful.
WHC: Data security has become a very big issue especially lately. What can you tell us about how InMotion Hosting strives to protect your customer's websites?
SS: We have a dedicated team of System Admins looking and monitoring our networks at all times through Nagios and actually are on site as well. So unlike maybe some other providers who either colo [use a colocation center] with another service provider or they actually just resell hosting service, we actually have our own dedicated System Admins who are onsite 24/7 to make sure that they are watching the servers by monitoring them and then proactively dealing with any hacks, issues, or something like that.
Additionally, we've invested quite a bit of money in some of our hardware as of late. So for example, we implemented two very sound and robust DDoS mitigation systems in both our east coast and west coast data centers, which has been great. So, maybe a DoS attack that was crippling to our web servers a year and a half ago is nothing more than a blip on a graph at this point.
WHC: Cloud Hosting has become another hot topic. What are your thoughts about the cloud and will InMotion provide cloud services in the future?
SS: Cloud hosting is very hot! I think everyone wants to have the cloud. I think some people want the cloud, but they're not sure what the cloud is. We will be coming out with our own bare metal cloud towards the end of 2015. [For] a lot of our customers who are using our VPS technology, the virtualization technology behind our VPS is in some ways very much cloudlike. But, we will have a dedicated cloud product towards the end of the year.
WHC: Looking further down the road, where do you see the industry in the next five or ten years? Do you see more expansion among web hosting companies or maybe a consolidation in the number of web hosts available to consumers?
SS: There's been quite a bit of consolidation amongst some of the larger companies out there. I believe that there will be more consolidation as well as we look at 2016, 2017, and what not. And those who are able to continually evolve and provide the very best possible service and experience for their customers will do well. And I think the other ones will have to kind of have a gut check and see what's important to them.
For more information on InMotion Hosting, check out these related posts: