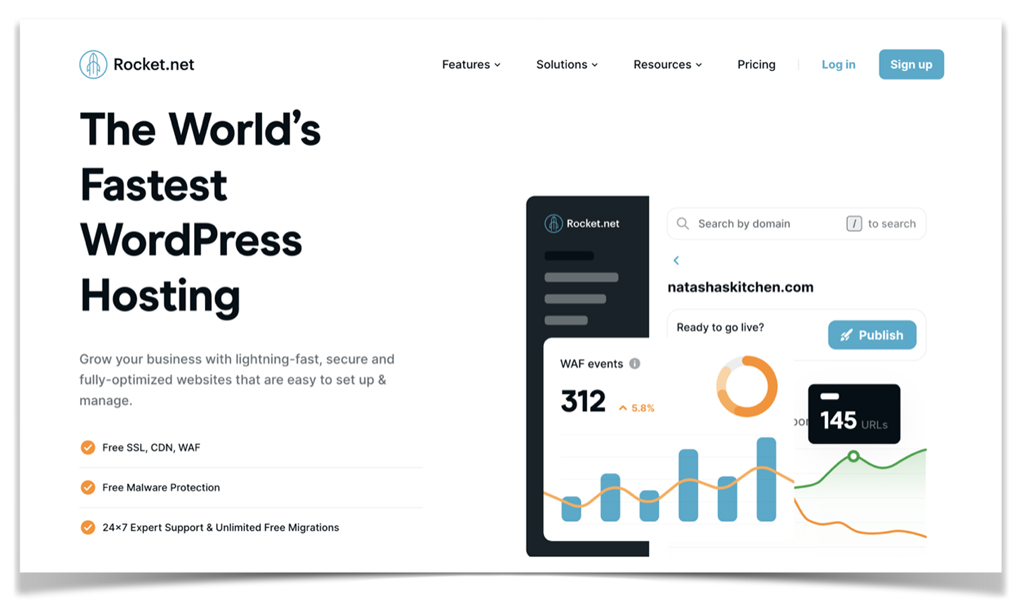 Rocket.net is a premium WordPress Hosting provider that offers specific managed hosting plan solutions for individual websites, WordPress agencies, and enterprise level sites. But, are they really one of the better choices for managed WordPress hosting? And, is Rocket.net worth the price? Let's take a detailed look here in my Rocket.net Review.
Rocket.net Background
Founded in 2020, Rocket.net is one of the newer entrants in the crowded WordPress Hosting field. However, they state that they are "fanatical" with performance and security and "obsessed" with customer satisfaction. So, I was definitely interested to test them out to see just how good they are.
Rocket.net Hosting Plans

Rocket.net has separate hosting packages for Managed Hosting, Agency Hosting, and Enterprise Hosting. Managed Hosting is suitable for individual or small business sites. Agency Hosting plans provide increased installs and features for client's websites. And, the Enterprise Hosting plans are designed for higher traffic volume websites.
All plans come with an impressive 99.99% uptime guarantee. And, there is a 30 Day Money Back Guarantee on Managed and Agency hosting. Rocket.net prominently states on their website that they pledge to do things differently with 100% transparent pricing and no hidden upsells or renewal price increases.
Managed Hosting
Starter (1 Install) $25 mo.
Pro (3 Installs) $50 mo.
Business (10 Installs) $83 mo.
Expert (25 Installs) $166 mo.
Agency Hosting
Tier 1 (10 Installs) $83 mo.
Tier 2 (20 Installs) $166 mo.
Tier 3 (30 Installs) $249 mo.
Tier 4 (40 Installs) $332 mo.
Tier 5 (60 Installs) $500 mo.
Tier 6 (100 Installs) $750 mo.
Tier 7 (125 Installs) $916 mo.
Tier 8 (150 Installs) $1000 mo.
Tier 9 (175 Installs) $1166 mo.
Tier 10 (200 Installs) $1333 mo.
Enterprise Hosting
Enterprise 1 (8 CPU Cores) $649 mo.
Enterprise 2 (32 CPU Cores) $1299 mo.
Enterprise 3 (64 CPU Cores) $1949 mo.
Enterprise 4 (96 CPU Cores) $2599 mo.
*Prices listed for Managed Hosting and Agency Hosting are with annual plans.
Rocket.net Hosting Features
As I mentioned above, Rocket's core values and goals are to separate themselves from the competition by providing faster performing managed servers and industry leading customer support. And, going over the contents of their hosting plans, Rocket.net does include some of the most impressive managed WordPress Hosting features that you'll find in a hosting plan.
Enterprise Grade Servers
Free Enterprise Edge CDN
Free SSL
Image Optimization
99.99% Uptime Guarantee
Data Centers in North America, Europe, Asia, and Australia
User-Friendly Control Panel
One-Click Website Staging
Real-Time Scanning and Security Patching
Automatic Daily Backups
WordPress Activity Logging
No Price Increases on Renewals
No Hidden Upsells
Rocket.net Signup and Website Propagation
Getting started with Rocket.net is extremely quick and easy. After signing up for your account, you get one-click WordPress website creation. In fact, Rocket.net has the fastest WordPress website propagation that I've experienced. The only area where you may require assistance is connecting an existing domain to your new website. However, customer support can quickly assist you to setup your DNS properly.
Rocket.net User Dashboard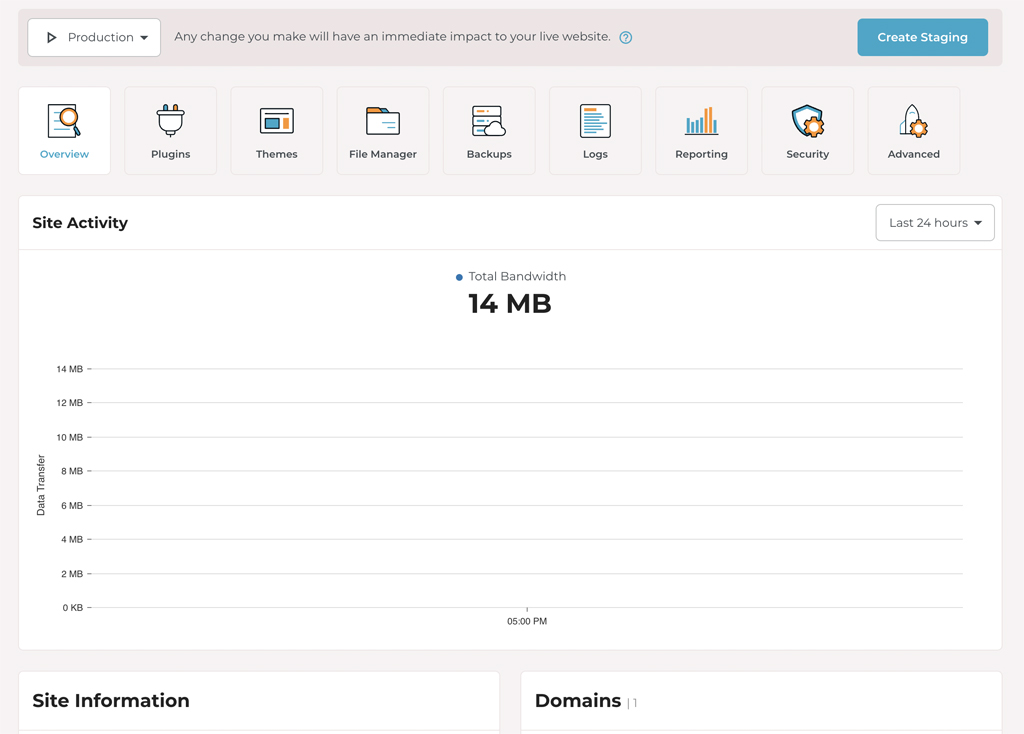 Rocket.net has done a great job with their dashboard interface. The layout is very clean, simple, and easy to use. And, I like how they have incorporated a mixture of graphical and text elements that allow you to access and work with your websites.
You can quickly access any needed functionality such as file management, data backups, staging, security, reporting, etc. You can also quickly access the admin backend side of your websites. Plus, you can easily contact customer support via the live chat box in the lower right corner of the dashboard.
The Rocket dashboard is definitely a winner!
Website Speed and Performance
Website speed and performance with Rocket.net is simply outstanding. I am thoroughly impressed with our speed and performance testing results. Every managed WordPress Hosting company claims to be faster than the others, but Rocket's edge-first network with enterprise grade servers really does deliver lighting fast WordPress websites.
Here are some of our sample test results: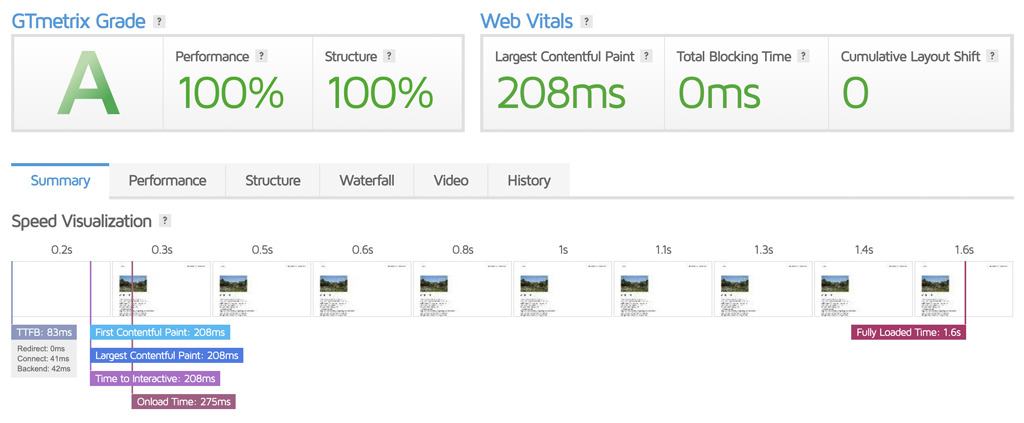 Website Security
When it comes to website security, we found Rocket's enterprise level protection to be top notch. The full-stack WordPress security and website application firewall are impressive, as is the real-time scanning and protection that they provide. You can take a look at Rocket's security in action by clicking the Reporting option in your dashboard.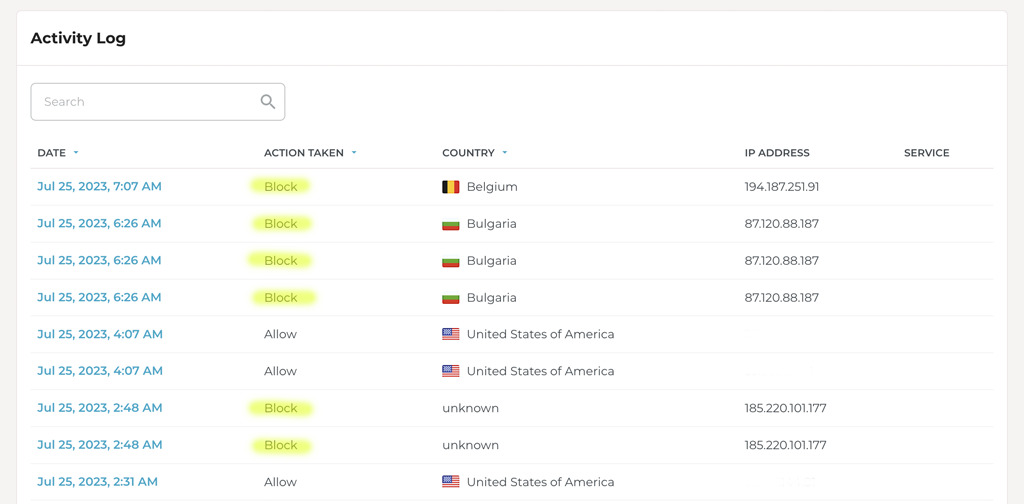 Automatic Data Backup
With Rocket.net, you get both automatic daily backups and the ability to perform your own manual backups at any time. Your backup data is easily accessible from your dashboard. You can perform a complete restore, or choose to restore only certain parts (plugins, themes, files, or database).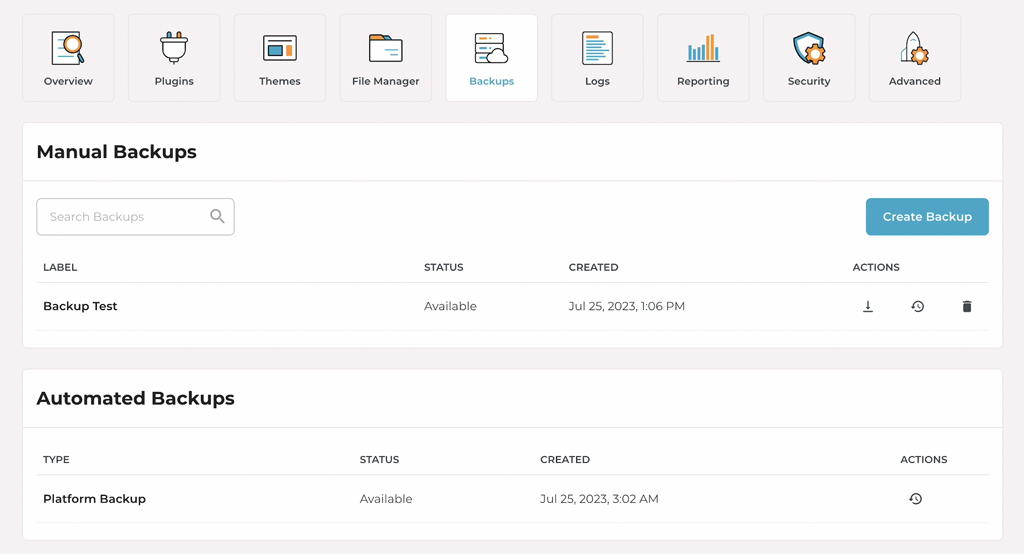 Automatic Data Backups are kept for 14 days. You can perform as many Manual Backups as you want, as long as you have enough disk space on your account. However, keep in mind that Manual Backups are normally deleted after 24 hours.
I would prefer that automated backups were kept available for 28 to 30 days, although 14 days is usually sufficient. Also, you can't download the daily automated backups. So, if you want to download a copy of your site, you'll have to first perform a manual backup and download that copy. Again, not a huge deal, but it would be nice to have the option to download form the automated backups as well.
Overall however, the data backup features work very well.
Website Staging
The website staging functionality you get with Rocket.net is excellent. From your user dashboard, it's very easy to create a staging site, make your changes, and then publish them to your production website. Rocket.net has done a great job here.
Rocket.net Customer Support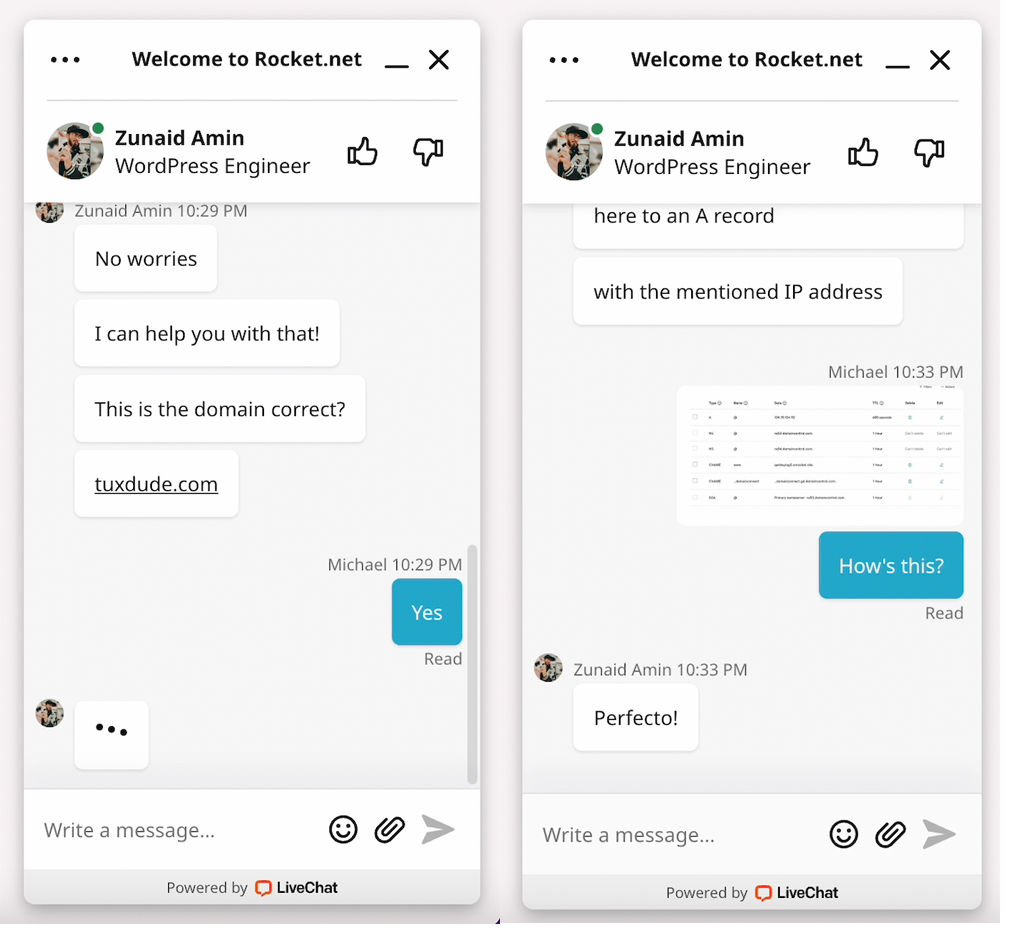 Rocket.net also gets very high marks for their customer support. Their live chat response time is outstanding. Not only is the support team knowledgeable and friendly, but their in-chat response time is the best I've ever experienced. As soon as I entered a question or comment, I got an immediate response. There is no delay having to wait several minutes for feedback.
Customer support is another area where Rocket.net has definitely succeeded with their goal of setting the highest standards.
How Does Rocket.net Compare with Other Web Hosts?
Rocket.net vs Bluehost
In this comparison of Rocket.net vs Bluehost, we have the impressive, but relatively new Rocket and one of the most well-known web hosts in Bluehost…
Rocket.net vs Cloudways
In this comparison of Rocket.net vs Cloudways, we have two hosting providers that are focused on providing the best premium hosting experience for their customers. Both Rocket.net and Cloudways are better…
Rocket.net vs Kinsta
Because there are many similarities between these two hosts, it should be a pretty straight forward matchup where you'll be able to determine which WordPress host is the better choice for your situation…
Rocket.net vs SiteGround
It's an interesting matchup as Rocket focuses more on premium, higher end hosting solutions, while SiteGround is positioned as a more budget-friendly WordPress solution…
Rocket.net vs WP Engine
In this comparison of Rocket.net vs WP Engine, we have one of the relatively new managed WordPress hosts against the long time industry standard for managed WordPress Hosting…
Rocket.net vs WPX Hosting
Both of these WordPress Hosting providers deliver outstanding website speed and performance. But, speed isn't the only factor to consider when choosing a managed hosting provider…
Recommendation – Is Rocket.net WordPress Hosting Worth It?
Rocket.net definitely belongs on the list of the very top premium Managed WordPress Hosting providers. While many hosting companies strive to be different and better than the competition, our experience with Rocket confirms that they have succeeded in providing some of the best WordPress Hosting with premium features, lightning fast website speeds, ultra-responsive customer support, and a very impressive and easy to use dashboard.
Rocket.net is not cheap however, so we would recommend them primarily for critical business websites, enterprise applications, and agencies. For those customers, Rocket.net is both recommended and worth the hosting price.