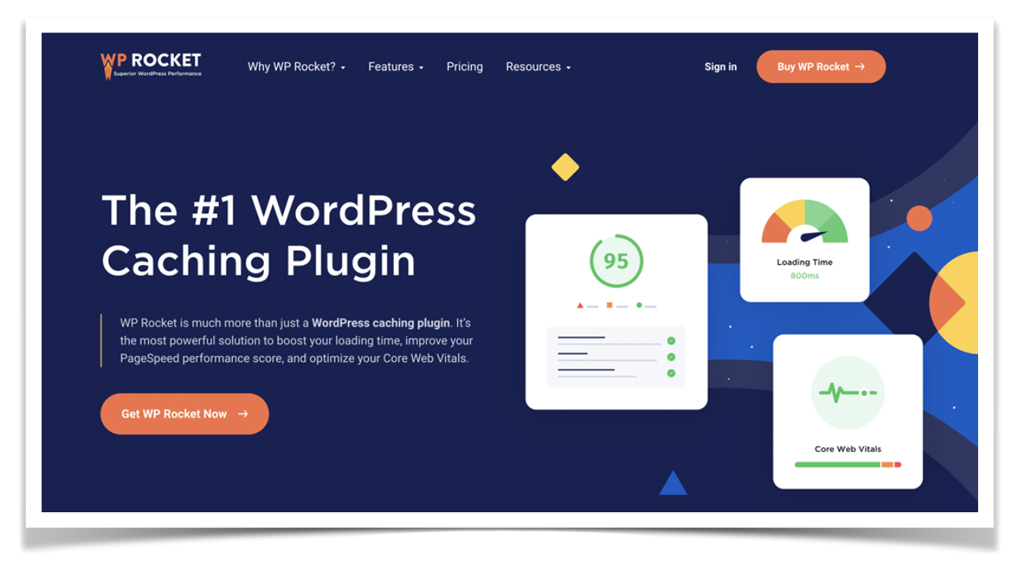 What is the most effective way to speed up your WordPress website? Web hosting is one of the most critical factors for website speed and performance. Quality Managed WordPress Hosting is the best start for making sure your site runs fast. However, if you can't afford managed hosting, or you have managed WordPress Hosting but want to speed up your website even more, then I recommend checking out the WP Rocket plugin. Here, in my WP Rocket Review, I'll show you how it works and how it can make a huge difference in your website speed.
What is WP Rocket?
WP Rocket is a WordPress plugin that can be used on all types of WordPress websites from blogs to E-Commerce websites. WP Rocket can dramatically improve your website by speeding up your page loading times with better Google PageSpeed scores and Core Web Vitals.
How Does WP Rocket Speed Up Your WordPress Site?
What's great about WP Rocket is that most of its performance optimization features are fully automated and you don't have to worry about setting them up. Such as:
Page Caching
Browser Caching
GZIP Compression
Google Fonts Optimization
WooCommerce Cart Fragments Cache Refresh
Cross Origin Web Font Support
Also, these settings are activated by default:
Mobile Cache
Cache Lifespan
Cache Preloading
Preload Links
Heartbeat Control
However, if for some reason you need to tweak a certain setting, you can use the WP Rocket settings panel to adjust features such as Cache Settings, File Optimization, Media, Preload Settings, Database Optimization, CDN Settings, and other tools.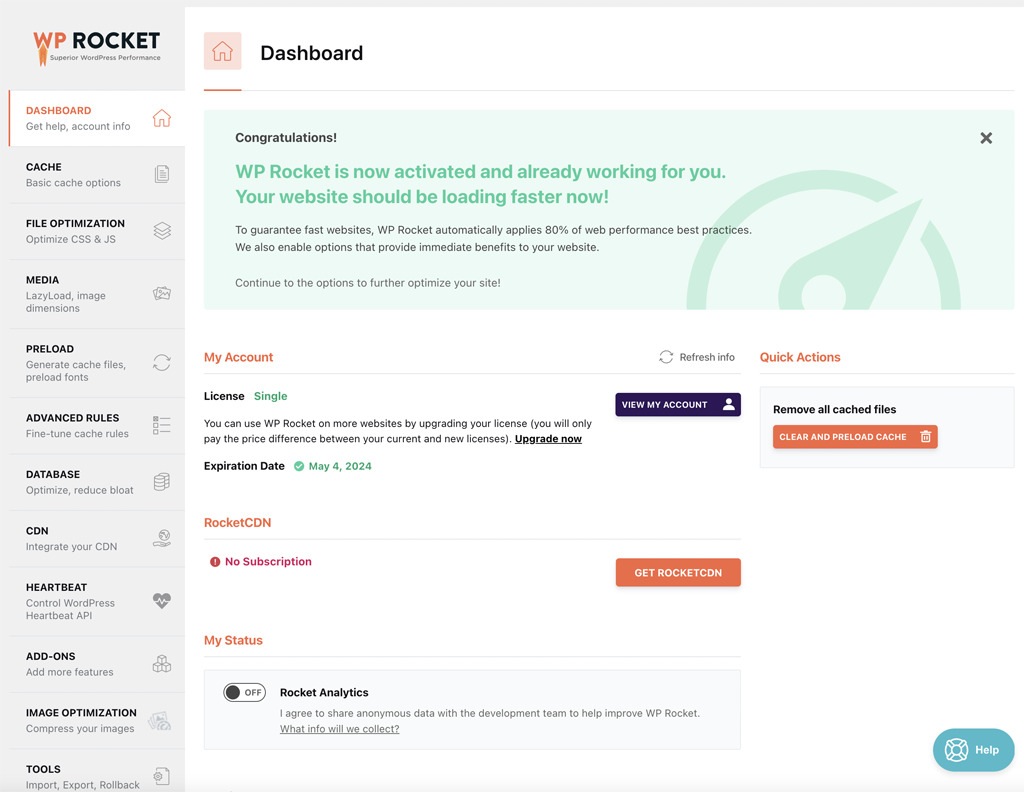 So, the bottom line here is that WP Rocket is not only great for less experienced WordPress users but also perfect for WordPress professionals.
Installing and Setting Up WP Rocket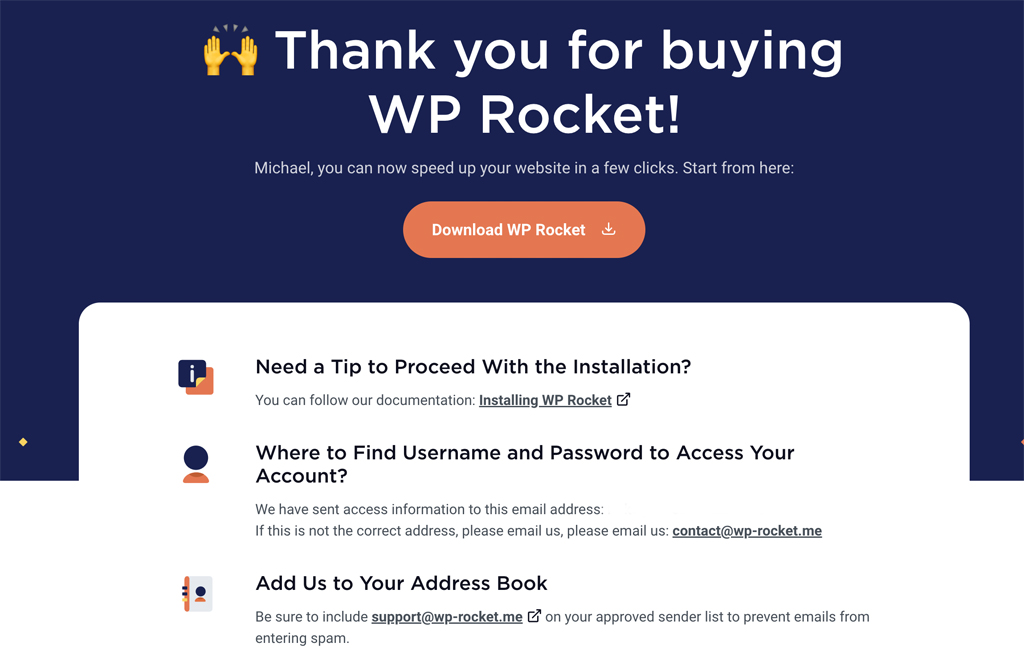 Once you purchase and download WP Rocket from their site, you can simply install the plugin as you would any other WordPress plugin via your WordPress Admin Plugin screen.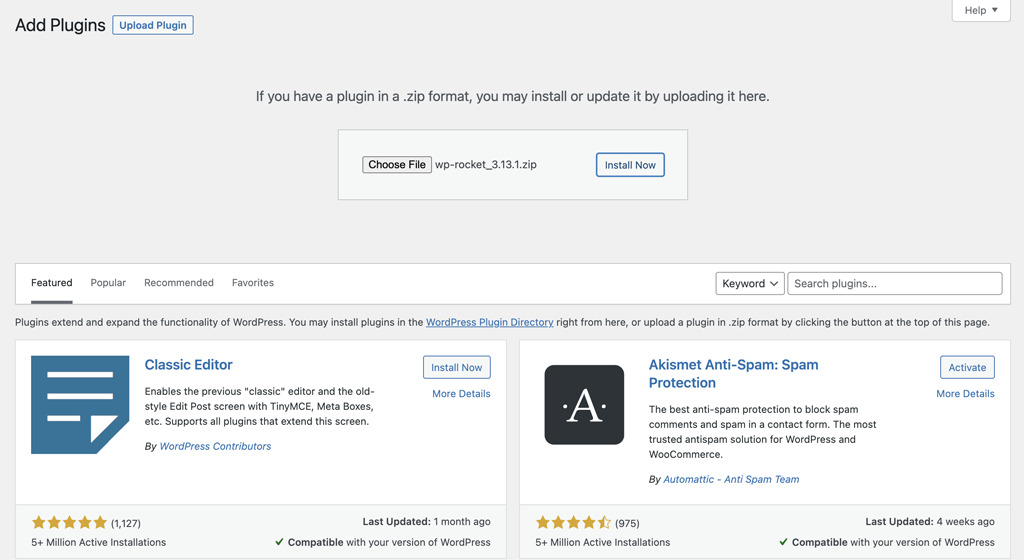 While the majority of WP Rocket's performance benefits are activated automatically, it's very easy to tweak certain settings in your WP Rocket dashboard if you want to further boost your website performance. For example, in my case I enabled minifying of css and javaScript to further improve my performance metrics. See below for more details.
WP Rocket Speed Test Results
I have to admit I was skeptical of whether WP Rocket could make a difference in speed and performance with our website. We've tried most of the WordPress caching plugins out there with minimal performance improvement. However, after installing and activating WP Rocket, I can sum up the results in one word: Outstanding!
As you can see from our GTmetrix testing below, Fully Loaded Page Time was reduced by over 100%!
Website Speed Without WP Rocket

Website Speed With WP Rocket

Performance Metrics that improved were First Contentful Paint (FCP), Speed Index, Time to Interactive (TTI), and Total Blocking Time (TBT).
Website Performance Without WP Rocket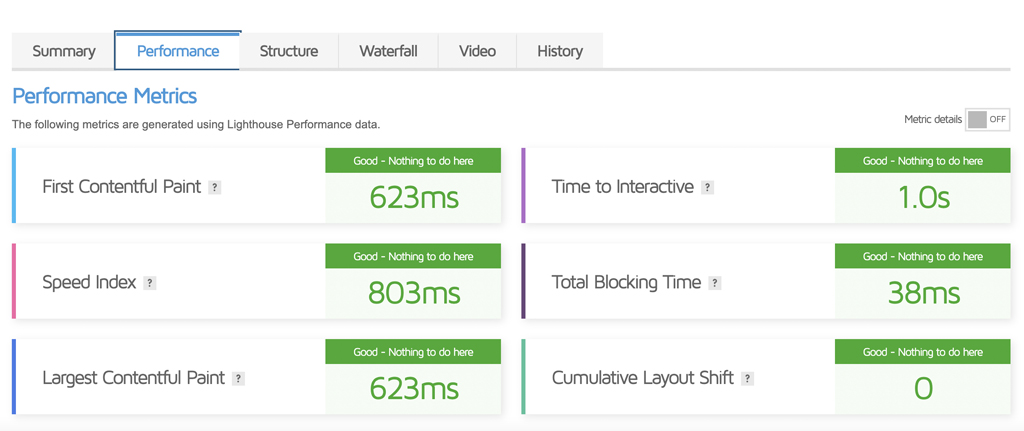 Website Performance With WP Rocket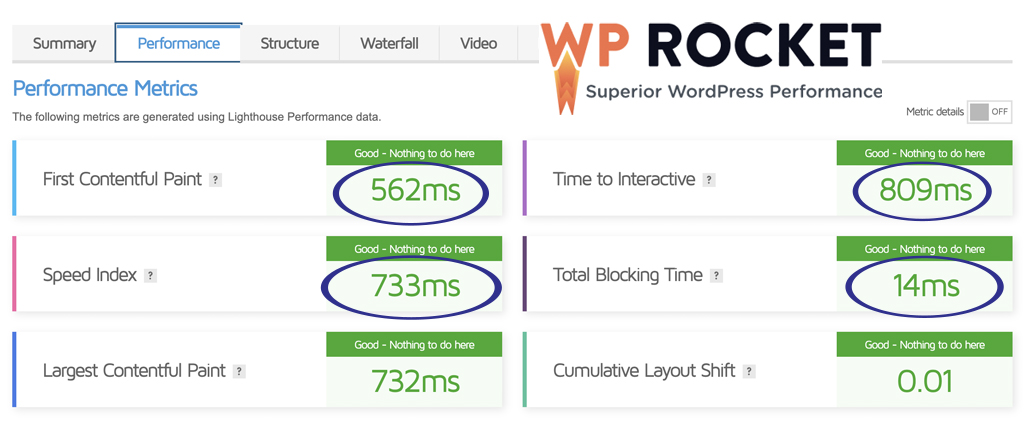 My webpages now fully load below Google's 2 second recommendation. And, all I needed to do was install WP Rocket and enable css and javaScript minify.
WP Rocket vs WP Super Cache vs W3 Total Cache
How does WP Rocket compare with the two other popular WordPress caching plugins? We testing WP Rocket against WP Super Cache and W3 Total Cache. Here are the results. We tested using a base WordPress website and a typical cPanel hosting plan. We wanted to see how well it worked without the added benefit of a premium managed WordPress Hosting provider.
| | | WP Super Cache | W3 Total Cache |
| --- | --- | --- | --- |
| Fully Loaded Time: | 541ms | 566ms | 581ms |
| First Contentful Paint: | 374ms | 380ms | 410ms |
| Largest Contentful Paint: | 527ms | 540ms | 560ms |
| Speed Index: | 469ms | 471ms | 519ms |
| Time to Interactive: | 374ms | 391ms | 415ms |
| Total Blocking Time: | 0ms | 0ms | 0ms |
| Cumulative Layout Shift: | 0 | 0 | 0 |
As you can see from the results above, WP Rocket was first or tied for first in every category.
WP Rocket Pricing
Is WP Rocket Worth the Price?
WP Rocket is available in three different plans with each requiring an annual subscription. The Single plan costs $59 and can be used for one website. The Plus plan costs $119 and can be used on 3 websites. The Infinite plan costs $299 and can be used on an unlimited number of websites. All of the plans come with a 14 day 100% money back guarantee.
While at first glance, you may hesitate in paying for a caching plugin when you can use one of the free ones, in the long run you can actually save money while getting better website performance. For example, instead of paying for a managed WordPress Hosting plan that can cost several hundred dollars per year, you could alternatively purchase a less expensive cPanel hosting plan along with WP Rocket. You'll pay less than half the cost of that managed hosting plan and still get excellent website speed and performance.
WP Rocket Customer Support
While WP Rocket doesn't currently offer live chat support, if you do have questions or need assistance, you can easily contact customer support by opening a support ticket through the WP Rocket website. You'll immediately get an automated email confirmation. The stated response time to support requests is within 24 hours.
You can also access the WP Rocket knowledge base and video tutorials on their website, as well as join their Facebook Group.
WP Rocket Pros and Cons
Pros:
Easy to Install
No Special Setup Required
Easy to Use Dashboard
Easy to Customize Settings
Improves Page Loading Times
Improves Core Web Vitals
Great for Beginners and Experienced Users
14 Day Money Back Guarantee
Cons:
Currently No Live Chat Support
Recommendation
A faster website not only improves the user experience for your site visitors, but it can also mean better search engine rankings and more website conversions. Unlike a lot of the other plugins out there, WP Rocket can definitely make a difference in speeding up and improving your WordPress website performance.
I am definitely impressed with WP Rocket. We're now using it on our website and have immediately seen improvement in site speed and performance. I think it's well worth the price and I recommend that any WordPress site owner (from newbies to WordPress pros) that needs a faster website try it out.
See our WP Rocket Review Ratings Below: