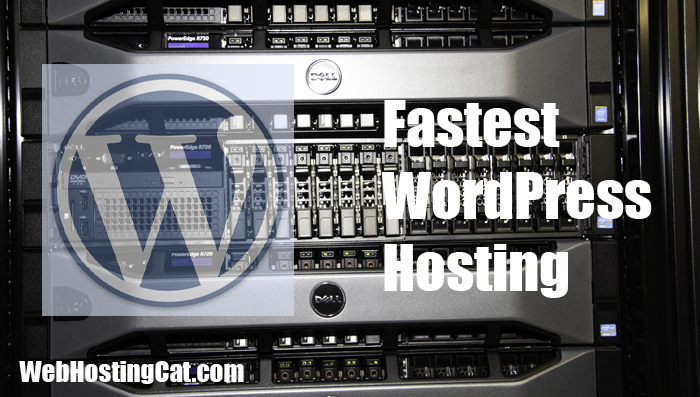 The popularity of WordPress continues to grow—it now accounts for about half of the web. And while seemingly all web hosts are offering incredible hosting for WordPress sites, not all WordPress hosting is alike. For example, speed and performance can vary greatly depending on your hosting provider. If you're looking for the fastest WordPress hosting, here is my report.
Fastest WordPress Hosting 2023 Summary
WordPress Speed Factors
Data Center Location
Web Servers
Static Images
Theme Coding
While WordPress isn't always the fastest platform on the web, there are a number of factors that can determine how fast your website performs.
Data Center Location – Ideally, your WordPress host will have multiple data centers with at least one located near the majority of your site's visitors. The location of your data center really can make a difference in your website speed. I've witnessed the difference with my own websites as well as with our testing results.
Web Servers – Many web hosts are now utilizing servers that are fine-tuned specifically for WordPress. Having top quality hardware and increased resources will benefit all types of websites—including WordPress.
Static Images – The number of photos and images you have can greatly affect the speed of your WordPress site.
WordPress Themes – Another big factor in determining your WordPress site speed is the coding of the theme you use. While themes aren't necessarily a web hosting issue, be aware that some web hosting companies may have certain theme restrictions.
Optimizing Your WordPress Website Speed
Hardware and Resources
Caching Technology
PHP Version Support
Content Delivery Network
Compressing Your Images
WordPress Theme Design
So, if you want fast WordPress hosting, what should you look for? The right web host can implement the right technology and take the proper steps to increase your WordPress website speed. Some of the things you should look for when shopping for fast WordPress hosting are:
Hardware and Resources – For starters, you definitely want solid state drives (SSDs) along with fast processors and more memory. Ideally, you also want fewer users per server. That way, you get better resource access and less chance of conflicts.
Caching Technology – By far one of the best ways to speed up your WordPress website is to choose a web host that employs their own caching technology. Proper caching of your site's content speeds up page loading times for a much better user experience.
PHP Version Support – It's also very important to choose a web host that is running the most current version of PHP that is supported by WordPress. For example, there is huge difference in performance when using PHP 7 and above.
Content Delivery Network – You should also look for a WordPress hosting plan that includes free Content Delivery Network (CDN) usage. With a content delivery network, your website's static content resides on servers around the world. Then, when someone visits your site, the content is retrieved from the server closer to their location—which results in faster webpage speeds.
Compressing Images – Because photos often take the most time to load, you should also be compressing the images in your WordPress website. You can do this by utilizing a WordPress plugin or looking for a web host that offers automatic image compression (such as Liquid Web).
WordPress Theme Design – Again, though not necessarily a web hosting feature, be aware that your WordPress theme can have a definite impact on your site's speed. On some rare occasions, a web host may have restrictions on certain themes.
Fast WordPress Hosting Recommendations
Based on our test results and my own personal experience using these web hosts, here are our recommendations for fast WordPress hosting:
We tested out a mix of Shared and Managed WordPress Hosting plans from various web hosting companies to see how well they performed on a similar WordPress website. Here are the results from the top performing hosts.
Nexcess
Nexcess is outstanding when it comes to WordPress website speed as they include the best combination of premium features that we've experienced. In our last full study of Fastest WordPress Hosting, we included Liquid Web among the top choices. They have now moved their managed WordPress hosting over to Nexcess and the results are again excellent.
WordPress Speed Features:
Advanced Caching
Premium Image Compression
Built-In CDN
Plugin Performance Monitor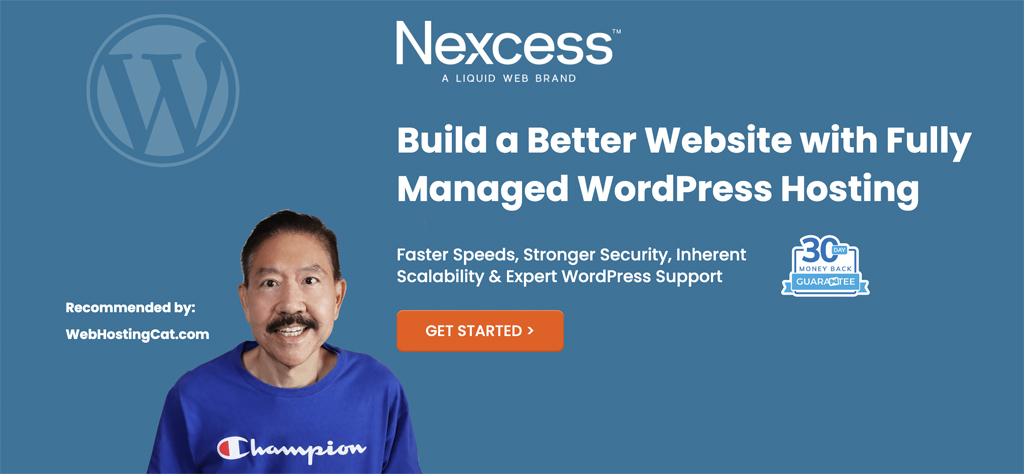 Data Center Locations:
Lansing, Michigan; Phoenix, AZ; Amsterdam, EUR
Speed Test Results:


Kinsta
For premium managed WordPress Hosting, you can't do better than Kinsta. You can choose from 35 different data centers around the world. And with their Edge Caching technology, Kinsta CDN, and optimized WordPress environment, Kinsta is definitely one of the fastest WordPress hosts available.
WordPress Speed Features:
Powered by Google Cloud
Kinsta CDN
Edge Caching Technology
Server-Level Full Page Caching
Application Performance Monitoring
DevKinsta for Local Development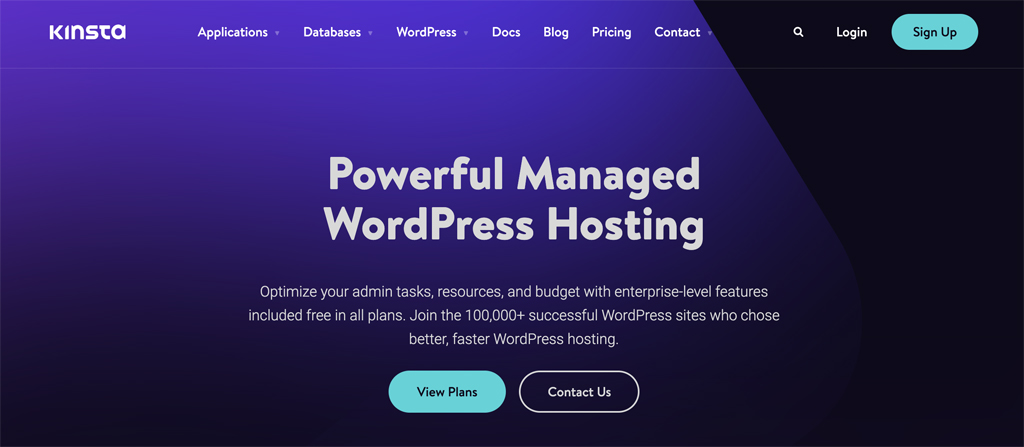 Data Center Locations:
Over 35 Data Centers in US, CAN, EUR, Asia, Australia, South America
Speed Test Results:

GreenGeeks
GreenGeeks has always been known for providing quality green web hosting along with an all-inclusive web hosting plan that provides tremendous value. However, their recent revamping of their shared hosting platform now results in even better performance and faster WordPress site speed.
WordPress Speed Features:
PowerCacher Technology
Optimized LightSpeed and MariaDB
Cloudflare CDN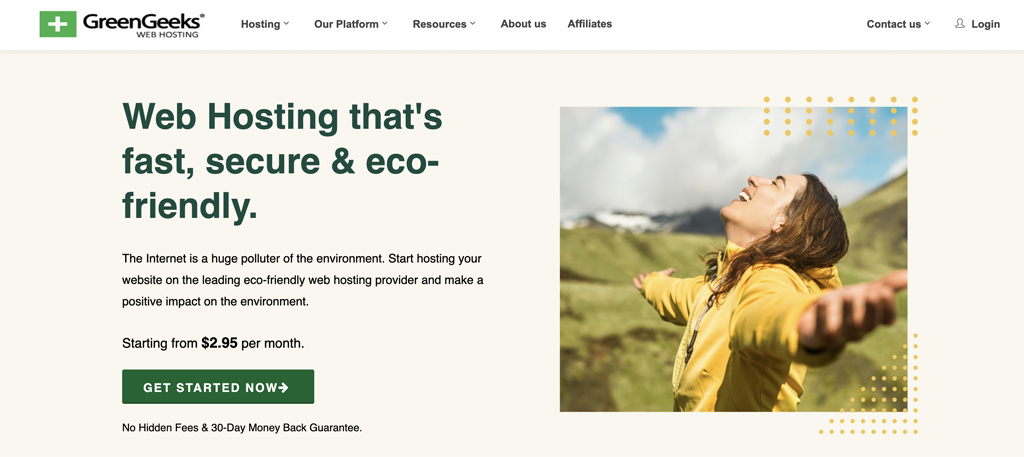 Data Center Locations:
USA – Chicago IL, USA – Phoenix, AZ, CAN – Toronto, EUR – Amsterdam, NL
Speed Test Results: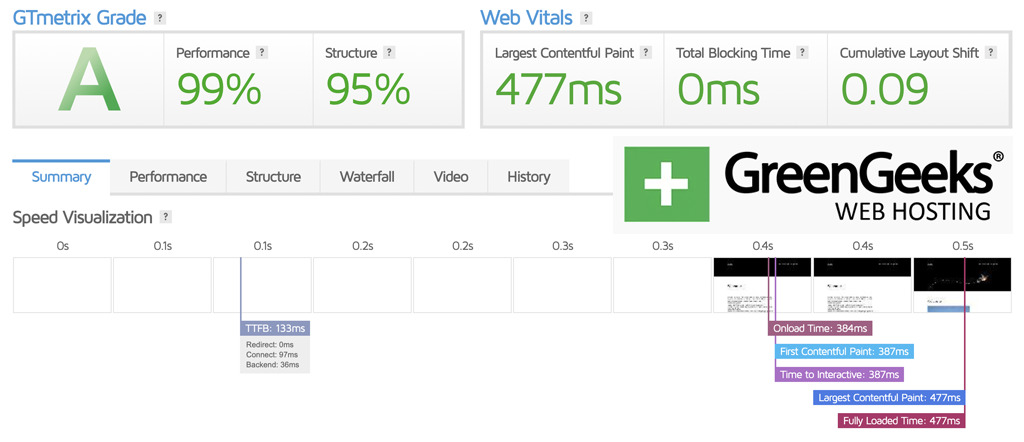 WPX Hosting
WPX Hosting has 3 core goals: Faster Performing Websites, An Easier-to-Use Control Panel, and Faster Responsive Customer Support. They brilliantly succeed with all three—especially fast WordPress websites. In our speed and page load testing, WPX Hosting produced the fastest results. Their custom built CDN, named XDN, is especially impressive. See more details below.
WordPress Speed Features:
Optimized Servers
Advanced Caching
Lower Number of Accounts per Server
Custom Built CDN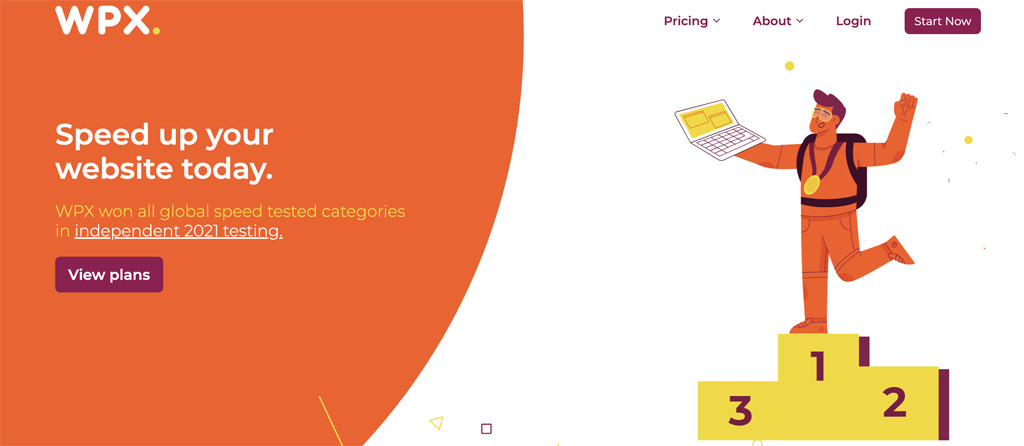 Data Center Locations:
Chicago, US; London, UK; Sydney, AUS
Speed Test Results:


WP Engine
WP Engine has been the industry standard for years when it comes to premium managed WordPress hosting. WP Engine focuses completely on WordPress, and they continue to shine with their Digital Experience Platform that provides agency, enterprise, and business solutions.
WordPress Speed Features:
EverCache Technology
Global CDN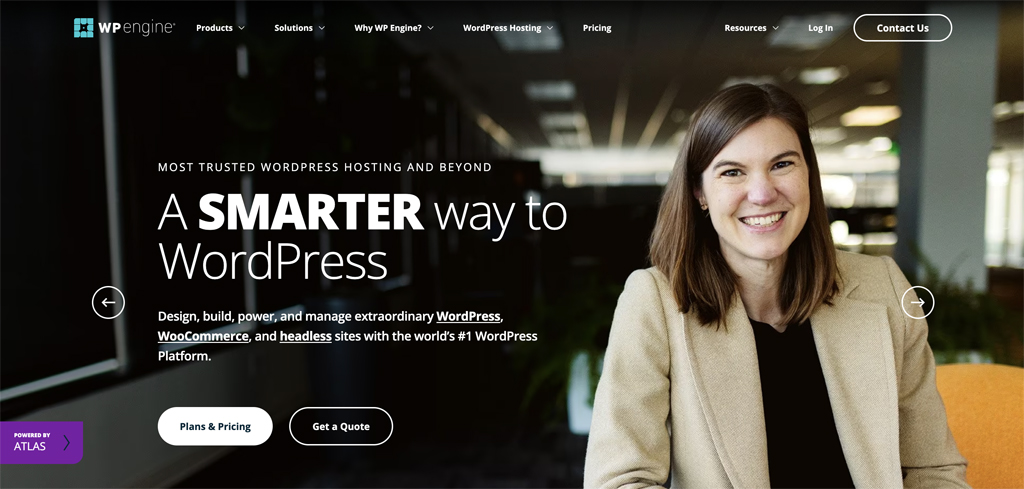 Data Center Locations:
U.S., Canada, Europe, Asia, Australia
Speed Test Results: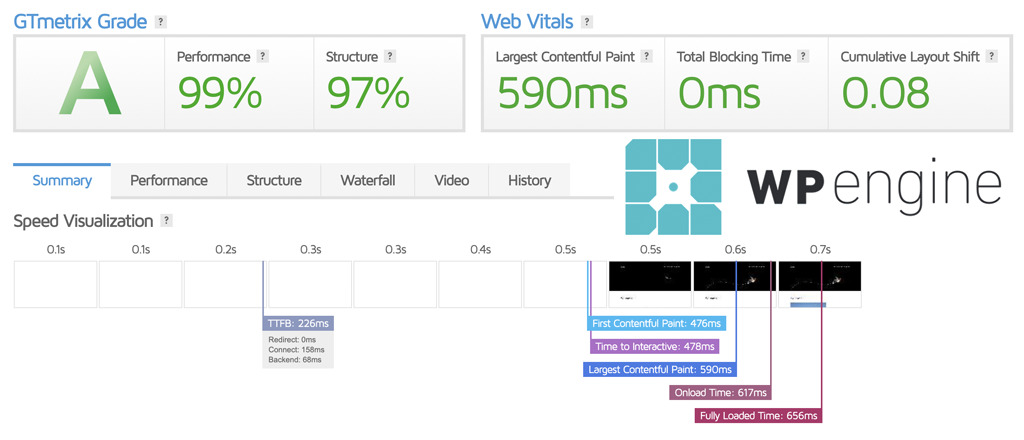 InMotion Hosting
While InMotion's Business Hosting plan has been a great WordPress hosting solution for many years, they now have an even better platform with their Managed WordPress Hosting plans. Having been an InMotion Hosting customer for many years, I notice a significant improvement in WordPress site speed. And, our testing results validate my thoughts.
WordPress Speed Features:
Proprietary Cache Manager
NGINX

Data Center Locations:
Los Angeles, CA and Ashburn, VA
Speed Test Results: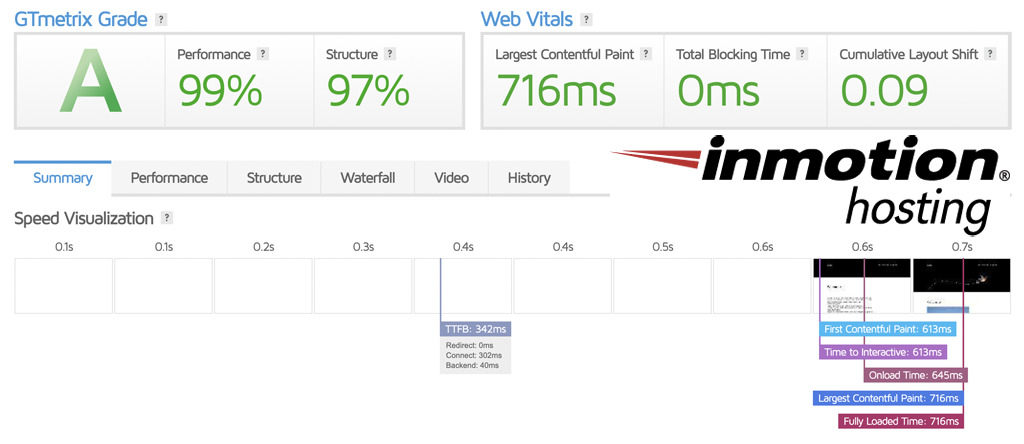 Cloudways
There is no question that Cloud Hosting provides many added benefits when it comes to website speed and security. And when it comes to Cloud Hosting, Cloudways is by far one of the best choices around. With Cloudways, you can select from 3 different Cloud Providers (Digital Ocean, AWS, or Google Cloud). In our testing, Cloudways produced some of the fastest WordPress website results we've seen.
WordPress Speed Features:
Optimized PHP Stack
Choose Cloud Provider
Team Member Collaboration
Three Levels of Expert Support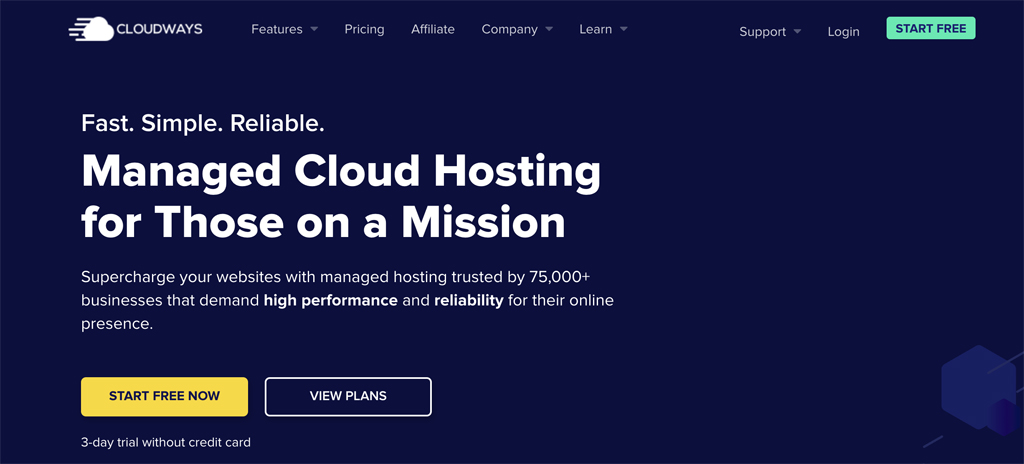 Data Center Locations:
Over 60 Data Centers Around the World
Speed Test Results:


Pressable
Although Pressable may not be as well known as some of the other managed WordPress Hosting providers, they definitely deserve consideration if you're looking for fast performance WordPress sites with premium features and expert support.
WordPress Speed Features:
Automatic Server Failover
Performance Monitoring
Performance Optimization
100% Uptime Guarantee

Data Center Locations:
Los Angeles CA, Dallas TX, Ashburn VA, Amsterdam NL
Speed Test Results:


A2 Hosting
A2 Hosting continually focuses on fast web hosting solutions and WordPress. In fact, their Turbo Hosting plan is so good that we use it for our own website. Not only have our results been great, but in my own testing, A2 posted the fastest test results. A2 Hosting includes many premium features that are usually found in managed hosting plans.
WordPress Speed Features:
A2 Optimized WordPress Environment
Turbo Cache (Turbo Server Plan)
Memcached (Turbo Server Plan)
Cloudflare CDN
WordPress LiteSpeed Cache (Turbo Server Plan)

Data Center Locations:
USA – Michigan, USA – Arizona, EUR – Amsterdam, ASIA – Singapore
Speed Test Results: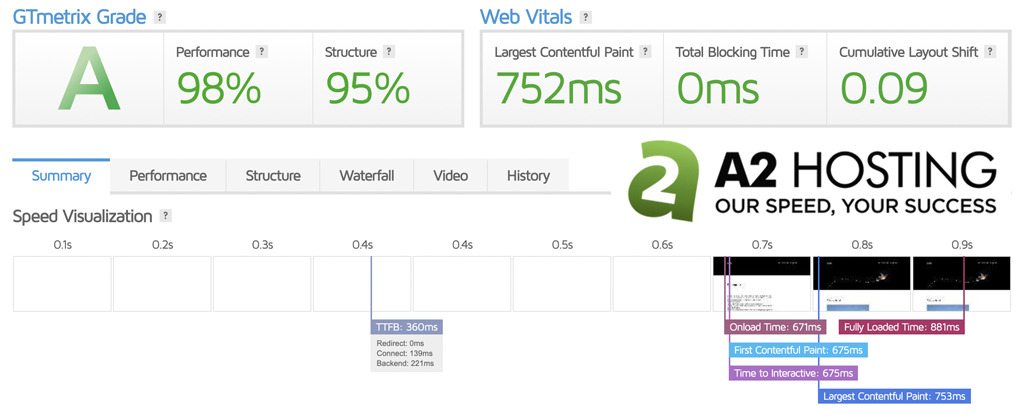 DreamHost
While DreamHost has been recommended by WordPress.org for years, their website speed hasn't always been one of their strengths—but that has now changed. Not only has DreamHost added great WordPress features with both their standard and advanced WordPress hosting plans, but in our speed testing, they performed surprisingly well.
WordPress Speed Features:
Optimized Servers
100% Uptime Guarantee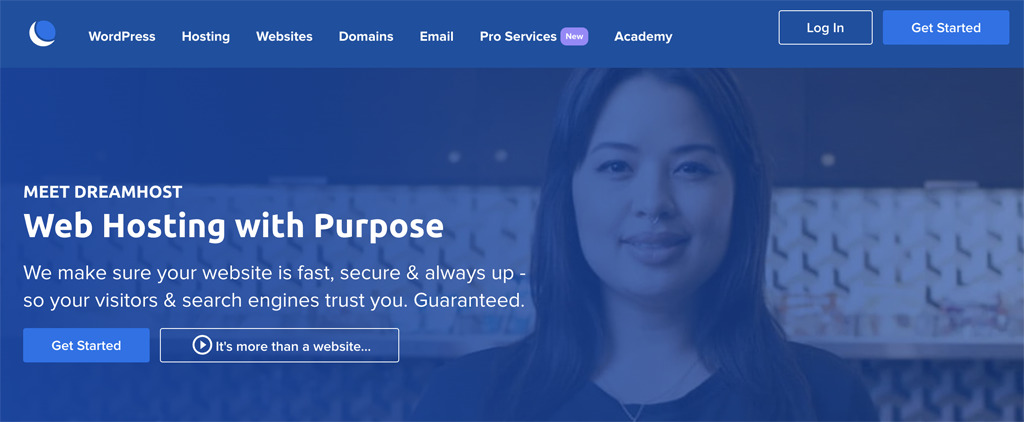 Data Center Locations:
Irvine, CA; Ashburn, VA; and Hillsboro, OR
Speed Test Results: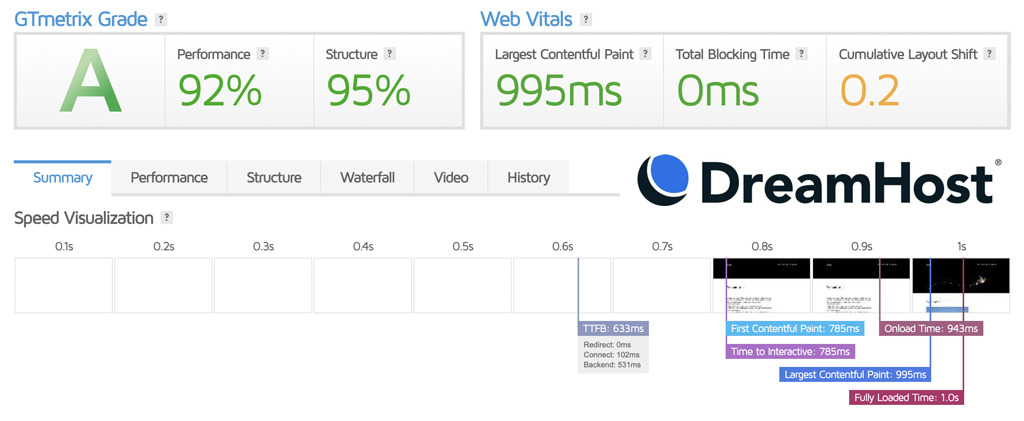 Fastest WordPress Hosting – Largest Contentful Paint (LCP)
Fastest WordPress Hosting – Fully Loaded Page