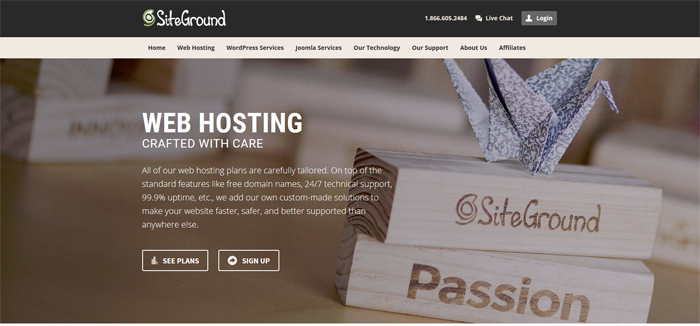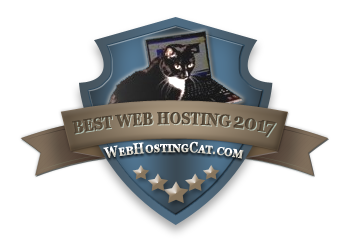 In my ongoing quest to find the best web hosting plans available, it's time to take a look at another managed WordPress hosting option. SiteGround is a company that's been around since 2004 and offers a complete line of web hosting services—including WordPress.
Important: Please note that I am an actual paying customer using SiteGround WordPress Hosting. Unlike other reviews out there that may be based on a free trial account, these are my actual experiences using my real live SiteGround hosting account.
WordPress Hosting Options
SiteGround has three types of managed WordPress hosting plans.
StartUp:
For beginners
One Website only
For approx. 10,000 monthly visits
GrowBig:
Includes Premium Features
Multiple Websites
For approx. 25,000 monthly visits
GoGeek:
Includes staging area
Multiple Websites
For approx. 100,000 monthly visits
In my case, I opted for the GrowBig plan. The GoGeek plan is aimed at enterprise users. However, for those cases I'd recommend checking out WP Engine or MediaTemple if you really need that level of resources. The SiteGround GrowBig plan is a great fit for small business and personal WordPress sites that require managed hosting.
Signing Up
Signing up with SiteGround is very easy and straight-forward. You can pay with your credit card. However, if you prefer to pay via PayPal, you can do so by contacting support. They will have you go ahead and submit the order form with the billing information left blank. Then, you'll be given a special link to make your PayPal payment.
After completing the signup process, you'll receive a welcome email with your login information and link to your SiteGround account area.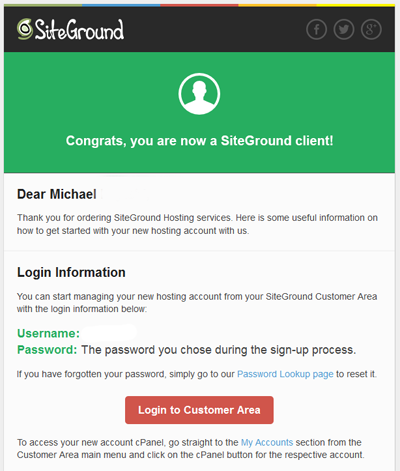 Your SiteGround customer account area contains all the pertinent information on your account settings. You can also navigate via the tabs to obtain support, access billing information, plus get additional services and resources.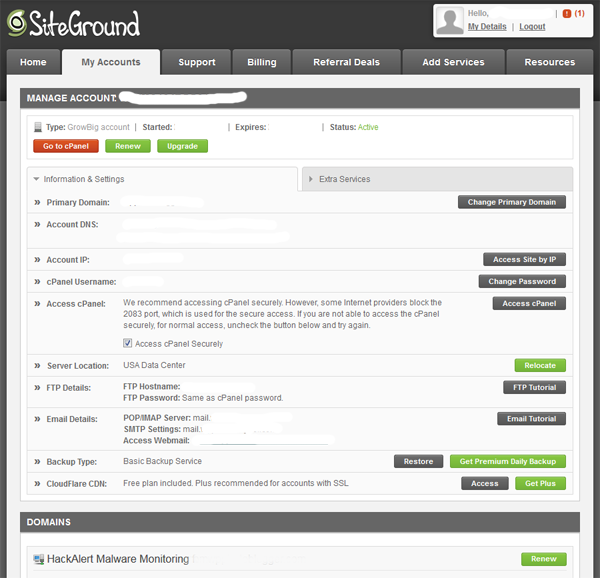 Transferring An Existing WordPress Site
If you already have a WordPress site online with another host, you'll be happy to know that SiteGround will actually transfer your site for free if you wish. You can also choose to move your site yourself. In my case, I elected to transfer my website on my own. I performed a new WordPress installation in my SiteGround account and imported my existing database into the newly created one at SiteGround. I then just had to copy my wp-content folder over to SiteGround—and my website was now up and running!
After installing WordPress, you'll receive a confirmation email with your admin login details and links to tutorials and videos.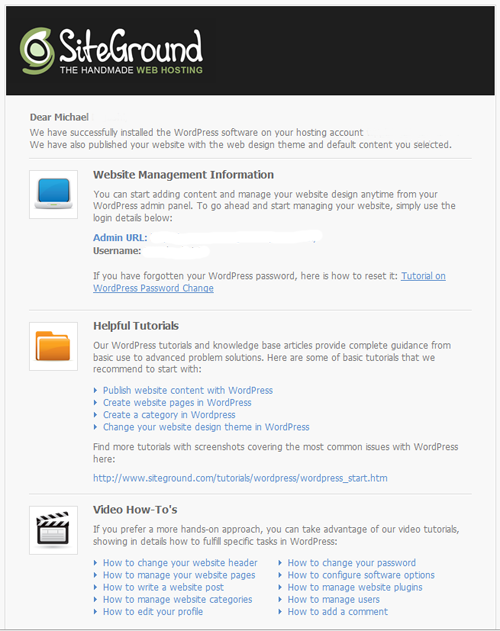 SiteGround WordPress Hosting Features
In addition to SiteGround's nicely designed account management area, you also get cPanel as your control interface. I definitely like the way SiteGround has customized their cPanel with your account management tabs available at the top.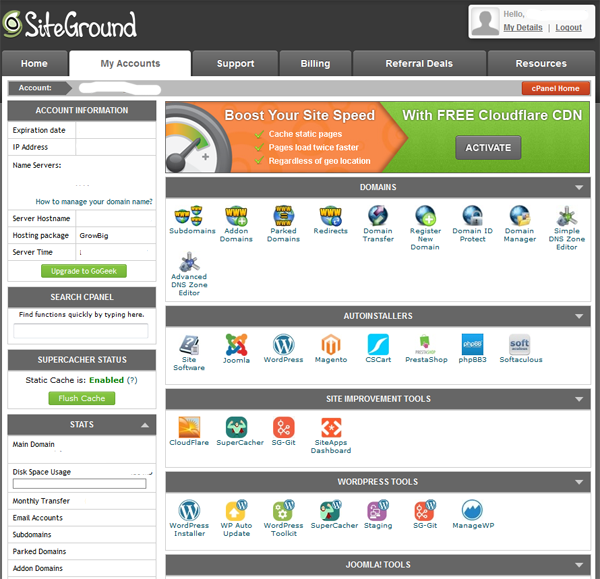 Of particular interest to WordPress site owners will be the WordPress Tools section. Here you can click on tools to install WordPress, enable auto updates, perform admin functions, enable the SuperCacher, and setup staging and GIT.


The Auto Update Manager allows your site to keep current with the latest versions of WordPress and your plugins. While the WordPress update process has worked fine, be aware that you may have to manually update some of your plugins.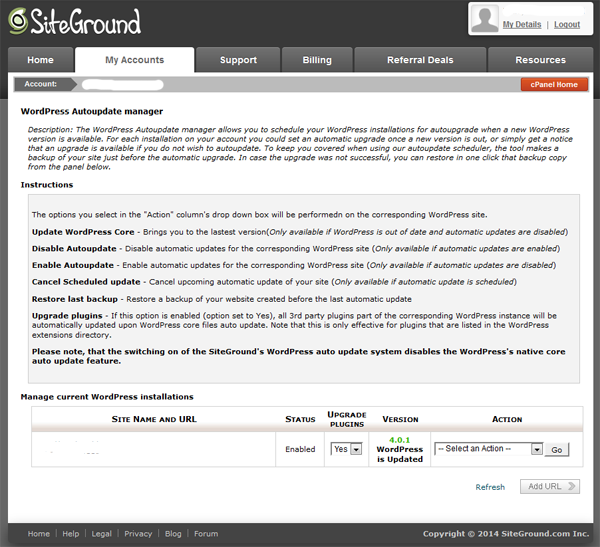 The WordPress Toolkit lets you automate tasks such as resetting admin passwords, changing domains, and moving or deleting WP installations.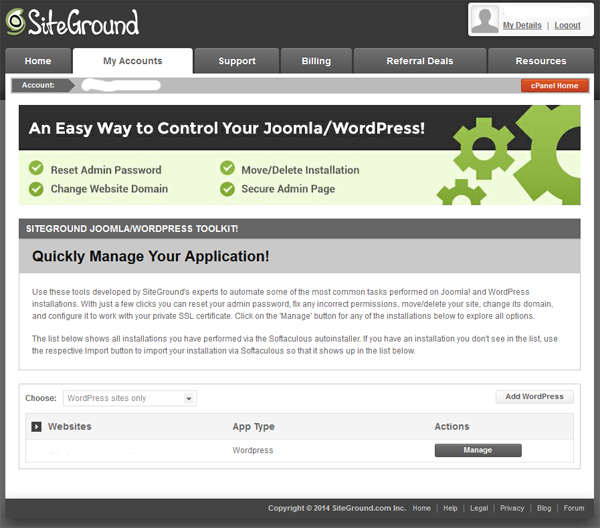 SuperCacher for Better Website Speed
The SiteGround SuperCacher gives your website additional levels of caching functionality to make your site load faster and be able to handle more visits.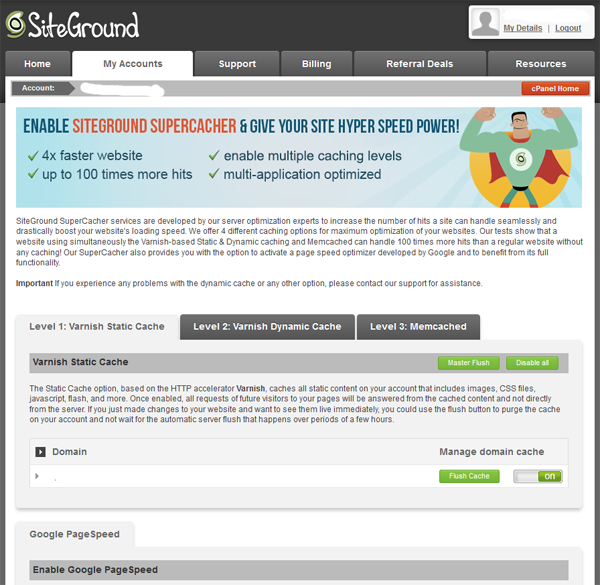 SuperCacher has three different levels to speed up your site:
Varnish Static Cache
Varnish Dynamic Cache
Memcached
I've written a separate post about SiteGround's SuperCacher that you can check out here. Also, you can listen to my exclusive interview with SEO and WordPress expert at SiteGround, Hristo Pandjarov, who talks about SuperCacher and how your web hosting can make a huge difference in your website speed.
Support
I have to say that SiteGround's customer support has been great. Their live chat support response time is excellent and all of the support staff I've dealt with have been able to answer questions and take care of any issues in a friendly and prompt manner. Below is a sample screen shot from one of my chat support sessions.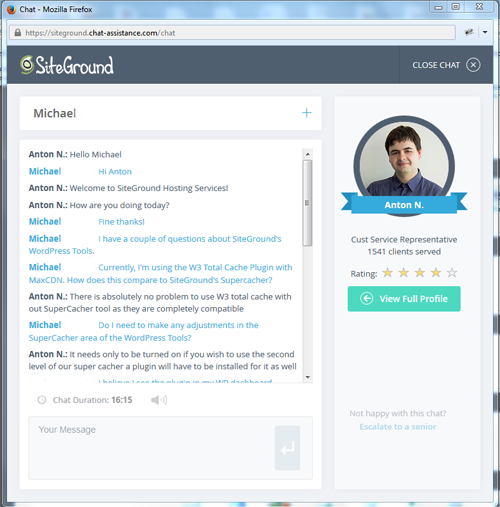 Video: 5 Things I Like About SiteGround
Here's a video I did highlighting the top 5 things I like about SiteGround Hosting:

Recommendations
As I've said before in the past, not all WordPress users are going to need a managed hosting plan. In fact, there are some excellent web hosting plans from companies like InMotion Hosting, Bluehost, and Web Hosting Hub (to name just a few) that include WordPress and are perfectly capable of handling many kinds of WordPress websites. However, if you prefer to have a hosting plan specifically tailored to WordPress and that performs most of the maintenance tasks associated with WP, then I would definitely take a look at SiteGround. They have provided some excellent WordPress tools along with great hosting services that have been beneficial to me.