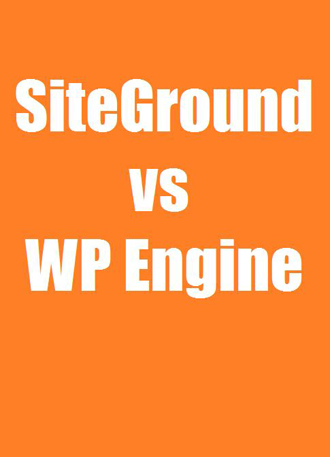 For managed WordPress hosting, these are two of the best choices available. But while SiteGround offers a variety of web hosting services including WordPress, WP Engine is totally focused on WP hosting. Does that make a difference? Both of these companies provide the specific resources and features necessary for excellent WordPress management and performance. So, let's see which one is better suited for you.
Both SiteGround and WP Engine offer different levels of WordPress hosting plans from single site to more advanced or enterprise levels. On the value scale, SiteGround comes out on top as their hosting plans have equally impressive features but cost far less than WP Engine. However, although the Business and Enterprise level plans at WP Engine are more expensive, the amount of power and resources you get are able to allow more traffic to your sites per month.
If you're looking for managed WordPress hosting, I would definitely take a look at SiteGround and WP Engine. For personal blogs and small business sites, SiteGround is probably the better choice. However, if you need an enterprise level solution (which a lot of managed hosting customers need), then WP Engine is the winner.

SiteGround
Started Business: 2004
BBB Rating: A
Data Center Location: Chicago IL, Amsterdam NL, Singapore SG, London UK
Price: $3.95 mo. – $14.95 mo.
Unlimited Bandwidth: Yes
Unlimited Storage: No (10GB – 30 GB)
Unlimited Email: Yes
Host Multiple Domains: Yes (except StartUp plan)
Hosting Interface: cPanel
Server Uptime: 99.9%
Full Refund Period: 30 Days
Dedicated Hosting Available: Yes
Free Extras:
CloudFlare CDN
Free backup and restore (except with StartUp plan)
Free Let's Encrypt SSL
Advantages of Choosing SiteGround:
Free website transfer.
Servers on three continents.
Content delivery network included.
Managed WordPress and Joomla services available.
In-House SuperCacher service included.
Automatic WordPress Plugin Updates
cPanel and Softaculous interfaces.
They offer phone, email, and chat support.
Fast and responsive live chat support.

WP Engine
Started Business: N/A
BBB Rating: A+
Data Center Location: U.S., Canada, Europe, Asia, Australia
Price: $35 mo. – $290 mo. (Premium Customized Plans also available)
Unlimited Bandwidth: Yes
Unlimited Storage: No
Unlimited Email: No
Host Multiple Domains: Yes (except Personal Plan)
Hosting Interface: WP Engine Client Portal
Server Uptime: N/A
Full Refund Period: 60 Days
Dedicated Hosting Available: Yes
Free Extras:
EverCache technology speeds up page-load time.
Transferable Installs and Billing Transfer
Free Let's Encrypt SSL
WordPress Solution Center
Advantages of Choosing WP Engine:
You can try it risk free for 60 days.
WP Engine Migration Plugin for easily transferring your site over.
Managed upgrades and daily backups.
Staging area environment where you can test out plugins or themes.
Free Let's Encrypt SSL
Segmented Backup Downloads
Automated Security Updates
Expert support staff.
They automatically scan for and fix hacking attempts on your site.
More Data Center Location Options
Recommendation
For most websites, in this comparison we would recommend WP Engine. See our WP Engine review ratings below: