For managed WordPress hosting, these are two of the best choices available. But while SiteGround offers a variety of web hosting services including WordPress, WP Engine is totally focused on WP hosting. Does that make a difference? Both of these companies provide the specific resources and features necessary for excellent WordPress management and performance. So, let's see which one is better suited for you.
Both SiteGround and WP Engine offer different levels of WordPress hosting plans from single site to more advanced or enterprise levels. On the value scale, SiteGround comes out on top as their hosting plans have impressive features but cost less than WP Engine. However, although the Business and Enterprise level plans at WP Engine are more expensive, the amount of power and resources you get are able to allow more traffic to your sites per month.
If you're looking for managed WordPress hosting, I would definitely take a look at SiteGround and WP Engine. For personal blogs, SiteGround is probably the better choice. However, if you need small business hosting or an enterprise level solution, then WP Engine is the winner.
Video: SiteGround vs WP Engine
Check out our video for a quick overview of SiteGround vs WP Engine.
SiteGround vs WP Engine: Differences
Advantages of SiteGround over WP Engine:
WordPress.org Recommended
Includes WordPress Starter for Easier Site Creation
Superior Customer Support
SuperCacher Technology for Faster Speed
Advantages of WP Engine over SiteGround:
Completely WordPress Focused
Expert WordPress Support
EverCache Technology for Faster Websites
Free StudioPress Themes Included
Automatic and Snapshot Data Backups
Transferable Installs and Billing Transfer for Agencies
Free Page Performance Diagnostics
60 Day Money Back Guarantee
SiteGround vs WP Engine: Website Speed and Performance
WP Engine is the winner in the website speed category. Although SiteGround still provides quality WordPress hosting, their speed isn't quite as consistent as it used to be—at least not in our testing. By contrast, WP Engine remains one of the best web hosts that we've tested (and that I use personally) for overall website speed and performance. Below are some of our sample speed test results via GTmetrix: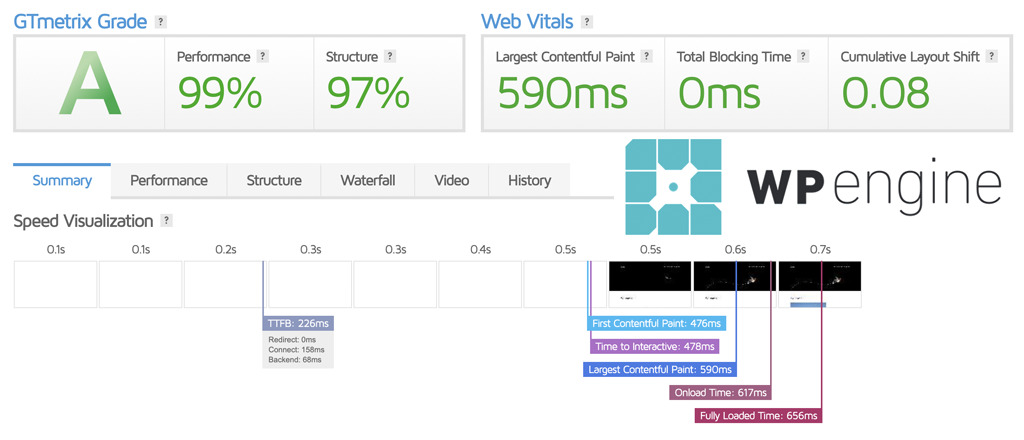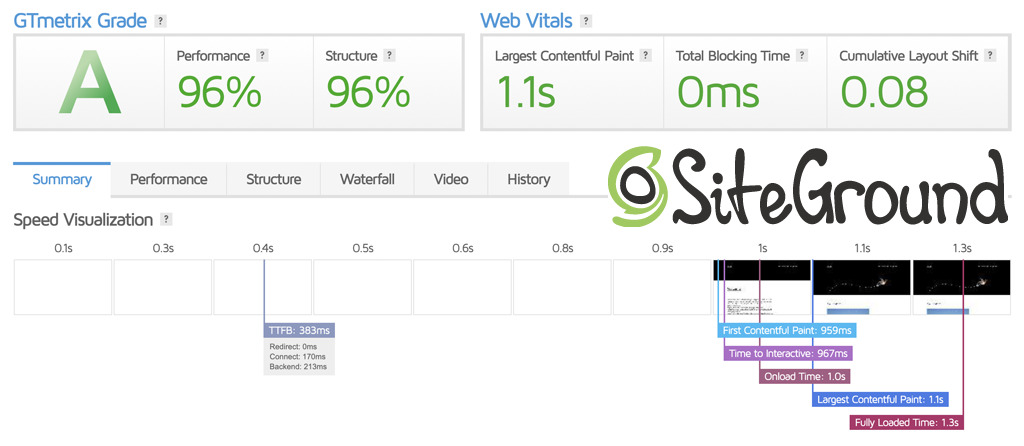 SiteGround vs WP Engine: Website Staging
WP Engine and SiteGround both include excellent website staging functionality which is easy to use. However WP Engine includes staging with all of their hosting plans whereas SiteGround does not offer it with their StartUp plan. Additionally, WP Engine provides development, staging, and production environments. So, in this category, WP Engine is the winner.
SiteGround vs WP Engine: Data Backup and Restore
Here again, both WP Engine and SiteGround have excellent automated backup and data restore capabilities. Although as with staging, SiteGround doesn't include on-demand backup functionality with their StartUp plan while WP Engine includes all backup capabilities with all of their managed hosting plans. So here again, WP Engine gets the advantage.
SiteGround vs WP Engine: Customer Support
Quite honestly when it comes to support, SiteGround and WP Engine are two of the absolute best choices—especially when it comes to WordPress. Both web hosts provide some of the most responsive and attentive support that I've ever experienced. In this category, it's a tie.
How Does SiteGround Compare with Other Web Hosts?
SiteGround vs A2 Hosting
Comparing A2 Hosting and SiteGround is an extremely close call. They both provide many unique features that provide outstanding web hosting performance…
SiteGround vs Bluehost
SiteGround and Bluehost have many similarities within their web hosting offerings. SiteGround's and Bluehost's hosting plans are also very affordable…
SiteGround vs DreamHost
SiteGround and DreamHost both offer many different types of web hosting plans. This particular comparison will look at each of their Shared Hosting plans…
SiteGround vs GoDaddy
SiteGround and GoDaddy both offer a wide variety of web hosting services. They have hosting plans that are suited for experienced and less experienced webmasters…
SiteGround vs GreenGeeks
GreenGeeks and SiteGround are two excellent web hosting companies. I use both of these web hosts and have had great experiences with each one…
SiteGround vs HostGator
SiteGround and HostGator both offer a similar lineup of web hosting plans. I've been a customer of both companies, so I've got first-hand experience using their services…
SiteGround vs InMotion Hosting
SiteGround and InMotion Hosting are two of the best web hosts you can find. As a customer of both of these web hosting companies, I've experienced first-hand excellent service and outstanding support…
SiteGround vs InterServer
Here's our comparison of two impressive web hosts that are both great for multi-website hosting. I personally use both SiteGround and InterServer, so I can give you a first-hand account of the advantages both have to offer…
SiteGround vs iPage
SiteGround and iPage both offer many different web hosting plans and services. In this comparison, we take a look at how their Shared Hosting Plans stack up against each other…
SiteGround vs Jaguar PC
In this comparison we take a look at how SiteGround compares with Jaguar PC. These two web hosts are equally positioned for the same audience…
SiteGround vs Liquid Web
How does SiteGround compare with Liquid Web? In this comparison of SiteGround vs Liquid Web, we see how well a more budget priced WordPress hosting option matches up with one of the top premium managed WordPress hosting solutions…
SiteGround vs Namecheap
While SiteGround and Namecheap both provide great web hosting plans (I use both), they're definitely suited for different types of website owners…
SiteGround vs Wix
This comparison between a traditional web hosting plan and a website builder package takes a look at SiteGround's Managed Hosting plans versus Wix's website builder plans…
How Does WP Engine Compare with Other Web Hosts?
WP Engine vs Bluehost
While WP Engine focuses solely on managed WordPress hosting, Bluehost offers a wide variety of hosting services. Therefore, this comparison is based specifically on Bluehost's WordPress optimized hosting versus WP Engine…
WP Engine vs DreamHost
While DreamHost features a wide array of web hosting plans and services, WP Engine focuses solely on managed WordPress hosting…
WP Engine vs HostGator
How does HostGator's new WordPress hosting compare to WP Engine? Both WP Engine and HostGator offer three levels of Managed WordPress Hosting plans…
WP Engine vs InMotion Hosting
This comparison focuses on how InMotion's Business Hosting Plan compares to WP Engine. In other words, how does a top non-managed hosting plan compare with a top managed hosting plan when it comes to WordPress…
WP Engine vs Liquid Web
In this comparison of WP Engine vs Liquid Web, we take a look at two titans when it comes to premium managed WordPress hosting…
WP Engine vs Media Temple
Here's a comparison of two heavyweights in the managed WordPress hosting field. Both WP Engine and Media Temple are well-known throughout the WordPress community…
Recommendation
For most websites, in this comparison we would recommend WP Engine. See our WP Engine review ratings below: