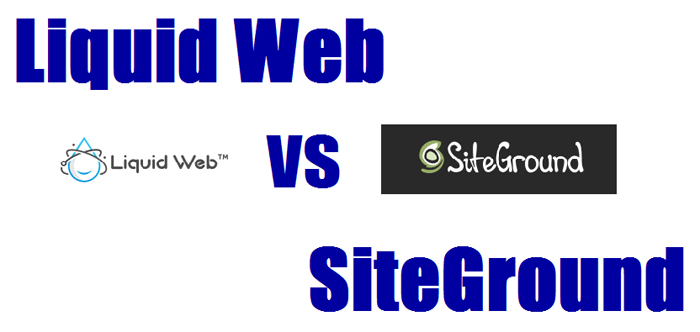 How does SiteGround compare with Liquid Web? In this comparison of SiteGround vs Liquid Web, we see how well a more budget priced WordPress hosting option matches up with one of the top premium managed WordPress hosting solutions. Is Liquid Web worth the extra money required, or can SiteGround provide the quality WordPress hosting that you're looking for? Let's look closer with our head to head matchup analysis based on my experiences with both.
SiteGround vs Liquid Web Details

| Category | SiteGround | Liquid Web | Comments |
| --- | --- | --- | --- |
| Setup | | | |
| Control Panel | | | |
| Data Centers | | | SiteGround has data centers in Chicago IL, Amsterdam NL, Singapore SG, and London UK. |
| Website Speed | | | See Below |
| Security Features | | | SiteGround provides Free SSL plus Anti-Hack Systems |
| Data Backup and Restore | | | With Liquid Web you get Automated Daily Backups stored offsite 30 Days, plus unlimited manual backup capability. |
| Automatic Updates | | | SiteGround provides Automatic Plugin Updates and gives more control over Major and Minor Core Updates. |
| Servers | | | |
| Network | | | |
| WordPress Development | | | Liquid Web includes iThemes Sync for managing multiple sites. |
| SSL | | | Tie. Both provide Free Let's Encrypt SSL. |
| Hosting Features | | | SiteGround includes cPanel functionality plus Unlimited Email. |
| Resources | | | |
| Staging | | | See Below |
| Customer Support | | | See Below |
| Money Back Guarantee | | | Pro-Rated |
| Price/Value | | | |
Website Speed and Performance
To our surprise, even though Liquid Web posted some of the fastest website speed times that we've seen—SiteGround was even better! SiteGround's continued innovation with their hosting platform, along with their SuperCacher technology and the most current PHP version, produces amazing website speed. Take a look below at our head to head test results. Again, Liquid Web was excellent. But SiteGround was superior.


Website Staging
Liquid Web and SiteGround both include staging with their web hosting. And surprisingly, although Liquid Web provides some of the most impressive features in a managed WordPress hosting plan, when it comes to staging, I actually prefer SiteGround's implementation. While you can easily create a staging copy of your website with both Liquid Web and SiteGround, SiteGround makes it easier to move the changes in your staging site back to your live production WordPress site. By contrast, with Liquid Web you need to download their migration plugin, then use that to make your changes live. Therefore, SiteGround is the winner in this category.
Data Backup and Restore
SiteGround has always included automatic data backups with their hosting. And, they have recently improved their backup and restore features by including the ability to create on-demand backups. However, you are limited to 5 on demand copies, and it is only included for free with their GoGeek top level plan. With SiteGround's StartUp and GrowBig hosting plans, you'll need to pay an extra fee.
Liquid Web provides one of the best website backup and restore features available. You get daily automated backups that are stored off-site. Plus, you can manually create a backup at any time. Liquid Web includes their backup and restore with all of their hosting plans. And, you aren't limited to a certain number of on demand backups. For that reason, Liquid Web edges out SiteGround in this category.
Customer Support
Providing excellent customer support is a major objective of both Liquid Web and SiteGround. I've experienced outstanding response times from each of these hosts. Likewise, we haven't had any problems with issue resolutions. I will say that SiteGround has one of the most rigorous training programs for their customer service agents, and that extra attention to detail definitely shows up consistently in the courteous and helpful assistance they provide. For that reason, we give SiteGround the edge when it comes to support.

SiteGround
Plans:
StartUp ($2.99 mo.)
1 Website/10GB Storage
GrowBig ($4.99 mo.)
Unlimited Websites/20GB Storage
GoGeek ($7.99 mo.)
Unlimited Websites/30GB Storage
Data Centers: Chicago IL, Amsterdam NL, Singapore SG, London UK
Free Domain?: No
Money Back Guarantee: 30 Days
Advantages of Choosing SiteGround:
Faster Website Speeds.
Servers on three continents.
Content delivery network included.
Managed WordPress and Joomla services available.
In-House SuperCacher service included.
More Control over WordPress Automatic Updates.
Automatic Plugin Updates.
cPanel and Softaculous Functionality.
Unlimited Email Accounts.
Fast and responsive live chat support.

Liquid Web
Plans:
Personal ($29 mo.)
1 Website/20GB Storage
Freelance ($69 mo.)
4 Websites/40GB Storage
Professional ($99 mo.)
10 Websites/100GB Storage
Business ($149 mo.)
25 Websites/150GB Storage
Data Centers: Lansing, Michigan; Phoenix, AZ; Amsterdam, EUR
Free Domain?:: No
Money Back Guarantee: Pro-Rated
Advantages of Choosing Liquid Web:
Specialize in Upscale Managed Hosting
Automatic Plugin Updates
100% Uptime Guarantee
Auto Image Compression
Manage Multiple Sites with iThemes Sync
iThemes Security Pro
No Pageview Limits
Automatic Daily Backups Stored Offsite for 30 Days
Full Server Access
Recommendation
To start off with, we posed the question: Can a less expensive managed WordPress hosting plan compete with a top of the line premium WordPress hosting solution? It turns out the answer is a resounding Yes! Not only does SiteGround hold its own against Liquid Web, in our opinion their hosting is actually superior in many areas.
Liquid Web is indeed a high quality WordPress hosting provider. If you're a developer or WordPress agency that needs to work on many sites, Liquid Web's inclusion of iThemesSync, along with their other developer features would be the better choice.
However, for all other situations, we would recommend SiteGround. SiteGround's superior website speed and customer support, together with all of the other managed hosting features they provide at a much lower cost, makes them the winner in this comparison. See our SiteGround review ratings below.