No coupon needed! Here is the best legitimate discount offer for InMotion Hosting. See how to get over 74% off on their excellent Business Web Hosting.
With competition increasing among web hosting companies, many are offering discount sales and promotions on their hosting plans. While there are some excellent deals available, it's important to be careful when shopping. You need to make sure that the web hosting plan you're considering contains the right features for your website (i.e. resources, software applications, support, etc.) and isn't just a low priced, low-on-features starter package.
Also, be careful of bogus coupon code offers or outrageously low priced promotions as they may or may not be valid. For example, web hosts such as InMotion Hosting and Web Hosting Hub have specific warnings on their sites about bogus coupons and coupon codes.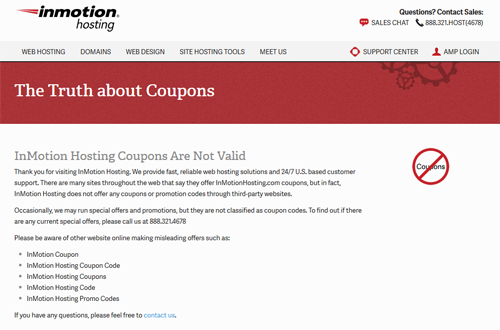 However, I'm extremely happy to say that I've been able to get the best InMotion Hosting discount offer for you—and this is totally legit! If you use the link below, you can get over 74% off on their Business Hosting Plan (Lite).
I've personally used InMotion Hosting for over 10 years now and I have always been completely satisfied with their service, support, and the performance of my websites. You can read more about my experiences with InMotion on my review post. Below are just some of the outstanding features you get with InMotion Hosting.
Free Solid State Drives (SSDs)
Max Speed Zone Technology
Business Class Hardware
Unlimited Bandwidth
cPanel Interface
Over 400 Free Applications
WordPress, Joomla, or Drupal Preinstalled
Free SSL
Outstanding Customer Support
90 Day Money Back Guarantee
InMotion Hosting's customer support is even better now as you can access them with Skype. Meanwhile, I've continued to receive top notch performance and support from InMotion. Here are some examples of how InMotion Hosting compares with other web hosts:
InMotion Hosting vs HostGator
InMotion Hosting vs SiteGround
InMotion Hosting vs iPage
InMotion Hosting vs A2 Hosting
InMotion Hosting vs DreamHost
InMotion Hosting vs GoDaddy
Please note that as some web hosting companies have recently been experimenting with higher prices, I'm not sure how much longer I'll be able to offer the 74% off discount. So, I definitely encourage you to take advantage of this huge legitimate discount deal while it's still valid!