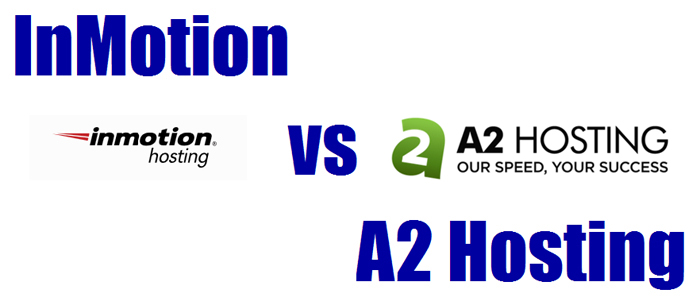 The good news when comparing A2 Hosting and InMotion Hosting is that it's a win-win situation for you! Both of these web hosting companies provide excellent website hosting with outstanding support. I personally use both InMotion and A2 Hosting and would rank them at the top of any web hosting list. But, which hosting company is better for you? Let's see what each has to offer for your websites, and whether you should choose A2 Hosting or InMotion Hosting.
Both A2 Hosting and InMotion Hosting are great choices for content management system websites. In addition to superior hardware, you can get WordPress preinstalled when you sign up at either A2 Hosting or InMotion. You also get cPanel hosting and functionality, free data backup and restore, plus very responsive and helpful customer support at both InMotion Hosting and A2.
A2 Hosting and InMotion both let you choose your data center location. InMotion offers their Max Speed Zone Technology that can be beneficial to U.S. customers on both the west and east coast. On the other hand, A2 Hosting does include a content delivery network that will help boost page loading times. And, with A2 Hosting you can get their optional Turbo Server feature which can boost your speeds up to 20x.
A2 Hosting does get the nod when it comes to freebies included with your account. The Attracta SEO and Marketing tools along with the security tools you get are definitely helpful—especially to newbies. Both A2 Hosting and InMotion offer impressive money back guarantees. A2 Hosting provides a pro-rated anytime money back guarantee, while InMotion Hosting gives you a full 90 day money back guarantee period.
A2 Hosting vs InMotion Details

| Category | A2 Hosting | InMotion | Comments |
| --- | --- | --- | --- |
| Data Centers | | | A2 Hosting has data centers on 3 different continents. |
| Server Hardware | | | A2 Turbo Servers can provide up to 20x faster loading. Both Turbo and Swift Servers include solid state drives (SSDs). |
| Network | | | A2 Hosting provides a quadruple redundant network. You also get free Cloudflare CDN. |
| Account Sign Up/Provision | | | WordPress, Joomla, or PrestaShop Pre-Installed |
| Control Panel | | | InMotion's Account Management Panel (AMP) and cPanel are a nice combination. |
| Speed and Performance | | | See Results Below |
| Security | | | A2 Proactive perpetual security includes firewall, brute force defense, virus scanning, and security monitoring. Free SSL. |
| Data Backup | | | A2 Server Rewind Backups are performed daily and you can restore data from the past 30 days. |
| Developer Tools | | | Currently supporting PHP 7.2 |
| WordPress | | | A2 WordPress environment optimized for speed and security. WordPress can be pre-installed when you sign up. |
| Website Applications | | | InMotion provides 400+ applications via cPanel as well as the BoldGrid WordPress site builder. |
| Advertising Credits | | | $250 Total (Google, Bing, Yahoo) |
| Customer Support Response Time | | | Normally around 10 sec. or less |
| Customer Support Issue Resolution | | | |
| Money Back Guarantee | | | Full 90 Day Money Back Guarantee |
| Price/Value | | | $3.92 – $9.31 mo. |
Website Speed Comparison
InMotion and A2 Hosting are two of the best web hosting choices for faster performing websites. While both offer excellent speed, in our testing and experience, websites at A2 Hosting are slightly faster.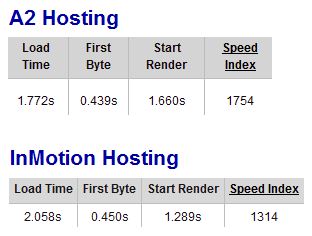 While both InMotion Hosting and A2 Hosting are equally good and interchangeable for many website hosting situations, based on current performance I would give the edge to A2 Hosting in this comparison. Their multiple WordPress site hosting and Turbo Server options make them a winner.
It's also a very close call between A2 and InMotion when it comes to VPS Hosting. A2 Hosting's provision time is faster, while InMotion is slightly ahead on features. My VPS hosting experience was a bit smoother with A2 Hosting, but InMotion is a little better on the value scale. The bottom line is: A2 Hosting and InMotion Hosting belong at the top of your web hosting list.

A2 Hosting
Started Business: 2003
BBB Rating: A
Data Center Location: Michigan, USA; Arizona, USA; Amsterdam, EUR; Singapore, Asia
Price: $3.92 mo. – $9.31 mo.
Unlimited Bandwidth: Yes
Unlimited Storage: Yes
Unlimited Email: Yes
Host Multiple Domains: Yes
Hosting Interface: cPanel
Server Uptime: 99.9%
Refund Period: Anytime
Dedicated Hosting Available: Yes
Free Extras:
Attracta SEO and Marketing Tools
Free HackScan and Security Tools
Free Solid State Drives (SSDs)
CloudFlare Content Delivery Network
Free Let's Encrypt SSL Certificates
Patchman Enhanced Security Tool
Integrated ManageWP Account
Advantages of Choosing A2 Hosting:
A2 Optimized Environment for WordPress
Optional Turbo Server available for Faster Page Loading
Choose Linux or Window Hosting
Perpetual Security
Environment Friendly FutureServe Green Hosting
Quadruple Redundant Network
Free Server Rewind Backups
Website Staging for WordPress and Joomla
QUIC Protocol Support (Turbo Servers)
Free website transfer.
cPanel and Softaculous interfaces.
They offer phone, email, and chat support.
Fast and responsive live chat support.

InMotion Hosting
Started Business: 2001
BBB Rating: A+
Data Center Locations: Los Angeles, CA and Ashburn, VA
Price: $3.49 mo. – $7.49 mo.
Unlimited Bandwidth: Yes
Unlimited Storage: Yes
Unlimited Email: Yes
Host Multiple Domains: Yes
Hosting Interface: cPanel
Server Uptime: 99.9%
Refund Period: 90 Days
Dedicated Hosting Available: Yes
Free Extras:
Solid State Drives (SSDs)
Free SSL Certificates
Free data restore once every four months
Free Website Transfers
Safe Application Rollback
$75 – $100 Google Adwords Credit
Premium Website Builder
Advantages of Choosing InMotion:
InMotion utilizes their Max Speed Zones for faster performance.
Top quality Business Class Hardware
No charge to restore your data from their backups once every four months.
Fast live chat customer support responses.
You get over 400 applications to use for your websites.
Secure Remote Server Access via Command Line (SSH)
Pre-Installation of WordPress, Joomla, or PrestaShop
Free Comodo cPanel SSL
BoldGrid Website Builder
Recommendation
For most websites, in this comparison we would recommend A2 Hosting. See our A2 Hosting review ratings below: