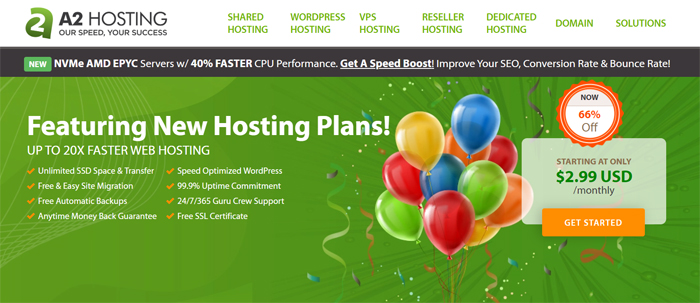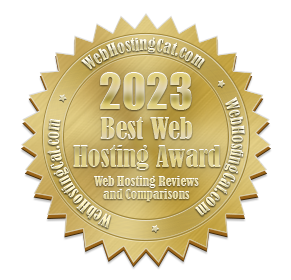 If you're looking for honest
A2 Hosting Reviews
, this review is based on my personal experiences using both the Swift Server and Turbo Server hosting plans at A2 Hosting. A2 Hosting started business in 2003 and is headquartered in Ann Arbor, MI. With data centers in the U.S., Europe, and Asia, A2 specializes in High Speed and WordPress web hosting. They also feature VPS, Dedicated, and Cloud Hosting options.
What are the Advantages of A2 Hosting?
A2 Hosting goes all out to provide super-fast web hosting. With their A2 Optimized services and optional Turbo Servers, they state you can get up to 20 times faster page load speeds than other web hosts. And for WordPress sites, A2 provides even more optimization.
Here are some of A2 Hosting's key high speed hosting features:
A2 Optimized Software (WordPress, Drupal, PrestaShop)
A2 Optimized Plugin for WordPress for 6 times faster page loads and improved security
CloudFlare CDN Compatible
Solid State Drives (Files and Databases)
RAID-10 Storage
Turbo Servers and A2 Optimized Caching with Optional Turbo Plan
cPanel Interface
99.9% Uptime Guarantee
Anytime Money Back Guarantee
Free Let's Encrypt SSL Certificates (Automatically Installed)
Perpetual Security
Choose Your Data Center Location
Quadruple Redundant Network
Pre-installation of WordPress
Server Rewind Data Backups
Patchman Security Tool
FutureServe Green Web Hosting
Priority Support
A2 Hosting Data Centers
Now in addition to their data centers in the U.S. (Michigan), Europe (Amsterdam), and Asia (Singapore), A2 Hosting has added a data center in the western U.S. (Arizona). It's always great to have more data center location options–as we've seen how much of an effect it can have on your website speed. And remember, with A2 Hosting you can choose your data center location at sign up time. Together with the free Cloudflare CDN you get with your hosting plan and A2 Hosting's optimized environment, A2's multiple data center locations give you the opportunity for faster performing websites.
How Do You Sign Up for A2 Hosting?
The signup process for A2 Hosting is very easy. After selecting your billing cycle and entering your account information, you are presented with a number of options you can select. The two main points to keep in mind here are to be sure and select the data center closest to your area (US, Europe, or Asia),


and remember that although the optional services are definitely useful, they will cost you more money. I do appreciate that A2 Hosting does not pre-select any of these additional cost items—like some other web hosts do.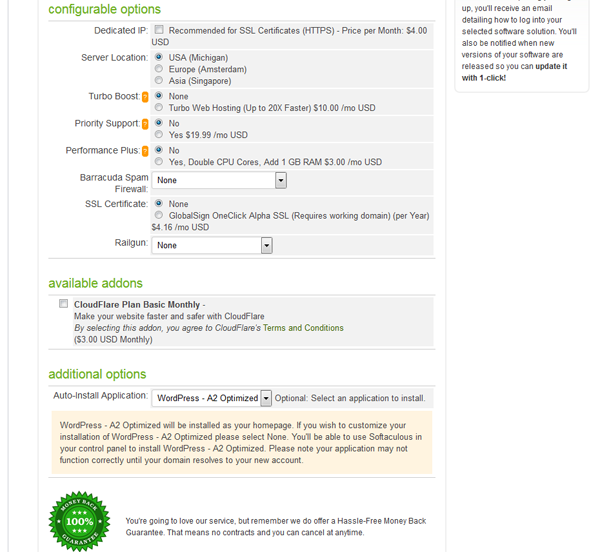 Another great thing about the signup process at A2 Hosting is that you can pay your bill via PayPal, credit card, or check. It takes very little time to sign up, and almost instantaneously you'll receive a group of emails including a welcome from A2 Hosting's CEO Bryan Muthig, order confirmation, installation details, and your welcome email containing your account details (website and admin URLs, nameservers, ftp information, etc.).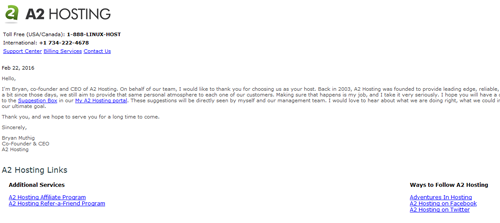 Great cPanel Hosting
With A2 Hosting, you get cPanel and the Softaculous software installer. You can easily access it from your A2 Hosting Client Area account page. You'll then be able to access all of your important website functions—including the premium features that you get with A2 Hosting. Among cPanel web hosting providers, A2 Hosting is one of the very best.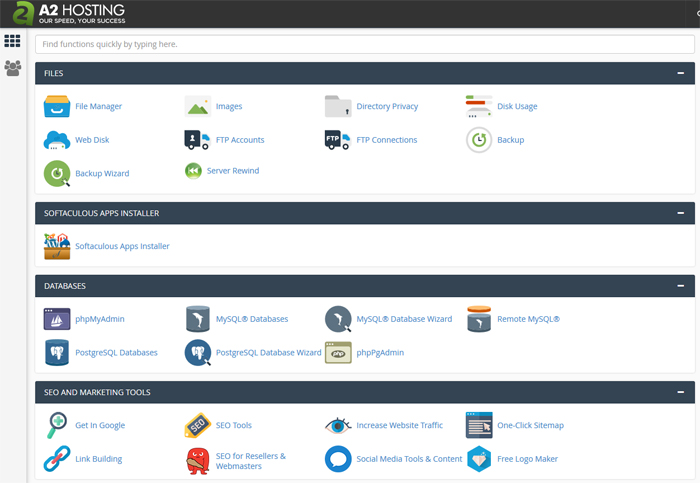 A2 Hosting's Premium Features
While all of A2 Hosting's plans are impressive, their Turbo Server plan is quite possibly the best we've seen in this price range. Take a look at some of the features you get.
Faster Page Loading (Up to 20x)
Fewer Users on Each Server
More Resources per User
Optimized Site Accelerators
Railgun Optimizer
WordPress LiteSpeed Cache
WooCommerce LiteSpeed Cache
What Bonus Features Do You Get with A2 Hosting?
Perpetual Security with HackScan Protection
Server Rewind Backups
Free Site Migration
Bing/Yahoo Ad Credits
Is A2 Hosting Good?
I'm very impressed with the A2 Optimized WordPress Hosting. When you sign up, WordPress is pre-installed and automatically configured for faster performance. When you login to your WordPress Admin, you can click on the A2 Optimized tab to see the status of each configuration and make changes if necessary.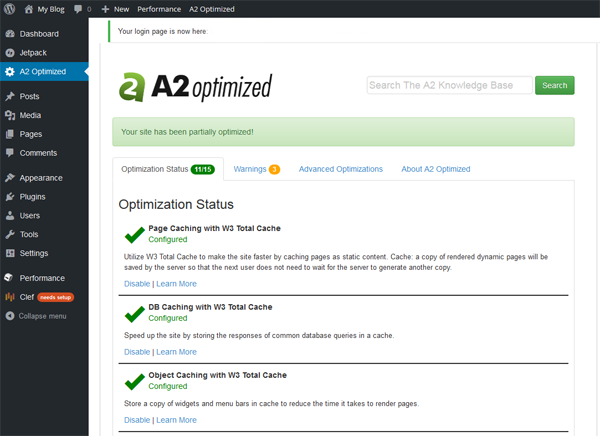 A2 Optimization Includes:
Page Caching
Database Caching
Object Caching
Browser Caching
Minify HTML Pages
Minify CSS Files
Minify JS Files
Gzip Compression
Compress Images
And More
The A2 Optimized WP plugin incorporates other plugins such as W3 Total Cache and EWWW Image Optimizer. In fact, your A2 WordPress installation includes the following plugins: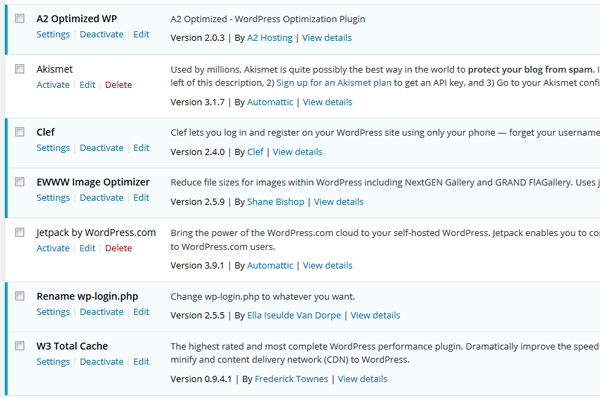 Does Turbo Server Make a Difference? Yes!
My A2 Hosting Swift Server hosting plan provides excellent performance and speed. However, I was very interested to see how much of a difference opting for a Turbo Server A2 Hosting plan would make. Along with the A2 Optimized environment, I enabled the Turbo Cache and Memcached options. I also implemented the free Cloudflare CDN that comes with your A2 Hosting plan. The difference was immediate and the results amazing.
Here are some of the test results I received after switching to A2 Hosting:


A2 Hosting Turbo Server Even Better Now with QUIC
If 20x faster page loads, more resources, fewer users per server, solid state drives, and A2 Hosting's optimized environment aren't enough for you, the A2 Hosting Turbo Servers now utilize the QUIC protocol for even better performance. QUIC (QUICK UDP Internet Connections) is a better alternative to the standard TCP (transmission control protocol). QUIC provides faster page loading with lower latency. Unlike TCP, QUIC utilizes multiplexed connections between computers, meaning the multiple round trips between communicating computers are eliminated. Our results have been outstanding.
New Turbo Hosting Platform for 2022
And for 2022, A2 Hosting has now improved their Turbo Hosting platform to provide even better results. A2 now utilizes AMD EPYC Servers and NVMe drives on their Turbo Servers which results in faster CPU performance, faster read/write speeds, faster to first byte, and the ability to handle 9x more traffic.
A2 Hosting now offers two Turbo Server plans: Turbo Boost and Turbo Max. Turbo Boost includes all of the advantages that A2's Turbo Servers have always provided along with the new improvements I mentioned above. Turbo Max includes everything you get with Turbo Boost plus more physical memory and more cores—5x more resources.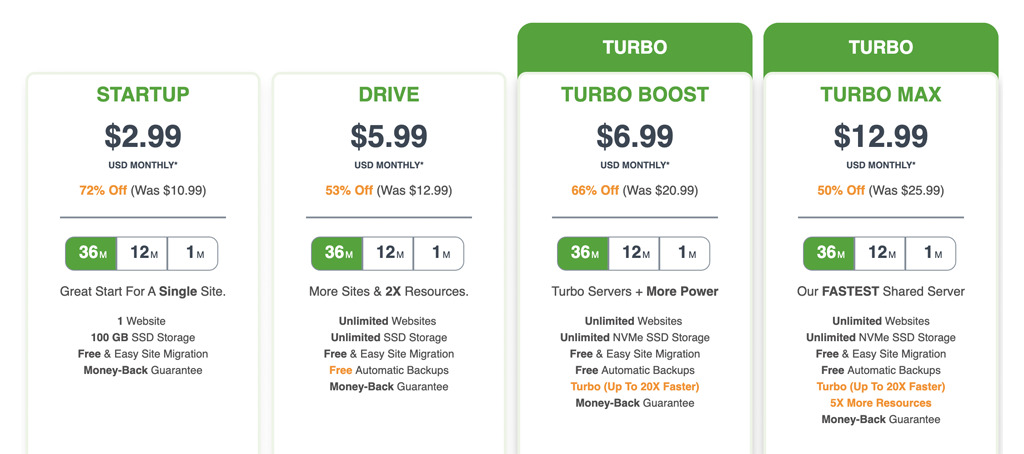 Website Speed
UPDATE: A2 Hosting continues to amaze us with their lightning fast website speed and performance. Not only am I impressed with the outstanding performance of our website, but we're equally excited about the results we've seen in our separate testing of A2 Hosting. Take a look at some of the data below. A2 has produced some of the fastest speed times that we've ever experienced.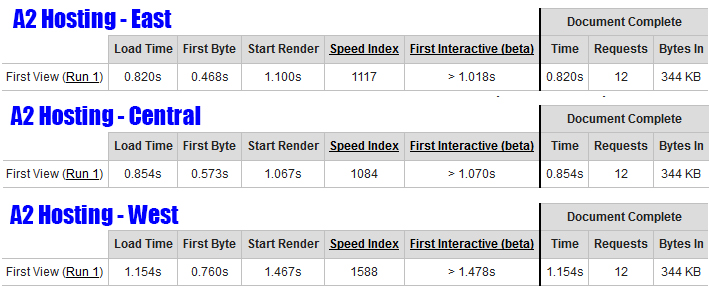 UPDATE: And in 2022, A2 Hosting is still posting impressive website speeds.
Get a Faster Website with A2 Hosting
In this video I show how we significantly increased our website speed with A2 Hosting by combining their Turbo Server, optimized WordPress environment, and Cloudflare CDN.

Extra Security Protection
Website security is more important than ever these days. And A2 Hosting provides perpetual security with their free HackScan protection, dual firewall, brute force defense, virus scanning, and security monitoring. But that's not all they provide. With their Patchman Enhanced Security Tool, software vulnerabilities and malware can be detected and the appropriate action taken. I'm definitely impressed with A2 Hosting's security features.


A2 Hosting Now Includes Website Staging


And here's more good news from A2 Hosting! A2 now includes website staging for WordPress and Joomla sites. With staging, you can create a copy of your live site and test out changes on the staging site—without affecting your production site. Then, when you're satisfied that your new changes are working properly and everything is okay, you can push these changes out to your live website.
Staging is usually only included in more expensive managed hosting plans, so it's great to see A2 including it at no additional cost. And, it's another reason why A2 Hosting definitely rivals the best managed web hosting providers.
New VPS Hosting Plans for 2022
A2 Hosting has also revamped their lineup of VPS Hosting plans. The new faster VPS Hosting packages include the new Turbo Server platform that I mentioned above. Plus, you get a similar environment and benefits of a dedicated server at a much lower cost. You get your own allocated resources that give you more scalability, control, and customization.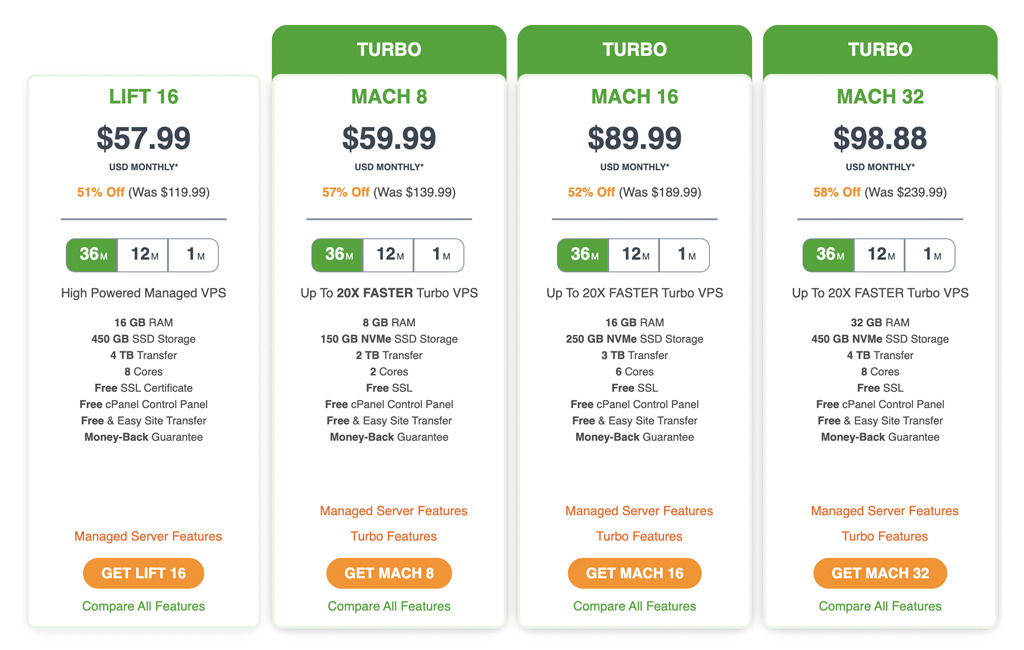 Customer Support
A2 Hosting refers to their customer support staff as the Guru Crew. A2 provides 24/7/365 U.S. based Guru Crew support via live chat, support ticket, phone, and email. I have found the Guru Crew support to be excellent with fast response times and helpful Guru Crew members. Here is a sample of one of my live chat support sessions.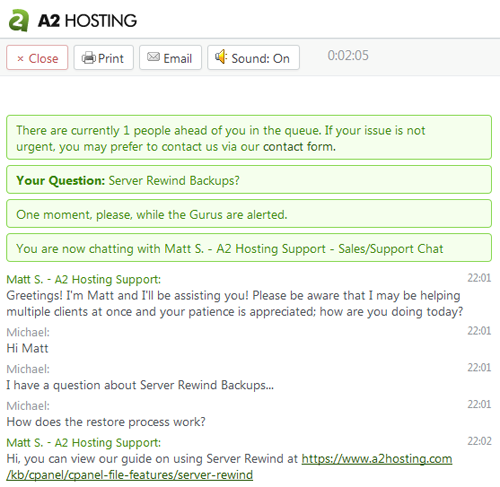 UPDATE: A2 Hosting continues to provide excellent, professional customer support. In my experience, most of the time the first line support team members of the Guru Crew are more than capable of resolving problems. However, on those few occasions where you may need to escalate an item to the advanced Guru staff, the customer support is even more impressive. When I interviewed A2 Hosting's Support Supervisor Ryan Flowers, he talked about the Guru Crew and how they prefer to utilize support tickets to resolve issues and provide the best results for their customers. My own experience definitely validates his comments. When I recently had an issue with PHP, the advanced staff immediately resolved the issue. Great job Ryan and Crew!
How Does A2 Hosting Compare with Other Web Hosts?
A2 Hosting vs Bluehost
This comparison between A2 Hosting and Bluehost isn't quite as close as it once was. Both of these web hosts provide excellent cPanel web hosting plans…
A2 Hosting vs DreamHost
This comparison between A2 Hosting and DreamHost focuses in large part on the WordPress hosting features and performance of their hosting plans…
A2 Hosting vs GoDaddy
While GoDaddy offers many products and services (including domain name management), this comparison focuses completely on the web hosting plans offered by A2 Hosting and GoDaddy…
A2 Hosting vs GreenGeeks
A2 Hosting and GreenGeeks are truly two of the top choices for multiple domain web hosting. But whether you need to create multiple websites or just one, it's definitely a close call as to which is better…
A2 Hosting vs HostGator
How does A2 Hosting compare with HostGator? As it turns out, A2 Hosting more than holds its own against the competition here…
A2 Hosting vs InMotion
The good news when comparing A2 Hosting and InMotion Hosting is that it's a win-win situation for you. Both of these web hosting companies provide excellent website hosting with outstanding support…
A2 Hosting vs InterServer
Here's another comparison matchup of two excellent web hosting companies I both use…
A2 Hosting vs Jaguar PC
In this comparison we take a look at how A2 Hosting compares with Jaguar PC. With both A2 and Jaguar, you get a hosting plan that is…
A2 Hosting vs Liquid Web
How does A2 Hosting compare with Liquid Web? Here is an interesting comparison between two outstanding web hosting companies…
A2 Hosting vs Site5
In this comparison, we take a look at A2 Hosting and Site5. While these two web hosts have similar structured hosting plans (basic, advanced, and turbo), in our opinion one of them is clearly superior to the other…
A2 Hosting vs SiteGround
Comparing A2 Hosting and SiteGround is an extremely close call. They both provide many unique features that provide outstanding web hosting performance…
A2 Hosting vs Web Hosting Hub
There are some definite similarities with these two hosting companies—with both their hosting plan structures and target customer base…
A2 Hosting vs Wix
How does A2 Hosting compare with Wix? This comparison between a traditional web hosting plan and a website builder package takes a look at A2 Hosting's Turbo Server Hosting plan versus Wix's website packages…
Recommendation
For high speed hosting or WordPress sites, A2 Hosting is a great choice. Based on my experience, they provide hosting plans with all of the important features you'll need for your site. And I've found the combination of their Swift and Turbo Server platforms, optimized WordPress environment, and excellent Guru Crew customer support makes A2 Hosting a top web hosting provider.
So, to sum it all up: Swift and speedy servers and hardware; Optimized environment for WordPress; Free CloudFlare CDN for faster page loading; SEO and marketing tools to get you listed in Google; and great customer support from the Guru Crew. It all adds up to being one of my favorite web hosts.