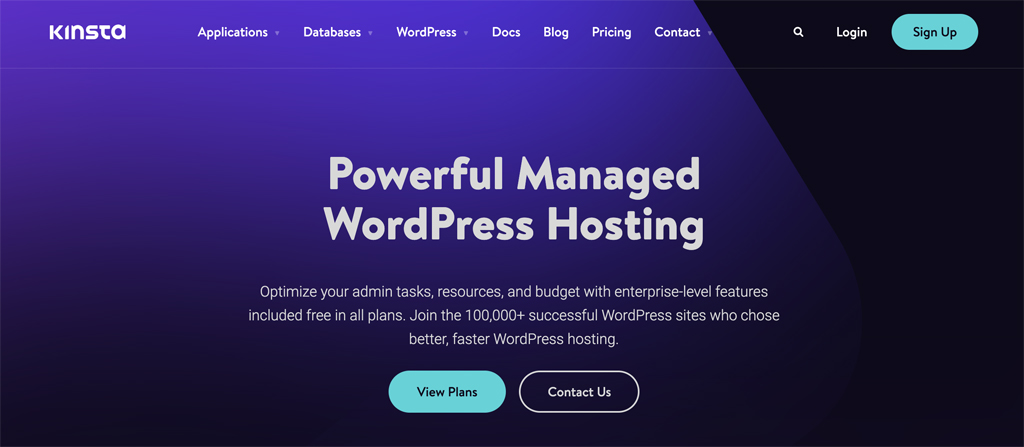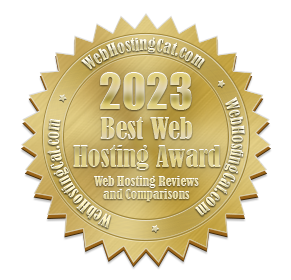 Is Kinsta really that good? Is Kinsta hosting worth the price? If you're looking for premium managed WordPress hosting, you'll want to read my Kinsta Review here. Over the years, we've reviewed quite a few managed WordPress hosting options. And, from my personal experience I can tell a great WordPress host from the wannabes. Here's how Kinsta performs and stacks up with the competition.
> Try Our #1 Recommended Premium WordPress Host
Kinsta Background
Founded in 2013, Kinsta's goal was and continues to be to provide the best WordPress hosting platform in the world—particularly for those website owners dissatisfied with the status quo WordPress hosting offerings. And, while we're focusing primarily on their WordPress hosting in this review, keep in mind that Kinsta also offers Application and Database hosting services (see below for more information on these).
Kinsta Hosting Plans

Kinsta offers 10 different managed WordPress hosting plans:
Starter (1 Install)
Pro (2 Installs)
Business 1 (5 Installs)
Business 2 (10 Installs)
Business 3 (20 Installs)
Business 4 (40 Installs)
Enterprise 1 (60 Installs)
Enterprise 2 (80 Installs)
Enterprise 3 (120 Installs)
Enterprise 4 (150 Installs)
Prices range from $35 mo. (Starter) to $1650 mo. (Enterprise 4). Note that you can get two free months of hosting by signing up for an annual plan. All plans come with a 30 day money-back guarantee. And, you can get your website migrated to Kinsta for free.
While Kinsta's prices may seem high at first glance, keep in mind that they offer premium managed WordPress hosting that is designed for critical website applications that require more than what a general shared hosting plan provides. You should also consider that Kinsta includes many premium features that you would have to pay extra for with other WordPress hosts. See the Features section below for more details.
Kinsta Features
Choose From 35 Different Data Centers
Data Centers in US, CAN, EUR, Asia, Australia, South America
Powered by Google Cloud Platform
24/7/365 Expert Customer Support
Free Kinsta CDN with 275 Locations
Edge Caching for Reduced Load Times
Cloudflare Integration Security
Auto Wildcard SSL
DDoS Protection
Server-Level Full Page Caching
Custom Designed Dashboard
Analytics Reports
Automatic Daily Backups
Website Staging
Application Performance Monitoring
Free Hack Fixes
DevKinsta for Free Local WordPress Development
Free Site Migration
30 Day Money Back Guarantee
I am very impressed with the features that Kinsta includes with their hosting plans—quite possibly the best overall collection of features for a premium WordPress hosting plan. All of the features you would expect and need from premium managed WordPress hosting are there—and more.
It starts with being able to choose your data center locations—and we're not just talking about 2 or 3 choices here! Kinsta has data centers around the world in 35 different locations. So, whether you're in the U.S., Canada, Europe, Asia, Australia, or South America, you can choose a server location that is closer to your own location.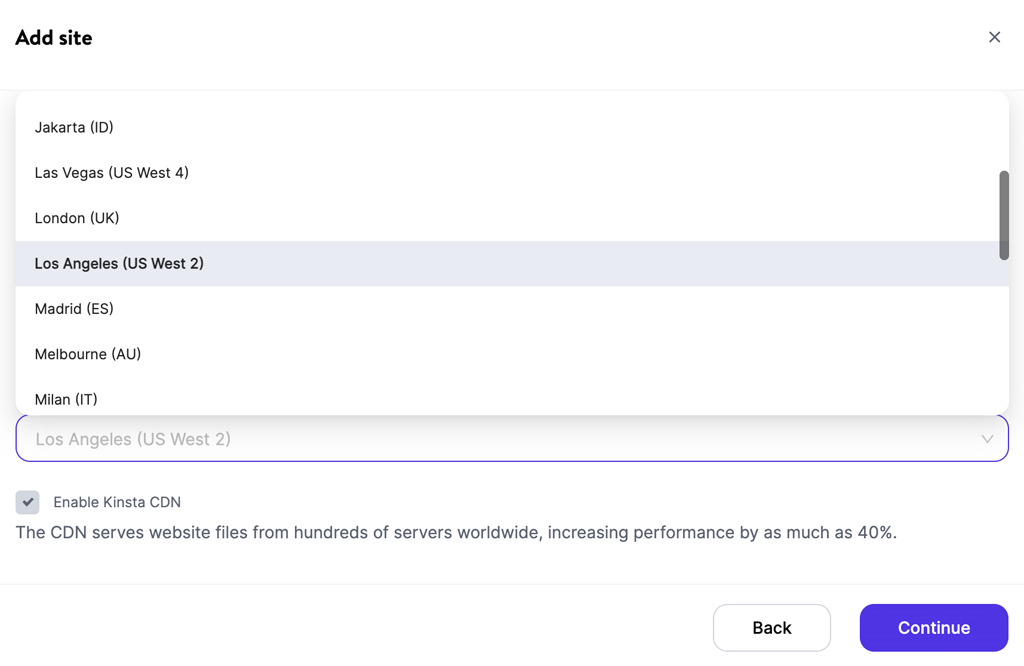 Having your website on a server closer to your area can help speed up your site. And, while we're on the subject of website speed, Kinsta is powered by Google Cloud Platform and includes their Kinsta CDN to help speed up your websites even more. Currently, Kinsta's CDN has 275 locations. See the Website Speed and Performance section below for more details.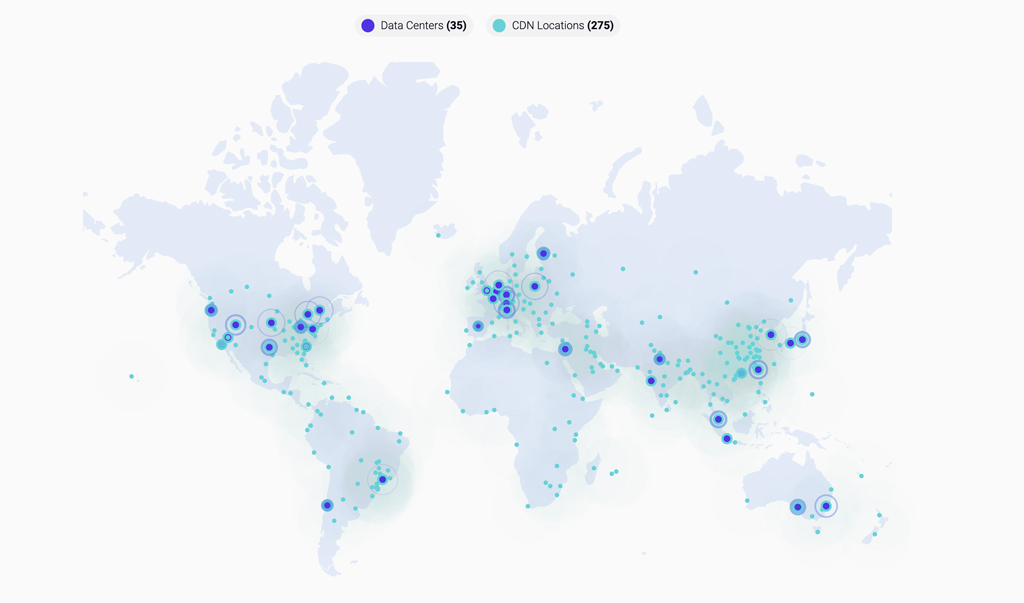 Edge Caching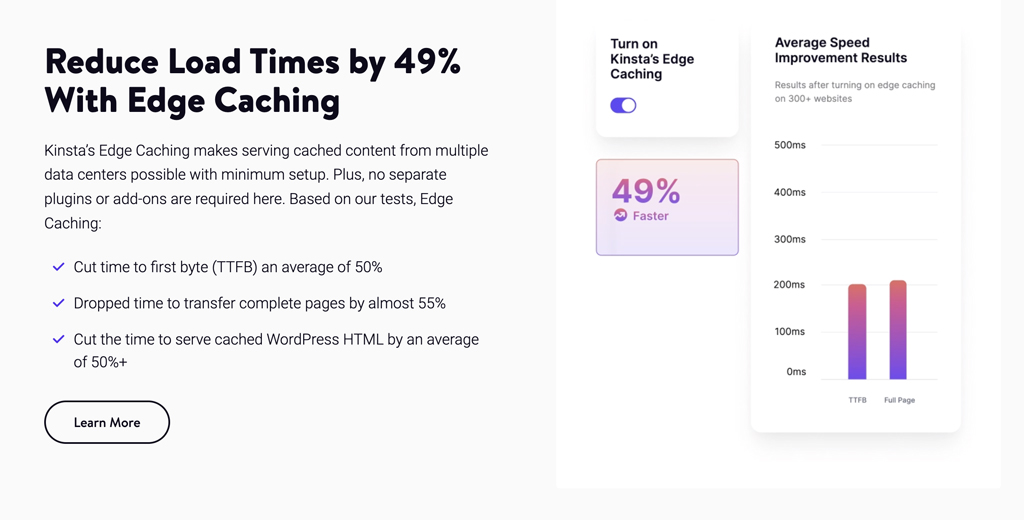 Edge Caching is definitely one of Kinsta's best features. Kinsta's Edge Caching technology allows your website content to be served from multiple data centers—greatly reducing your page load times and speeding up your website performance. Edge Caching reduces your sites TTFB (Time to First Byte) and complete page transfer times by an average of 50% or more.
What's also great about Kinsta's Edge Caching is that it's super easy to implement, and it eliminates the need to install plugins for caching and performance.
DevKinsta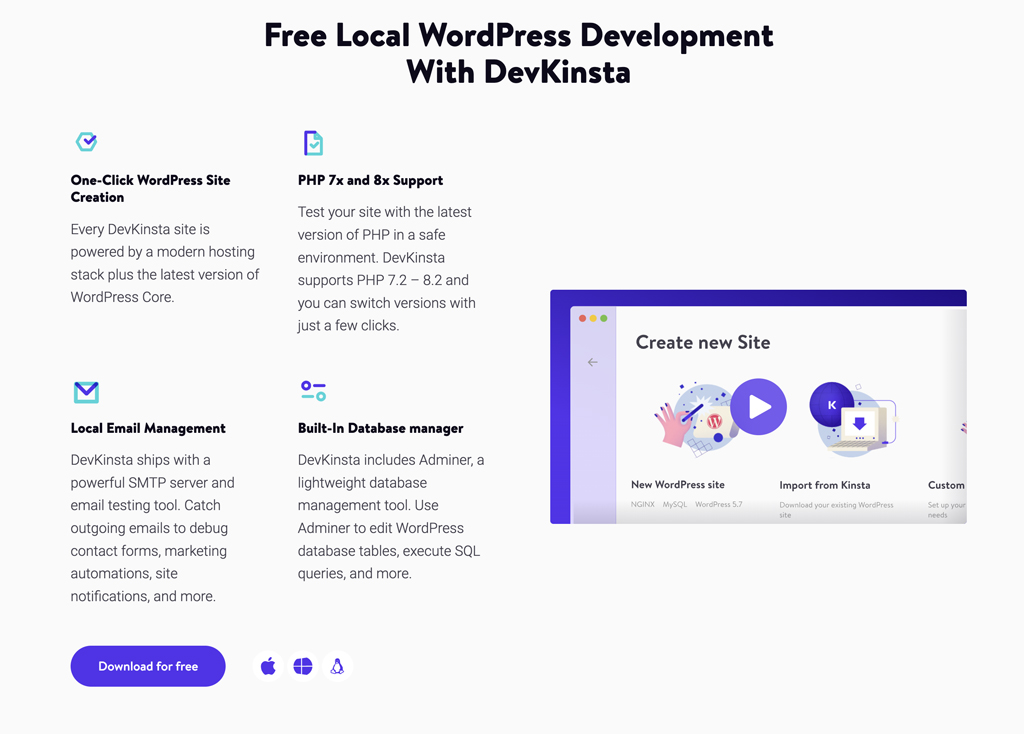 Another Kinsta feature that deserves mentioning is their DevKinsta local WordPress development environment that is free to use. WordPress developers will really appreciate the ability to easily create sites and test changes out in a safe environment. DevKinsta includes an SMTP server for testing out email messages, and a built-in database manager tool.
Application Hosting
I mentioned earlier about Kinsta's Application and Database Hosting services. If you're a developer that needs hosting to deploy your applications, Kinsta offers a good selection of application pods, build machines, and bandwidth options. Kinsta's Application Hosting is suitable for most languages such as Node.js, Ruby, Python, Java, Scala, PHP, and Go.
You can click here to try it out for free.
Database Hosting
If you specifically need database hosting for your applications, Kinsta's offers multiple Database Hosting plans depending on how much CPU, RAM, and Storage you need. Kinsta's Database Hosting is suitable for MariaDB, MySQL, PostgreSQL, and Redis.
Some of the other notable features you get with Kinsta are Cloudflare Security, website staging, daily automatic backups with manual backup options, and Kinsta's custom dashboard with analytics.
Kinsta Signup and Website Propagation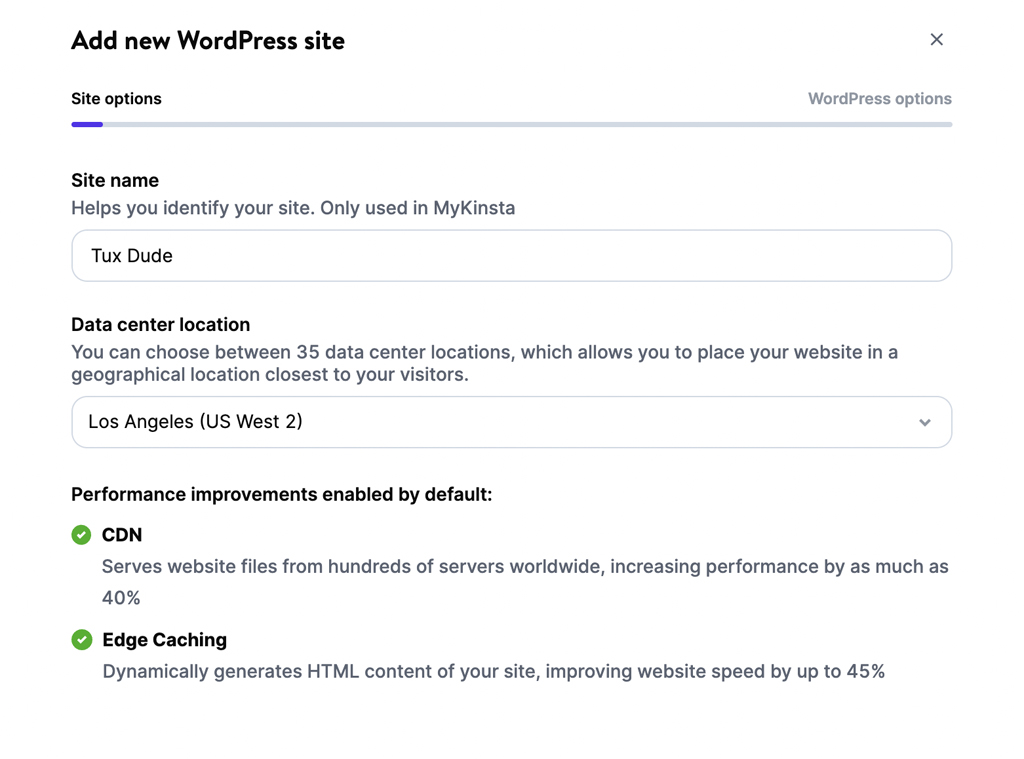 So, let's get started with our Kinsta test results.
I found the signup process at Kinsta to be very easy. Just enter your website information and select your data center location. You'll see that the CDN and Edge Caching options are enabled by default for better performance. Website propagation time is very good. I really like how Kinsta displays a popup checklist on the right side of your screen to guide you through the process of testing your site adding and pointing your domain to Kinsta, etc.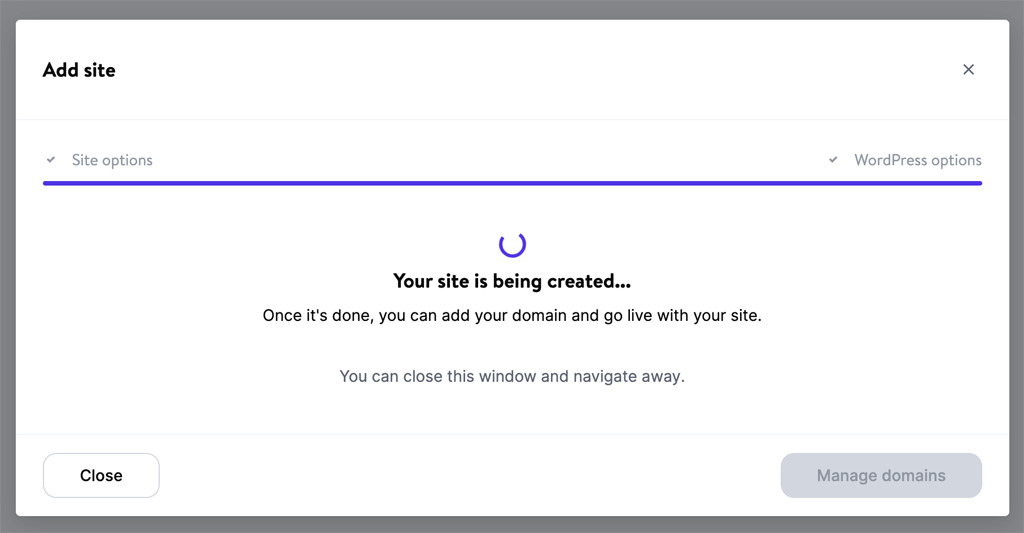 Working within the Kinsta Dashboard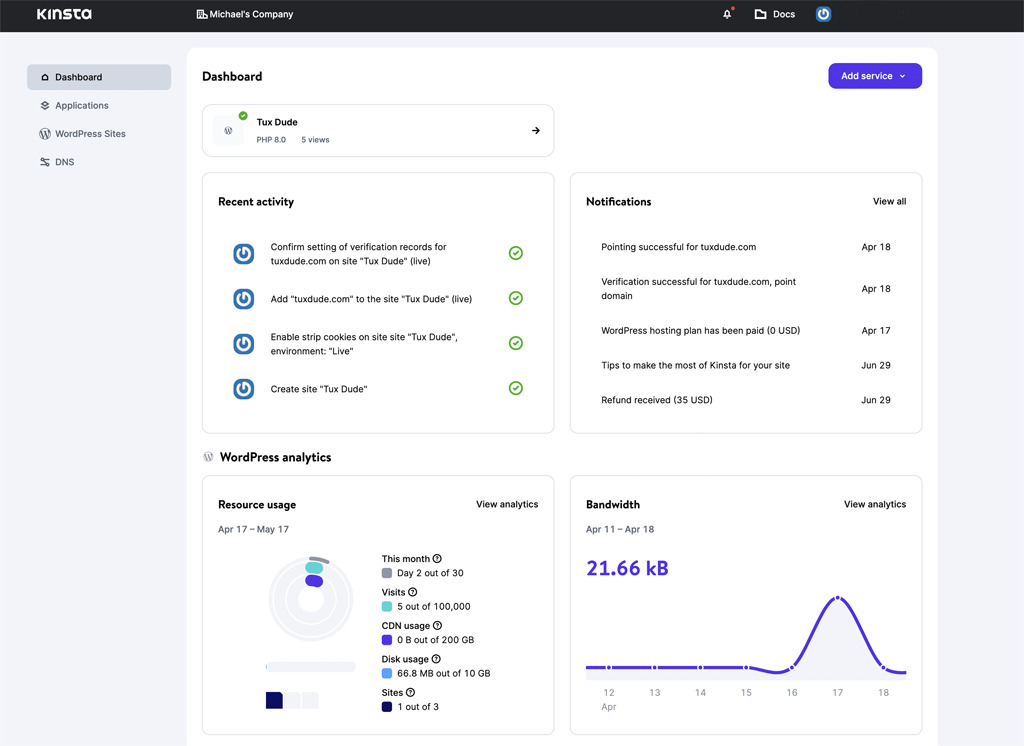 The Kinsta dashboard is very intuitive and easy to use, with easy access to your domains, data backups, CDN, analytics, and your other tools. It was easy for me to find any functionality I needed right away. The only slight exception is that if you want to actually view your website, you need to go to your sites and then click on Domains to get the link. It's not a big deal once you know about it.
Website Speed and Performance
Kinsta produced excellent speed and performance results in our testing. Kinsta utilizes the Google Cloud Platform and full page caching at the server level together with Kinsta's CDN and Cloudflare Infrastructure. Add in their Edge Caching technology and the results are fast loading websites that run very efficiently.
What's also impressive about Kinsta is that you can choose your server location from 35 different data center locations. It makes it very easy to select a server located closer to you for faster website performance.
Here are some sample speed test results from GTmetrix:

As you can see from the above data, when it comes to website speed and performance, Kinsta is one of the very best WordPress hosts! The Performance Metrics are particularly impressive.
Website Security
Security is always one of the most important parts of maintaining a successful website. And, Kinsta is definitely on top of things here. With Kinsta's hosting plans, you get Cloudflare Integration Security that includes Wildcard SSL certificates, DDoS protection, Two-Factor Authentication, hack and malware removal, and a 99.9% uptime guarantee.
Automatic Data Backup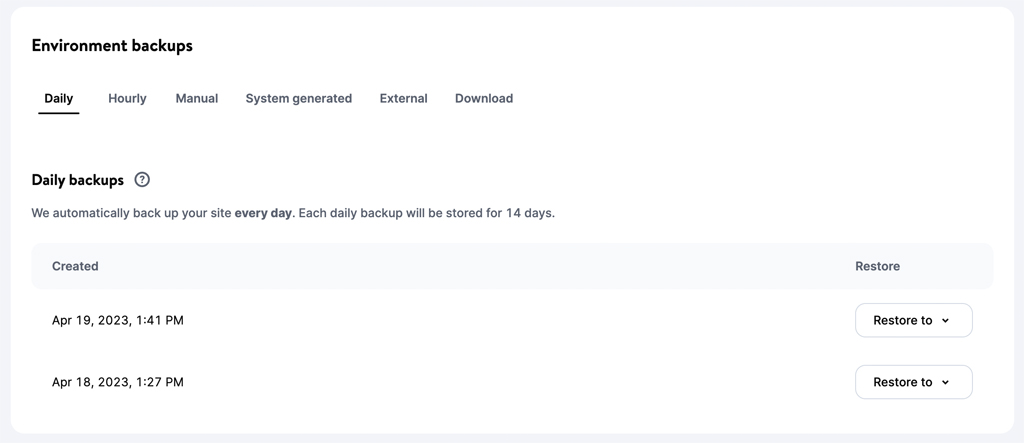 With Kinsta, you get automatic daily data backups of your website environment. You can restore your data from the last 14 backups. Additionally, you can also create up to 5 manual data backups whenever you need to.
And, if you want to download an archive copy of your website, you can create a downloadable backup once per week.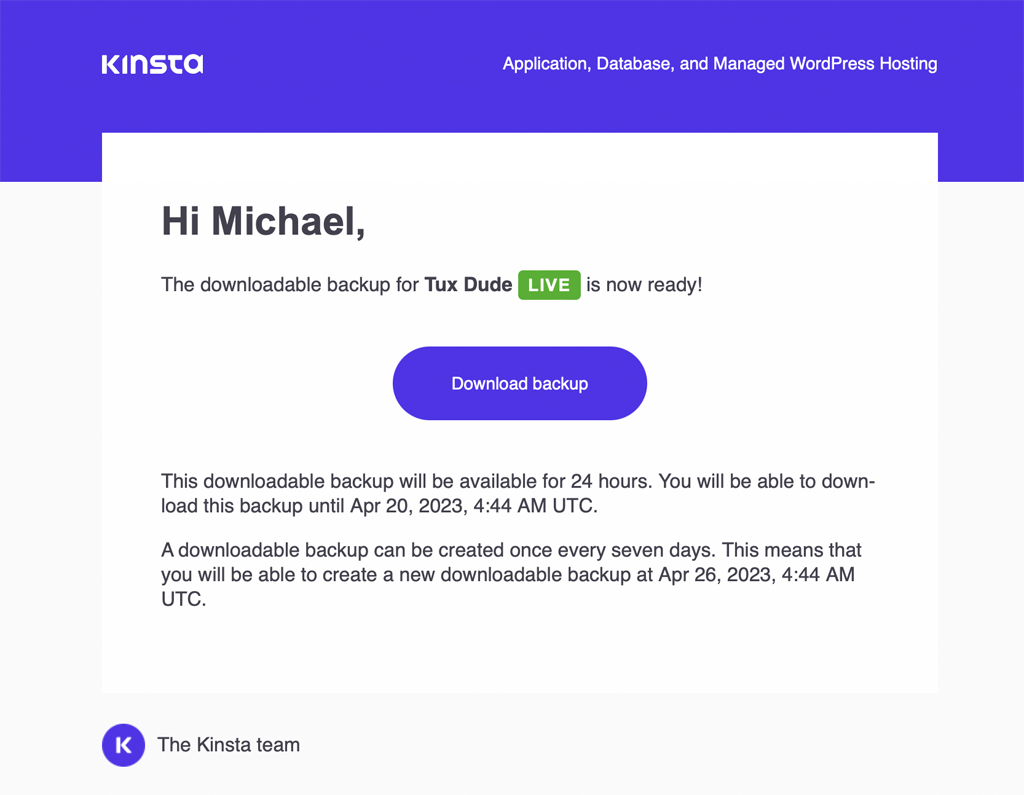 More frequent backups or a longer backup retention period are available for additional fees. For most WordPress users, the default backup features are fine.
I found Kinsta's Backup and Restore functionality very quick and easy to use.
Website Staging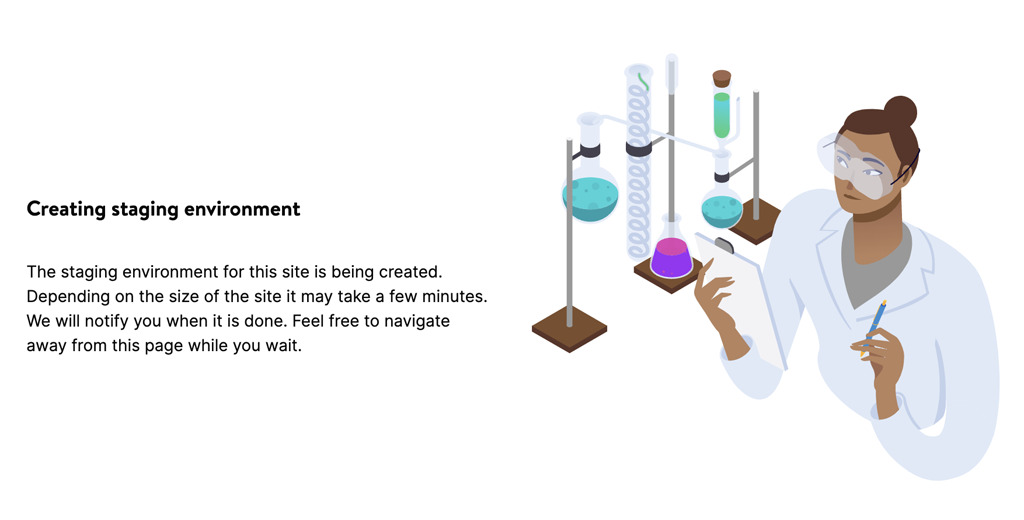 Kinsta includes easy to use website staging with your hosting plan. I found the process very intuitive and was able to create my staging environment then push my changes back to my live website quickly and easily. Kinsta has done a great job here, and staging is one of their best features.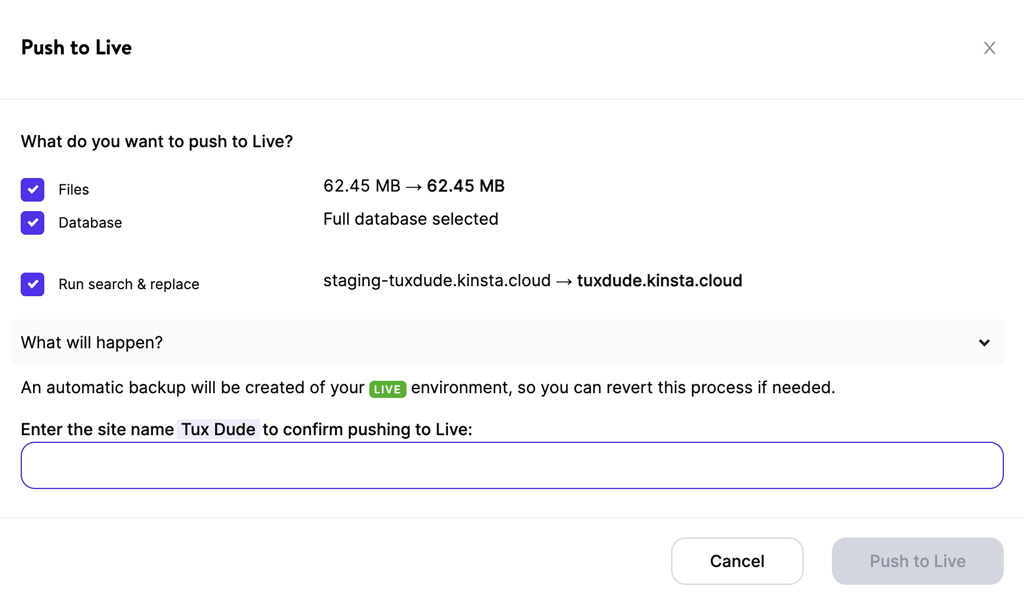 Kinsta Customer Support
Customer support at Kinsta is outstanding. Kinsta provides 24/7 expert WordPress customer support. I've found the live chat response times to be excellent and the support staff to be very courteous and helpful in answering questions and resolving any issues. Here is a snippet of a recent live chat support conversation: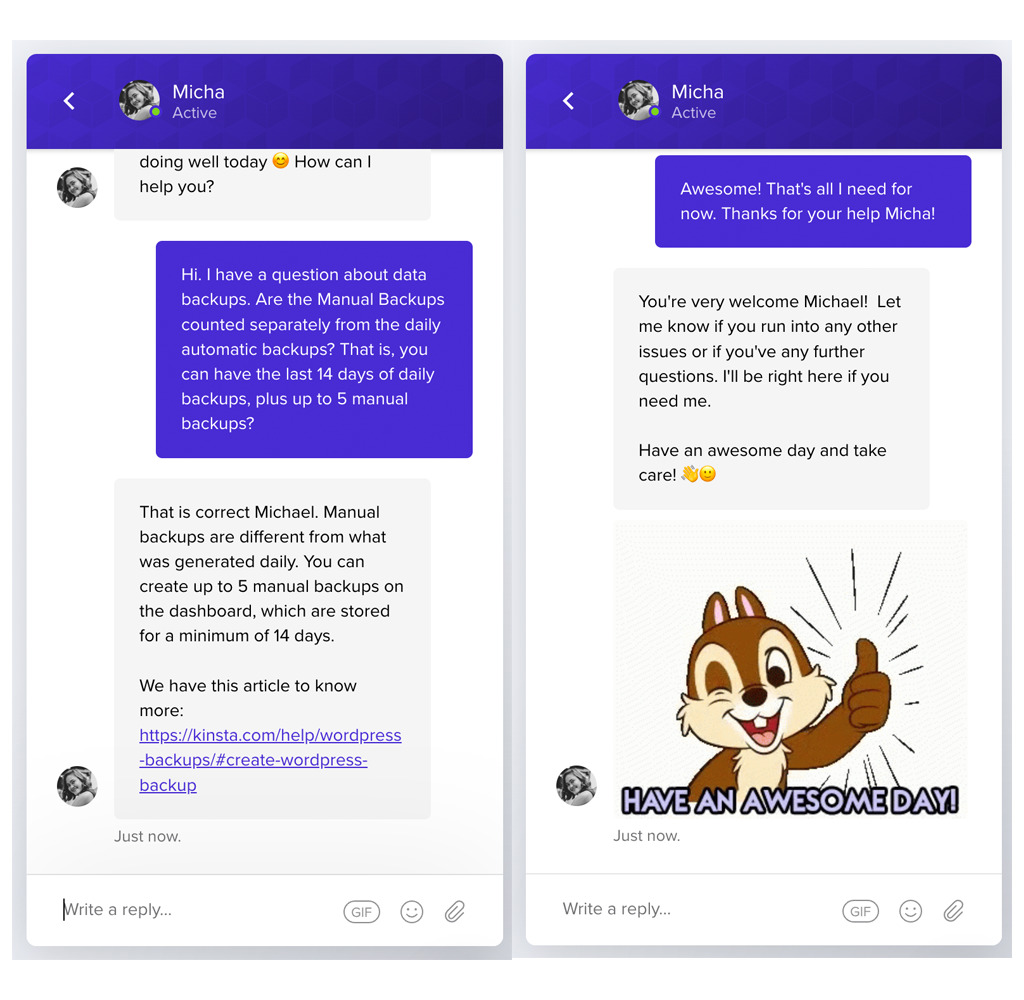 How Does Kinsta Compare with Other WordPress Hosting?
So, how does Kinsta rate against some of the other top WordPress hosting providers? Here are links to our comparisons matching Kinsta with their competition.
Kinsta vs Bluehost
Kinsta vs DreamHost
Kinsta vs Nexcess
Kinsta vs SiteGround
Kinsta vs WP Engine
Kinsta vs WPX Hosting
Recommendation
Kinsta is definitely one of the best managed WordPress hosting providers. In fact, I would put them at the top of the list for those that need WordPress hosting for websites that require premium features and support. In addition to hosting for your vital websites, Kinsta is also an outstanding choice for WordPress developers and agencies. While Kinsta may not be the best fit for beginners with a lesser budget, I would definitely recommend Kinsta to experienced WordPress site owners looking for better WordPress hosting.