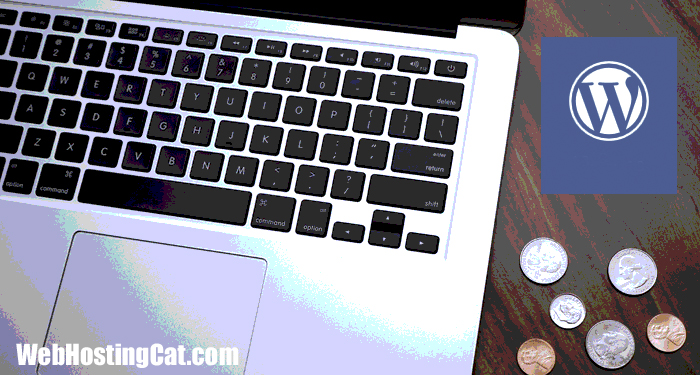 Are you looking for the Best Cheap WordPress Hosting? These days, cheap doesn't necessary equate to low quality. On the contrary, there are some excellent WordPress hosting plans you can get without breaking the bank. In fact, some of them even rival more expensive managed WordPress hosting plans. In this article, we'll take a look at 8 top choices for cheap WordPress hosting.
Best Cheap WordPress Hosting Plans
WordPress continues to dominate the content management system field, now powering about half of the internet. Besides being the best blogging platform, WordPress has continued to expand its capabilities so that it is now a legitimate platform for many types of website applications. And since a WordPress site can be created quickly and easily, it's ideal for both beginners and experienced website owners.
WordPress Hosting also continues to grow in popularity with almost all web hosting companies offering a hosting plan specifically tailored for WordPress. WordPress hosting is available in all levels—from basic plans all the way up to premium managed WordPress hosting. In this study, we take a look at the best Cheap WordPress Hosting options. Keep in mind that here we are only considering lower cost WordPress hosting plans. For premium managed WordPress hosting plans, see this article.
Key WordPress Hosting Features
A quality WordPress hosting package—even a cheap WordPress hosting plan—should include the following key features.
Easy WordPress Installation
Installing WordPress manually can be somewhat tedious. However, many web hosts now provide one-click installation of WordPress with cPanel and the Softaculous application installer—which greatly simplifies the process. And, if that still isn't easy enough, some web hosting companies will even pre-install WordPress for you when you sign up.
Website Speed
Because WordPress isn't always the fastest software application out of the box, it's important that your web hosting plan includes added features such as optimized caching to speed up page loading times, multiple data centers, and a content delivery network.
WordPress Security
Like all applications, security is extremely important for WordPress users. In addition to proactive security measures such as malware scanning and DDoS protection, WordPress has a number of excellent plugins that can be added to your site for extra security.
WordPress Website Backups
You should always make sure to perform your own data backups at certain points. There are a number of methods to perform WordPress backups—manually back up your files and database, use a plugin to perform backups, or use an outside service. As an added layer of protection, you should always make sure that your WordPress hosting plan includes automatic backups of your website.
HTTPS – Free SSL
Utilizing https is now a must for all WordPress websites. Google and the web browsers are now flagging all sites that don't use https as unsafe, so you definitely want to use SSL (TLS). In the past, it could be expensive to purchase an SSL certificate for using https. However, because of its importance these days, you can now find web hosting plans that include free SSL certificates with your hosting plan.
WordPress Support
Customer support is a vital component of any WordPress hosting plan. Always make sure your web hosts provides phone, email, and live chat support options 24/7.
Cheap WordPress Hosting Plans
I am currently using or have used the following web hosting companies for my WordPress sites, so I have personal experience with each one of them.
Hostinger


$1.99 mo.
Hostinger is one of the best options for cheap web hosting as they also offer low renewal rates. And, they also include WordPress features such as easy installation, site builder wizard, automatic updates, and LiteSpeed Cache.
WordPress Features:
Easy WordPress Install
Site Builder Wizard
LiteSpeed Cache
Automatic Updates
Low Renewal Rates
A2 Hosting


$2.99 mo.
When it comes to optimized WordPress hosting that is also affordably priced, A2 Hosting is certainly one of the web hosts at the top of the list.
WordPress Features:
Pre-Installation of WordPress
Or 1 Click WordPress Install
A2 Optimized WordPress Environment
A2 Enhanced Security
Unlimited Websites
Unlimited Storage
Unlimited Data Transfer
Unlimited Email
Server Rewind Backups
Automatic WordPress Updates
Free ManageWP Account
Free Let's Encrypt SSL Certificates
Responsive Guru Crew Support
A2 Hosting is ideal for WordPress hosting as they really focus on providing fast hosting solutions and an optimum WordPress environment for speed and security. We switched to A2 Hosting this year, and are extremely happy with our decision. Our website speed has greatly increased and our site has been performing excellently. The customer support team at A2 Hosting, named the Guru Crew, has consistently provided very responsive and helpful assistance.
A2 Hosting includes absolutely everything you need for a successful WordPress website. To begin with, you can get WordPress pre-installed. Then they provide all the features you need to speed up and secure your WordPress site with their A2 Optimized environment, automatic updates, and proactive security. But, you also get Server Rewind Backups that give you the past 30 days of backup versions to restore from. And because https is a must these days, with A2 Hosting you get free SSL certificates.
InMotion Hosting

$2.29 mo.
I've personally used InMotion Hosting since 2009, and continue to do so based on their outstanding features, performance and support. InMotion continues to provide quality web hosting for WordPress users. While they also feature a managed WordPress hosting plan that is very affordable, their Business Hosting plans continue to provide excellent WordPress hosting.
WordPress Features:
Pre-Installation of WordPress
Or 1 Click WordPress Install
Max Speed Zone Technology
Unlimited Disk Space
Unlimited Bandwidth
Unlimited Email
Includes BoldGrid Site Builder
Automatic WordPress Updates
Proactive Security
Free Comodo AutoSSL
Responsive Customer Support
When it comes to web hosting—especially WordPress hosting, InMotion continues to be one of the best. WordPress continues to be a major focus for InMotion Hosting. Not only do they offer pre-installation of WordPress, but they also provide automatic updates and proactive security.
What separates InMotion from the competition is their inclusion of BoldGrid—a WordPress website builder that simplifies and speeds up the process of creating a professional looking WordPress site. And, if you plan to use WordPress to create an eCommerce site, InMotion Hosting now offers free AutoSSL certificates from Comodo.
GreenGeeks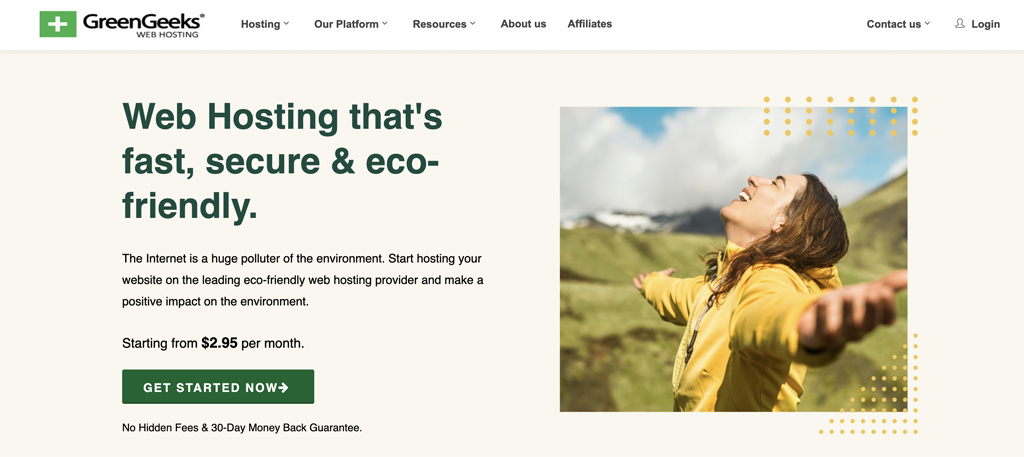 $2.95 mo.
While GreenGeeks is a great all around hosting plan for a number of different website platforms, WordPress is indeed one of their main focuses. GreenGeeks is a global sponsor of WordCamp conferences. They not only provide great affordable WordPress hosting, but as their name implies, GreenGeeks is the leader in green web hosting practices to help save our environment.
WordPress Features:
1 Click WordPress Install
Unlimited Websites
Unlimited Web Space
Unlimited Data Transfer
WordPress Optimized Servers
Advanced Security
Automatic WordPress Updates
Free Daily Backups
SiteGround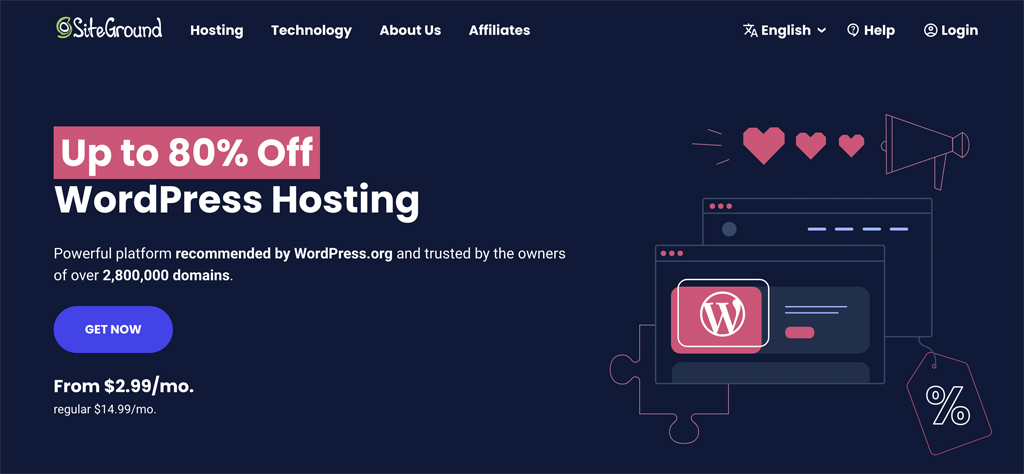 $2.99 mo.
SiteGround has long provided managed WordPress hosting at much lower costs than other managed hosting providers. However, they continue to improve and offer innovations with their hosting platform and features.
WordPress Features:
1 Click WordPress Install
Unmetered Traffic
Unlimited Email
Automatic WordPress Updates
WordPress SuperCacher
WordPress Advanced Security
30 Backup Copies Available
Free CDN
Free Let's Encrypt SSL
Extensively Trained Support Staff
SiteGround is definitely a top option for WordPress hosting if you can't afford the more expensive managed WordPress plans from other web hosts. Yes, they do provide automatic WordPress updates. However, if you are concerned about needing some extra assistance, you'll be pleased to know that SiteGround requires their support agents to go through some rigorous training before they're even allowed to assist customers. I can tell you from personal experience that SiteGround's support is among the best available.
WordPress performance is also a big priority with SiteGround. The proprietary SuperCacher technology really helps to speed up your WordPress sites there. The security and data backup features are also excellent.
Bluehost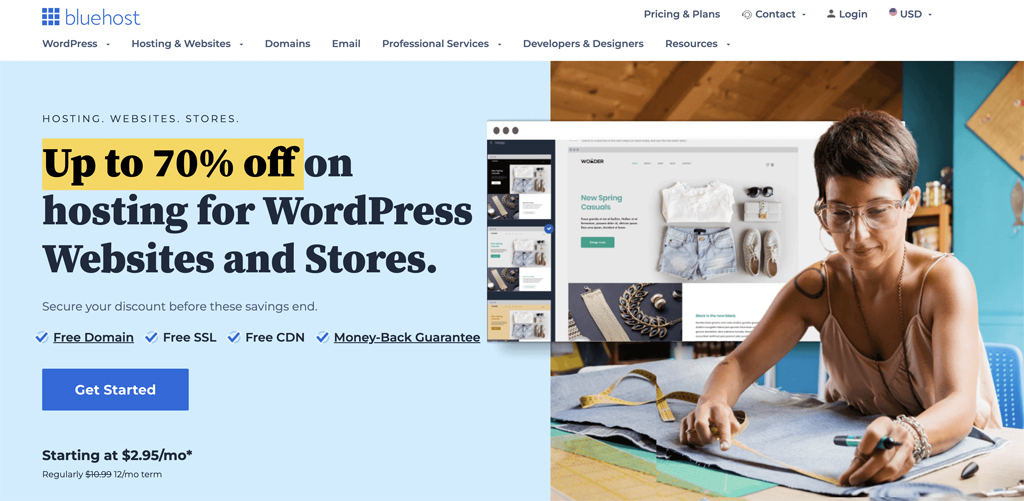 $2.95 mo.
I continue to be amazed with the reaction to Bluehost. People either love them or hate them. In either case, they do provide an affordable hosting plan that includes WordPress. And in my opinion, they continue to be a good choice for new WordPress users.
WordPress Features:
1 Click WordPress Installs
2 WordPress Website Builders
Customized WordPress Dashboard
Unlimited Websites
Unmetered Storage
Unmetered Bandwidth
Unlimited Email
DreamHost

$2.59 mo.
DreamHost has focused on WordPress hosting longer than most web hosts. While they now have their DreamPress managed hosting plan, their more affordable shared hosting plan is also ideal for WordPress sites. They also have one of the better WordPress website builders that make things easier for beginners.
WordPress Features:
Recommended by WordPress.org
WordPress Pre-Installed
Unlimited Storage
Unlimited Bandwidth
Unlimited Domain Hosting
Free Let's Encrypt SSL
Free Domain Privacy
WordPress Website Builder
InterServer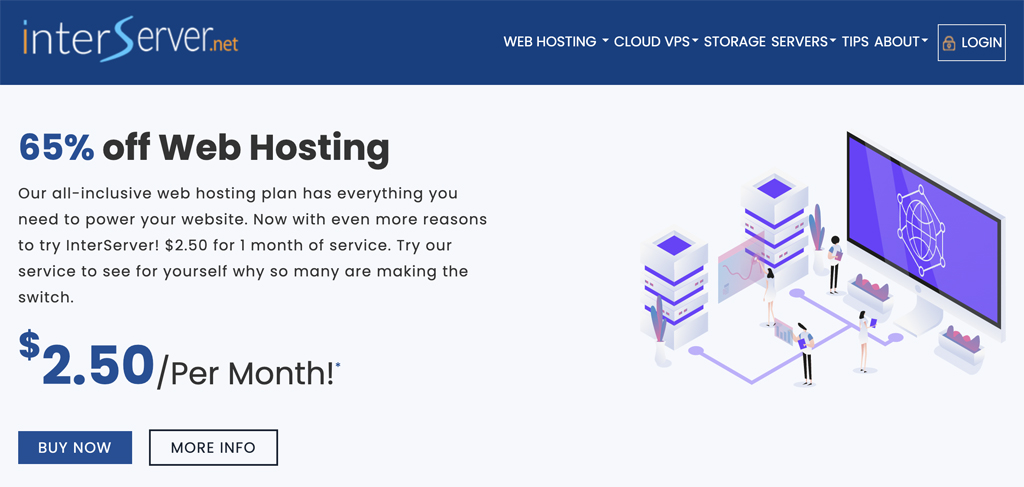 $2.50 mo.
InterServer remains a solid choice for budget web hosting. Their basic hosting plan also includes WordPress. One of the benefits with InterServer is that unlike some hosting companies, you don't have to worry about skyrocketing renewal rates.
WordPress Features:
1 Click WordPress Install
Unlimited Websites
Unlimited Storage
Unlimited Data Transfer
Unlimited Email
Free Cloudflare CDN
Free SSL Certificates
Automatic WordPress Updates
Weekly Data Backups
Cheap WordPress Hosting Recommendations