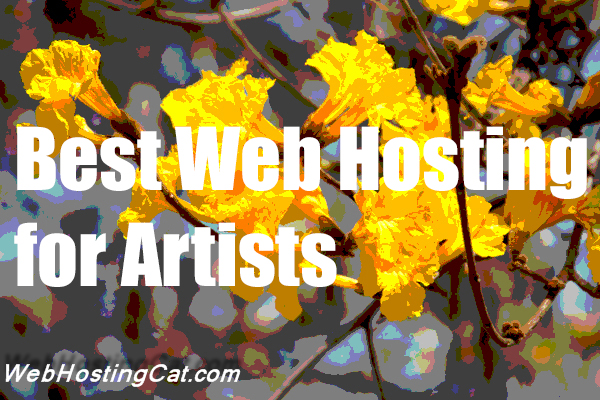 UPDATE 2016: As with everything else, web hosting has continued to evolve since we first published our recommendations for artist's website hosting. Here are some updated thoughts along with our new recommendations.
| | Web Host | Price | Category |
| --- | --- | --- | --- |
| | iPage | $1.99 mo. | Visual Artists |
| | 1&1 MyWebsite | $0.99 mo. | Visual Artists |
| | BoldGrid | $3.49 mo. | Visual Artists |
| | Bluehost | $3.95 mo. | Multimedia |
| | SiteGround | $3.95 mo. | Selling Art |
Previously, we've looked at the best web hosting for beginners, entrepreneurs, photographers, and others. While photographers are definitely considered as artists, what about the broader group as a whole? What is the best web hosting for artists? Would good hosting for photographers also be the best choice for other artists? It could be, but let's take a look at what features will benefit an artist the best.
As an artist, your goal in having a website is to show off your work. It's a given you want good speed and the ability to upload as much content as needed. But as an artist, you'd probably prefer a more graphical web site creation tool. And depending on the type of artist you are, you may need a lot of multimedia features such as video and audio streaming, image galleries, as well as possibly some ecommerce capability to sell your work online.
Keeping the above criteria in mind, let's take a look at some of the best options:
Visual Artists
As a visual artist, not only do you probably want to focus more on creating your own art, but you'd also probably prefer an easy to use graphic or template based website creator to save you time. While the trend is definitely towards simplifying the website creation process, don't assume that you need to go with a website creation company such as wix.com or SquareSpace. These days, traditional web hosting companies are also making things easier for website owners.
iPage continues to be a good choice for newbies.
You can also check out the MyWebsite package from 1&1 Hosting. And, if you're looking for a WordPress solution, BoldGrid (by InMotion Hosting) allows you to easily create professional looking WordPress websites—and enjoy the benefits of InMotion's outstanding web hosting.
Multimedia
For multimedia artists with video or audio, BlueHost includes features like streaming video and audio support, Real audio and video support, and MIDI file support. Another great feature at BlueHost is their search engine site submission and other SEO tools, which help to promote your site so you can focus more on creating your art.
Selling Your Art
SSL is an absolute must if you're planning on selling items online. In fact Google considers https so important it will soon be flagging websites that collect personal data (such as ecommerce sites) as unsafe it they don't use https. As a result, some web hosts are now offering free SSL with their hosting. For example, SiteGround is an excellent web host for many types of websites. Their hosting plans include many managed hosting features at a very affordable price. And, they are now including free Let's Encrypt SSL Certificates.