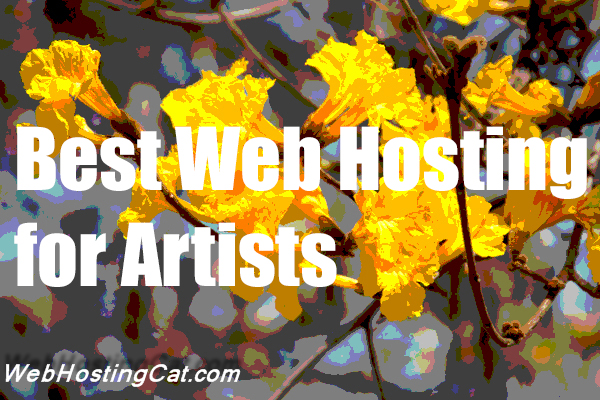 UPDATE: As with everything else, web hosting has continued to evolve since we first published our recommendations for artist's website hosting. Here are some updated thoughts along with our new recommendations.
Previously, we've looked at the best web hosting for beginners, entrepreneurs, photographers, and others. While photographers are definitely considered as artists, what about the broader group as a whole? What is the best web hosting for artists? Would good hosting for photographers also be the best choice for other artists? It could be, but let's take a look at what features will benefit an artist the best.
As an artist, your goal in having a website is to show off your work. It's a given you want good speed and the ability to upload as much content as needed. But as an artist, you'd probably prefer a more graphical web site creation tool. And depending on the type of artist you are, you may need a lot of multimedia features such as video and audio streaming, image galleries, as well as possibly some ecommerce capability to sell your work online.
Keeping the above criteria in mind, let's take a look at some of the best options:
Visual Artists
As a visual artist, not only do you probably want to focus more on creating your own art, but you'd also probably prefer an easy to use graphic or template based website creator to save you time.
While the trend is definitely towards simplifying the website creation process, don't assume that you need to go with a website creation company such as Wix or SquareSpace. These days, traditional web hosting companies are also making things easier for website owners.
If you're looking for an easy WordPress website solution to feature your art, I would recommend you check out Bluehost. They provide two easy WordPress site building methods that let you more quickly and easily get your website up and running.
BoldGrid is another excellent WordPress website builder solution that not only simplifies the site creation process, but also provides more advanced capabilities that will come in handy as your site grows.
GoDaddy's GoCentral website builder is an alternative to traditional web hosting that simplifies your website creation.
Multimedia
For multimedia artists with video or audio, the key is to get fast performing web hosting with the right amount of resources. In terms of website performance, I've received excellent results with A2 Hosting, InMotion Hosting, and WP Engine.
With A2 Hosting, you can opt for their Turbo Servers which can provide 20x faster speeds. Their environment is also optimized for speed and security.
And in 2021, A2 Hosting is even better for speed. They have expanded their Turbo Server hosting to include their new line of Turbo Max hosting that not only includes their Turbo Servers but also includes 5x more resources for even better speed and performance.
InMotion Hosting offers their Max Speed Zone Technology, which provides faster speeds when you're within the designated areas.
InMotion Hosting has now also made even more improvements to their already fast web hosting. Now, in addition to their Max Speed Zone Technology, you also get their UltraStack Optimized Performance servers with better caching and a high-speed network.
And for blistering speed in a managed WordPress hosting plan, I recommend you check out WP Engine. Not only have they been a leader in managed WordPress hosting for years, but they have also continually improved performance for their customers with their innovative technology solutions.
Selling Your Art
Website builders such as the ones I mentioned above (GoDaddy and Wix) have Ecommerce components you can use for online selling. However, if you want a more customized solution, you might want to opt for a WordPress site that uses WooCommerce as your online store. In that case, the web hosts listed under Multimedia are also highly recommended for WordPress hosting.
SSL is an absolute must if you're planning on selling items online. In fact Google considers https so important it will soon be flagging websites that collect personal data (such as eCommerce sites) as unsafe it they don't use https. Fortunately, many web hosting companies are now offering free SSL certificates with their hosting plans. And even better, many will install the free SSL automatically with the websites you have hosted there.
Of the web hosts I've mentioned above, when it comes to SSL, I would have to say the smoothest experiences have been with A2 Hosting, InMotion, and WP Engine.
Also, don't forget to incorporate email marketing into your website. When you have your own email list of potential customers that you can market to, you have a better opportunity to build trust as well as keep your art in their minds by sending out newsletters and other reminders. And, an email marketing list allows you to get repeat business from you customers!
For email marketing, I recommend you signup for a free account at AWeber. Or, if you're looking for a more complete email marketing solution, try out Constant Contact for free.