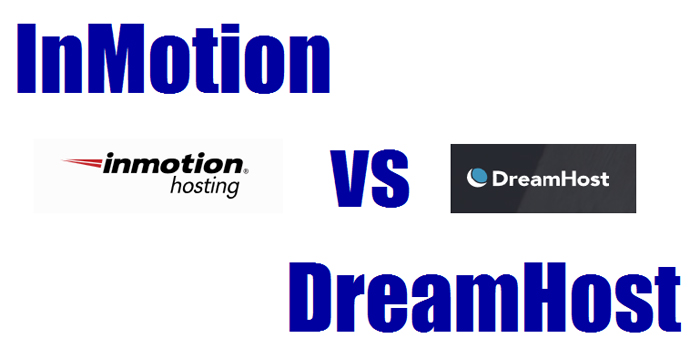 These two web hosting companies both have their roots in California. InMotion and DreamHost are very well known as quality hosting providers. While each offers a wide variety of services, there are some distinct differences in their hosting plans. If you're trying to decide between the two, here are some factors to consider.
DreamHost promotes itself as having optimized WordPress hosting. They have been a WP partner since 2005. However, you can also host WordPress sites with InMotion. I've had many WP sites at InMotion Hosting and have been completely satisfied with the performance.
InMotion has specific packages for business website hosting—with features that are crucial for your online success. On the other hand, I'm sure there are many business sites being hosted by DreamHost as well.
There are a couple of other factors to consider. InMotion utilizes the cPanel interface which is a graphical based system. DreamHost has their own account control panel which is more of a text based interface. Also, InMotion's customer support response time has been much faster than DreamHost's.
Overall, while both companies are more than capable of hosting all types of websites, we would recommend InMotion Hosting in most cases because of the superior performance and support we've received over the years.
InMotion vs DreamHost Details

| Category | InMotion | DreamHost | Comments |
| --- | --- | --- | --- |
| Data Centers | | | InMotion has data centers on both U.S. coasts. |
| Server Hardware | | | Business Class Hardware with Free Solid State Drives (SSDs) |
| Network | | | With InMotion you get their Max Speed Zone Technology. |
| Account Sign Up/Provision | | | InMotion will pre-install WordPress, Joomla, or PrestaShop. |
| Control Panel | | | InMotion provides cPanel and their Account Management Panel (AMP). |
| Speed and Performance | | | |
| Security | | | InMotion provides Free SSL, Hack Protection, and DDoS Mitigation |
| Data Backup | | | |
| Developer Tools | | | |
| WordPress | | | InMotion will pre-install WordPress for you. You also get the BoldGrid WordPress website builder. |
| Website Applications | | | InMotion provides 400+ applications via cPanel as well as BoldGrid. |
| Advertising Credits | | | InMotion provides $250 Total (Google, Bing, Yahoo) |
| Customer Support Response Time | | | Response time at InMotion is normally around 10 sec. or less. |
| Customer Support Issue Resolution | | | |
| Money Back Guarantee | | | DreamHost offers a 97 Day Money Back Guarantee. |
| Price/Value | | | InMotion's current prices are $3.49 – $7.49 mo. |

InMotion Hosting
Started Business: 2001
BBB Rating: A+
Data Center Locations: Los Angeles, CA and Ashburn, VA
Price: $3.49 mo. – $7.49 mo.
Unlimited Bandwidth: Yes
Unlimited Storage: Yes
Unlimited Email: Yes
Host Multiple Domains: Yes
Hosting Interface: cPanel
Server Uptime: 99.9%
Full Refund Period: 90 Days
Dedicated Hosting Available: Yes
Free Extras:
Solid State Drives (SSDs)
Free SSL Certificates
Free data restore once every four months
Free Website Transfers
Safe Application Rollback
$75 – $100 Google Adwords Credit
Premium Website Builder
Advantages of Choosing InMotion:
InMotion utilizes their Max Speed Zones for faster performance.
No charge to restore your data from their backups once every four months.
cPanel interface with easy 1 click software installs using Softaculous.
They offer phone, email, and chat support.
You get a separate Account Management Panel for your account and billing issues.
Fast live chat customer support responses.
You get over 400 applications to use for your websites.
Secure Remote Server Access via Command Line (SSH)
Pre-Installation of WordPress, Joomla, or PrestaShop
Free Comodo cPanel SSL
BoldGrid Website Builder

DreamHost
Started Business: 1997
BBB Rating: A+
Data Center Location: Irvine, CA; Ashburn, VA; and Hillsboro, OR
Price: $7.95 mo.
Unlimited Bandwidth: Yes
Unlimited Storage: Yes
Unlimited Email: Yes
Host Multiple Domains: Yes
Hosting Interface: DreamHost Control Panel
Server Uptime: 100%
Full Refund Period: 97 Days
Dedicated Hosting Available: Yes
Free Extras:
CloudFlare CDN
Free Let's Encrypt SSL
Free Domain with WhoIs Privacy
Advantages of Choosing DreamHost:
Optimized WordPress Hosting
WordPress Partner since 2005
100% Uptime Guarantee
Remixer Website Builder
Cloud Storage Services Available
Recommendation
For most websites, in this comparison we would recommend InMotion Hosting. See our InMotion Hosting review ratings below: