While GoDaddy offers many products and services (including domain name management), this comparison focuses completely on the web hosting plans offered by A2 Hosting and GoDaddy. Both A2 Hosting and GoDaddy offer many options for those looking for a web hosting plan. There are definitely more plans to choose from at GoDaddy. A2 Hosting focuses on the more traditional types of hosting plans (Shared, VPS, and Dedicated). Let's take a look at when A2 Hosting or GoDaddy is the better choice.
Newbies or less experienced website owners will probably want to look at GoDaddy first. GoDaddy tends to streamline their products and services so that those people with less technical experience are able to get setup and running more easily. In fact, when it comes to web hosting, GoDaddy has simplified the process down to what they say is two steps, 30 seconds, and you're good to go.
For more experienced webmasters or if you want a hosting plan that will be able to handle your site's requirements as it continues to grow and expand, then you'll want to consider going with A2 Hosting. A2 Hosting includes everything you'll need (fast hardware, optimized environment, software options) should you require more resources and premium features.
A2 Hosting vs GoDaddy: Differences
Advantages of A2 Hosting over GoDaddy:
A2 Optimized Environment for Faster Website Speeds
Proactive Perpetual Security
Choice of 4 Data Centers
Turbo Server Option for up to 20x Faster Speeds
A2 Optimized Environment for WordPress
Server Rewind Backups
Free Cloudflare CDN for Faster Page Loading Times
Quadruple Redundant Network
Preinstallation of Optimized WordPress
Anytime Money Back Guarantee
Advantages of GoDaddy over A2 Hosting:
Superior Domain Name Management
More Web Hosting Options
A2 Hosting vs GoDaddy Details

| Category | A2 Hosting | GoDaddy | Comments |
| --- | --- | --- | --- |
| Data Centers | | | A2 Hosting has data centers on 3 different continents. |
| Server Hardware | | | Turbo Servers can provide up to 20x faster loading. Both Turbo and Swift Servers include solid state drives (SSDs). |
| Network | | | A2 Hosting provides a quadruple redundant network. You also get free Cloudflare CDN. |
| Account Sign Up/Provision | | | WordPress Pre-Installed |
| Control Panel | | | A2 Hosting's client area provides direct access to cPanel. |
| Speed and Performance | | | See Results Below |
| Security | | | A2 Proactive perpetual security includes firewall, brute force defense, virus scanning, and security monitoring. Free SSL. |
| Data Backup | | | A2 Server Rewind Backups are performed daily and you can restore data from the past 30 days. |
| Developer Tools | | | Currently supporting PHP 7.2 |
| WordPress | | | A2 WordPress environment optimized for speed and security. WordPress can be pre-installed when you sign up. |
| Website Applications | | | A2 Hosting provides 400+ applications via cPanel |
| Advertising Credits | | | Free Bing/Yahoo Credits |
| Customer Support Response Time | | | Normally around 15 Sec. |
| Customer Support Issue Resolution | | | |
| Money Back Guarantee | | | Anytime Money Back Guarantee |
| Price/Value | | | $3.92 – $9.31 mo. |
Website Speed Comparison
When it comes to website speed, A2 Hosting is far superior. As you can see from the data below, A2 Hosting's optimized features result in faster website performance.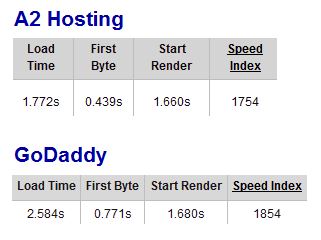 A2 Hosting also tops GoDaddy in the customer support category. A2 Hosting's Guru Crew provide outstanding support via phone, email, and chat. My experience has been that A2 Hosting's support team is consistently more responsive and helpful.
How Does A2 Hosting Compare with Other Web Hosts?
A2 Hosting vs Bluehost
This comparison between A2 Hosting and Bluehost isn't quite as close as it once was. Both of these web hosts provide excellent cPanel web hosting plans…
A2 Hosting vs DreamHost
This comparison between A2 Hosting and DreamHost focuses in large part on the WordPress hosting features and performance of their hosting plans…
A2 Hosting vs GreenGeeks
A2 Hosting and GreenGeeks are truly two of the top choices for multiple domain web hosting. But whether you need to create multiple websites or just one, it's definitely a close call as to which is better…
A2 Hosting vs HostGator
How does A2 Hosting compare with HostGator? As it turns out, A2 Hosting more than holds its own against the competition here…
A2 Hosting vs InMotion
The good news when comparing A2 Hosting and InMotion Hosting is that it's a win-win situation for you. Both of these web hosting companies provide excellent website hosting with outstanding support…
A2 Hosting vs InterServer
Here's another comparison matchup of two excellent web hosting companies I both use…
A2 Hosting vs Jaguar PC
In this comparison we take a look at how A2 Hosting compares with Jaguar PC. With both A2 and Jaguar, you get a hosting plan that is…
A2 Hosting vs Liquid Web
How does A2 Hosting compare with Liquid Web? Here is an interesting comparison between two outstanding web hosting companies…
A2 Hosting vs Site5
In this comparison, we take a look at A2 Hosting and Site5. While these two web hosts have similar structured hosting plans (basic, advanced, and turbo), in our opinion one of them is clearly superior to the other…
A2 Hosting vs SiteGround
Comparing A2 Hosting and SiteGround is an extremely close call. They both provide many unique features that provide outstanding web hosting performance…
A2 Hosting vs Web Hosting Hub
There are some definite similarities with these two hosting companies—with both their hosting plan structures and target customer base…
A2 Hosting vs Wix
How does A2 Hosting compare with Wix? This comparison between a traditional web hosting plan and a website builder package takes a look at A2 Hosting's Turbo Server Hosting plan versus Wix's website packages…
How Does GoDaddy Compare with Other Web Hosts?
GoDaddy vs GreenGeeks
Can GreenGeeks web hosting compete with the big dog GoDaddy? Here's our comparison between these two web hosts…
GoDaddy vs InMotion
How does GoDaddy's Hosting Plan compare with a Business Hosting plan from a company like InMotion Hosting? If you're trying to decide, here are some things to keep in mind.
GoDaddy vs InterServer
GoDaddy is certainly much better known than InterServer. But how do their web hosting plans really compare…
GoDaddy vs iPage
These are probably not the easiest two web hosts to compare. While iPage offers a single type of hosting plan, GoDaddy offers many different options…
GoDaddy vs Jaguar PC
In this comparison we take a look at how Jaguar PC compares with GoDaddy. How does Jaguar PC match up against the big player GoDaddy…
GoDaddy vs SiteGround
SiteGround and GoDaddy both offer a wide variety of web hosting services. They have hosting plans that are suited for experienced and less experienced webmasters…
GoDaddy vs Web Hosting Hub
This comparison between Web Hosting Hub and GoDaddy will be particularly interesting to bloggers…
GoDaddy vs WP Engine
WP Engine has been the hosting choice for many members of the WordPress community for some time now. Let's see how these new hosting plans stack up against WP Engine's fully managed plan…
Recommendation
For most websites, in this comparison we would recommend A2 Hosting. See our A2 Hosting review ratings below: