Is Kinsta or DreamHost better for WordPress hosting? Here in our comparison of Kinsta vs DreamHost, we'll take a look at two highly regarded web hosts in the WordPress community. Which one should you choose? Lets take a detailed look at what each offers and how well they perform.
Kinsta vs DreamHost: Differences
Advantages of Choosing Kinsta over DreamHost:
Faster Website Performance
More Data Center Location Choices
Cloudflare Integration Security
Auto Wildcard SSL
Website Staging Included with All Plans
On-Demand and System Data Backups Included
Site Analytics Reports
Advantages of Choosing DreamHost over Kinsta:
Lower Cost
More Options for Beginners
More Resources Included
97 Day Money Back Guarantee with Basic Plans
Kinsta vs DreamHost: Details

| Category | Kinsta | DreamHost | Comments |
| --- | --- | --- | --- |
| Setup | | | |
| Control Panel | | | |
| Data Centers | | | Kinsta has data centers in 35 different locations. |
| Website Speed | | | See Below |
| Security Features | | | Kinsta includes Cloudflare Integration Security. |
| Data Backup and Restore | | | Kinsta includes on-demand and system backups with all hosting plans. |
| Automatic Updates | | | Tie |
| Servers | | | |
| Network | | | |
| WordPress Development | | | |
| SSL | | | Kinsta includes Auto Wildcard SSL. |
| Resources | | | |
| Staging | | | Tie. Both offer excellent and easy to use website staging features. |
| Customer Support | | | |
| Money Back Guarantee | | | DreamHost offers 97 Day Money-Back Guarantee with Basic WordPress Plans. |
| Price/Value | | | |
Kinsta vs DreamHost: Features
Kinsta specializes in premium managed WordPress hosting, while DreamHost has both a basic WordPress hosting line and their DreamPress managed hosting.
Both Kinsta and DreamHost offer all the necessary features you need for managed WordPress hosting. Kinsta includes premium features with all of their hosting plans, while DreamHost only includes some features with DreamPress.
Although it's a close call in this category, because Kinsta offers a more impressive lineup of data center choices, speed optimization, and Cloudflare Infrastructure security, plus the fact that Kinsta includes premium WordPress hosting feature with all of their hosting plans, gives them the edge here.
Kinsta vs DreamHost: Speed and Performance
DreamHost has improved their website speed in recent years and is surprisingly impressive. However, in both our speed testing and my experience using these two hosts, Kinsta is superior for website speed and page loading.
Kinsta utilizes Google Cloud Platform and provides server-level full page caching together with their CDN that definitely boosts website speed and performance.
Here are some sample speed test results via GTmetrix: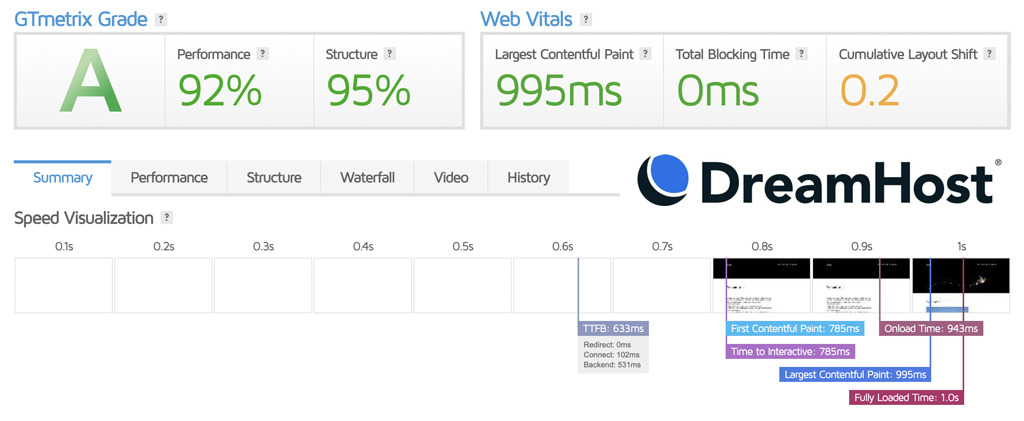 Kinsta vs DreamHost: Website Staging
When it comes to website staging, Kinsta and DreamHost both offer excellent one-click staging functionality that is very easy to use. Normally, in this situation we would call it a tie in this category. However, because DreamHost does not include staging with their basic level plans, while Kinsta includes staging in all plans, here we give Kinsta a slight edge.
Kinsta vs DreamHost: Data Backup
Data backup and restore is another area that both Kinsta and DreamHost do a good job with. Kinsta and DreamHost both include automatic data backups with all of their WordPress hosting plans. However, with Kinsta you also get the ability to perform manual backups with all of their hosting plans. Additionally, Kinsta also provides automatic system backups when you perform certain tasks like updating themes and plugins. DreamHost only includes on-demand backups with their DreamPress hosting line.
Here again, in this category Kinsta is the winner.
Kinsta vs DreamHost: Customer Support
I'm very impressed with the customer support at both Kinsta and DreamHost. It's a very close call in this category. Both of these web hosts offer responsive and helpful WordPress hosting support. While I'm very satisfied with the support I've received at both Kinsta and DreamHost, here Kinsta gets just a little edge based on slightly faster response times—not by much. But if we have to pick a winner in this category, the advantage goes to Kinsta.
How Does Kinsta Compare with Other Web Hosts?
Kinsta vs Bluehost
Is Kinsta better than Bluehost? In this comparison of Kinsta vs Bluehost we'll see which WordPress host you should choose for your websites. Let's take a closer look at which host provides better…
Kinsta vs SiteGround
Is Kinsta better than SiteGround? While both Kinsta and SiteGround include all the necessary premium features you need for WordPress hosting, in this category I give the edge to…
Kinsta vs WP Engine
In this comparison of Kinsta vs WP Engine, we take a detailed look at two of the best options for premium WordPress hosting. Let's see which host is the better choice for your WordPress websites…
How Does DreamHost Compare with Other Web Hosts?
DreamHost vs A2 Hosting
This comparison between A2 Hosting and DreamHost focuses in large part on the WordPress hosting features and performance of their hosting plans…
DreamHost vs Bluehost
Bluehost and DreamHost are two of the most established and well-known web hosting companies. Bluehost is part of the Endurance International Group while DreamHost continues to operate as…
DreamHost vs InMotion
These two web hosting companies both have their roots in California. InMotion and DreamHost are very well known as quality hosting providers…
DreamHost vs SiteGround
SiteGround and DreamHost both offer many different types of web hosting plans. This particular comparison will look at each of their Shared Hosting plans…
DreamHost vs WP Engine
While DreamHost features a wide array of web hosting plans and services, WP Engine focuses solely on managed WordPress hosting…
Recommendation
Overall, Kinsta is the winner in this comparison matchup. Kinsta includes more effective premium WordPress hosting features that produce better results when it comes to website speed and performance. They also offer excellent customer support.
However, DreamHost does more than hold its own for most WordPress applications. If you're a WordPress beginner, then DreamHost with it's WP Website Builder is a better fit. Also, if you don't have the budget for Kinsta's premium managed hosting, then DreamHost is a good alternative.
For the majority of WordPress website owners that want the better experience with their web hosting though, Kinsta is the recommended choice here. See our Kinsta Review Ratings below: