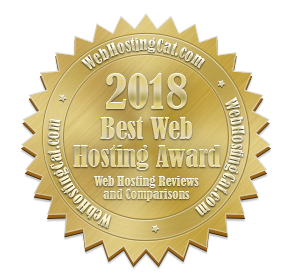 Our
Liquid Web Review
here is based on their Managed WordPress Hosting. Liquid Web is a newer innovative hosting company devoted to providing premium managed hosting solutions to its customers. Whether you need Dedicated Servers, Cloud Hosting Services, Managed WordPress, or eCommerce hosting, Liquid Web focuses on helping mission-critical website owners. With their highly impressive team that includes people like WordPress Evangelist Chris Lema and Development Expert Jason Cosper, they've got instant credibility in the premium hosting space.
Liquid Web Services
Here are the products and services that Liquid Web currently offers:
Dedicated Servers
Cloud VPS
Dedicated Cloud
Private Cloud
Cloud Sites
Managed WordPress
Managed WooCommerce
Email Hosting
Custom Solutions
Liquid Web Managed WordPress Hosting Plans
For our review purposes, I opted for Liquid Web's Managed WordPress Hosting. Like all premium managed hosting, Liquid Web's plans are not cheap—this isn't your $5 a month hosting package. And, at first glance it does appear that they are even more expensive than the other well-known managed WordPress hosts. However, if you actually break down what's included in your Liquid Web hosting plan, there isn't as much of a difference.
Liquid Web's Managed WordPress is available in the following plans:
Personal:
$69 mo.
1 Website
30GB Storage

Business:
$149 mo.
25 Websites
100GB Storage
Professional:
$99 mo.
10 Websites
50GB Storage

Agency:
$289 mo.
50 Websites
200GB Storage
*All Managed WordPress plans come with 5TB Bandwidth.
**There are also Enterprise plans available for 100 sites or more.
Liquid Web Managed Hosting Features
Automatic Plugin Updates
Compression of Images for Better Speed
Stencil for Quicker Development of Future Sites
iThemes Sync for Managing Multiple Websites
No Pageview or Traffic Limits
Automatic Daily Backups Stored Offsite
Automatic SSL on all Websites
Full Server Access
Staging Sites
24/7/365 Support via Phone, Email, or Live Chat
Signing Up at Liquid Web
The signup process at Liquid Web is very easy and straight-forward. You just need to enter your account and billing info, plus your payment method.
Unfortunately, provisioning time at Liquid Web was not very good. After signing up, you receive a welcome email stating that you'll receive a phone call or email when your account is ready to go—usually around 30 minutes. After two hours went by, I still hadn't received any notice and I had to contact their support department.
When I first gave them my email, I was informed that there was no matching record in their system. After waiting on live chat over fifteen minutes, I was informed that my order still had to be processed and the department that does that was only available from 8 a.m. to 5 p.m. If your order can only be processed during business hours, we would expect that to be mentioned somewhere on their site.
By noon the next day, I still hadn't received any notice of my account being created. After communicating with support multiple times, I was then told that my account would be ready in 30 minutes. Unfortunately, four hours later, I was still waiting! It turns out that my account was indeed ready, just nobody bothered to notify me. After I finally got logged into my account, then I received their login email—not great timing.
Liquid Web User Interface and Control Panel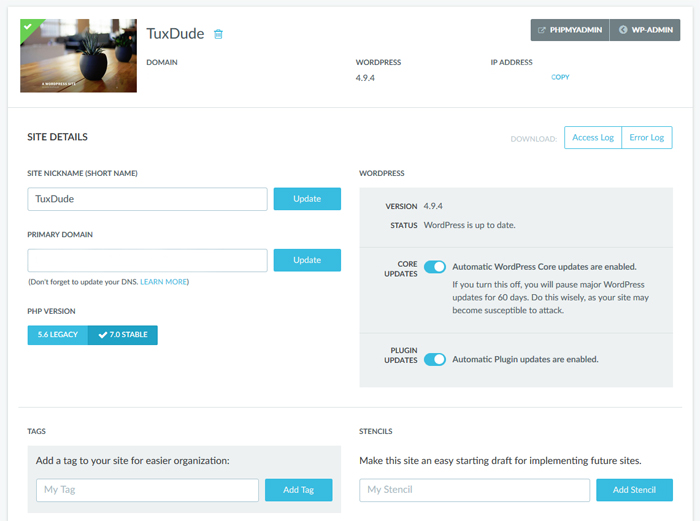 Now once you actually get in, both the account and WordPress control panels at Liquid Web are great. In fact, their WordPress control panel is probably the best I've ever seen from a managed WordPress hosting plan.
The layout makes things very intuitive and easy to find. You can quickly access all of the important features for your WordPress site including your WordPress admin areas, PHPMyAdmin, PHP version, core and plugin update switches, password protection, data backup, staging, and more.
Website Speed and Performance
As for website speed and performance, Liquid Web is simply outstanding. In our testing and experience using Liquid Web, we had some of the best results for our website in all regions. The combination of Liquid Web's WordPress hosting platform, along with their image compression feature, puts them at the top of the list if you're looking for better website speed from a managed hosting plan. I'm definitely impressed by the website speed I've experienced on both the front and back end of my WordPress site.
See our Liquid Web sample data results below: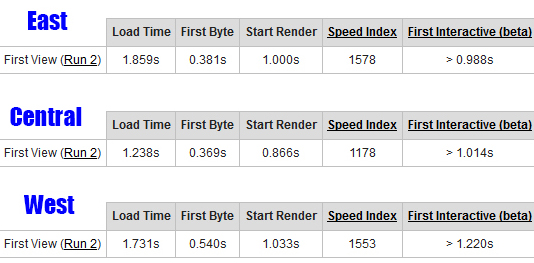 Automatic Plugin Updates
Definitely one of the most unique features that you get with Liquid Web is automatic updating of your WordPress plugins. While it seems these days that every host offers automatic WordPress core updates, having outdated plugins can be just as dangerous. So it's great to see that a managed hosting plan is actually updating your plugins as well!
You can enable or disable automatic plugin updates from your Liquid Web WordPress dashboard.


Automatic Data Backup and Restore
Liquid Web's data backup and restore features are top notch. Your websites are automatically backed up daily, and backups are retained for 30 days. You can also manually create a backup at any time you wish. Your backup copies are available from the Managed WordPress dashboard where you can easily perform a data restore or download a backup copy.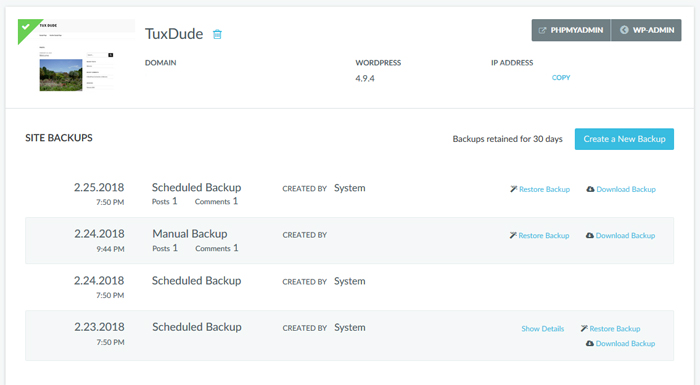 Staging
Website staging allows you to create a copy of your live website and test out changes before moving them to your production site. With Liquid Web, it's very easy to create a staging copy. There's a Staging menu item link on the left side of your dashboard that you can access. You then just click the Copy Live to Staging Site and a copy of your live site is generated. Your dashboard for your staging site is very similar to your live website's dashboard, with a few exceptions. So, you can be comfortable working with your staging site. That's the good news.
The not so good news is that the process of moving your changes to your live site isn't as smooth as it could be. We would like to see a simple Copy Staging to Live button click option—as some other managed WordPress hosts provide. Unfortunately with Liquid Web, you have to download their migration plugin and run that process to get your changes moved into production. Hopefully in the future, Liquid Web will streamline the staging process a bit more.
Liquid Web Customer Support
While the response time for technical support at Liquid Web is very good, the quality of support I've received hasn't been as consistent as I had anticipated. I was a bit disappointed in that I expected more personal assistance in getting my website set up. With a managed hosting plan, I expect the support agents to provide more than just referring me to a URL link where I have to figure out things myself. If the support agent isn't able to actually help perform the task, I would appreciate it if they would volunteer more advice to help me out. What I got in some cases was a lot of one sentence answers. However, on other occasions the support staff has been fine. The bottom line for me is, if you're not a seasoned WordPress person, you may have a tougher time getting your website going here.
Conclusion
Liquid Web does indeed have some very impressive features for a managed WordPress hosting plan. That being said, Liquid Web is best suited for a particular type of WordPress website owner. If you have, or plan to have, only a single WordPress site, then Liquid Web probably isn't the best choice for you. The higher cost isn't offset enough by the features you get. Now, when you're talking about multiple website hosting, then it's a totally different story. Liquid Web's Professional, Business, and Agency hosting plans are more in line with what you would expect to pay for premium managed WordPress hosting. And as I've seen with my own testing, the outstanding site performance together with their unique WordPress hosting features definitely warrant your consideration.
Also, Liquid Web really isn't a great fit for first time or beginning WordPress users. You should have some prior experience creating WordPress websites to get the most out of your Liquid Web hosting plan. For WordPress developers, consultants, and agencies, Liquid Web is an excellent choice and should be at the top of your list of managed web hosting providers.
Special Discount Code
Good news! For a limited time, I have been able to secure an exclusive discount code for Liquid Web. Just click on the link below and enter coupon code 25OFF2019 to get 25% off on your first three months of Liquid Web hosting!