How does HostGator's new WordPress hosting compare to WP Engine? While HostGator has been an established shared hosting provider for some time, they have only recently offered managed WordPress hosting plans. WP Engine, on the other hand, has long been considered an industry standard for fully managed WordPress hosting. So, let's see which WordPress hosting plan is better.
Both WP Engine and HostGator offer three levels of Managed WordPress Hosting plans. With WP Engine, there are Personal, Professional, and Business packages, while at HostGator you have Starter, Standard, and Business. The difference here is that WP Engine also has additional levels for Premium and Enterprise hosting needs. Therefore, it makes sense that for larger or enterprise level WordPress hosting solutions, WP Engine is the superior choice.
WP Engine is certainly more expensive than HostGator. All three of HostGator's WordPress hosting plans are priced less (at introductory rates) than WP Engine's Personal plan. However, it's somewhat disappointing that with HostGator there isn't as much of a jump in resource limits as you might think there would be. For example the Starter plan lets you host one site, while the Business plan gives you only five sites max. Compare this to WP Engine, where you can have up to 25 installs with the Business plan—albeit at a higher cost.
Both WP Engine and HostGator list expert WordPress support as one of their features. With WP Engine, I've found their support staff to be very responsive and helpful. HostGator can sometimes be slower to respond, so I have to give the edge to WP Engine here.
WP Engine vs HostGator: Website Speed and Performance
WP Engine is the clear winner when it comes to website speed and performance. WP Engine is one of the best performing WordPress hosts that we've tested. And while HostGator has improved their speed slightly, they are still far behind WP Engine. My personal experience using WP Engine for our website concurs with our separate testing results that show WP Engine providing superior results.
See some of our speed test results from GTmetrix below: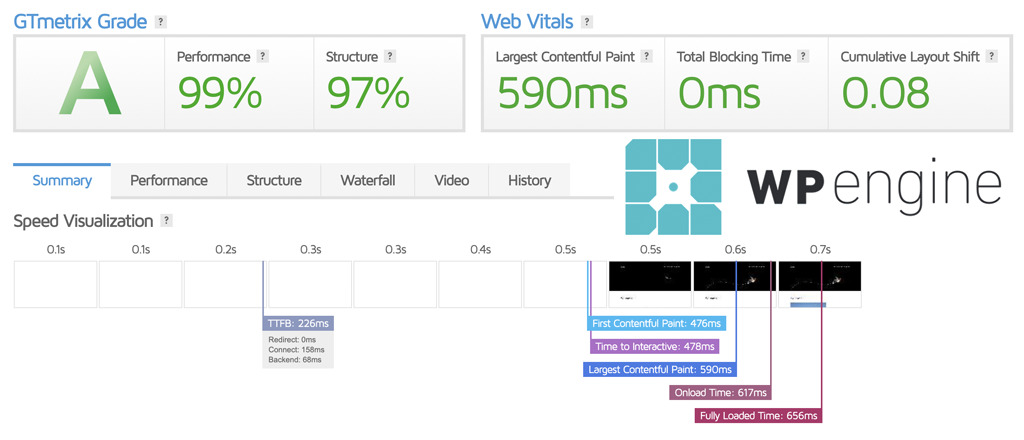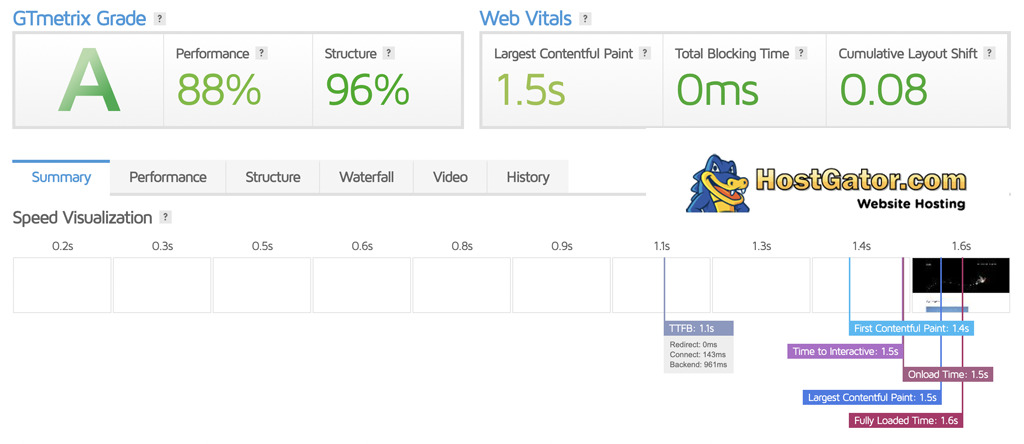 Between these two web hosting companies, the advantage goes to WP Engine when it comes to managed WordPress hosting—particularly for enterprise situations. For personal or small business use, we still like WP Engine—if you can afford it. HostGator's managed WordPress hosting seems to be aimed primarily at the lower to middle end of the market where website owners are looking for a cheaper solution. For those of you on a tighter budget, you might also want to consider SiteGround or Bluehost for your managed WordPress hosting needs.
How Does WP Engine Compare with Other Web Hosts?
WP Engine vs Bluehost
While WP Engine focuses solely on managed WordPress hosting, Bluehost offers a wide variety of hosting services. Therefore, this comparison is based specifically on Bluehost's WordPress optimized hosting versus WP Engine…
WP Engine vs DreamHost
While DreamHost features a wide array of web hosting plans and services, WP Engine focuses solely on managed WordPress hosting…
WP Engine vs InMotion Hosting
This comparison focuses on how InMotion's Business Hosting Plan compares to WP Engine. In other words, how does a top non-managed hosting plan compare with a top managed hosting plan when it comes to WordPress…
WP Engine vs Liquid Web
In this comparison of WP Engine vs Liquid Web, we take a look at two titans when it comes to premium managed WordPress hosting…
WP Engine vs Media Temple
Here's a comparison of two heavyweights in the managed WordPress hosting field. Both WP Engine and Media Temple are well-known throughout the WordPress community…
WP Engine vs SiteGround
For managed WordPress hosting, these are two of the best choices available. So, let's see which one is better suited for you…
How Does HostGator Compare with Other Web Hosts?
HostGator vs A2 Hosting
How does A2 Hosting compare with HostGator? As it turns out, A2 Hosting more than holds its own against the competition here…
HostGator vs GreenGeeks
GreenGeeks and HostGator both offer Shared, VPS, and Dedicated web hosting solutions. This comparison focuses primarily on their Shared Hosting plans…
HostGator vs InMotion
Both of these web hosting companies offer a variety of plans for shared, VPS, and dedicated hosting…
HostGator vs InterServer
This comparison focuses on InterServer's Standard Hosting plan and HostGator's more expensive shared hosting option. While these plans contain many identical features…
HostGator vs iPage
Both of their web hosting plans gives you unlimited bandwidth and storage, as well as the ability to host multiple domains…
HostGator vs Jaguar PC
In this comparison we take a look at how Jaguar PC compares with HostGator. These two web hosts have similar hosting plan structures, letting you choose from a starter package to a more feature packed plan for larger websites…
HostGator vs SiteGround
SiteGround and HostGator both offer a similar lineup of web hosting plans. I've been a customer of both companies, so I've got first-hand experience using their services…
HostGator vs Web Hosting Hub
Although both of these hosting companies provide solid plans, most website owners will probably appreciate the value you get with Hub as opposed to HostGator…
Recommendation
For most websites, in this comparison we would recommend WP Engine. See our WP Engine review ratings below: