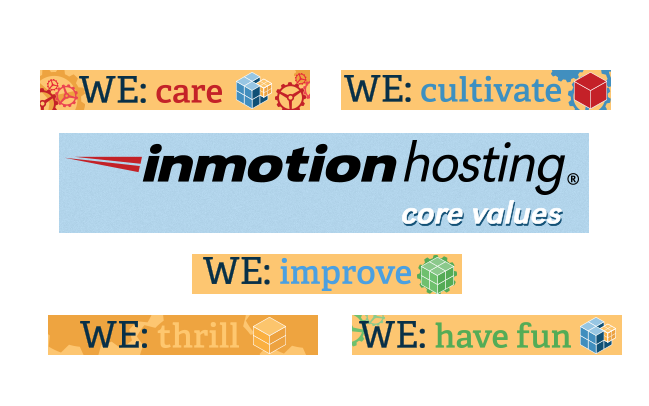 Earlier this year when we interviewed InMotion Hosting Co-Founder Sunil Saxena, he talked about their core values that everyone in the organization adheres to. As a follow up, here's a closer look at each of InMotion's Core Values along with some of my personal observations.
We: Cultivate
We cultivate lifelong customers through outstanding service. Everything we do impacts our customers, and their loyalty and trust is extremely important to us. Our customers are our family; it is through them that we have been successful and able to grow.
I can certainly attest to InMotion's commitment to outstanding service. Since I became a customer in 2009, I have always enjoyed top quality service and support.
We: Care
We care about the success of our customers. We care about each other. We care about the environment. We care about our community. We care about the company.
We've written extensively about InMotion Hosting's excellent customer support as well as their commitment to Green Web Hosting. In my interactions with the staff, I have always felt they were not only courteous but also that they genuinely cared about helping me out.
We: Improve
We are ever improving our technology, our tools, our Customers' Experience, and ourselves.
One of the best things about InMotion is that they are constantly striving to improve. Again, I've experienced improvements first hand over the years. In fact, I recently wrote an article about their recent upgrades to their data center.
We: Thrill
We thrill our customers all day, every day with… Eagerness to Help, Kindness and Empathy, Eagerness to Resolve Issues, Timely and Accurate Solutions, and Taking Ownership of The Customers' Needs.
Yes, I have to say that I've been continuously thrilled with the way InMotion Hosting has treated me ever since I signed up as a customer. They never hesitate to take the extra step to make sure any issues get resolved.
We: Have Fun
We believe a fun and relaxed environment allows us to meet any challenge as a team.
I've had the privilege to meet with many InMotion Hosting team members, and they have all been friendly and eager to assist me when needed. In all of my interactions with InMotion, including visits to their data center, the people really seem to enjoy what they're doing and indeed appear to be having fun!
InMotion Hosting
Reviewed by
Michael James
on
.

Rating:
5