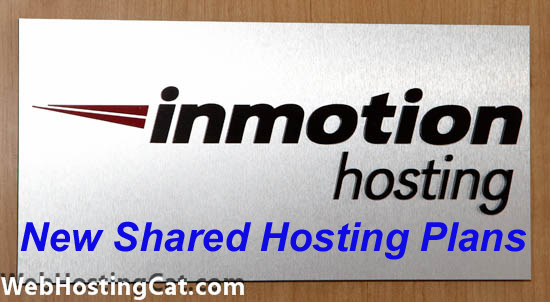 For years now InMotion Hosting has been the web hosting company I've recommended the most for both business and personal websites. As a longtime InMotion customer myself, I have continued to experience excellent site performance and outstanding customer support. Also, InMotion has continued to upgrade and improve their infrastructure as well as their hosting plan features.
And now, the news from InMotion is even better as they have upgraded all of their shared hosting plans to include even more impressive features. Here's a look at the most notable enhancements to InMotion Hosting's packages.
Solid State Drives (SSDs)
This is definitely one of the most noteworthy features now available. Solid State Drives provide better speed and higher overall performance than mechanical hard drives. InMotion Hosting is now including these in their business hosting plans at no extra charge.
Secure Remote Server Access via Command Line (SSH)
You will now be able to have secure remote access to your server via command line. SSH allows more flexibility in managing your server in a secure manner.
Host Unlimited Number of Sites (Pro Plan)
In the past, the one feature that was not included with InMotion's Business Hosting was the ability to host as many domains as you wanted. Granted, most people don't need more websites than you're allowed with InMotion's Launch or Power Hosting Plans (2 and 6 respectively). But now with the Business Pro Plan you can not only have as many websites hosted as you need, you also get unlimited subdomains and parked domains.
Pre-Installation of WordPress, Joomla, or PrestaShop
InMotion has always been a great choice for hosting content management system such as WordPress, Joomla, and PrestaShop. Now, they've made it even easier for those with less technical experience. When you sign up at InMotion Hosting, you can choose to have WordPress, Joomla, or PrestaShop pre-installed in your hosting account.
WP-CLI Available for Use with SSH
In another effort to make things easier for WordPress users, InMotion is now enabling WP-CLI usage. If you're not familiar with WP-CLI, it allows you to manage WordPress installations via a set of command line tools. While single site users may not need to use WP-CLI, it can make things easier for those with multiple WordPress installations for tasks such as installing a bunch of new accounts or adding and updating plugins.
Ruby on Rails Support
If Ruby on Rails is your preferred web application framework, you'll be able to take advantage of InMotion's excellent business hosting as RR is now included with all levels of business hosting plans.
PostgreSQL Databases
There are many debates on whether MySQL or PostgreSQL is the better database management system. Personally, I've always used MySQL. But with InMotion's business hosting plans, you now have your choice of both.
New Pro Plan SLA
To help achieve their goal of keeping your websites up and running, InMotion has created a new SLA for Pro Plan customers to ensure you get 99.9% uptime. This is notable since the Business Pro Plan now allows unlimited domains, websites, databases, etc.
Google Apps Integration Made Easier
And, if you have a Google Apps account, you can use a setup wizard in cPanel to point your DNS for easier integration.