Bluehost and GoDaddy are definitely two of the most established and best known web hosts in the industry. Which one should you choose for hosting your websites? Here is our comparison of Bluehost vs GoDaddy that includes the key areas you should focus on when choosing your web hosting. Let's take a closer head to head look at these two web hosting heavyweights.
Video: Bluehost vs GoDaddy
Check out our video for a quick overview of Bluehost vs GoDaddy.
Bluehost vs GoDaddy: Differences
Advantages of Bluehost over GoDaddy:
WordPress.org Recommended
Customized WordPress Dashboard
Customized cPanel Interface
Guided WordPress Website Creation
Advantages of GoDaddy over Bluehost:
Superior Domain Name Management
More Web Hosting Options
Bluehost vs GoDaddy Details

| Category | Bluehost | GoDaddy | Comments |
| --- | --- | --- | --- |
| Data Centers | | | |
| Server Hardware | | | |
| Network | | | |
| Account Sign Up/Provision | | | |
| Control Panel | | | Bluehost provides a customized version of cPanel and a customized WordPress dashboard. |
| Speed and Performance | | | See Below. |
| Security | | | Bluehost provides Free Let's Encrypt SSL Certificates with all hosting plans. |
| Data Backup | | | |
| Developer Tools | | | Bluehost supports PHP 7.4 |
| WordPress | | | Bluehost includes premium features including automatic plugin updates and staging. |
| Website Applications | | | GoDaddy offers their GoCentral website builder. |
| Advertising Credits | | | Bluehost provides $200 in marketing offers. |
| Customer Support Response Time | | | See Below |
| Customer Support Issue Resolution | | | See Below |
| Money Back Guarantee | | | Tie. 30 Day Money Back Guarantee |
| Price/Value | | | $2.95 mo. |
Bluehost vs GoDaddy: WordPress
While both Bluehost and GoDaddy provide a wide range of WordPress hosting plans, Bluehost is recommended by WordPress.org. And with the recent improvements added to their hosting plans, I definitely concur that Bluehost is one of the best hosts for WordPress users. Bluehost is especially better for new WordPress website owners as they provide guided help in setting up your site. Plus, their customized WordPress dashboard makes things even easier. And, for more advanced users, Bluehost includes features such as website staging and automated plugin and theme updates.
So, Bluehost is definitely the winner in the WordPress category.
Bluehost vs GoDaddy: Website Builders
If you're looking for a quick and easy website builder to create your site, then GoDaddy is the better choice. GoDaddy's GoCentral website builder is one of the easiest site creation tools I've tested out. And, you can create a nice looking website while easily adding more functionality with their GoCentral Section components. So, while both GoDaddy and Bluehost provide cPanel application tools for creating your website, if you're specifically looking for a website builder, then GoDaddy is the winner.
Bluehost vs GoDaddy: eCommerce
Bluehost and GoDaddy are equally acceptable for eCommerce web hosting. The recommended choice depends on your preferred website platform. If you prefer an easy to use website builder where you can quickly design and create your online store, then GoDaddy with their GoCentral website builder would be the better choice. However, if you prefer a content management system such as WordPress, and you plan on using WooCommerce for your online store, then Bluehost is the better option.
Bluehost vs GoDaddy: Customer Support
In the past, it would have been a close call between Bluehost and GoDaddy when it came to customer support. However, Bluehost has definitely upped their game here, and they are certainly the winner in this category now. Bluehost's response times are superior and their live chat support is available 24/7—unlike GoDaddy. More importantly, issue resolution and the overall professionalism of the Bluehost support team is consistently excellent as opposed to GoDaddy where it is sometimes hit and miss.
Bluehost vs GoDaddy: Website Speed
When it comes to website speed, it's a very close call between these two hosts—with Bluehost getting a slight advantage in some metrics while GoDaddy is slightly better in others. In my own personal experience using Bluehost and GoDaddy, I've found Bluehost to be a little better with website speed—but again, it's very close.
Here are some sample speed test results from GTmetrix: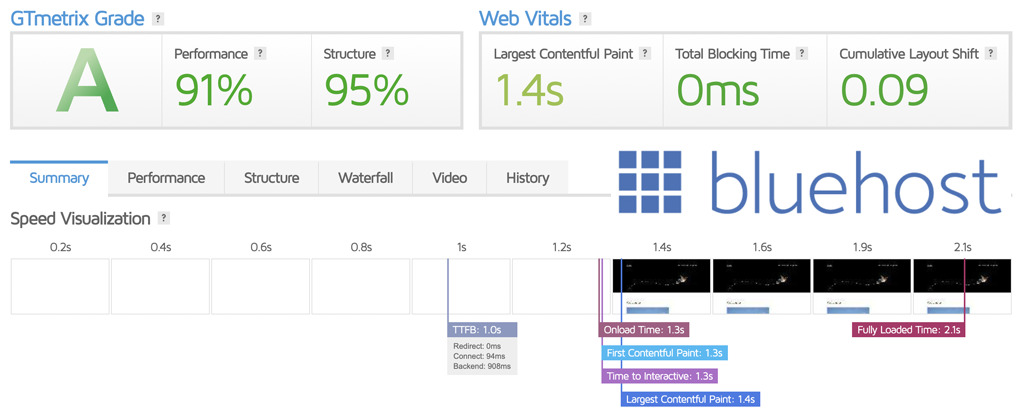 How Does Bluehost Compare with Other Web Hosts?
Bluehost vs A2 Hosting
This comparison between A2 Hosting and Bluehost is extremely close. Both of these web hosts provide excellent cPanel web hosting plans…
Bluehost vs DreamHost
Bluehost and DreamHost are two of the most established and well-known web hosting companies. Bluehost is part of the Endurance International Group while DreamHost continues to operate as…
Bluehost vs GreenGeeks
GreenGeeks and Bluehost both provide effective cPanel web hosting with their Shared Hosting plans. While Bluehost now offers three different levels of Shared Hosting, GreenGeeks has one all-inclusive hosting plan that features unlimited resources…
Bluehost vs HostGator
In this comparison of Bluehost vs HostGator, we take a look at two of the best known web hosting companies under the EIG (Endurance International Group) umbrella. However, in keeping with their separate but equal philosophy, the web hosting by these two is not the same…
Bluehost vs InMotion
These are two excellent, well-established web hosting providers. Both InMotion and Bluehost offer great Shared, VPS, and Dedicated hosting…
Bluehost vs InterServer
If you're trying to decide between Bluehost and InterServer, you may be surprised by our results. I currently use both of these web hosting companies…
Bluehost vs iPage
Both iPage and Bluehost offer Shared, VPS, and Dedicated hosting plans. This web hosting comparison focuses on shared hosting…
Bluehost vs SiteGround
SiteGround and Bluehost have many similarities within their web hosting offerings. SiteGround's and Bluehost's hosting plans are also very affordable…
Bluehost vs Web Hosting Hub
Performance wise, both Web Hosting Hub and Bluehost have proved to be good choices and I've had successful sites hosted with both Web Hosting Hub and Bluehost…
Bluehost vs WP Engine
While WP Engine focuses solely on managed WordPress hosting, Bluehost offers a wide variety of hosting services. Therefore, this comparison is based specifically on Bluehost's WordPress optimized hosting versus WP Engine…
How Does GoDaddy Compare with Other Web Hosts?
GoDaddy vs A2 Hosting
While GoDaddy offers many products and services (including domain name management), this comparison focuses completely on the web hosting plans offered by A2 Hosting and GoDaddy…
GoDaddy vs GreenGeeks
Can GreenGeeks web hosting compete with the big dog GoDaddy? Here's our comparison between these two web hosts…
GoDaddy vs InMotion
How does GoDaddy's Hosting Plan compare with a Business Hosting plan from a company like InMotion Hosting? If you're trying to decide, here are some things to keep in mind.
GoDaddy vs InterServer
GoDaddy is certainly much better known than InterServer. But how do their web hosting plans really compare…
GoDaddy vs iPage
These are probably not the easiest two web hosts to compare. While iPage offers a single type of hosting plan, GoDaddy offers many different options…
GoDaddy vs SiteGround
SiteGround and GoDaddy both offer a wide variety of web hosting services. They have hosting plans that are suited for experienced and less experienced webmasters…
GoDaddy vs Web Hosting Hub
This comparison between Web Hosting Hub and GoDaddy will be particularly interesting to bloggers…
GoDaddy vs WP Engine
WP Engine has been the hosting choice for many members of the WordPress community for some time now. Let's see how these new hosting plans stack up against WP Engine's fully managed plan…
Recommendation
As two of the most established web hosting companies, both Bluehost and GoDaddy are suitable for many types of websites. However, in most areas Bluehost is much more impressive—particularly for WordPress hosting. Both my personal experience plus our additional testing prove to me that Bluehost is the superior choice in most cases. The exception would be for those of you that are specifically looking for a website builder solution for easier website creation. In those cases, I would recommend going with GoDaddy's GoCentral website builder plan.
For the majority of websites though, Bluehost is the winner in this comparison. See our Bluehost review ratings below.