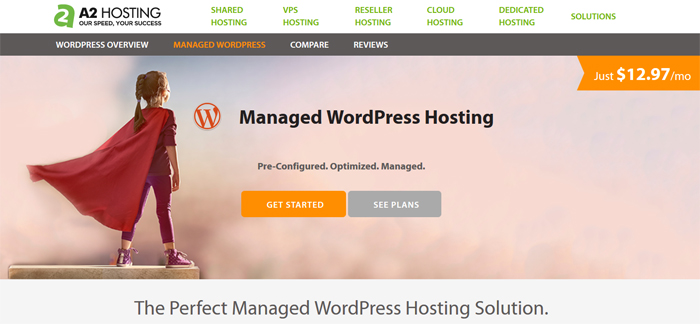 A2 Hosting has now released their own Managed WordPress Hosting plans. In this A2 Hosting Managed WordPress Review, we'll take a look at what you get, how the new managed WordPress plans compare with A2 Hosting's Shared Hosting, and my own personal experience and testing results on the new hosting packages.
Introduction
WordPress has always been a major focus of A2 Hosting. Their shared hosting plans include some of the most impressive WordPress features available in comparable hosting packages from other hosts. Therefore, their new managed WordPress hosting lineup is somewhat of a surprise—given that the existing Swift and Turbo hosting plans already provide outstanding results. It appears that A2 is targeting the premium managed hosting market with slightly lower prices on their services. Is it worth purchasing a managed WordPress plan from A2 Hosting? Let's take a closer look at what you get in features and website performance.
A2 Hosting Managed WordPress Features
Faster Turbo Servers provided on every plan.
Website Staging available in Plesk
Easy Backups with Dropbox and FTP
Automatic WordPress Updates and Patches
WordPress LiteSpeed Cache
WordPress Toolkit for managing Multiple Websites
No Restrictions on Plugins
A2 Hosting's Managed WordPress hosting plans do indeed include all of the premium features you would expect from a quality managed hosting package. Along with increased resources, they include website staging, data backups, and automated updates. Also, there is the WordPress Toolkit for multiple website owners. And, unlike some other managed WordPress plans, you can use any plugin you'd like. So, on this level, A2 Hosting definitely passes the test.
A2 Hosting Managed WordPress vs Shared Hosting
How does A2 Hosting's new Managed WordPress hosting compare with A2's Shared Hosting? Here are the main differences:
Plans/Prices/Resources:
Managed WordPress
1 Site
$12.97 mo.
Websites: 1
Storage: 10GB
3 Sites
$19.48 mo.
Websites: 3
Storage: 25GB
Unlimited
$37.97 mo.
Websites: Unlimited
Storage: 40GB
Shared Hosting
Lite
$3.92 mo.
Websites: 1
Storage: Unlimited
Swift
$4.90 mo.
Websites: Unlimited
Storage: Unlimited
Turbo
$9.31 mo.
Websites: Unlimited
Storage: Unlimited
Features:
A2 Managed WordPress Hosting
10GB to 40GB Storage
Turbo Server on All Managed Plans
Plesk User Interface
Plesk WordPress Staging
Dropbox WordPress Backups
Server Location – Michigan USA
A2 Shared Hosting
Unlimited Storage
Turbo Server on Top Level Plan Only
cPanel User Interface
cPanel WordPress Staging (Currently in Development)
Server Rewind Backups
Server Location – Michigan USA, Arizona USA, Amsterdam Europe, Singapore Asia
Signing Up for A2 Hosting Managed WordPress
Signing up for a managed WordPress hosting plan at A2 is similar to purchasing one of their shared hosting plans. For more details, see my review on A2 Hosting's Swift and Turbo hosting plans.
Plesk Interface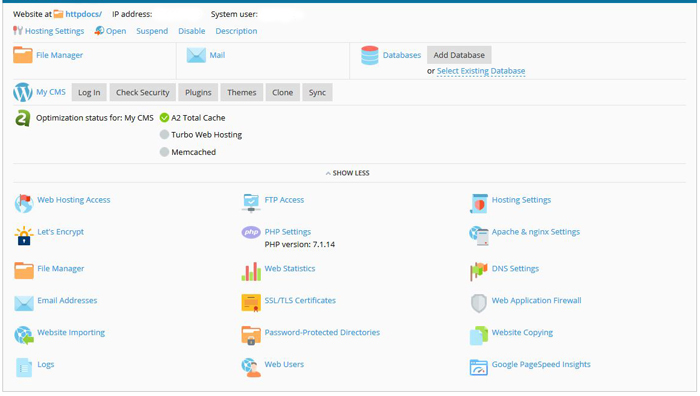 One of the biggest differences between A2 Hosting's Managed WordPress and their Shared Hosting plans is the inclusion of the Plesk interface as opposed to cPanel. The Plesk control panel is actually very intuitive and easy to use. If you're familiar with cPanel, you should have no difficulty using Plesk.
Website Speed and Performance Results
While the overall website speed and performance was good with A2's managed WordPress hosting, it actually wasn't as good as their shared hosting Turbo Server plans. Also, when compared with other managed hosting providers, the speed was not quite as impressive. With the additional resources provided, we would have hoped for slightly better results.
Here are some data samples from our testing:


Website Staging
Staging is an important part of any premium managed WordPress hosting plan. And, A2 includes Plesk website staging with their managed hosting. Unfortunately, the process is much more tedious than with some of the established managed WordPress hosts. You first have to create a subdomain to copy your website files to. Then, you have to separately copy your files and databases to the subdomain. You also have to modify the configuration of your staging copy to include the correct database, username, and password. And, when you then publish your changes into production, you need to again adjust the database connection settings.
Data Backup and Restore


A2 Hosting's Managed WordPress offers Dropbox data backup and restore. However, this is where I ran into another glitch, as I was prompted for an email and password and I was not sure what they were referring to—since I tried my account email and password and that didn't work. When I initially contacted support, I was informed that they were not able to find any details on that and they needed to open a support ticket. As it turns out, I was informed via support ticket that I needed to create an account with Dropbox myself before I could use the service. Quite honestly, I would expect the data backup and restore mechanism to be set up for you in a managed hosting plan.
Conclusion
To be honest, we are a bit curious as to how exactly the new Managed WordPress plans from A2 Hosting are going to fit in with their existing lineup of products. Everything you need from a quality managed WordPress hosting plan is definitely included. However, A2 Hosting's existing Swift and Turbo Server hosting plans are themselves outstanding—you're getting a lot of the same features, and at a lower price. In fact, upon further testing, I actually prefer A2 Hosting's existing Swift and Turbo Server hosting plans over the new managed WordPress offerings. So the big question is, do you really need the extra resources? And, are they worth paying the additional money as opposed to opting for say an A2 Hosting Turbo Server plan?
From their pricing standpoint, it appears that A2 Hosting's Managed WordPress is aimed at the premium managed hosting audience (i.e. as competition to WP Engine, Media Temple, etc.). Unfortunately, in our opinion A2 Hosting isn't quite ready to take on the big boys when it comes to managed WordPress hosting. We ran into some glitches during the provisioning and setup process, the support staff doesn't appear to be as familiar with the new plans as you would expect, and some of the key features such as staging and data backup just aren't as streamlined and easy to use as those from more established managed hosting providers.
Since all of the other hosting plans from A2 that we've used and tested out in the past have been outstanding, it's our hope that in the future their Managed WordPress Hosting plans will be refined and improved to also be one of the industry's best. For now, my recommendation would be to stick with A2 Hosting's Swift or Turbo Server shared hosting plans if you're looking for excellent WordPress hosting at an affordable price. If you need premium managed WordPress hosting, I would suggest you look at WP Engine, Flywheel, or Media Temple.
A2 Hosting Managed WordPress Ratings
Features - 81%
Speed and Performance - 91%
Customer Support - 88%
Value - 92%