Are you looking to create your photography website? There are now more options than ever for both professional and amateur photographers that want to share their vision and promote their services. As a photographer myself, this is definitely a subject close to my heart. So, let's take a look at the Best Web Hosting for Photographers in 2019.
Photography Web Hosting: What You Need to Consider
First off, we need to go over what items you should consider before building your photography website. Here are some considerations to start off with.
What is the main purpose of your photography site?
Is this website for a photography business or a hobby? If it's for your photography business, do you want to include functionality for your customers such as proofing and ordering? Or, do you really just want to promote and advertise your business for customer acquisition? If you're an amateur photographer and want to showcase your work, do you need photo storage capability?
How much time do you want to devote to creating your website?
Do you enjoy the actual process of creating an online site and have at least some website experience? Or, do you really just want a quick and easy way to get a website online as soon as possible?
What's your website budget?
How much are you willing to spend on your website? Depending on your answers to some of the other questions above, you may not have to opt for the most expensive hosting plan. There are a lot of good choices at all levels of pricing.
Web Hosting vs Web Storage
Before we get into specifics about web hosting and websites, let's briefly touch on what this article does not include. I've seen a number of photography web hosting articles that include options such as 500px and Flickr. However, I consider these to be more photo storage services as opposed to web hosting for your own site. While 500px and Flickr are fine for what they offer, it's not what we're considering here.
Web Hosting vs Website Builder
The next distinction we need to make is between web hosting and website builders. These days, there are a number of companies offering website plans that are a legitimate alternative to traditional web hosting. Both options have their advantages. Generally, a web hosting plan gives you more options and control over a website builder (such as Wix, SquareSpace, etc.) but requires more time and effort on your part. With website builders, the reverse is usually true, less control but much faster site creation.
Web Hosting Advantages
More Website Creation Options
Better Control over your Website
Better Value
All Online Tools are Included (Email, etc.)
Easier to Move your Site
Website Builder Advantages
Faster Website Creation
Requires Less of your Time
Photographer Specific Options
Web Hosting Features for Photographers
So if you want a traditional web hosting plan, what features should you look for? Here are what I consider the most important items your hosting plan should include.
Unlimited Storage and Data Transfer
With all of the images you might want to upload and include on your website, you definitely don't want any limits on web space or bandwidth. Fortunately, it isn't too difficult to find hosting plans that allow you unmetered storage and data transfer.
Website Speed
Website speed is important for all websites. But with photography sites it becomes even more vital. Again, with all of the photos your site may contain, you want to make sure your website loads fast enough for your website's visitors and your potential customers.
Content Delivery Network
A content delivery network (or CDN) can help to improve your website speed and page loading times. Content delivery networks are especially effective when you have a lot of static content (such as photos) on your site. With a CDN, your content can be stored on different servers around the globe so that when someone tries to access your website, your content (photos in this case) can be accessed from a server closer to their location—thereby reducing their site loading time.
Data Backup and Restore
Backing up your website data is critical and also your best defense against attacks on your site. While you should always make sure to perform your own website backups as needed, for an added safeguard you should select a web hosting plan that includes automatic daily backups of your website. Having backup copies of your site available for restore will save you a ton of time instead of having to recreate your entire website.
Website Security
While backing up your website is your best security measure, you also want to make sure that your web hosting plan includes security features such as malware scanning, DDoS mitigation, and other proactive security measures. While you can't ever completely prevent your site from ever getting hacked, there are definitely security features that can protect you as much as possible.
Multiple Website Platforms
Since one of the benefits of a traditional web hosting plan is more control over your content, you should make sure your web host includes multiple website platforms for you to use. Certainly, I would recommend that your hosting plan includes the major content management systems such as WordPress, Joomla, and Drupal. But, I would also recommend going with a cPanel hosting package which includes many other web applications you can make use of. That way, you're not locked in to a single system.
Web Hosting Recommendations for Photographers
Okay, so let's look at the web hosting recommendations we have for photographers. While there are many good options, I've selected three web hosts here that I not only consider the very best for photography sites, but also that I personally have used for a number of years now.
A2 Hosting

A2 Hosting Features
UNLIMITED RAID-10 Storage
UNLIMITED Transfer
Solid State Drive Speed Boost
Turbo Server: Up To 20X Faster Page Loads
More Resources Per User
Fewer Users Per Server
Enhanced Performance Over Apache
Free SSL Certificate (HTTPS via Let's Encrypt)
Perpetual Security
Hassle-Free Anytime Money Back Guarantee
24/7/365 Guru Crew Support
BBB Accredited Business A+ Rated
Resources:
UNLIMITED Email Addresses
A2 Optimized Software – Pre-Tuned For Performance
Featuring WordPress, PrestaShop, Drupal & More
A2 Optimized Site Accelerator – Pre-Configured Site Caching
Powered by Turbo Cache
Powered by APC/OPcache
Powered by Memcached
Cores 2 x 2.1 ghz
High Speed Features:
Server Location Options:
USA-Michigan
USA-Arizona
Europe-Amsterdam
Asia-Singapore
CloudFlare Free CDN (Avg. 200% Faster Page Load)
CloudFlare Plus – Faster Mobile Speed, SSL & More
Railgun Optimizer (Up To 143% Faster HTML Load Times!) TURBO
Anycast
HTTP/2 TURBO
SPDY TURBO
Edge Side Includes (ESI) yes TURBO
10 Gb/s Redundant Network
12 Core Server Minimum
64 GB RAM Server Minimum
Exclusive Features:
Migrate Your Site!
Server Rewind Backups
Perpetual Security w/ Free HackScan
Patchman Enhanced Security Tool
99.9% Uptime Commitment (Ultra-Reliable Hosting)
Hassle-Free Anytime Money Back Guarantee
FutureServe Green Hosting
24/7/365 Guru Crew Support
Priority Support Available
WordPress Hosting Features:
6X Faster Page Loads With A2 Optimized
A2 Optimized Enhanced Security
WordPress Pre-Installed with A2 Optimized
Optional WP-CLI (Command Line WordPress Interface)
WordPress LiteSpeed Cache TURBO
Ultra Reliable Hosting Features:
CloudLinux OS
24/7 Network Monitoring
Quadruple Redundant Network
Balanced Number of Accounts on Each Server
Redundant Power (UPS/Diesel Generator)
Expertly Tuned Servers
Domains & IP Addresses:
Websites UNLIMITED
Subdomains UNLIMITED
Parked Domain UNLIMITED
Addon Domains UNLIMITED
Option To Host On Free A2 Hosting Subdomain
DNS Management
Developer Features:
PHP 5.4, 5.5, 5.6, 7.0, 7.1 or 7.2 (Choose Your Version)
Total Databases UNLIMITED
MySQL 5.6 Databases
PostgreSQL 9.6
Pre-Installed phpMyAdmin & phpPgAdmin
SSH Access & Rsync
Node.js
Apache 2.2
Git, CVS, Subversion & Mercurial
PERL 5.10
FTP / FTPS
Shared SSL Certificate
Email Features:
Email Addresses UNLIMITED
Webmail (Horde, Squirrelmail & RoundCube)
POP3 / POP3-SSL
IMAP / IMAP-SSL
SMTP / SMTP-SSL
Spam Protection
Barracuda Advanced Spam Filtering (Optional)
Control Panel:
cPanel Control Panel
CloudFlare Free CDN (Avg. 200% Faster Page Load)
Softaculous (1-Click Drupal, WordPress & Joomla Install)
Easy Google Apps Setup
Easy Web-Based File Manager
Multilingual Support
LiteSpeed Cache Plugins For Faster Application Speed:
WordPress LiteSpeed Cache TURBO
Magento LiteSpeed Cache (LiteMage) TURBO
WooCommerce LiteSpeed Cache TURBO
PrestaShop LiteSpeed Cache TURBO
XenForo LiteSpeed Cache TURBO
A2 Optimized Magento – Your Fastest Magento Hosting:
Magento LiteSpeed Cache (LiteMage) TURBO
A2 Optimized Magento TURBO
Cron Optimization TURBO
CSS & JavaScript Merging TURBO
Disabling Logging TURBO
Expires Headers TURBO
Gzip Compression TURBO
eCommerce Features:
SSL Certificates Available (HTTPS)
Available Instant Merchant Account ID (US Only)
PayPal Merchant Accounts Available
Magento 1-Click Setup
OpenCart 1-Click Setup
PrestaShop 1-Click Setup
AbanteCart 1-Click Setup
Setup Popular Applications With 1-Click:
WordPress
Joomla
Drupal
CubeCart
B2evolution
phpBB
SMF
Website Statistics:
Access to Raw Log Files
Webalizer Visitor Statistics
AWStats
Website Statistics
Analog Visitor Statistics
Website Promotion & Freebies:
Bing/Yahoo Ad Credits
Site Listed In Google In 24 Hours w/ Attracta
iContact Email Marketing Trial

Turbo Servers for Ultra-Fast Performance
Optimized Environment for Speed and Security
Server Rewind Backups
Proactive Perpetual Security
Free Cloudflare CDN
Excellent Customer Support by the Guru Crew
A2 Hosting is my recommendation for business websites—including photography sites. They really do offer some of the most feature packed hosting plans. We use their Turbo Server plan that not only includes all of the features we mentioned above, but even more premium features that can allow your photography website to perform at the highest levels.
A2 provides a hosting environment that is optimized for speed and security. They are especially effective with WordPress, so if you decide to choose that platform for your site, A2 Hosting is a perfect match. The combination of their turbo servers and WordPress optimization results in the best website speed times that I've experienced. And when it comes to protecting your website, A2 Hosting includes proactive perpetual security measures along with their Server Rewind backups—allowing you to easily restore your site if needed.
And last but certainly not least, A2 Hosting's customer support is tops. The A2 Hosting Guru Crew, as the support team is known, has always provided fast, responsive and helpful assistance whenever I've needed it.
Bluehost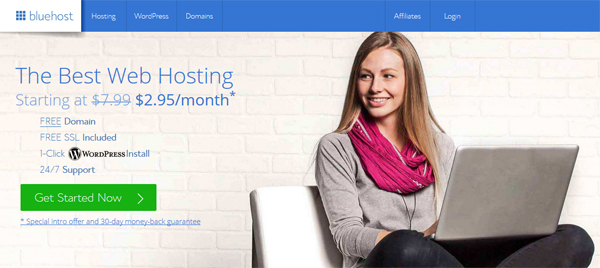 Bluehost Features:
Automatic Installation of WordPress
User Friendly Guided WordPress Site Creation
Customized WordPress Dashboard Interface
Performance Caching
Automatic WordPress Plugin and Theme Updates
Website Staging Included
Responsive Customer Support via Phone, Email, and Live Chat
Fast Website Provisioning
Free Let's Encrypt SSL
Free SiteLock CDN
When it comes to WordPress hosting, Bluehost is not only recommended by WordPress.org, they're also one of my top picks—especially for new WordPress site owners. Bluehost provides more guidance when creating your first WordPress website. And, they have developed a great, easy to use, customized WordPress dashboard that lets you quickly locate and access all of the important functionality you need when working on your site.
Bluehost has also made some significant improvements to the features, performance, and support you get with their web hosting. In my testing, website speed and performance is significantly better than in previous years. Also, the customer support response time is much improved. Live chat support response has been almost always instantaneous for me.
If you prefer to use a different web application other than WordPress, Bluehost also provides one of the best customized cPanel interfaces that I've seen.
InMotion Hosting

InMotion Hosting Features
SSD Included Free
UNLIMITED Disk Space
UNLIMITED Data Transfer
UNLIMITED Email Accounts
UNLIMITED Email Storage
UNLIMITED Websites (PRO)
Free Domain Registration or Transfer
Free Website Transfers
Free Data Backup
24x7x365 U.S. Based Support
90 Day Money Back Guarantee
$250 Free Advertising Credits
Free Website Builder
Max Speed Zone Technology
Pro Level Support (PRO)
E-Commerce Ready
Free SSL
PHP, Perl, Ruby, Python
PHP 7 Supported
SSH Access
WP-CLI Enabled
Easy Google Apps Integration
Business Class Hardware
cPanel Control Panel
Over 400 Free Applications
WordPress, Joomla, or PrestaShop Preinstalled
Safe Application Rollback
UNLIMITED Parked Domains (PRO)
UNLIMITED Sub Domains (PRO)
UNLIMITED Spam Safe Email with IMAP
Malware Protection

Max Speed Zone Technology
Pre-Installation of WordPress or Joomla
Includes BoldGrid Site Builder
Responsive Customer Support
90 Day Money Back Guarantee
I've been a customer of InMotion Hosting for almost 10 years now. I recommend their Business Power or Pro plans that include unlimited storage and bandwidth along with more server resources. Although InMotion does not currently include a CDN with their hosting plans, you do get their Max Speed Zone Technology which can provide you with greatly increased website speed when your location is within the speed zone area.
InMotion is especially suitable for WordPress or Joomla websites, and you can even have them pre-installed for you when you place your order. And also for WordPress users, with your InMotion Hosting plan you also get the BoldGrid website builder. BoldGrid simplifies and speeds up the website creation process, while still giving you the popular functionality of WordPress. And because InMotion Hosting is an official BoldGrid host (in fact they were instrumental in the development of the product), you'll get the best support for this website builder. See the next section on website builders for more info on BoldGrid.
Website Builder Recommendations for Photographers
If you've decided that you'd rather utilize a website builder for your photography website, here are the best options we recommend.
Wix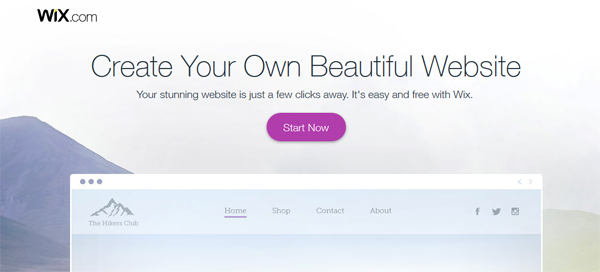 Wix Features:
Free Trial
Tons of Website Templates to Choose From
Easy to Use Drag and Drop Page Editor
Add More Functionality with Wix Apps
Free SSL Automatically Added to Your Site
For website builders, Wix is one of the most popular and well-known alternatives. And although it isn't always the right fit for some websites, if all you really want is a quick online presence to show off some of your work and advertise your services, then Wix is an excellent choice.
Wix has some of the best looking templates for photography websites that you can select from. And, the drag and drop editor makes it easy to create and make changes to your photography website.
BoldGrid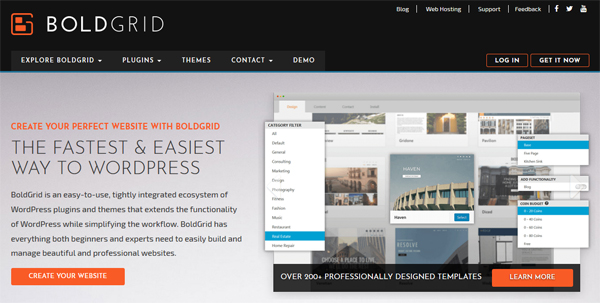 BoldGrid Features
Drag-and-Drop Interface
Unlimited Pages
WooCommerce Compatible
Integrated Forms Functionality
Advanced Blogging and Post Building
Built-in Staging / Sandboxed Sites
Premium SEO Plugin
Premium Backup Plugin
Advanced Image Editing

Easy and Quick Creation of WordPress Websites
Photography Based Themes
Better Control and Ownership than with Other Site Builders
WordPress Functionality
Can Be Used with any WordPress Web Host
BoldGrid isn't your average website builder. As we described above, it's a WordPress based site builder that allows you to easily create professional looking websites. Among the many website themes available in BoldGrid are a number of photography based templates. The big advantage of using BoldGrid is that it provides the benefits of a website builder like Wix or SquareSpace, yet gives you the power of WordPress plus better control and ownership of your website.
Because BoldGrid is actually a set of WordPress plugins, you can use it with any web host that supports WordPress. However, for the smoothest experience I'd recommend choosing an official BoldGrid host such as InMotion Hosting.
SmugMug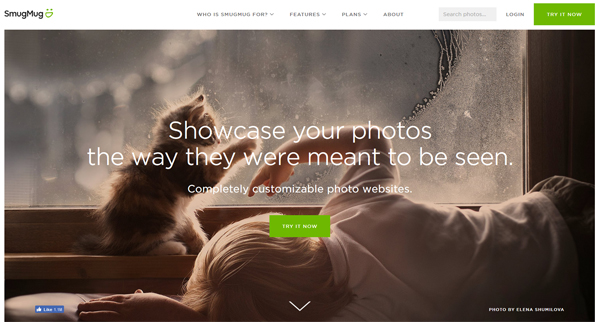 SmugMug Features
Your own customizable website
Unlimited photo and video uploads
Responsive design—adapts to mobile, tablets, and monitors
Free mobile app to edit, archive, and share on the go
Fully hosted, unlimited traffic
Embed photos and videos on other websites
Add photos and sync your entire library from Lightroom
View detailed stats and analytics
Utilize robust SEO tools, including meta tags and XML sitemaps
24/7 real-human support
Tune in and learn with video tutorials
Make the most of your account with our in-depth help center
Attend live, online SmugMug training events
Create a completely personal homepage
Simple drag-and-drop site customization
Put your logo or brand name on your site
21+ modern, premade design templates
Create custom themes using your own font and color combinations
Use your own domain
Optional customization via HTML and CSS
Easy organization for your photos and website
Every image backed up with Amazon Web Services
Cloud storage allows access anytime, from anywhere
Copyright is always yours
Download your original photos and gallery backups at any time
Password protect folders, galleries, pages, or your whole site
Limit visibility to folders, galleries, and pages to only those with whom you've shared a link
Make any folder, gallery, or page completely private
Add custom watermarks to protect images
Create Smart Galleries for automated collections
Share via Facebook, Twitter, Google+, and more
Free mobile app to edit, archive, and share on the go
Order prints and products from a professional print lab right from your site
Fully hosted shopping cart and checkout
Credit-card processing and customer service included
Buy photo books, framing, etc., from multiple vendors
Ship anywhere
Fulfill orders with top labs: Bay Photo, WHCC, EZPrints, and Loxley (UK)
Create custom pricing, and sell from a selection of 1,000+ prints and products at a profit
Accept global currencies on orders (USD, CAD, GBP, EUR, AUD, JPY, CHF, NZD, SEK, HKD)
Sell digital image and video downloads
Enable proof delay and add final edits before shipping
SEO-optimized website
Get insights into viewer behavior with built-in statistics and analytics

Photography Specific Website Platform
Run Your Photography Business Online
Allow Clients to View Photos Online
Unlimited Photo Storage
Restrict or Grant Access to Photos as You Wish
Connect to Adobe Lightroom to Improve Workflow
Order Prints Online from Photo Labs
Without a doubt, the ultimate web hosting/website vehicle for photographers is from SmugMug. SmugMug is specifically for photographers of all levels, and they offer plans for all types of photography websites. There are solutions for those of you that just want to showcase some of your work and have a safe storage area for your images, as well as websites for professional photographers that want to run their business online.
SmugMug has some of the nicest looking photography website templates. Your photos can be kept on the safest cloud storage available. And, what's great about SmugMug is that you can allow access to your photos for only those you decide should be allowed to view them. You can also use watermarks and password protection for further security.
But it's the photography business side of things that really separate SmugMug from the competition. SmugMug includes all of the functionality you need to run a photography business. With SmugMug, you can include customized price lists for your clients. You can allow your clients to select and download their photos online. And, you can sell your photos and digital downloads via shopping cart and checkout process.
SmugMug also helps you out with your workflow system. You can connect to Adobe Lightroom via plugin to upload and organize your photos. And, if you use photo labs such as whcc or BayPhoto.com, you have access to them through SmugMug.
Web Hosting for Photographers Recommendations
| | Web Host | Price | Solution |
| --- | --- | --- | --- |
| | A2 Hosting | $3.92 mo. – $9.31 mo. | Web Hosting |
| | Bluehost | $2.95 mo. | Web Hosting |
| | InMotion Hosting | $3.99 mo. – $13.99 mo. | Web Hosting |
| | Wix | $11.00 mo. – $29.00 mo. | WordPress Site Builder |
| | BoldGrid | $3.99 mo. – $13.99 mo. | WordPress Site Builder |
| | SmugMug | $12.50 mo. – $25.00 mo. | Photography Specific Platform |