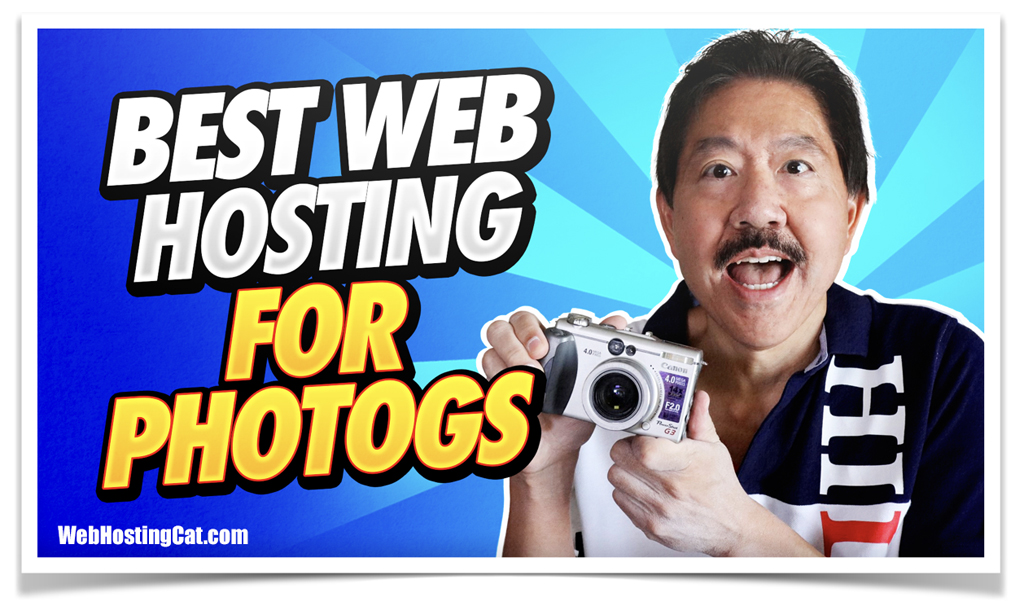 Are you looking to create your photography website? There are now more options than ever for both professional and amateur photographers that want to share their vision and promote their services. As a photographer myself, this is definitely a subject close to my heart. So, let's take a look at the Best Web Hosting for Photographers in 2023.
Best Web Hosting for Photographers: Summary
Photography Web Hosting: What You Need to Consider
First off, we need to go over what items you should consider before building your photography website. Here are some considerations to start off with.
What is the main purpose of your photography site?
Is this website for a photography business or a hobby? If it's for your photography business, do you want to include functionality for your customers such as proofing and ordering? Or, do you really just want to promote and advertise your business for customer acquisition? If you're an amateur photographer and want to showcase your work, do you need photo storage capability?
How much time do you want to devote to creating your website?
Do you enjoy the actual process of creating an online site and have at least some website experience? Or, do you really just want a quick and easy way to get a website online as soon as possible?
What's your website budget?
How much are you willing to spend on your website? Depending on your answers to some of the other questions above, you may not have to opt for the most expensive hosting plan. There are a lot of good choices at all levels of pricing.
Web Hosting vs Web Storage
Before we get into specifics about web hosting and websites, let's briefly touch on what this article does not include. I've seen a number of photography web hosting articles that include options such as 500px and Flickr. However, I consider these to be more photo storage services as opposed to web hosting for your own site. While 500px and Flickr are fine for what they offer, it's not what we're considering here.
Web Hosting vs Website Builder
The next distinction we need to make is between web hosting and website builders. These days, there are a number of companies offering website plans that are a legitimate alternative to traditional web hosting. Both options have their advantages. Generally, a web hosting plan gives you more options and control over a website builder (such as Wix, SquareSpace, etc.) but requires more time and effort on your part. With website builders, the reverse is usually true, less control but much faster site creation.
Web Hosting Advantages
More Website Creation Options
Better Control over your Website
Better Value
All Online Tools are Included (Email, etc.)
Easier to Move your Site
Website Builder Advantages
Faster Website Creation
Requires Less of your Time
Photographer Specific Options
Web Hosting Features for Photographers
So if you want a traditional web hosting plan, what features should you look for? Here are what I consider the most important items your hosting plan should include.
Unlimited Storage and Data Transfer
With all of the images you might want to upload and include on your website, you definitely don't want any limits on web space or bandwidth. Fortunately, it isn't too difficult to find hosting plans that allow you unmetered storage and data transfer.
Website Speed
Website speed is important for all websites. But with photography sites it becomes even more vital. Again, with all of the photos your site may contain, you want to make sure your website loads fast enough for your website's visitors and your potential customers.
Content Delivery Network
A content delivery network (or CDN) can help to improve your website speed and page loading times. Content delivery networks are especially effective when you have a lot of static content (such as photos) on your site. With a CDN, your content can be stored on different servers around the globe so that when someone tries to access your website, your content (photos in this case) can be accessed from a server closer to their location—thereby reducing their site loading time.
Data Backup and Restore
Backing up your website data is critical and also your best defense against attacks on your site. While you should always make sure to perform your own website backups as needed, for an added safeguard you should select a web hosting plan that includes automatic daily backups of your website. Having backup copies of your site available for restore will save you a ton of time instead of having to recreate your entire website.
Website Security
While backing up your website is your best security measure, you also want to make sure that your web hosting plan includes security features such as malware scanning, DDoS mitigation, and other proactive security measures. While you can't ever completely prevent your site from ever getting hacked, there are definitely security features that can protect you as much as possible.
Multiple Website Platforms
Since one of the benefits of a traditional web hosting plan is more control over your content, you should make sure your web host includes multiple website platforms for you to use. Certainly, I would recommend that your hosting plan includes the major content management systems such as WordPress, Joomla, and Drupal. But, I would also recommend going with a cPanel hosting package which includes many other web applications you can make use of. That way, you're not locked in to a single system.
Web Hosting Recommendations for Photographers
Okay, so let's look at the web hosting recommendations we have for photographers. While there are many good options, I've selected three web hosts here that I not only consider the very best for photography sites, but also that I personally have used for a number of years now.
InMotion Hosting Managed WordPress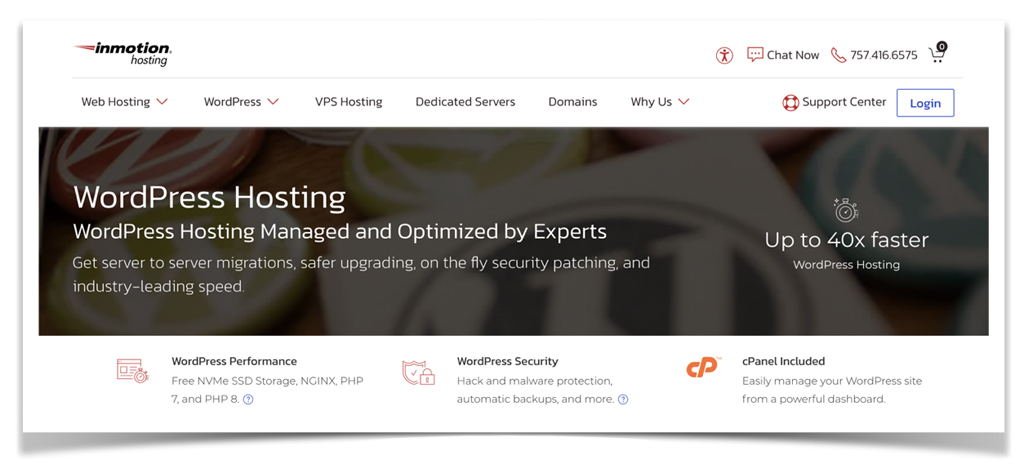 Why We Like InMotion Hosting for Photographer Hosting:
Outstanding managed WordPress Hosting at affordable prices. Excellent customer support and website speed. BoldGrid website builder available that includes photography website template.
InMotion Hosting Features:
Max Speed Zone Technology
Pre-Installation of WordPress or Joomla
Unlimited Bandwidth
Unlimited Websites Supported (except WP Core plan)
Automatic Offsite Backups (except WP Core plan)
Affordable Managed WordPress Hosting
Free Lifetime SSL
Includes BoldGrid Site Builder
Responsive Customer Support
90 Day Money Back Guarantee
I've been a customer of InMotion Hosting for over 10 years now. Their Business Power and Pro plans include unlimited storage and bandwidth along with more server resources. With InMotion, you get their Max Speed Zone Technology which can provide you with greatly increased website speed when your location is within the speed zone area.
However, for a better WordPress hosting experience for photographers, I recommend InMotion's Managed WordPress Hosting plans. You get better speed with their advanced server caching and managed updates and security.
InMotion is especially suitable for WordPress websites, and you can even have them pre-install WordPress for you when you place your order. And for WordPress users, with your InMotion Hosting plan you also get the BoldGrid website builder. BoldGrid simplifies and speeds up the website creation process, while still giving you the popular functionality of WordPress. And because InMotion Hosting is an official BoldGrid host (in fact they were instrumental in the development of the product), you'll get the best support for this website builder. See the next section on website builders for more info on BoldGrid.
SmugMug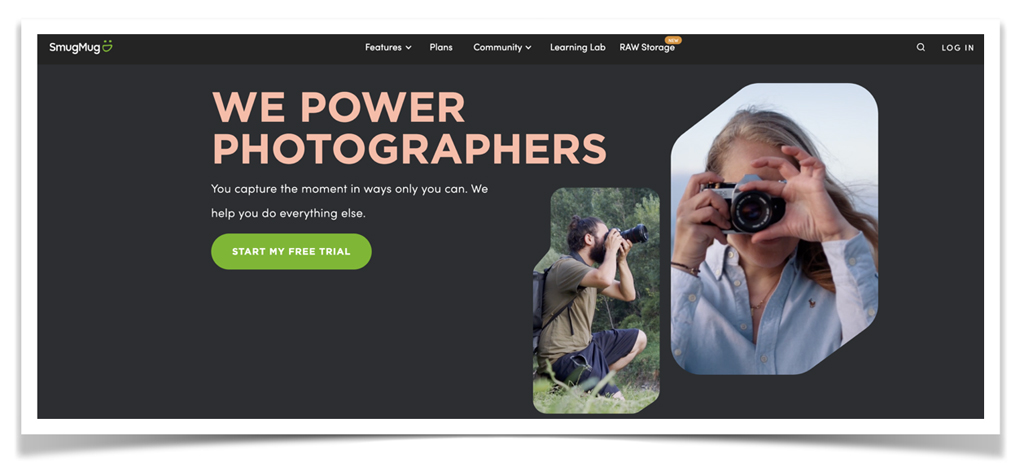 Why We Like SmugMug for Photographer Hosting:
Designed especially for photographers and photography websites. Suitable for hobbyists to full-time pro photographers business sites. Best all-in-one solution for professionals.
SmugMug Features
Your own customizable website
Unlimited photo and video uploads
Responsive design—adapts to mobile, tablets, and monitors
Free mobile app to edit, archive, and share on the go
Fully hosted, unlimited traffic
Embed photos and videos on other websites
Add photos and sync your entire library from Lightroom
View detailed stats and analytics
Utilize robust SEO tools, including meta tags and XML sitemaps
24/7 real-human support
Tune in and learn with video tutorials
Make the most of your account with our in-depth help center
Attend live, online SmugMug training events
Create a completely personal homepage
Simple drag-and-drop site customization
Put your logo or brand name on your site
21+ modern, premade design templates
Create custom themes using your own font and color combinations
Use your own domain
Optional customization via HTML and CSS
Easy organization for your photos and website
Every image backed up with Amazon Web Services
Cloud storage allows access anytime, from anywhere
Copyright is always yours
Download your original photos and gallery backups at any time
Password protect folders, galleries, pages, or your whole site
Limit visibility to folders, galleries, and pages to only those with whom you've shared a link
Make any folder, gallery, or page completely private
Add custom watermarks to protect images
Create Smart Galleries for automated collections
Share via Facebook, Twitter, Google+, and more
Free mobile app to edit, archive, and share on the go
Order prints and products from a professional print lab right from your site
Fully hosted shopping cart and checkout
Credit-card processing and customer service included
Buy photo books, framing, etc., from multiple vendors
Ship anywhere
Fulfill orders with top labs: Bay Photo, WHCC, EZPrints, and Loxley (UK)
Create custom pricing, and sell from a selection of 1,000+ prints and products at a profit
Accept global currencies on orders (USD, CAD, GBP, EUR, AUD, JPY, CHF, NZD, SEK, HKD)
Sell digital image and video downloads
Enable proof delay and add final edits before shipping
SEO-optimized website
Get insights into viewer behavior with built-in statistics and analytics

Photography Specific Website Platform
Run Your Photography Business Online
Allow Clients to View Photos Online
Unlimited Photo Storage
Restrict or Grant Access to Photos as You Wish
Connect to Adobe Lightroom to Improve Workflow
Order Prints Online from Photo Labs
Without a doubt, the ultimate web hosting/website vehicle for photographers is from SmugMug. SmugMug is specifically for photographers of all levels, and they offer plans for all types of photography websites. There are solutions for those of you that just want to showcase some of your work and have a safe storage area for your images, as well as websites for professional photographers that want to run their business online.
SmugMug has some of the nicest looking photography website templates. Your photos can be kept on the safest cloud storage available. And, what's great about SmugMug is that you can allow access to your photos for only those you decide should be allowed to view them. You can also use watermarks and password protection for further security.
But it's the photography business side of things that really separate SmugMug from the competition. SmugMug includes all of the functionality you need to run a photography business. With SmugMug, you can include customized price lists for your clients. You can allow your clients to select and download their photos online. And, you can sell your photos and digital downloads via shopping cart and checkout process.
SmugMug also helps you out with your workflow system. You can connect to Adobe Lightroom via plugin to upload and organize your photos. And, if you use photo labs such as whcc or BayPhoto.com, you have access to them through SmugMug.
GreenGeeks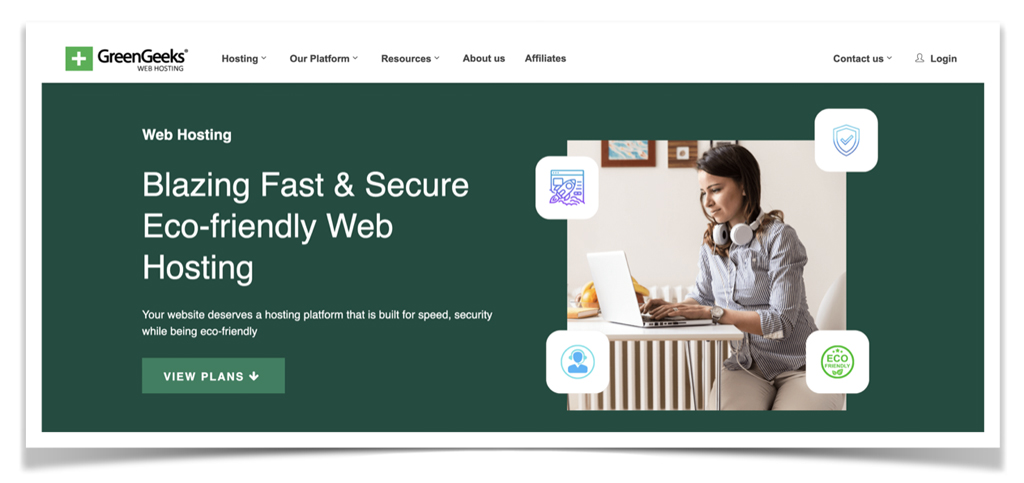 Why We Like GreenGeeks for Photographer Hosting:
Fast web hosting with great features and support. Industry leading Green Web Host for environmental friendly website hosting.
GreenGeeks Features:
PowerCacher Technology
Choice of 4 Data Centers
Fast Responsive Customer Support
Unlimited Disk Space and Bandwidth
Free Let's Encrypt Wildcard SSL
Free Cloudflare CDN
Nightly Data Backups
Powered by 300% Renewable Energy
Hosting Account Isolation
Proactive Server Monitoring
Real Time Security Scanning
Enhanced SPAM Protection
Free Domain Name
While GreenGeeks may be best known as being the most eco-friendly web hosting company, they're also my recommendation for many types of websites—including photography sites.
GreenGeeks has one of the top web hosting platforms that is optimized for speed and pro-active security. Their PowerCacher technology along with optimized LiteSpeed and MariaDB servers provide outstanding performance—especially for content management systems such as WordPress. Unlike other web hosts, with GreenGeeks you get free Wildcard SSL. And with their Ecosite Premium plan, you get free GobalSign Premium Wildcard SSL for even more protection. GreenGeeks security is also excellent with proactive server monitoring and real time security scanning.
And when it comes to customer support, GreenGeeks provides fast response times and helpful assistance when needed.
A2 Hosting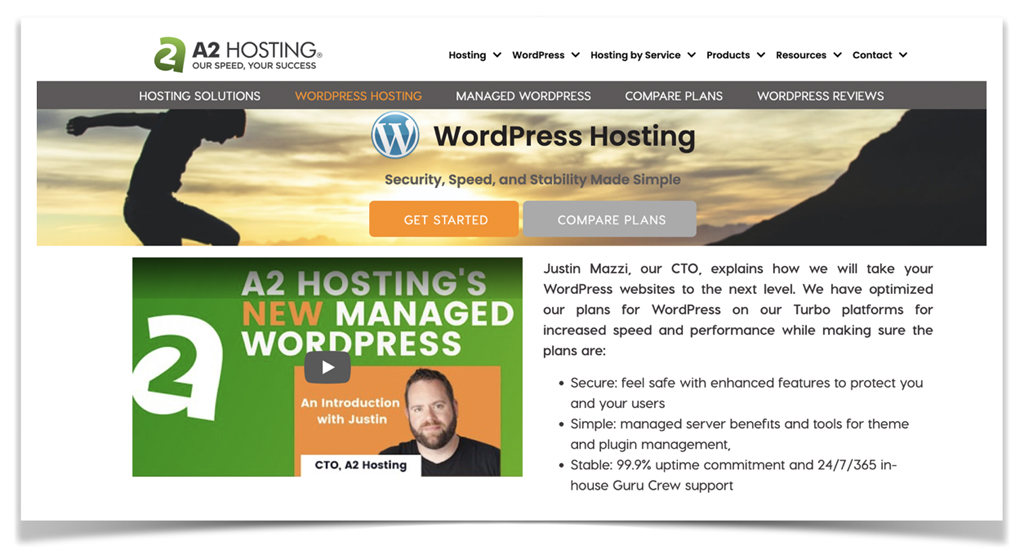 Why We Like A2 Hosting for Photographer Hosting:
Excellent web hosting features that cost more with other hosting providers. Optimized environment for speed and security. Turbo Hosting available for even faster websites.
A2 Hosting Features:
Optimized WordPress Environment
Server Rewind Backups
Turbo Server Available
Unlimited Websites (Except StartUp Plan)
Unlimited SSD Storage (Except StartUp Plan)
Free SSL
Choose from 4 Server Locations
Perpetual Security
Website Staging and Cloning
30 Day Money Back Guarantee (Prorated after 30 Days)
I've used A2 Hosting for years now and they continue to provide some of the best quality web hosting available. A2's excellent Shared Hosting plans (including their Turbo Server Plans) offer many features that you'd normally have to upgrade to a managed hosting plan to get. With A2 Hosting's optimized WordPress environment, your websites run fast and securely.
A2 Hosting does have a website builder option, however their strength is their cPanel hosting plans that allow you to create websites with WordPress of one of the other CMS platforms. I've also always been impressed with A2 Hosting's customer support.
DreamHost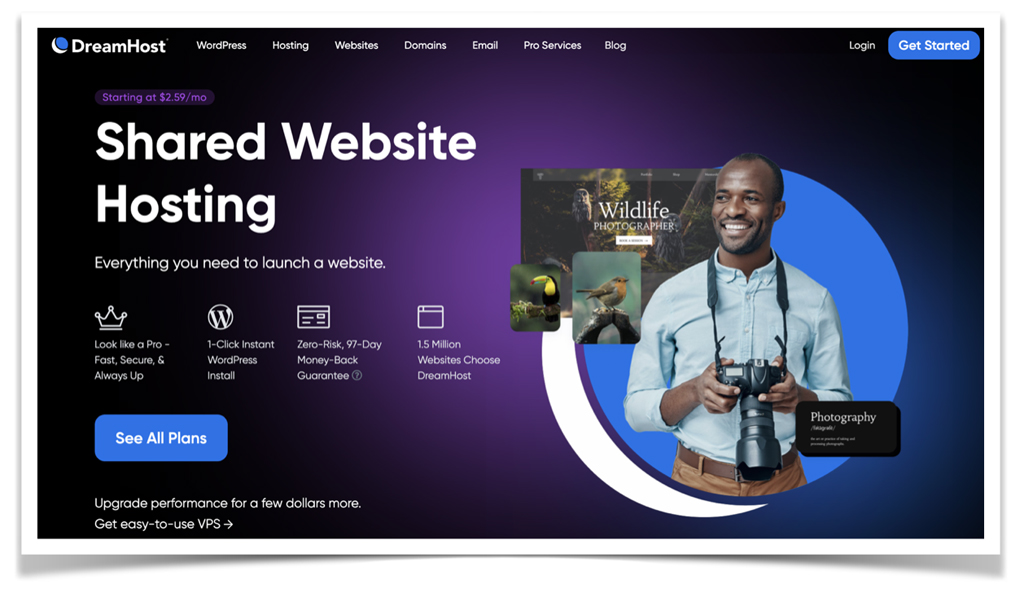 Why We Like DreamHost for Photographer Hosting:
Includes WordPress website builder for easier website creation. Includes photography themes. Recommended by WordPress.org.
DreamHost Features:
WordPress Website Builder
Recommended by WordPress.org
Free Domain First Year
WordPress Pre-Installed
Unlimited Traffic
Free SSL
Automatic Daily Backups
97 Day Money Back Guarantee
DreamHost sometimes gets overlooked by web hosting shoppers. However, there's a reason they are one of only three web hosts recommended by WordPress.org. They have consistently been focused on providing quality WordPress Hosting for all levels of users and websites. And, they have continued to improve their customer support and web hosting speed.
For me though, what makes DreamHost stand out these days is their excellent WordPress website builder that makes creating a WordPress site much easier for beginners and less experienced users. Photographers can use one of the photography themes to quickly create a website to show off their work and promote their business.
Best Web Hosting for Photographers: Recommendations