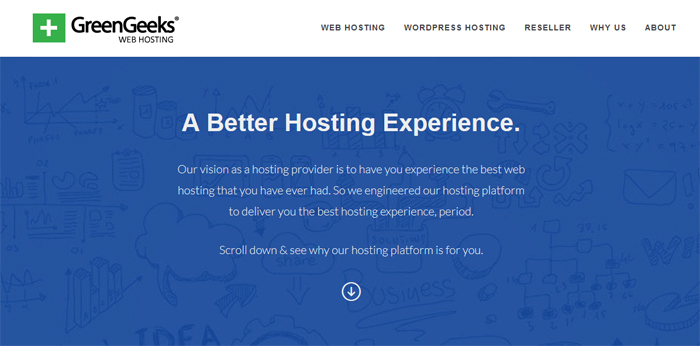 What really separates a great web hosting company from the others is their continued commitment to quality and innovation. With their revamped hosting platform, GreenGeeks easily fits into that category. Here is our report on how the new GreenGeeks hosting platform performs.
What's New?
You can now choose your data center. GreenGeeks currently has five locations: Phoenix, AZ; Chicago, IL; Toronto, CAN; Montreal, CAN; and Amsterdam, NL.
Scalable computing resources means that you can get upgraded resources if you need them without upgrading to a VPS hosting plan.
Enhanced speed technology now includes:

LiteSpeed Web Servers
MariaDB Database Servers
Powercache Technology
SSD Hard Drives
Cloudflare CDN
PHP 7 Enabled
HTTP/2 Enabled

Enhanced Security now includes:

Hosting Account Isolation
Linux Secure File System
Real Time Security Scanning
Proactive Server Monitoring
Advanced Threat Analysis

Still Environmentally Responsible
Why is it Better?
Faster Performance



Data center location can make a huge difference in website speed, so it's great that GreenGeeks now allows you to choose where your website is located. But that's just the start. With GreenGeeks' enhanced web and database servers, along with their in-house Powercache technology, your websites run even faster. When you add in the solid state drives, Cloudflare content delivery network, and PHP 7, your total site performance is amazing.
More Protection
We're happy to hear about the new hosting account isolation features from GreenGeeks. Some people may be concerned that with a shared hosting plan you could be affected by others on the same server. And while these days most web hosts do a good job of insulating customers on a shared server, GreenGeeks' container based provisioning further prevents users from impacting each other.
Besides hosting account isolation, GreenGeeks also includes Linux Secure Systems, Proactive Server Monitoring, and Real Time Scanning to prevent malware and malicious attacks on your website.
More Economical
With GreenGeeks, you now don't have to worry about upgrading to an expensive VPS hosting plan should your website become extremely popular and require more resources. Their scalable hosting platform will allow you upgrade your resources to handle more traffic without a change to VPS.
Still Green
And for the environmentally conscious, you'll be pleased to know that with the revamped hosting platform, GreenGeeks still provides you with industry leading green web hosting. You'll still enjoy an energy efficient, carbon reducing website at GreenGeeks.
GreenGeeks Speed Testing Results
We've recently run some updated website speed tests on GreenGeeks. Here is the data comparing our website performance previously with the new revamped hosting platform.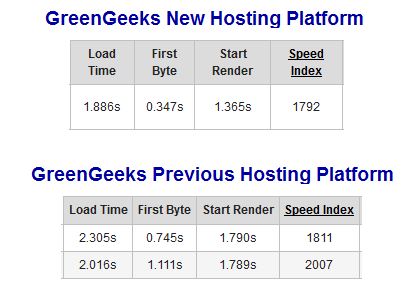 I have to admit I was pleasantly surprised at just how much better the results were with the revamped hosting platform. GreenGeeks has definitely come up with a winner here!
Compare GreenGeeks
To see how GreenGeeks compares to some other well-known web hosts, take a look at some of our head to head comparison reports.
GreenGeeks vs GoDaddy
GreenGeeks vs Bluehost
GreenGeeks vs HostGator
Conclusion
GreenGeeks has been one of our most recommended web hosting companies—not just for Green Web Hosting, but also in other categories such as WordPress. And, the new revamped hosting platform certainly takes GreenGeeks another step ahead of their competition. If you're looking for a hosting plan that is not only good for beginners but also allows your website to grow, check out the environmentally friendly hosting from GreenGeeks.