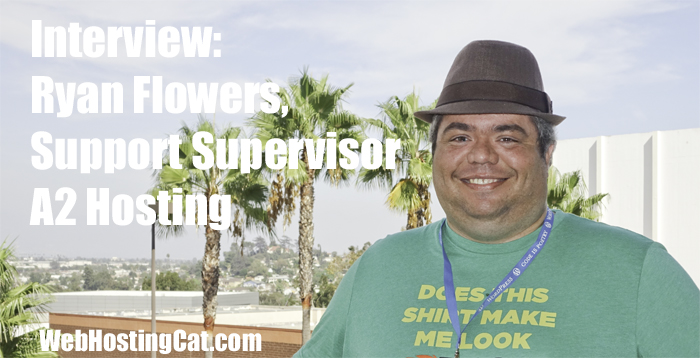 Attention: WordPress users looking for the perfect combination of speed, security, and customer support in a web hosting plan. What distinguishes A2 Hosting from the competition? We recently spoke with Ryan Flowers, Support Supervisor at A2. In the interview, Ryan talked about how the support team operates, some of the challenges they face, A2 Hosting's speed and security features, and WordPress.
Web Hosting Cat: Tell us about your role at A2 Hosting and what your daily activities are like.
Ryan Flowers: I'm a Support Supervisor. We call them Leads. What that means is that I help other people do their job well. Whether it be an escalation for a customer who needs help with something that primary support isn't able to get traction with, or whether a customer asks for escalation. A lot of times, it's making sure that the front line support people have what they need to do their jobs correctly and to give good customer service.
WHC: Can you talk about the team, the "Guru Crew"?
RF: Our Guru Crew is amazing! They have a hard job. Web hosting tech support sounds like it's a bunch of pointy clicky stuff, and it's not necessarily. It can be really difficult. And our Guru Crew and our advanced Gurus, I really have a lot of respect for them. They do an amazing job. We gravitate toward doing things with [support] tickets because we find it has the best results for our customers—the most repeatable results, and it gives us a great paper trail if somebody's having the same problem over and over again, we can spot that and get to the root of that cause.
WHC: What would be your number one tip for WordPress users to stay out of trouble?
RF: Backups! Backups! Backups! And then just in case you haven't already, backup. That's your number one thing quite frankly. And right next door to backups is updates. There's vulnerabilities coming out all of the time. Although every host works to make sure that there's never a failure, failures can happen. So when you have your life blood into something, having a backup of your own that you can restore anywhere is extremely important. We do provide backups. We have our Server Rewind, which gives you a one-click way to go in and, say you want to restore from a week ago, you pick which directory you want to restore and it restores it.
WHC: Can you tell us about the optimized WordPress environment at A2 Hosting?
RF: A2 has a couple of different facets for WordPress optimization. Number one being our server stack. Our Turbo Servers run the LiteSpeed web server, and that is optimized for caching. Caching is king when it comes to speed. On top of that, we have the A2 Optimized plugin. Because frankly, setting up the correct caching parameters and setting everything up just right can be problematic in some cases. You just install the A2 Optimized Plugin; you go through a couple of clicks right in cPanel. And with a couple of clicks, your site is optimized for our Turbo Servers.
WHC: A2 Hosting provides proactive perpetual security. Additionally, A2 has partnered with Sucuri to offer some premium security features. When would it be a good idea for a website owner to invest in the premium security options as opposed to just going with the security that comes with your web hosting plan?
RF: That's a good question. Really, it comes down to what you have on the line. If you make your living, or make any amount of money that's important to you, then you should already be spending money on maybe the Sucuri Application Firewall. It's basically like a buffer between the real world and your WordPress installation. It's not expensive. And if you're serious about running a successful site and keeping the hackers where they ought to be (which is out), then that's important.
WHC: How can someone migrate their existing website to A2 Hosting? What does the process involve?
RF: We try to make it as simple as possible. If you have a WordPress site hosted anywhere, we'll migrate it. So the way it works is, when you buy an account, you get a free migration. Let's say your other host uses cPanel, which many of them do, then we'll move that at no charge. If you have an application somewhere else that is not using cPanel, we'll give one free migration. For example, WordPress is a pretty straight forward thing to move most of the time. So, many times somebody will come to us from another web host that does not use cPanel and we'll migrate their WordPress files and their database and make them work.
Listen to the complete interview with Ryan on the Web Hosting Cat Podcast.