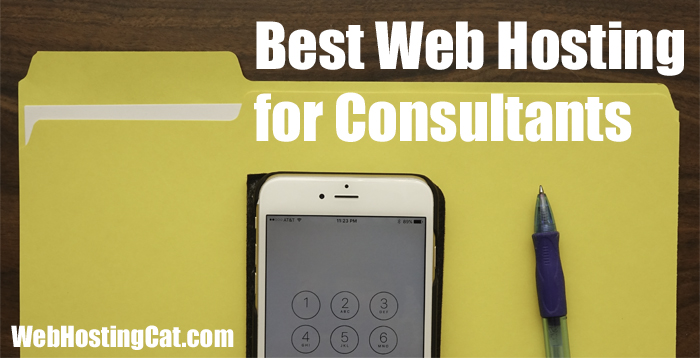 While there are many different fields for professional consultants, no matter what area of business you specialize in, your website is crucial for promoting your qualifications and abilities. A professional and effective website can be a great first impression to those looking for assistance. Let's take a look at how you can build a successful website for your consulting business, what to consider when choosing your web hosting, and which web hosts we recommend for consultants.
Building a Consulting Website
Professionalism
Reliability
For consultants, your website should really convey a sense of professionalism and trust to your potential clients. You need to be concerned about both the frontend and backend of your site. That means from a design standpoint, you want a clean, easy to navigate, business looking website. And, you also want to make sure that the platform and hosting you choose is up to speed.
Although you certainly want to have your contact information prominently displayed and available on your website, don't forget about email marketing. Email is still the most effective marketing tool for many people, so be sure that whichever website platform you choose, you have the ability to integrate an email list marketing tool with your site.
Web Hosting Considerations
Consulting is one field where you really don't want to skimp on web hosting. You really need a well performing site that loads quickly and is highly available. From a design perspective, there are some great professional looking templates from website builders such as Wix and SquareSpace. However, if you do decide to go that route, be sure you purchase one of the premium plans that provide more resources for better performance.
If you prefer to have more control and flexibility, you can opt for a WordPress hosting company. For consultants, I would recommend a managed hosting plan. With a premium managed WordPress host, you'll have better resources that are specifically configured for WordPress, resulting in greater performance. And with a managed hosting plan, maintenance tasks such as upgrades, data backup, and security monitoring are included so you can focus more of your time on your consulting business.
If you need multiple websites for your consulting business, check out my recommendations for multiple domain web hosting.
Web Hosting Recommendations
This is definitely one of the fields/businesses where an online brochure type of website can be very effective. Therefore, website builder options such as Wix and BoldGrid are the best options for many consultants.
BoldGrid – WordPress
BoldGrid provides the ease of creating a website like Wix, yet is built on WordPress, so you get the functionality of the most popular website platform on the internet. If you feel that you need more flexibility and control with your consulting website, then WordPress is a great solution. And with BoldGrid, you can speed up the website creation process and still get a professional looking WordPress site.
Here are some examples of BoldGrid websites for consultants.


BoldGrid is available from a number of official BoldGrid hosts. We prefer InMotion Hosting as they were closely involved during the creation and launch phases of BoldGrid. They are also one of the best web hosting companies we use.
WP Engine – Managed WordPress


For the best premium managed WordPress hosting, we recommend WP Engine. While WP Engine does cost more than other web hosts, they focus exclusively on WordPress. Their proprietary technology and expert WordPress support are the best we've experienced from a premium managed web host. For consultants, WP Engine can really help boost your productivity by taking care of your WordPress maintenance tasks.